The Film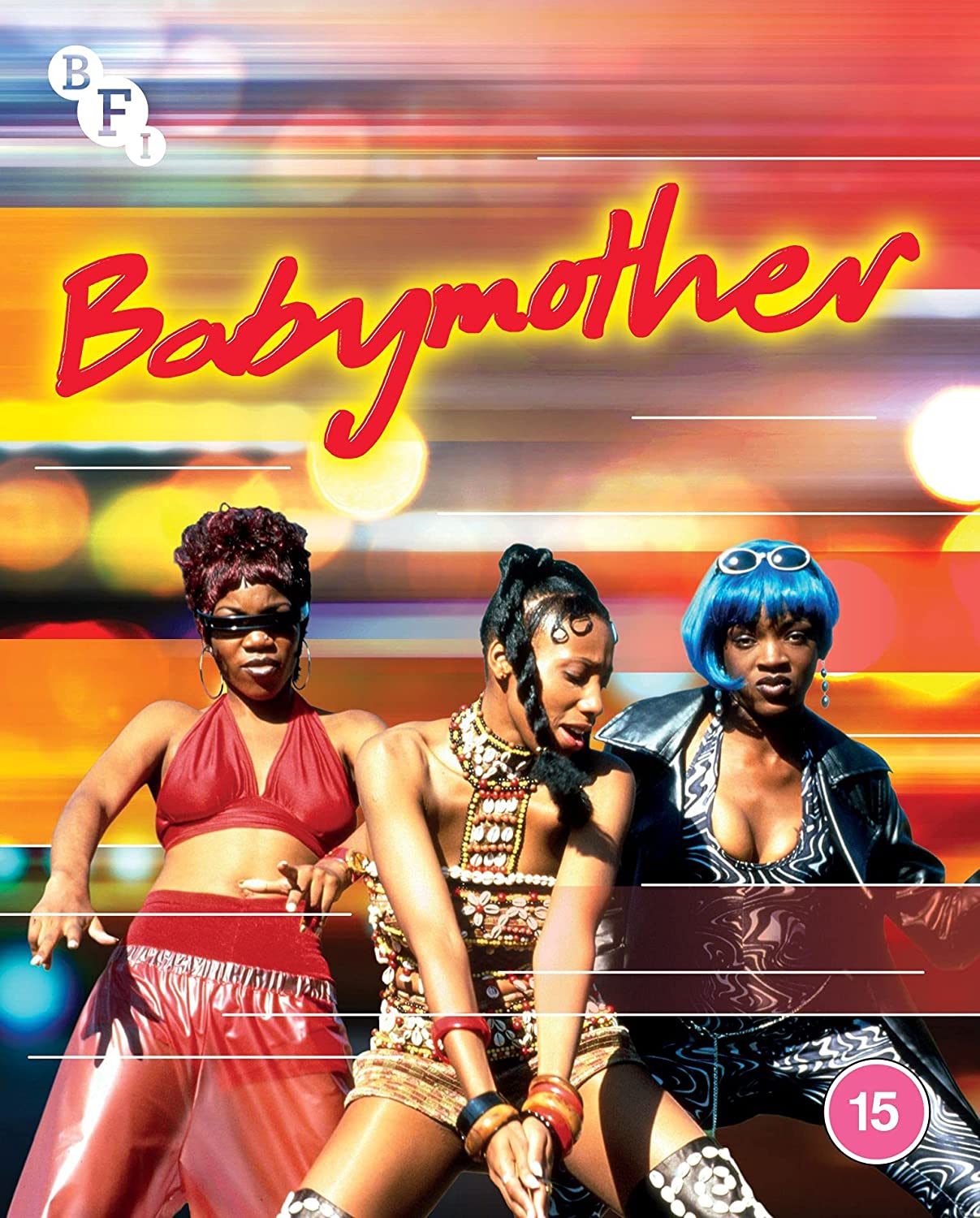 "Babymother" (1998)

Anita (played by Anjela Lauren Smith), Sharon (played by Caroline Chikezie), and Yvette (played by Jocelyn Jee Esien) are young women in their twenties with a dream to hit it big in the reggae music scene. Anita's boyfriend and babyfather Byron (played by Wil Johnson) has already made his name popular locally as a soulful reggae singer, and now the girls feel it is their time to shine.

"Babymother" is a film that was rare in its day and is still a rare production more than two decades later. Directed and co-written by Julien Henriques with an all black cast taking place in London, it was a musical unlike any other. While it may fall in the category of a "musical", there is more in common with works such as "The Harder They Come" (1972) or "Black Joy" (1977) than say "West Side Story" (1961). Rather than a traditional musical where the singing and dancing come out of nowhere, many of the sequences in "Babymother" come naturally, as the characters themselves are singers and performers, in live concert settings or the recording booth. But there are a few moments in which a little bit of musical fantasy comes to life, such as Byron's serenade and others where the music suddenly plays and the characters sing their lyrics perfectly on cue. Songs play a large role in the narrative as well, with lyrics reflecting what is going on for the characters mentally as well as giving some background information, all with a sharp reggae influence. It's not constant or consistent, as it plays in essence as a dramatic film with touches of musical sequences, rather than the musical sequences being at the forefront. The story itself with the struggles the main character of Anita faces is the central theme.

For the narrative itself, it plays fairly simply in a linear structure, with Anita having multiple issues at hand. Being a mother of two young children has its difficulties, especially when the children's father is not always around. There is a complicated relationship with her family as well on the older side, with her older sister Rose (played by Suzette Llewellyn) who is much more on the conservative side, and her mother Edith (played by Corinne Skinner-Carter) who may wish for Anita to be a better mother to her young children, but never seriously discourages her from following her dreams. Anita, Yvette, and Sharon may be best friends and recording together, their friendship also later takes some serious hits with some secret revelations. In addition it is hard for them to get their voices heard, as their demo is not passed to the best hands, and even the locals are not supporting them as seriously as they should with their music.

While "struggles" may be an ongoing theme, there is a lot of love, positivity, and hope with the story as well. The three young ladies dress in fashionably loud clothing throughout, whether they are on stage or when they are walking down the street with their kids. Anita always grasps the positive side of life and never wallows in difficulties, and instead smiles towards a better future for her, her family, and her group. The music showcased is always bumping and filled with life, from the soulful crooning sounds by Bryon's character, to the hard hitting basstastic rhythms and vocal hittings of Anita's group, which they nickname Neeta, Sweeta, & Nastie. The streets are filled with life and enveloped in music, and though a musical fantasy it truly is a reflection of Harlesden, where there is a large population of people of Caribbean and African descent and their cultures are strongly embedded in the area from music, to food, and other arts. The town was where The Cimarons formed, and they were the first UK based reggae group. There have been many record shops specializing in Caribbean and African music (which are also shown in the film itself), as well as recording studios and pirate radio stations that helped with many local artists over the years. By 1998 when "Babymother" was released, the genre was crossing over into the electronic music genre, with many reggae based artists evolving the sound, such as Massive Attack and Goldie to name a few. Nevertheless, there were some reggae artists that still were able to cross over into the mainstream at the time, such as Diana King, Worl-a-Girl, and Shaggy among many more in that time period, but there was and still is a major amount of talent that has yet to break through, as seen in the film itself, even if it is a work of fiction.

Spoiler!
One major theme in the film that doesn't work well is a plotpoint that proves to be a major spoiler. Following the death of Edith, a major bombshell is uncovered that Edith was not in fact her mother, but her grandmother and that Rose was not her older sister but is her mother, who had her at a young age. The story takes a cue from Jack Nicholson's life story, but the reaction that Anita has and how it affects her is strangely minimal in consequence. It does feel like an odd anecdote. Yes, she does see why Rose was so concerned for her well being as well as the children, but the revelation and the reaction never feels as strongly pushed as it could have been.

"Babymother" was produced with a very small budget of £2 million with much of the support coming from Channel 4 Films. The film opened in the UK on September 11th, 1998 and its first international screening on September 14th at the Toronto International Film Festival. The film was not particularly noticed among major filmgoers and it didn't have much of an impact critically or commercially worldwide. While Channel 4 did bring the film to television screens as well, it made its name as a cult film among its core fans but like the girls in the film, it didn't make much of an impact as they would have hoped. Thankfully this BFI release, presenting the film for the first time in a new HD remaster on Blu-ray will change some of those minds and have a new audience see and hear a different side of the UK, seldom found in the world of cinema.

Note this is a region B Blu-ray

Video


The BFI presents the film in the 1.85:1 aspect ratio in 1080p AVC MPEG-4. The original 35mm negative was remastered in 2K resolution for this release and the results are absolutely fantastic. The bright and bold colors of the wardrobes come to life in this new transfer, with all colors of the spectrum looking crisp and beautiful. Skin tones are natural, dark tones are detailed and not crushed. Damage is extremely minimal if not eliminated entirely, looking wonderfully clean yet having a filmlike quality remaining without any artificial digital sharpening. It probably can't look much better than this.

The film's runtime is 82:06.

Audio


English LPCM 2.0 stereo
The original Dolby Stereo track is presented here in an uncompressed stereo format. Given that music is a big focus, the stereo track feels great with channel separation especially during the musical segments. Dialogue is almost always centered, being well balanced with the music and effects. There are no issues of hisses, pops, or other damage to the track to speak of.

There are optional English HoH subtitles for the feature. Some of the dialogue may be hard to catch if not familiar with the accents, and thankfully the song lyrics are fully subtitled as well.

Extras


Julian Henriques and Parminder Vir on Babymother (44:25)
In this new interview recorded at BFI Southbank in June 2021 with the director Henriques and producer Parminder Vir who is also his wife, the two discuss about bringing the film to screen, recalling the audition process, the themes presented, the music, the local community helping with the production and about certain scenes in detail. They also discuss the film in retrospect as well and how positively they feel about it. In addition to the on camera interview, there are clips of the film presented in this interview as well.
in 1080p AVC MPEG-4, in 1.78:1/1.85:1, in English LPCM 2.0 without subtitles

Anjela Lauren Smith in conversation with Corrina Antrobus (49:03)
In this remote interview conducted in May 2021, the actress is interviewed by film writer and podcaster Corrina Antrobus. Smith recalls the audition process, being a new mother at the time, some of the fun scenes that were shot such as the opening, the lavish costumes, the importance of black representation and being able to portray a positive role model in the feature, and more.
in 1080p AVC MPEG-4, in 1.78:1/1.85:1, in English LPCM 2.0 without subtitles

Caroll Thompson in conversation with Rogan Graham (31:33)
Film journalist and programmer interviews the composer Caroll Thompson in this remotely recorded conversation. Discussed are about the music represented in the film, the writing and recording process, the musical film genre, and more.
in 1080p AVC MPEG-4, in 1.78:1, in English LPCM 2.0 without subtitles

"Babymother" gallery with 1998 audio Q&A (28:15)
The automated slideshow includes extensive posters, audition photos, storyboards, costume designs, continuity notes, art deptartment notes, behind the scenes photos and more, along with a post-screening Q&A in audio form featuring the filmmakers. Discussed are about how the film was financed, the script writing process, their love of the music and musical films, and more.
in 1080p AVC MPEG-4, in English LPCM 2.0 without subtitles

"We the Ragamuffin" 1992 short (25:43)
Directed by Henriques and produced and written by Russell Newell, this 1992 short film shot in Peckham has some similarities to "Babymother" with the reggae soundtrack, musical numbers, and showcasing a side of England that was rarely seen on film or television. One major difference here is the dialogue, which most of the characters speak Patois to each other, requiring English subtitles as the dialogue is very difficult for most native English speakers. Gang violence and the music scene are the main points in this short, and packs quite a lot in its very short runtime. The production was shot on 16mm but the transfer here comes from an analog standard definition tape source with burned-in yellow subtitles. It's still very watchable, but the colors and detail are not as crisp as they would be from a film source.
in 1080p AVC MPEG-4, in 1.33:1, in English LPCM 2.0 with burned-in English subtitles

"We the Ragamuffin" image gallery (7:34)
An automated silent slideshow of behind the scenes photos, script notes, production notes, lyrics sheets, promotional materials and more.
in 1080p AVC MPEG-4

Trailer (2:00)
The original trailer, with some slightly darker colors, though the print quality is quite good.
in 1080p AVC MPEG-4, in 1.85:1, in English LPCM 2.0 without subtitles

Booklet
A 32 page booklet is included in the set for the first pressing. The first essay is "Babymother: from ragga to riches" by producer Parminder Vir, as she recalls the production and its impact it had on her career. "A Rage in Harlesden" is a review of the film by Stuart Hall, first printed in Sight and Sound September 1998. There are also film credits, special features information, transfer information, acknowledgements and stills.

A clip of the film as well as the trailer have been embedded below. Note the clip is from the remastered version while the trailer below is a video trailer in 4:3, rather than the remastered trailer as seen on the disc.





Overall


"Babymother" is a flat out fun and unique film, though it does have its imperfections along the way. The BFI Blu-ray has an excellent transfer with the image and audio and has a great selection of newly curated extras, making this very recommended.
| | | | | |
| --- | --- | --- | --- | --- |
| The Film: B | Video: A | Audio: A | Extras: A- | Overall: B+ |