Occupation: Rainfall (Blu-ray) [Blu-ray]
Blu-ray B - United Kingdom - Signature Entertainment
Review written by and copyright: Rick Curzon (20th August 2021).
The Film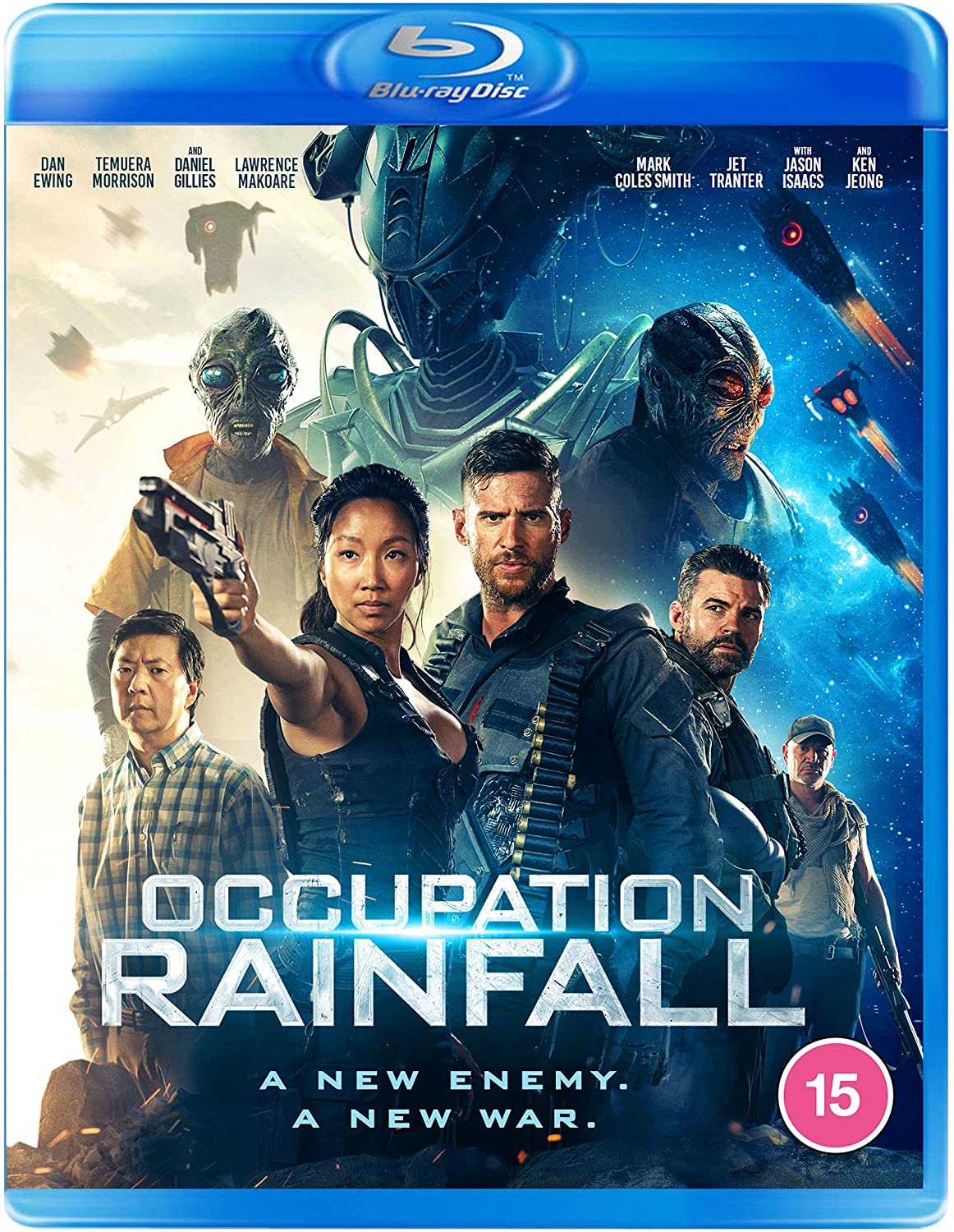 Avatar meets Star Wars meets Independence Day. From the VFX team behind The Last Jedi and Blade Runner 2049, Occupation Rainfall is a sci-fi action epic with an all star cast including Harry Potterís Jason Isaacs, The Mandalorianís Temuera Morrison and The Hangoverís Ken Jeong.

After an intergalactic invasion of Earth, where survivors are fighting back in a desperate ground war, the resistance uncover a plot that could see the war come to a decisive end for mankind.

With the alien invaders hell-bent on making Earth their new home, the race is on to save the planet.

Occupation Rainfall Is an explosive sci-fi extravaganza that grips from start to thrilling finish.

Video


Pretty standard, bombastic alien invasion of Earth albeit from an Australian viewpoint although frankly it feels like an American blockbuster; lots of action and effects with salty dialogue and generally cornball scripting. Sadly, yet another example of how everyone is trying to emulate Hollywood except that this gets a 15 for violence and language, so not family friendly. Contrary to some rather patronising reviews online this isn't badly acted by any stretch but it is true that it's pure formula filmmaking, with a corny script and filled with crowd-pleasing cliches. Is it worse than other American militaristic sci-fi (the Yanks rarely do much else)? No, not really.

There are no surprises here but I'm sure many will find it entertaining enough if overlong. Which, is another problem with emulating Hollywood. Films made for people with short attention spans and yet they last a long time; achieved by non-stop action, melodrama, camera movement and edited at jackhammer pace. It looks great but is lots of sound and fury signifying very little and nothing original. At the time of writing it has 47% positive on Rotten Tomatoes. It's greatest achievement is achieving a big look on a small budget; one lazy reviewer likened it to a 1970s-era Doctor Who which it certainly isn't. Not that '70s Doctor Who is in anyway bad; it was a superb era for the programme but sadly, some people like to use it as a stick to beat highlighting it's low budget TV nature.

The Colour palette is exceptionally vivid which is a big plus and it looks great on this dual-layered, well-encoded BD from Signature Entertainment in the UK. Primaries really sing with reds and blues popping off the screen, flesh tones are healthy and warm. Delineation is good; I saw no bleeding. Overall it has the popular orange and teal grade that filmmakers have been hooked on for the last twenty years or so but film buffs are utterly sick of.

Black levels and contrast work well bringing out plenty of fine detail on all focal planes and I saw no blown out highlights or black crush. Being digitally lensed grain is fairly minimal and it looks like a digitally lensed production; not terribly filmic. I noticed no compression issues. It's a recently produced film that favours bright colours and a good contrast ratio, so this is a topnotch image that could only be improved by 4K UHD BD; 'A+'.

1080/24p / AVC MPEG-4 / BD50 / 2.39:1 / 128:20

Audio


English DTS-HD Master Audio 5.1
English LPCM 2.0 Surround
Subtitles: English HoH

Thunderous, bombastic track typical of the kind of film under review; a big, sci-fi action spectacular. Considering this was made on a low budget the sound designers have done a bang up job. The volume level is very decent unlike some some other Blu-rays I've covered. Surrounds are very active with dialogue, score effects and move around the sound field and LFE kicks the woofer into action frequently. Perhaps not quite in the same league as your modern Bonds or Marvel flicks but nit far behind at all; 'A'.

Thankfully, excellent hard of hearing subtitles have been provided; unlike the US BD release.

Extras


(1.) Audio commentary with director Luke Sparke (2020)
(2.) Audio commentary with director Luke Sparke, producers Alex Becconsall, Carly Imrie and Carmel Imrie, and actor Zac Garred (2020)

A couple of commentary tracks; the first is the director solo and the second with the director and various members of the cast and crew. They're decent tracks filled with plenty of interest. The track with more people is lighter and more engaging in a casual listening sense; director Sparkle essentially acts as a moderator introducing the others. The director's track more focussed on the nuts and bolts; Sparkle also wrote, produced and worked on the SPFX and editing so he does a great job here. Presented in LPCM 2.0 surround although there is obviously little by way surround activity.

"Sydney Escape" 2020 featurette (3:48)

Interesting little featurette that focusses on the scoring cutting back and forth betwixt clips from the film and scenes where the score matches up. Presented in 1089/24p 1.78:1 with uncompressed LPCM 2.0 surround.

Deleted Scenes (with optional commentary with director Luke Sparkle) (12:33):
- "Montage / Wessex & Amelia"
- "Alien Spy in the Base"
- "Wessex & Amelia Reunite"
- "Hayes' Room"
- "Wessex & Amelia"
- "To the Lost"
- "Matt Talks to Alison"
- "Matt Hears Baby Alison"

Some interesting but mostly nonessential deleted scenes that can be viewed with, or without director commentary; presented in LPCM 2.0 surround; again, there's little surround activity.

Startup Trailers:
- Vanquish (1:42)
- Possessor (2:10)

Standard promos for other Signature Entertainment releases presented in widescreen (2.39:1 and 1.78:1 respectively) 1080/24p with uncompressed LPCM 2.0 surround sound.

Packaging


Standard, blue BD Keepcase.

Overall


A middle of the road sci-fi spectacular gets fine treatment from Signature Entertainment in the UK. Top notch image and sound and some decent extras. However, two featurettes and trailers have been dropped off the disc when compared to the otherwise same extras package on the Australian Umbrella platter. A strange choice; I doubt we're missing much as they're likely to be brief puff pieces but it's still disappointing.

In any case; a topnotch presentation and the price is very reasonable so recommended.
| | | | | |
| --- | --- | --- | --- | --- |
| The Film: C- | Video: A+ | Audio: A | Extras: C | Overall: B |

---
Rewind DVDCompare is a participant in the Amazon Services LLC Associates Program and the Amazon Europe S.a.r.l. Associates Programme, an affiliate advertising program designed to provide a means for sites to earn advertising fees by advertising and linking to amazon.co.uk, amazon.com, amazon.ca, amazon.fr, amazon.de, amazon.it and amazon.es . As an Amazon Associate, we earn from qualifying purchases.