The Film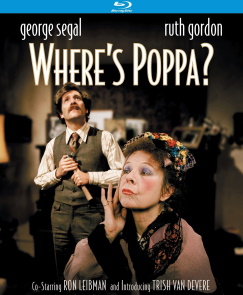 Nearing middle-age, criminal defense attorney Gordon Hochester (Who's Afraid of Virginia Woolf?'s George Segal) yearns to be free of his senile eighty-seven year old widowed mother (Whatever Happened to Aunt Alice?'s Ruth Gordon). Since he made a deathbed promise to his father to take care of her, he cannot 20010101even conceive of putting her in a home; instead, he dons various costumes – the latest a gorilla suit – and attempt to frighten her to death. All she sees, however, is a little boy playing pranks and constantly bemoans, "Where's poppa?" He is becoming increasingly distracted by fantasies of novel forms of matricide that his work suffers, his latest failure being his defense of a hippie Vietnam protestor (This is Spinal Tap's Rob Reiner) whose military colonel assault victim (TRON's Barnard Hughes) seems to be quite off his rocker. So desperate is he for a connection beyond his mother and his guilt-tripping married older brother Sidney (Auto Focus' Ron Leibman) – himself henpecked by his wife Gladys (Damn Yankees' Rae Allen) and wild children – that it is love at first sight when Louise Callan (The Changeling's Trish Van Devere) applies to be his mother's homecare nurse (a position recently vacated by Cotton Comes to Harlem's Helen Martin). She has no references since all of her previous patients are dead, and she is just as vulnerable to Gordon's heavy-handed romantic interest because of the unspeakable act that ended her marriage on the honeymoon night. Things turn disastrous when Gordon introduces Louise to his mother who confuses him with Sidney, badmouths Gordon to the younger woman, and then attacks Louise believing her to be her husband's "other woman." As Gordon attempts to woo Louise back and placate his mother fail, he must decide whether to break his promise and put his mother in a home or take care of her once and for all.

Adapted by Robert Klane from his own novel – Klane later wrote for M*A*S*H, adapted The Tall Blond Man with One Black Shoe for the remake The Man with One Red Shoe, and scripted http://www.dvdcompare.net/comparisons/film.php?fid=16699 as well as both Weekend at Bernie's and Weekend at Bernie's 2 (which he also directed) – Where's Poppa? is hard to classify, as slight as it is episodic, combining a myriad of Jewish mother and son clichιs into a middle-aged man's existential hell while making light of a situation that adults with aging parents face everyday. Fortunately, or possibly not, the potential claustrophobia of Gordon's world is alleviated for the viewer by some politically incorrect gags involving Sidney's nightly mugging by a black gang – which includes Saturday Night Live's Garrett Morris in their number – and being given first dibs in a gang rape along with Vincent Gardenia (one of a handful of Death Wish alums in the cast) as one of Gordon's clients, a children's sports coach with some particular methods of recruiting children. The supporting cast is rich in character actors, including Paul Sorvino (Goodfellas) as the slumlord owner of an old folks' home, Tom Atkins (The Ninth Configuration) as a police officer in one of Gordon's fantasies, Alice Drummond (Ghostbusters) as one of Gordon's neighbors forced to share the confined space of an elevator with Sidney after he has had his clothes stolen by muggers, as well as an uncredited Penny Marshall (Laverne & Shirley) in one of the courtroom scenes. Where's Poppa? was spun off into a TV pilot directed by actor Richard Benjamin (Diary of a Mad Housewife) and starring Steven Keats (Hester Street) as Gordon and Elsa Lanchester (Murder by Death) as his mother. As shapeless as Where's Poppa? is, it is funny and a more provocative directorial effort than The Comic for comedian-turned-director Carl Reiner.

Video


Released theatrically by United Artists, Where's Poppa? fell into relatively obscurity for a number of years in spite of a reissue under the title Going Ape. Oddly enough, when it was released on CED and VHS in the early eighties by Fox offshoot Key Video, it was in a version featuring an alternate extended ending that altered the tone considerably from what was once a rushed, escapist ending in the theatrical version. This version also played on cable TV. When the film was released by MGM on VHS in 1990 and on laserdisc in 1992, it was back to the theatrical version; however, MGM's anamorphic 2002 DVD of the theatrical version did include the alternate ending as an extra. Kino Lorber's 1080p24 MPEG-4 AVC 1.85:1 widescreen Blu-ray is once again the theatrical version. Although it is not a new master, it looks quite good in close-ups and medium shots, while some of the wide shots and the night exteriors are more indicative of the low budget shooting than the age of the transfer.

Audio


The sole audio option is a DTS-HD Master Audio 2.0 mono track. The mix is not very complex or demanding, with clear dialogue (some looped dialogue), mostly location-recorded effects, and intermittent scoring. Optional English SDH subtitles are provided.

Extras


Odd for Kino Lorber who can usually find a commentator for most of their catalogue titles, the only extras here are the film's aforementioned alternate ending (5:43) – which is more downbeat and seems more realist but then ends with a subversive final shot – two teaser trailers (1:16 and 1:09), and the film's theatrical trailer (2:55).

Overall


As shapeless as Where's Poppa? is, it is funny and provocative directorial effort for comedian-turned-director Carl Reiner.