The Film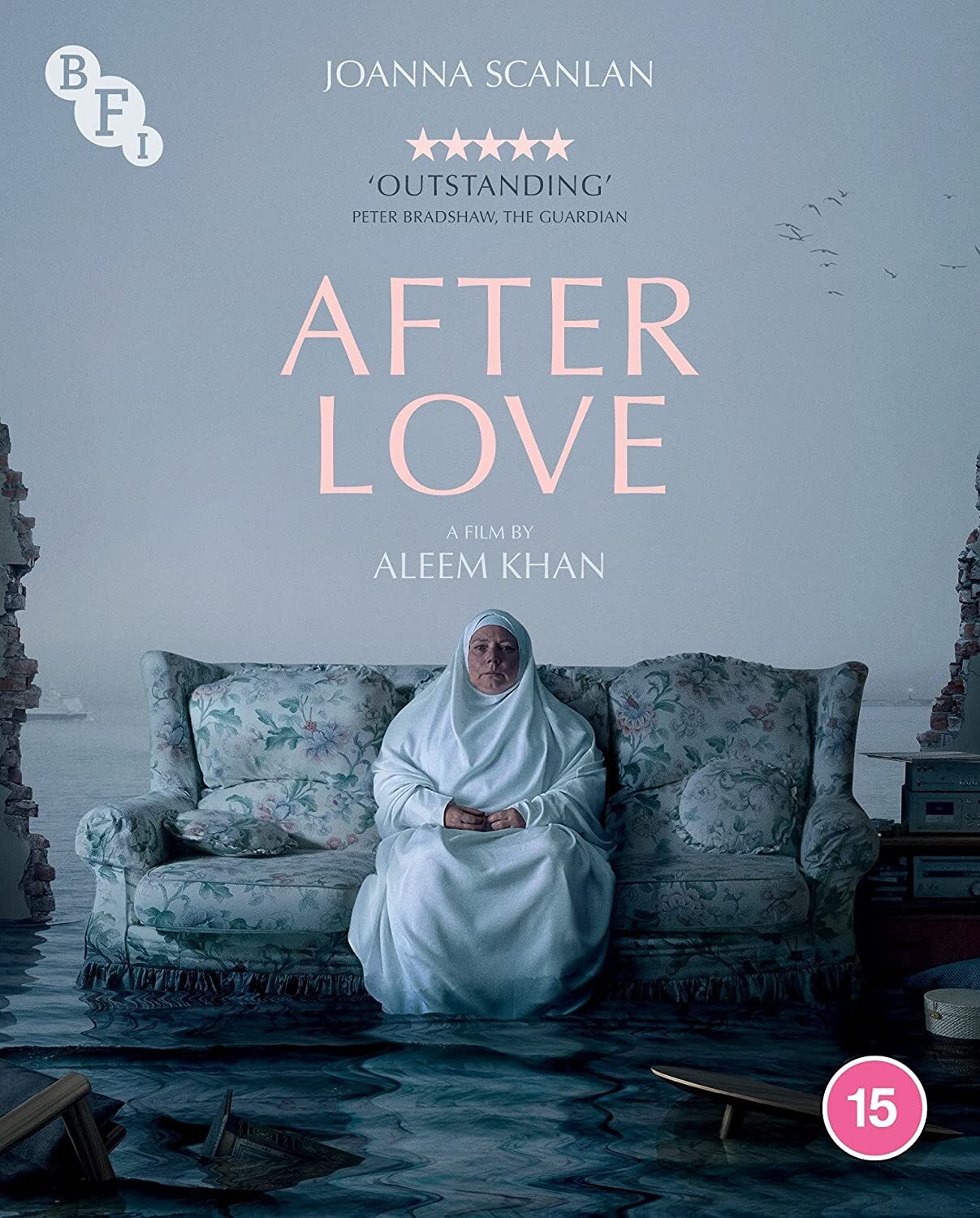 "After Love" (2020)

Mary Hussain (played by Joanna Scanlan) is a middle aged English woman who suddenly becomes a widow when her husband Ahmed (played Nasser Memarzia) passes away unexpectedly. But then she discovers some text messages on his phone from a woman named Genevieve (played by Nathalie Richard) across the English Channel in France. Mary discovers that she was having a relationship with Ahmed. Not just a recent relationship but to the extent that he and Genevieve have a teenage son together.

Filmmaker Aleem Khan's feature length directorial debut is an incredibly personal work, as a tribute to his mother, a tribute to faith, and an emotionally difficult look at truths being unfolded through death. Khan's mother is a white woman that converted to Islam through marriage and the character of Mary is a character that also does the same. Islamic women as lead characters in cinema is extremely rare - white or otherwise, and what Scanlan brings to the screen is something that is seldom seen on screen yet are figures that are present in society. But she's not at all a one dimensional character. From the opening scene where her husband suddenly dies in their living room, it quickly shifts to the funeral, and then her time living along in an empty home. There are long periods in the film where dialogue is not spoken at all, with characters especially Mary having to play her part with only her expressions. What is also remarkable about her performance is how everything from the way she dresses, rituals such as prayers are reflective of the Islamic faith. They might seem "foreign" to some viewers but it is refreshing to see them portrayed on screen in an English film with such nonchalance, rather than saying "This is what Islamic women do and this is how they dress." Things get much more complex when she confronts Genevieve at her home. Although she has practiced in her head what she was going to say, she freezes up when seeing her face to face, and Genevieve mistakes her for being a hire from a cleaning service for their upcoming move.

While on one side Mary is ready to confront Genevieve about who she really is and about the death of Ahmed, instead she is invited into the house where she finds Ahmed's clothes, Ahmed's home videos, and also his secret teenage son. As it is, everyone in the film is living with a secret. Mary is hiding the fact to Genevieve and her son Solomon (played by Talid Ariss) that she is Ahmed's wife and that Ahmed had passed away. Genevieve knew that Ahmed had a wife in England, but hid the fact from her son for all these years. Solomon himself is hiding the fact that he is gay from his mother and that he has a boyfriend. All have their differing reasons, with Mary being the most immediate. Her investigation as to why her husband hid this fact for so long is tormenting her and confusing her. She converted to Islam for him in marriage while Genevieve is not at all religious. Mary is plump in figure while Genevieve is slim and tall. What exactly was Ahmed looking for and what was his meaning of leading a double life for all these years? In addition, why did Genevieve decide to start and stay in a relationship with a man that was already married?

With Mary being inside Genevieve and Solomon's home for a few days she starts learning more about the secret relationship but also gets deeper into a hole where she cannot escape from. With them trying to reach Ahmed by phone, she starts to also converse as Ahmed through his phone by text, making it seem as if he was still alive. In addition, the truth must be revealed as there is no way to cover the fact that he is no longer coming back. Not only that, but she sees Ahmed in Solomon, and starts seeing him like a surrogate son rather than a bastard child. He has never been to his father's home country of Pakistan, his Urdu language skills are only basic, and his closeted homosexuality is something she felt a parallel to when she was younger. Her relationship with Ahmed was a secret, as he was a Muslim man. With the character of Solomon there are obvious parallels with Khan as he is Muslim and homosexual as well, in addition to being half British half Pakistani. The buildup leads to tension and brilliantly comes crashing down in the final act as expected, with emotional devastation that cannot be denied. The performers are excellent in their roles, leading double lives with emotional complexities, with an excellent script by Khan.

The film was originally slated to be screened at Cannes 2020 but the screenings were cancelled due to COVID-19. Telluride and Toronto International Film Festival screenings were also cancelled and it finally was screened at the London Film Festival on October 15th, 2020. Due to lockdowns and restrictions the film finally received a theatrical release in the UK from June 4th, 2021, followed by this Blu-ray release from the BFI in August 2021. The film won various prizes, including Best Actress for Scanlan at the Thessaloniki Film Festival and Dublin International Film Festival.

Note this is a region B Blu-ray

Video


The BFI presents the film in the 2.39:1 aspect ratio in 1080p AVC MPEG-4. The HD transfer is basically flawless, having a crisp and clear image throughout, with bright bold colors of the Cliffs of Dover looking magnificent as well as the colors of the wardrobes. It is a brightly lit film even with its darker emotional tones, and there is little if any to fault with the transfer.

The film's runtime is 90:13

Audio


English/French/Arabic/Urdu DTS-HD Master Audio 5.1
English/French/Arabic/Urdu LPCM 2.0 stereo
English Audio Descriptive LPCM 2.0 stereo
There are three audio tracks for the film, with a lossless 5.1 audio track, an uncompressed stereo track, and an English audio descriptive track. The 5.1 and stereo tracks also have French, Arabic and Urdu portions in which the descriptive track would have narration over, along with other cues for the visually impaired. The 5.1 track sounds great, with dialogue always centered and the surrounding channels used for music and effects cues, which are used sparingly but effectively. The audio is well balanced with the dialogue, music, and effects. The 2.0 track is fair as well, with proper separation of left and right channels when appropriate.

There are optional English and English HoH subtitles for the main feature in a white font. The standard default English subtitles translate any non-English dialogue. The HoH subtitles captions the English dialogue as well as translating the non-English portions. Note that the review disc had a timing issues with both subtitle tracks, with the subtitles appearing about a second later than the spoken dialogue for the entire duration. The BFI was notified about the issue, and the release was delayed by a month to solve the issue. I have not received a corrected disc or seen a clip of the corrected disc, though the retail release should have corrected retimed subtitles.

Extras


BFI at Home Q&A (46:24)
In this video conference session from May 2021, Khan, Scanlan and Richard are interviewed by Isra Al Kassi, curator and co-founder of TAPE collective, as they discuss the script, the showcasing of Islamic rituals on screen, the different characters and their motivations, Scanlan having to learn the prayers in Arabic and speak Urdu, the significance of home and family for everyone, and more. As it is recorded remotely through webcams the audio and video can be iffy at times. The Q&A has been embedded below.
in 1080p AVC MPEG-4, in 1.78:1, in English Dolby Digital 2.0 without subtitles

"Three Brothers" 2014 short (17:12)
"Three Brothers" was Khan's third short film as writer and director, showcasing three young brothers coping with life after their mother's death and a father who is distant. Shot with non-professional actors with a sparse amount of dialogue, the short still packs an emotional punch even with the very short runtime. The short was nominated for a BAFTA for Best British Short Film.
in 1080p AVC MPEG-4, in 1.78:1, in English Dolby Digital 2.0 without subtitles

Gallery (3:26)
An automated silent slideshow with posters and behind the scenes stills.
in 1080p AVC MPEG-4

Trailer (2:00)
The effective original trailer is presented here. It has also been embedded below.
in 1080p AVC MPEG-4, in 2.39:1, in English DTS-HD Master Audio 5.1 without subtitles

Teaser (0:58)
The original teaser trailer, which gives basically no information of the plot, but is still quite effective. It has also been embedded below.
in 1080p AVC MPEG-4, in 2.39:1, in English Dolby Digital 2.0 without subtitles

Booklet
A 32 page booklet is included in the first pressing. First is a statement from Khan about his mother and the connection to the themes in the film. The essay "Muslim on Her Own Terms" is by poet, writer and educator Suhaiymah Manzoor-Khan, discussing the character of Mary in depth. Next is "Whe the Details Matter: On Shaping a Film and Identity Through Rituals" by Isra Al Kassi discussing the lack of Islamic rituals on screen and how the film connects with her personally. A producer's note by by Matthieu de Braconier is also included which touches on the production of the film. "A World Just Out of Reach" is an interview with Khan by Will Massa which was first published in Sight & Sound in June 2021. There are also full film credits, special features information, acknowledgements, and stills.

Teaser Trailer


Theatrical Trailer


BFI at Home Q&A



Critic Mark Kermode gives a great introduction for the film for the BFI Player which can be found here:


Overall


"After Love" is an emotional and devastating drama of secrets and lies, with brilliant performances from the leads and is a remarkable feature debut from Aleem Khan. The BFI Blu-ray features a very good selection of extras, making this highly recommended.
| | | | | |
| --- | --- | --- | --- | --- |
| The Film: A | Video: A | Audio: A | Extras: B | Overall: A- |