The Film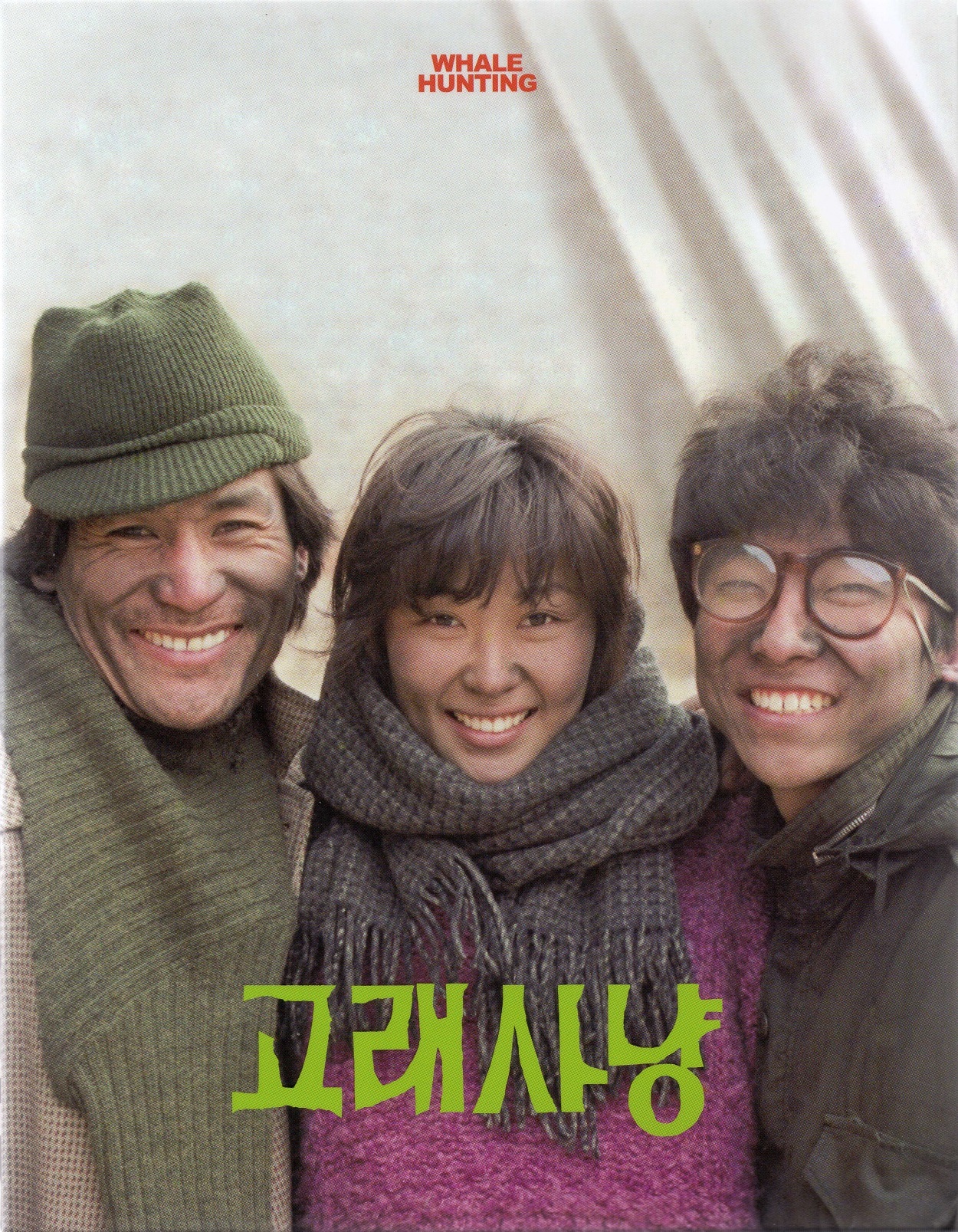 "Whale Hunting" <고래 사냥> (1984)

Byung-tae (played by Kim Soo-chul) is a college kid without direction in life. Shy, nerdy, and scrawny, he has never been with a girl, doesn't have friends, and is not interested in studies either. One evening he is nearly arrested but is rescued by Min-wu (played by Ahn Sung-ki), a homeless man who seems to have every trick up his sleeve. Literally so, as his jacket is filled with various knick-knacks and survival tools, from a toothbrush and razor for hygiene, to sunglasses and a cane to pretend he is blind. With Byung-tae running away from home without any particular purpose, he forms a bond with the older and seemingly wiser Min-wu into surviving on the streets.

It's through this new life in the streets that Byung-tae runs into Chun-ja (played by Lee Mi-sook), a young mute girl working in a brothel. She doesn't want to be there and she doesn't want to take part in working there, looking to somehow return home. Byung-tae finally finds a purpose, and that is to take her back to her hometown. But even with Min-wu's cunning ways to help along the way, they are also running from the gangster that runs the brothel (played by Lee Dae-geun) and his minions who are after them every step of the way.

Filmmaker Bae Chang-ho) started as an assistant director on 1980's acclaimed A Fine, Windy Day" and 1981's "Children of Darkness" for director Lee Jang-ho before he made his directorial debut with 1982's "People in the Slum". The 29 year old was quick to find fame with a commercial and critical success from the start, with appealing stories through a fresh voice. "Whale Hunting" was Bae's fourth film as director, and one of his most successful. Writer Choi In-ho wrote the original novel, and was also the screenwriter for the film, adapting his own work to the screen. Like "March of Fools" (1975) which he also wrote, the protagonists are young and not the most sophisticated, and it is their journey they take that they learn more about life, friendship, and love in differing ways.

With "Whale Hunting" it is not quite clear about why the protagonist decided to run away from home. His home life is never shown, his daily life isn't either. But with nothing set in stone, it can be easy to place oneself within the character of Byung-tae, as everyone has thoughts of one day escaping from their own reality, and they can interject whatever they feel as the backdrop to the character. In the opening sequence, Byung-tae has a nightmare that he is suddenly thrust into a body building contest where everyone laughs at his skinny and short body. When he's at the police station, he's frozen (literally, even with the cold breaths being exhaled) and unable to speak his mind, especially against a woman who was conning him and trying to take advantage of the situation. But the story is not about him staying a nerd without confidence, but instead about life lessons that would free him and grow mentally. Whether the experiences are good or not can be debated, but it's certainly a good basis for a road movie.

Even if "Whale Hunting" is classified as a road movie due to the main three characters on a distant journey, the trip doesn't start until about halfway into the film, as they travel by stolen ambulance, tractor, bus, train, and any other means necessary to get to Udo Island, which is Chun-ja's hometown. Of the three characters, she is the one with the most mystery as her character is traumatically mute, as she has lost her voice and unable to speak. Byung-tae was able to hear her voice but only while she was sleeping and having a nightmare. Once awoken, she was again unable to speak. Because she has barely any dialogue, there is little to learn about her. But like Byung-tae, she does have a back story that is barely told to the audience members. All that is known is that she is from a remote island, came to the city for a better life but was caught up in prostitution and unable to escape. She might be the weakest link between the trio, but there are times that her mute-ness comes in handy for more comical moments rather than the dramatic.

Min-wu is obviously the scene stealer, and prolific actor Ahn Sung-ki is able to play him with humorous touches through physical comedy while still keeping things grounded in reality. From his jacket filled with tools to his gracious smile, he's a lovable character that always has something at the right time, including ways of tricking people, whether to swindle money, or to get out of police custody, he is someone with a playbook of ideas though not always the best of ideas. As for the title of "Whale Hunting", there is no actual hunting of whales in the story. It is something that Byung0-tae randomly says he wants to do. Something unattainable and almost impossible, but it does have connotations to "Moby Dick", with finding a purpose and going for it no matter how long or hard the journey is. Eventually it does become closer to that, with the three characters with no money to travel across the country through the cold winter season against the odds. The police are looking for Byung-tae as a runaway teen, the gangsters are on the trail looking for their possession, and no one else to help them through the long open road. Filled with comical sequences, dramatic scenes, along with some sex and violence,

"Whale Hunting"is also notable for its cinematography by Chung Kwang-suk, who has a long list of credits over a more than four decade span. Due to constantly changing locations and movement, a lot of handheld sequences were filmed, adding to a documentary style to many of the scenes, adding a sense of movement throughout the journey of the main characters. Though there are a lot of standard still framed portions, such as indoors and long shots that focus on the landscape they travel towards, it's a film with variety in its look, yet somehow still feels consistent, by carefully choosing the style necessary for the scene. Dialogue scenes would be still, focusing on dialogue. The escape from the brothel sequence would have motion throughout, with the camera following the actors appropriately as they make their run. With great direction in visuals, witty and quirky writing, and interesting yet slightly awkward characters together, "Whale Hunting" does stand out from the crowd as a fun road movie with actual growth for the individual characters. While the trio may be directionless for most of the runtime, it's all about finding what "home" actually means.

The film was released theatrically on March 31st, 1984 in South Korean and became a massive success, with 430,000 tickets sold, becoming the top film of the year. "Best Film" and "Best Director" awards were received from the Korean Association of Film Critics Awards, and also led to a direct sequel being made with "Whale Hunting 2" a year later, with Bae returning to direct, Choi writing the script, and Ahn reprising his role of Min-wu. Byeong-tae was recast and a new female role was written, and while a success it was not close to how well received the original film was, as it relied too much of the same plot devices as the first rather than being something original. Regardless of the small dip, it didn't diminish the reception of the original film and its reputation. The Korean Film Archive fully restored the film in 2021, and has given the film new life with its HD debut on Blu-ray.

Note this is a region ALL Blu-ray

Video


Korean Film Archive/Blue Kino present the film in the 2.35:1 aspect ratio in 1080p AVC MPEG-4. The original 35mm negative held by the Korean Film Archive since 1984 was scanned at 2K resolution in 2011, those a full restoration would not be completed until 2021. Quite a number of restoration techniques were used, both with manual and automated restoration techniques, from removing dust and scratches, stabilizing the image, correcting fluctuating colors, correcting warped frames and much more. Damage is basically gone from this new restoration, colors have been balanced accordingly with great depth in skin tones, costumes, and environments, and at the same time grain is fully present, keeping a filmlike quality throughout. This might easily be the best looking Blu-ray that KOFA has produced so far. The full restoration was completed a full decade after the initial film scanning, but it was certainly worth the wait with the current technology being able to bring this film back to life.

The film's runtime including the restoration information is 110:58

Audio


Korean LPCM 1.0
The original mono track is presented uncompressed. Restored from the original 35mm negative's optical track in 2021, the restoration team removed hiss, pops, cracks, fixed distorted sound, balanced wow and flutter using both automated and manual techniques. The soundtrack does have some signs of its age as the mono track does keep things fairly flat, though on the bright side there are no faults or errors to the mix which sounds very good. Music, effects, and dialogue have been equalized and well balanced throughout.

There are optional English, Japanese, Korean subtitles in a white font. There are no errors in grammar or spelling to speak of.

Extras


Audio commentary by director Bae Chang-ho, actors Ahn Sung-ki and Kim Soo-chul, and film journalist Ju Sung-chul
A newly recorded commentary by the director and male leaders for the Blu-ray is here, though unfortunately in a fairly recent ongoing trend for KOFA, the commentary has not been subtitled for English audiences.
in Korean Dolby Digital 2.0 without subtitles

"Digital Restoration: Before/After" featurette (3:09)
Presented are splitscreen comparisons of before and after the film's restoration. As shown, the film was in fairly good condition already, but examples can be seen with flickering, speckles, and other damage marks.
in 1080p AVC MPEG-4, with Korean & English text

Image Gallery
A series of 10 stills from behind the scenes and more.
in 1080p AVC MPEG-4

Trailer (3:00)
The original theatrical trailer is presented here.
in 1080p AVC MPEG-4, in 2.35:1, in Korean LPCM 1.0 without subtitles

"Whale Hunting 2" trailer (2:49)
The trailer for the sequel from one year later is presented here.
in 1080p AVC MPEG-4, in 1.85:1, in Korean LPCM 1.0 without subtitles

Booklet
A 48 page booklet is included, half in Korean and half in English. First are film credits, a synopsis and an awards listing. There is also a director's filmography listing. Extensive notes on the restoration are listed next. "A Feeling for Box Office Success, the Spirit of an Artist and the Journey of an Auteur" is an essay by film critic Song Kyung-won, looking at Bae's career. The second essay is "A Road Movie Changing the World with Love, It Does Not Change the Way to Meet a Whale, Even Though Times Have Changed" again by Song Kyung-won looking closer at "Whale Hunting". There are also production stills, poster art, and photos of the commentary session.

Packaging


The disc is packaged in a clear keep case which is housed in an outer slipcase, as spine #22 in the Korean Film Archive Blu-ray series. The booklet is also housed in the slipcase. Also included are three still photo postcards in the keep case.


Overall


"Whale Hunting" was one of the most acclaimed and successful films in South Korean cinema, and this comedy-drama road trip film has been given a lavish restoration for future generations to enjoy with this new Blu-ray. KOFA's restoration looks incredible, and there is a fair amount of extras, though the commentary is unfortunately not subtitled. Still comes as highly recommended.
| | | | | |
| --- | --- | --- | --- | --- |
| The Film: A- | Video: A+ | Audio: A | Extras: B | Overall: A- |