Witch Hunt
R2 - United Kingdom - Signature Entertainment
Review written by and copyright: Rick Curzon (9th September 2021).
The Film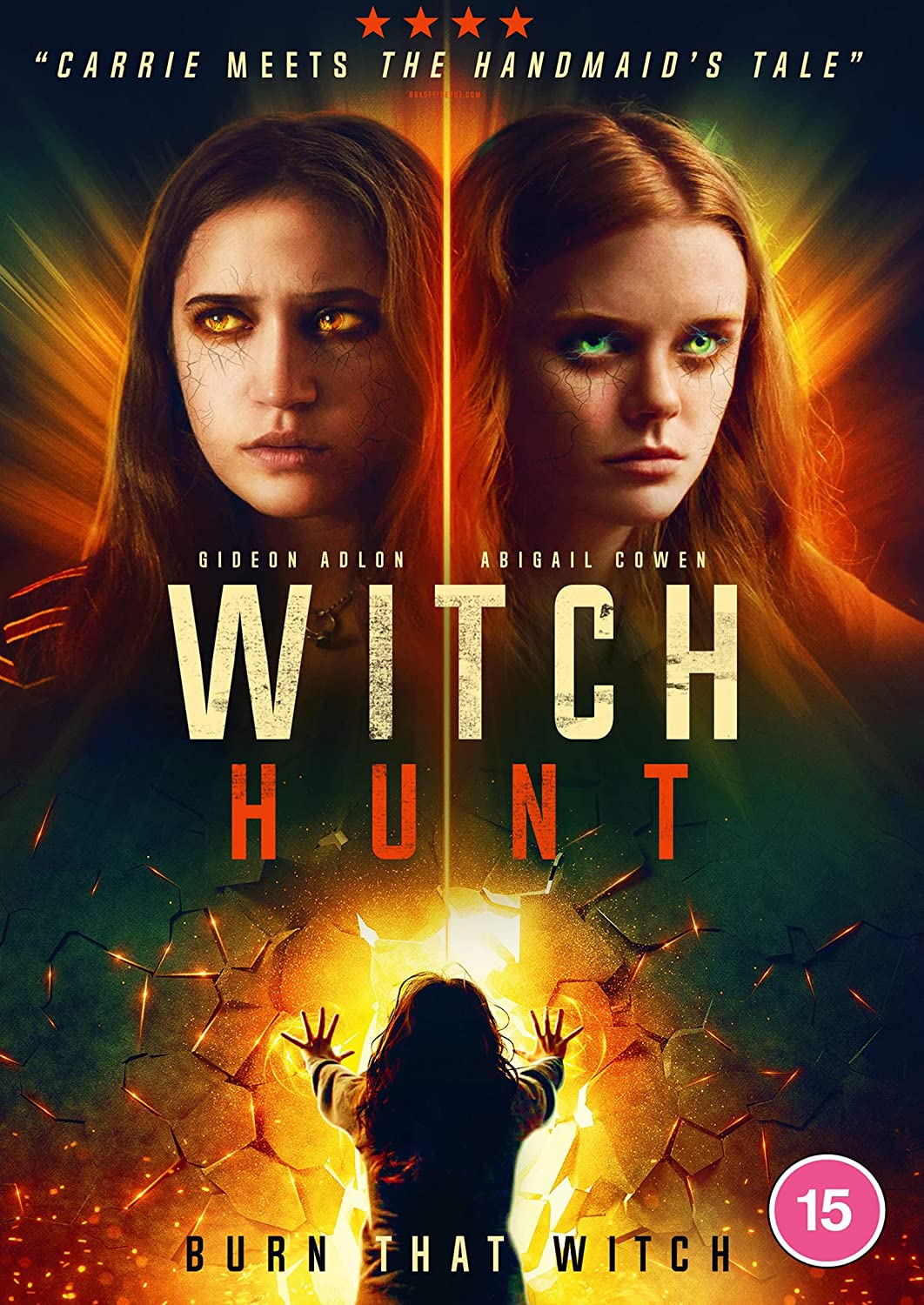 Hunted. Persecuted. Executed.

The witch trials come to life in modern day America and no one is safe from the persecution or execution. Claire (Gideon Adlon - The Craft: Legacy) and her mother (Elizabeth Mitchell - The Expanse, The Purge: Election Year) are part of an underground movement in charge of ferrying women accused of witchcraft to safety.

All is well in their world until a new charge brings the witch hunters to their door. Will they escape with their lives or will they also be charged with the ungodly crime of being a witch?

Let the WITCH HUNT begin.

Video


Science fiction / fantasy / alternate history tale about a contemporary USA in which witch hunts are still going on ala the Salem witch hunts (1692-93), witchcraft is illegal, magic is real and hunts are ruthlessly carried out by the authorities. An intriguing premise that doesn't sustain itself although it is initially interesting. All the teen angst is incredibly dull and annoying and their selfish nature is used to create familial conflict in the face of a desperate situation. Witches are easy to spot as they have red hair ... the parable for intolerance is very heavy-handed, very American.

It's being sold somewhat as a horror film, or at least the poster and title would indicate such. It's really a thriller drama akin to a tale about the true life underground railroad that spirited slaves to freedom on the 19th century southern USA. It also reverses the typical Texas-Mexico boarder issue of Mexicans sneaking into the US, here it's the reverse only it's with witches.

I can find no specific information on the technical aspects of the film, but it's certainly a digitally lensed production and as is sadly the usual case these days it's presented in the ubiquitous 2.39:1 scope ratio. There used to be a time where the mix of aspect ratios one encountered was far greater. These days everyone seems to use 2.39:1, a ratio traditionally reserved for bigger scale stories with larger visuals. It was very unusual when a low budget effort like Witch Hunt was shot in the format; think something like Halloween (1978). I never thought I'd see the day when I'm surprised to see flat formats used (1.66:1, 1.75:1, 1.85:1) but in terms of modern film they're the rarity; at least in my experience.

Visually the film is very colourful with a warm rich palette especially in more brightly lit scenes. Primaries are strong with reds and yellows being of note. The red hair of the witches kicks out whenever on screen. Black levels are dark and rich with shadow detail being decent for the DVD format. Contrast is well handled; this is a film that has a decent contrast ration of light and dark, with very dim scenes and very bright ones and the range is always clear and detail decent. The very opposite of a film like the recent Unearth (2020) which favoured a very lowkey contrast ratio that wasn't as well served by the lower definition.

The encode is strong and I could see no compression artefacts.

This is a strong transfer for standard definition; 'B+'.

MPEG-2 / DVD5 / 2.39:1 / 93:46 PAL

Audio


English Dolby Digital 5.1
English Dolby Digital 2.0 Stereo
Subtitles: None

The soundtrack is fairly basic for a modern film with the surrounds mainly used for the standard score and ambiance. Obviously during action moments (the opening witch burning, scenes where the authorities chase and shoot witches etc) the field opens up with some decent use of the rear channels and the subwoofer kicks in slightly. For the most part, it's a front centric track; dialogue is clear and score supportive. The 2.0 stereo is just that, basic stereo; not encoded for surround but can play with rear activity via ProLogic II or similar.

Sadly, there are no hard of hearing subtitles. In this day and age it's a shame that every disc produced doesn't automatically have these. A friend of mine is largely deaf and doesn't watch anything without them so she'd be excluded from using this disc.

Extras


Startup Trailers:
- No Man's Land (1:21)
- Initiation (2:02)

The usual promos for other releases.

Packaging


The standard black DVD Keepcase.

Overall


An interesting slice of alternate history sci-fi / fantasy gets the basic standard definition treatment from Signature Entertainment in the UK. The film is passable, starts out stronger than it becomes but is all a bit heavy-handed (59% on Rotten Tomatoes) in it's satire; most likely will play best to teens. Image and sound are strong with the former edging a higher score. Extras of any value are non existent. As is standard for the company this disc was available at a very decent £7.00 on day one from Amazon so it's hard not argue with that for value. I only wish that Signature would include hard of hearing subtitles on all of their releases on both the main feature and on all extras. Recommended.
| | | | | |
| --- | --- | --- | --- | --- |
| The Film: C- | Video: B+ | Audio: B- | Extras: E | Overall: C+ |

---
Rewind DVDCompare is a participant in the Amazon Services LLC Associates Program and the Amazon Europe S.a.r.l. Associates Programme, an affiliate advertising program designed to provide a means for sites to earn advertising fees by advertising and linking to amazon.co.uk, amazon.com, amazon.ca, amazon.fr, amazon.de, amazon.it and amazon.es . As an Amazon Associate, we earn from qualifying purchases.