The Film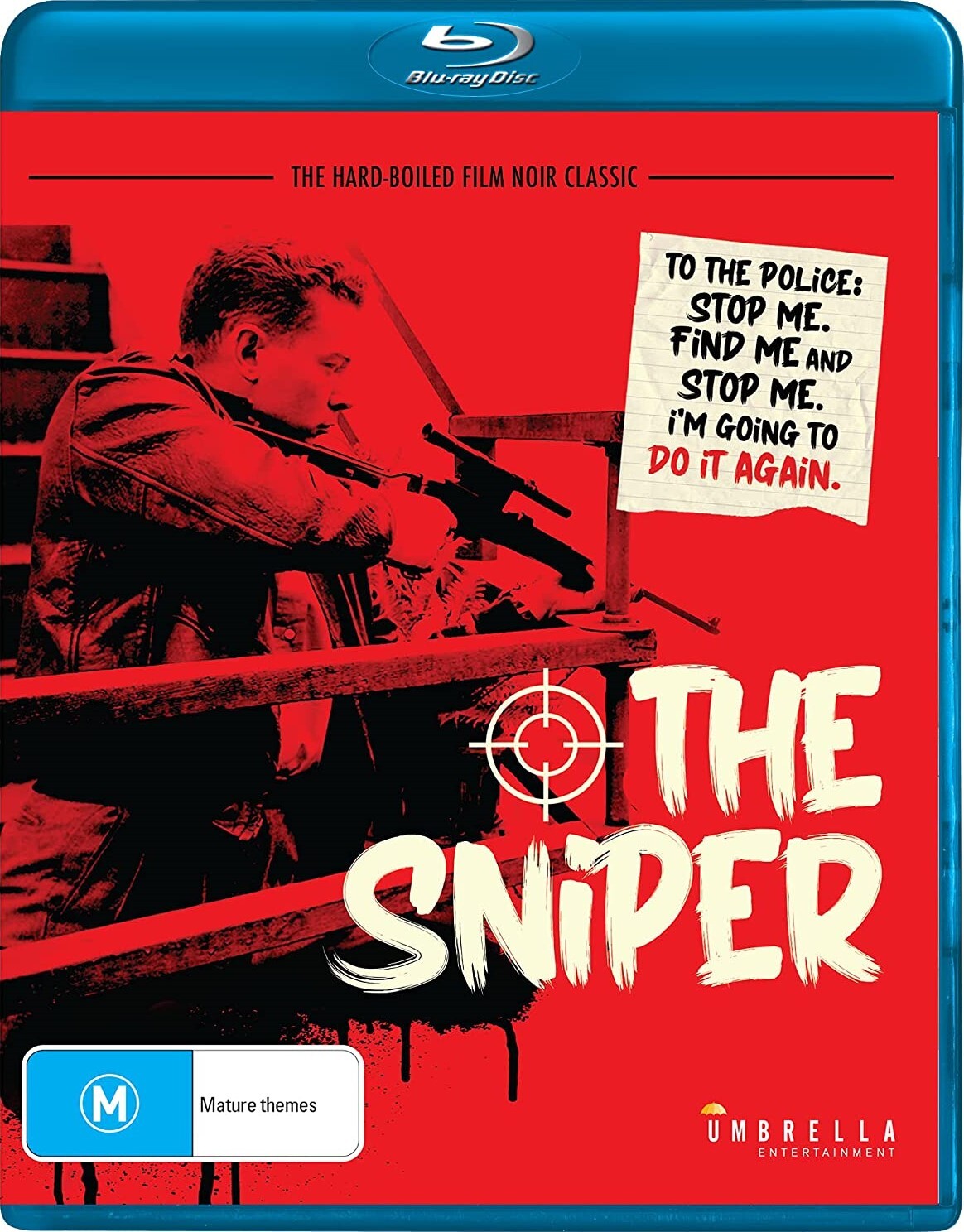 "The Sniper" (1952)

Eddie Miller (played by Arthur Franz) is a seemingly average young man in the city, living along and working a day job like anyone else. But Eddie is sick and he knows that he is. He has difficulty with women. No matter where he turns there are obviously many around him, but no matter what, he always sees the negative side of them. From promiscuous young women his age or younger, mothers scolding their kids he sees them with hurtful eyes. He's visiting a psychiatrist to curb his difficulty and dark thoughts, but with his doctor out of town, he is on his own. But random hate turns to more violent urges, with Eddie getting out his rifle, and starting a deadly rampage in town.

A word about the picture which follows: High among police problems is that of the sex criminal, responsible last year alone for offenses which victimized 31,175 women. Adequate and understanding laws do not exist. Law enforcement is helpless. Here, in terms of one case, is the story of a man whose enemy was womankind.

This is the opening text to "The Sniper" before the Columbia logo is introduced. This was not a tacked on disclaimer for reissue, but was there from the premiere. Classifying the main character in the film as a "sex criminal" may sound a little odd in this case. He is not a rapist, a molester, but is a murderer. He does not get pleasure out of killing, nor are his actions sexual in nature. Or are they? It's never explained why Eddie has a hateful attitude towards women, but he's not always the coldhearted force that he appears to be. His first target, Jean Darr (played by Marie Windsor) invites him into her home as he is delivering her dry cleaning. He walks in with a smile, helps her get a suitcase down and even offers to help with a favor in dry cleaning a dress for the next day. But once a male friend comes by and she asks him to leave, he turns his smile into rage very quickly, as he stalks her to her workplace at night and shoots her from a distance, instantly killing her. Eddie was genuinely nice to her in her home and had no sign of ever trying to kill her. In fact he was possibly feeling his heart beat fast positively. Even after his first killing when he chats to a girl, May (played by Marlo Dwyer) at a bar, he has a nice flirtatious attitude, which comes crumbling down when she suspects his storytelling of working in Hawaii is a lie. He obviously doesn't have a complete hatred towards women, but he had something in his past that traumatized him. Was it his mother? An ex? A fear of rejection by the opposite sex? The film is not out to explain why Eddie became this way or what could be done to fix him. Instead it is a warning that this is not a lone issue that is rare. There are people like this in the world, who know that they have a mental issue but are basically brushed away from doctors and others, thinking it is not a serious case compared to other patients. And when things explode, the bodies start to pile up.

For much of the film the viewpoint is seen through the eyes of Eddie. But once the killings start, there are a few sequences with the police and their investigation. Adolphe Menjou as Lieutenant Frank Kafka, Gerald Mohr as Sergeant Joe Ferris, and Frank Faylen as Inspector Anderson are the main men assigned to the case, in which there are scenes at the location of the crimes, as well as back at the station as they discuss their methods. These are not the strongest parts of the film, as some of the procedural portions are a bit questionable. After two random killings by the sniper, the only connection seen is that both victims were female. No connection between the women, no particular similarities besides gender. Yet somehow they conclude that this might be a sex predator killing the women? Seems quite far fetched as they later have a police lineup with some sex offenders, and obviously none of them fit the profile. The actors themselves do a fine job, but a little more research and time could have been put into the segments for reality's sake.

The story came from married writers Edna and Edward Anhalt and brought to producer Stanley Kramer, who had just set up a deal with Columbia Pictures for film distribution, after a long period as an independent. Kramer kept control of his productions with little interference from above, but were given a bigger distribution deal than before. "The Sniper would be his second film for Columbia after "Death of a Salesman" in 1951, but also made the same time as his final truly independent production "High Noon". Controversy came during production, with Kramer hiring Edward Dymytryk, the Oscar nominated director of "Crossfire" in 1947, but was also one of the blacklisted and jailed "Hollywood Ten". This would be his first film as director after the blacklisting, and interestingly paired him with Adolphe Menjou, who was vehemently anti-Communist and was all for the McCarthy hearings. Though on set, the director and actor put politics aside and supposedly got along rather well during the production. More controversy came during the production with the arrest of Evan Charles Thomas, also known as the "Phantom Sniper" was arrested in April of 1952. Like the character of Eddie, all of his targets were women, with one being killed and four being wounded over the course of an eight month period until he was caught. While the film didn't have a direct connection to the killing and assaults by Thomas, there were some similarities and they covered themselves from connection by issuing the disclaimer at the start. But with the story being fresh in the minds of audiences when "The Sniper" was released on March 12th, 1952 (just before Thomas was caught) which did obviously give a boost for the film.

But controversy continued even after the film opened, with a Toronto teen who also went on a spree with a sniper rifle after seeing the movie multiple times. Thankfully no one was killed, but with the direct influence the film had on him, there was a lawsuit to ban the film which never went through. "The Sniper" was not a glorification of murder. It wasn't an exploitation film. It was actually a cry for help, a man who didn't want to kill and even tries burning his hand so he would stop himself from taking matters into his own hands. The film offers no answers, and leaves things ambiguous. Will Miller get the help he wants, or will he eventually be executed for his actions? The film never gets to that point and instead is left to what society will do and think. Even more than a half century later with the #metoo movement and the punishment of sex criminals sometimes being too harsh to sometimes being not harsh enough, there still needs to be better care in dealing with mental illness, sexism, and how law is enforced in the United States. Sure a lot of elements in "The Sniper" may be dated, but there are still issues that need to be dealt with even all these years later. Kramer was never a man to step away from discussion and controversy, and "The Sniper" is one that stands out quite highly, even with its flaws.

This is a region ALL Blu-ray

Video


Umbrella Entertainment presents the film in the 1.37:1 aspect ratio in 1080p AVC MPEG-4. The transfer comes from Sony Pictures. The black and white image looks very good, with excellent grey levels throughout, with excellent detail. There is some minor flickering but the image is natural with film grain being intact while also being clean by removing most damage such as speckles, dust and scratches. Overall it's a very pleasing transfer.

The film's runtimes is 87:56.

Audio


English DTS-HD Master Audio 2.0 mono
The original mono track is presented lossless. Dialogue, music, and effects are well balanced with George Antheil's score sounds great with the tense cues. There are no signs of damage such as hisses or pops, sounding clean throughout. The mono fidelity may have some issues due to its age, but things sound natural altogether.

There are no subtitles for the main feature.

Extras


Audio commentary by Eddie Muller
Eddie Muller, founder and president of the Film Noir Foundation and co-programmer of the San Francisco Noir City film festival gives an insightful and commentary here, pointing out the production notes, biographies of the cast and crew, times of art mirroring life, and much more. He also discusses some of the flaws the movie has, the more creative aspects it got right, as well as pointing out specific locations used as he is a San Francisco native. This commentary was originally available on Sony's "Columbia Pictures Film Noir Classics I" DVD boxset in 2009.
in English Dolby Digital 2.0 without subtitles

"Martin Scorsese on The Sniper" featurette (3:18)
In this featurette, the famed director chats about the film, with his first viewing many years ago and the impact it had on him, the use of San Francisco locations, and a few spoilers about the ending. So obviously, don't watch this before watching the movie as it is not an introduction. This featurette was originally available on Sony's "Columbia Pictures Film Noir Classics I" DVD boxset in 2009.
in 1080i60 AVC MPEG-4, in 1.78:1, in English Dolby Digital 2.0 without subtitles

Original Theatrical Trailer (2:15)
The original trailer is presented here.
in 1080p AVC MPEG-4, in 1.33:1, in English Dolby Digital 2.0 without subtitles

Film Noir Trailer Collection (104:01)
- "Crossfire"
- "The Big Sleep"
- "Lady in the Lake"
- "The Brasher Doubloon"
- "The Maltese Falcon"
- "Citizen Kane"
- "The Big Clock"
- "Witness for the Prosecution"
- "Anatomy of a Murder"
- "Girl in 313"
- "The Accused"
- "Deception"
- "Strange Triangle"
- "Private Hell 36"
- "The Big Knife"
- "Sunset Boulevard"
- "Double Indemnity"
- "The Bribe"
- "The Big Heat"
- "Fury"
- "Ministry of Fear"
- "Berlin Express"
- "Gaslight"
- "Hangover Square"
- "Fingers at the Window"
- "The Cobra Strikes"
- "Grand Central Murder"
- "Detective Story"
- "The Glass Key"
- "Sealed Lips"
- "Circumstantial Evidence"
- "I Am a Fugitive from a Chain Gang"
- "Kiss the Blood Off My Hands"
- "Act of Violence"- "This Gun for Hire"
- "Ride the Pink Horse"
- "City of Chance"
- "The Killing"
- "The Night of the Hunter"
- "To Have and Have Not"
- "Blackmail"
- "Key Largo"
- "Kiss Me Deadly"
104 minutes of vintage noir trailers are included here, as listed above. There are some absolute classic heavy hitters and some landmark titles, such as "The Maltese Falcon", "Double Indemnity", "The Killing", some but there are some questionable entries in here as well, which don't fall particularly into the "film noir" category. "Fury" and "I Am a Fugitive from a Chain Gang" were produced in the 1930s. "Citizen Kane" might have some prototype noir elements with its visual style influencing noir, but it's hardly an example of the genre. Same goes for "Night of the Hunter", which came much later. They are absolute classics, no denying that, but they do seem slightly out of place here. The black and white image and mono sound for all these trailers vary in quality, with some having more damage than others, but they don't seem to be coming from the best sources, looking as if they were upscales from standard definition masters. Even with the substandard quality, the creativity and the power seen in these vintage trailers are still amazing.
in 1080p AVC MPEG-4, in 1.33:1, in English Dolby Digital 2.0 without subtitles


The film was also released on Blu-ray> earlier this year in the UK in the "Columbia Noir #3" boxset, which included the above commentary, featurette, and original trailer, and also included some additional exclusives with vintage shorts, a gallery, and written liner notes.

Packaging


The inlay is reversible, with the opposite side having identical artwork with the exception of the "M" rating logo removed.
The packaging states region B only, but is in fact a region ALL Blu-ray.

Overall


"The Sniper" may have its faults, but it's tense, has excellent performances, and a meaningful yet ambiguous message as well as a classic noir. The Umbrella Entertainment Blu-ray has an excellent transfer, carries over the older DVD commentary and featurette, and adds a huge amount of classic trailers, making this recommended.
| | | | | |
| --- | --- | --- | --- | --- |
| The Film: B | Video: A | Audio: A | Extras: B | Overall: B+ |