Doctors (The): The William Hartnell Years - Behind the Scenes
R0 - United Kingdom - Koch Media / Reeltime Pictures
Review written by and copyright: Rick Curzon (13th September 2021).
The Film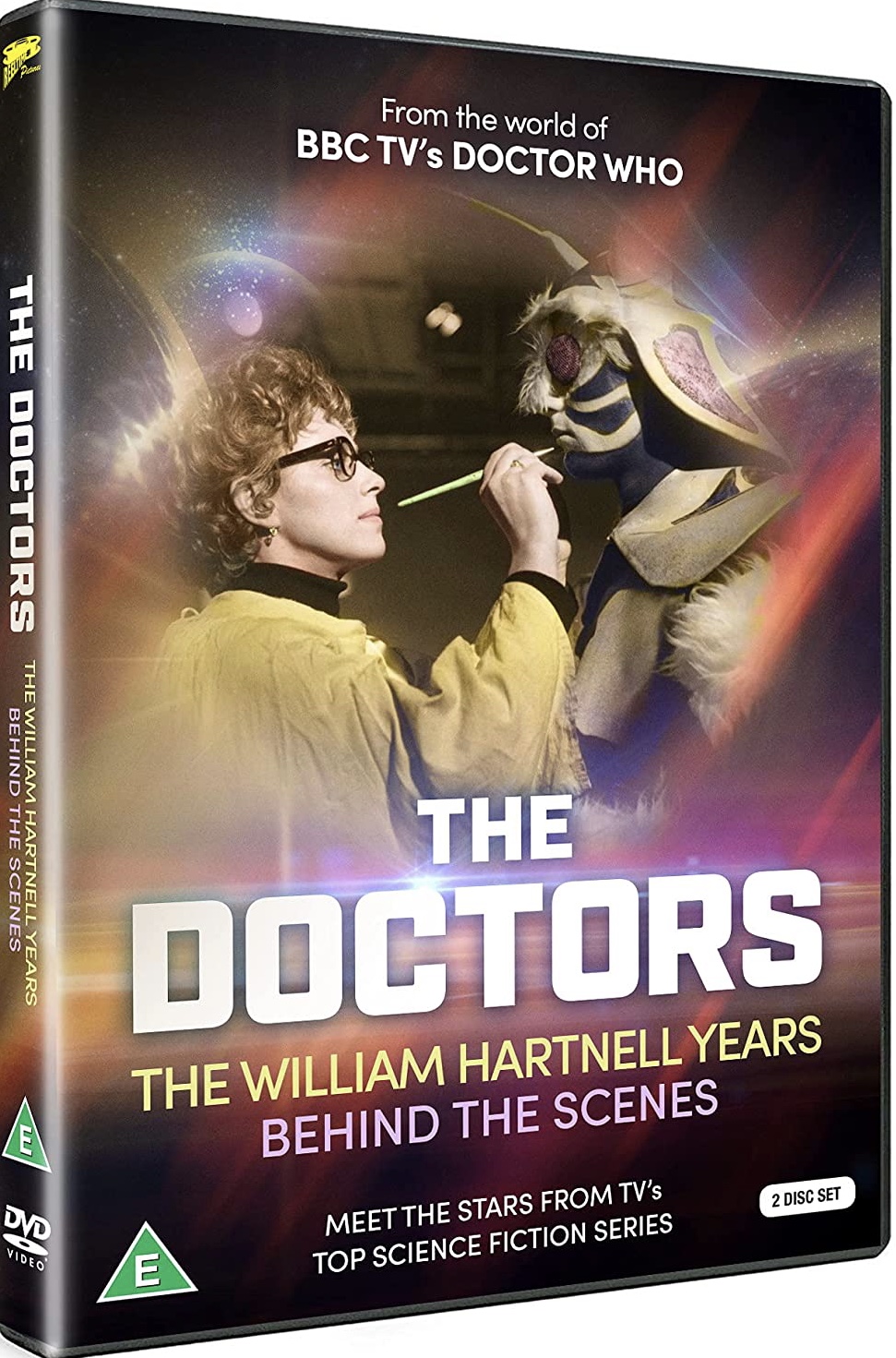 This is the definitive set of interviews with the production team who brought DOCTOR WHO to life and sent you "behind the sofa"!

These six documentaries are the best in-depth interviews with VERITY LAMBERT (Producer), JOHN WILES (Producer), DONALD TOSH (Script Editor), WARIS HUSSAIN (Director), DENNIS SPOONER (Writer), PAUL ERICKSON (Writer), TRISTRAM CARY (Composer), plus actors LYN ASHLEY, SUSANNA CARROLL, JOHN CATER, EDWARD DE SOUZA and FIONA WALKER, ever undertaken!!!

Presented by "voice of the Daleks" NICHOLAS BRIGGS. For all DOCTOR Who fans, this special collector's edition is over 5 hours of pure nostalgia, which will give you a whole new insight into the making of your favourite science fiction series!

Video


Keith Barnfather has been interviewing Doctor Who (and Blake's 7) alumni since the 1980s predominantly for his long running Myth Makers range of behind the scenes interview VHS and latterly DVD releases. This latest edition collects together chats with several, personnel from the 1963-69 period that was the William Hartnell / First Doctor era. We have an excellent collection of beautifully conducted interviews and sadly, several of those interviewed have since passed away which makes this release extremely valuable and a great adjunct to the BBC's own range of DVD and BD releases.

Image quality tends to vary as you would expect from these kind of productions but none of the segments are really poor in any way. All of the interviews are shot on varying types of videotape and all are in standard definition. As this is a DVD release that's fine and dandy. Contrast is acceptable, black levels are likewise if occasionally dark greyish. Flesh tones are natural and colours matter of fact without much digital regrading in evidence; it all varies based on lighting conditions. These are interlaced transfers with occasional motion artefacts and combing; I notices this the most on some bits where Nicholas Briggs inserts were presented and segued sideways in and out rather than the usual edit or fade. In several of the interviews cameras cause flashes which make faces for a split second comb. It's an odd effect. Another odd point is that the Waris Hussain looks to have been shot 1.33:1 and then zoomed in to create a 1.66:1 image. This means that interview is a trifle softer as a result.

I didn't notice any artefacts or compression issues but to be frank had there been some minor ones it probably wouldn't have detracted in the same way as on a release of Doctor Who episodes. The image is soft by virtue of how it was captured but that is not a criticism. The only way things could improve would be to upscale on Blu-ray discs with the superior encoding / codecs that the format affords. But, this kind of material will probably not support the costs; after all, this is a 2-disc set of extras.

Top marks for the format and taking into consideration the source; 'B-'.

MPEG-2 / 2 x DVD9 / 1.33:1, 1.66:1 M 1.78:1 / 327:44 NTSC

Audio


English Dolby Digital 2.0 Mono / Stereo
Subtitles: None

Basic 2.0 stereo that gets the job done; it's not encoded for aurround. Dialogue is clear and easy to hear and what little music there is (intros and outros) doesn't get in the way. The stereo will play with surround effects (main theme and score only) when played through ProLogic II or similar. Odd because the Pertwee / Behind the Scenes release seemed to have surround encoding.

Sadly, no subtitles have been provided so the hearing impaired are up a gum tree without a paddle.

Extras


Contents:

"Myth Makers: Verity Lambert" 1996 interview (52:56)
"Myth Makers: Waris Hussain" 2005 interview (57:41)
"Myth Makers: Donald Tosh" 1999 interview (58:13)
"Myth Makers: The John Wiles Team" (DWAS' Panopticon VII interviews from 6.9.1986 with John Wiles, Dennis Spooner and Paul Errickson held at Imperial College) 2005 featurette (61:49)
"Myth Makers: Tristram Carey" 2002 interview (48:10)
"Myth Makers: Flight Through Eternity - The Three Doctors Vol. 1" (The Gloucester Guildhall, 13.4.2008 with Lyn Ashley, Susanna Carroll, John Cater, Edward De Souza, Fiona Walker) 2010 interviews (48:55)

On these interview subjects only Hussain, Ashley, Carroll, De Souza and Walker are still with us at the time of writing.

Packaging


Standard, black 2-disc DVD Keepcase.

Overall


We have another excellent collection of beautifully conducted interviews presented in standard definition which is the resolution the segments were captured on. Image is soft but standard for the format used to capture the images with some occasional minor combing being the only issue issue that I noticed of note; otherwise solidly encoded for the format. The content is also the extras package. Fans of the show will love this set; it's like a pig amongst the truffles with this superb collection of interviews from one of the most highly regarded and celebrated eras in the shows history. Highly recommended for fans of the series.

Roll on more volumes and I can hardly wait! These are a superb range and offer great value for a great price!
| | | | | |
| --- | --- | --- | --- | --- |
| The Film: A+ | Video: C | Audio: C+ | Extras: A+ | Overall: B- |

---
Rewind DVDCompare is a participant in the Amazon Services LLC Associates Program and the Amazon Europe S.a.r.l. Associates Programme, an affiliate advertising program designed to provide a means for sites to earn advertising fees by advertising and linking to amazon.co.uk, amazon.com, amazon.ca, amazon.fr, amazon.de, amazon.it and amazon.es . As an Amazon Associate, we earn from qualifying purchases.