Bad Candy
R2 - United Kingdom - Kaleidoscope Home Entertainment
Review written by and copyright: Rick Curzon (24th September 2021).
The Film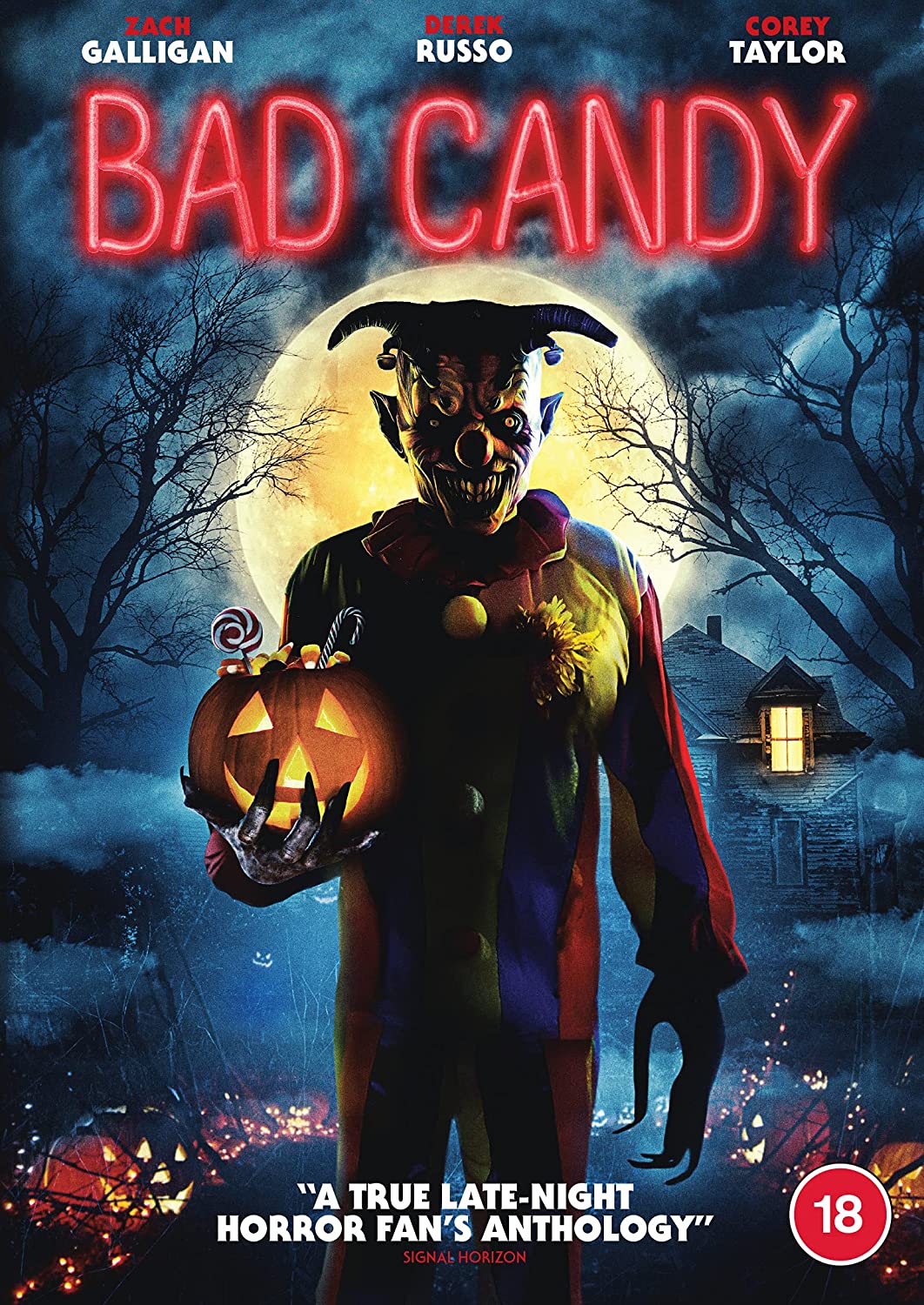 As the watery Autumn sun fades, the dark clouds of a pitch black Halloween night begin to settle over a small American town, New Salem. On the local radio station, the annual fright fest show is underway, when two full-on shock-jocks begin to retell local legends of terror from yesteryear, bringing them to life before your bloodshot eyes Ö

Bad Candy is an original, contemporary anthology of fresh horror, starring Slipknotís Corey Taylor, Zach Galligan (Gremlins, Hatchet 3) and Ryan Kiser (The Dawn), featuring seven terrifying tales that are just to die for.

In this small town, itís a grisly end for most, but will a few good souls survive to see another dawn?

"Bad Candy is a true late-night horror fanís anthology" Signal Horizon Magazine

Video


Uneven, low budget horror portmanteau is narratively a little jumbled with some slack editing choices. It feels like the work of first time filmmakers. Slick, watchable but it needs a drastic edit and tightening up job. There are some good practical and makeup effects and then some awful CGI. Good moments here and there, the linking device isn't great (and lifted from A Christmas Ghost Story) and the tone is too much the same from story to story making it all feel samey; the clown villain turns up in every story. At 100 minutes it also felt long and it's yet another modern American production that's prudish: violence is fine, gore is fine but whenever we get sex (and we do) suddenly it goes raunchy but with no nudity.

Visually this is all over the shop with moments of vivid colours and solid contrast with some decent dynamic range but at other times inserts can be flat. At times the black bars above and below the 2.39:1 image turn slightly gray as if the brightness in those shots and scenes was accidentally turned up.

Most of the time the black levels are pretty good, deep and dark with some detail but at other times crush creeps in. Contrast is strong most of the time but flat at others. The whole film feels like it could do with a drastic overhaul to the grade. Colours are vivid at times with especially strong primaries; reds sear the eyes. However, the use of colour is generic when set aside how Dario Argento used it in Suspiria (1977) for instance.

This being a standard definition presentation of a film shot in (I assume 4K) with Red Gemini Cameras it has a soft patina which is unsurprising. It's only getting a DVD release here in the UK which is a shame because the image is coming over tad soft and fuzzy. It has BD releases elsewhere and fans and collectors will most likely seek those out (C+).

MPEG-2 / DVD9 / 2.39:1 / 99:42 PAL

Audio


English Dolby Digital 5.1
English Dolby Digital 2.0 Stereo
Subtitles: None

Image is uneven but the sound field is pretty sweet for low budget horror effort with plenty of surround channel usage and movement across the sound field although some dialogue does get muddy and lost in the mix at times. It's mostly front centric but we do get some choice moments of rear activity and the score uses the rears effectively as well. The 5.1 has greater range and depth, the 2.0 is flatter and less subtle. LFE is present but could be stronger; the subwoofer kicked it satisfyingly at times. Not a demo quality track for the format but very good although the volume level could've done with being a notch or two higher.

Sadly, there are no hard of hearing subtitles.

Extras


Trailer (1:38)

Promo for the film in 2.39:1 with Dolby Digital 2.0 stereo sound.

Startup Trailer:
- The Ghosts of Borley Rectory (1:47)

Promo for a forthcoming release in 1.78:1 with Dolby Digital 2.0 stereo sound.

Packaging


Standard black, DVD Keepcase.

Overall


Generally weak horror portmanteau done on a low budget has uneven image quality, mostly decent sound and no extras to speak of. It's a cheap disc ao casual viewers will be happy but collectors will go for one of the BD releases available outside the UK.
| | | | | |
| --- | --- | --- | --- | --- |
| The Film: C- | Video: C+ | Audio: B | Extras: D- | Overall: C |

---
Rewind DVDCompare is a participant in the Amazon Services LLC Associates Program and the Amazon Europe S.a.r.l. Associates Programme, an affiliate advertising program designed to provide a means for sites to earn advertising fees by advertising and linking to amazon.co.uk, amazon.com, amazon.ca, amazon.fr, amazon.de, amazon.it and amazon.es . As an Amazon Associate, we earn from qualifying purchases.