Singing Ringing Tree (The) AKA Das singende, klingende Bäumchen (Blu-ray) [Blu-ray]
Blu-ray B - United Kingdom - Network
Review written by and copyright: Rick Curzon (25th September 2021).
The Film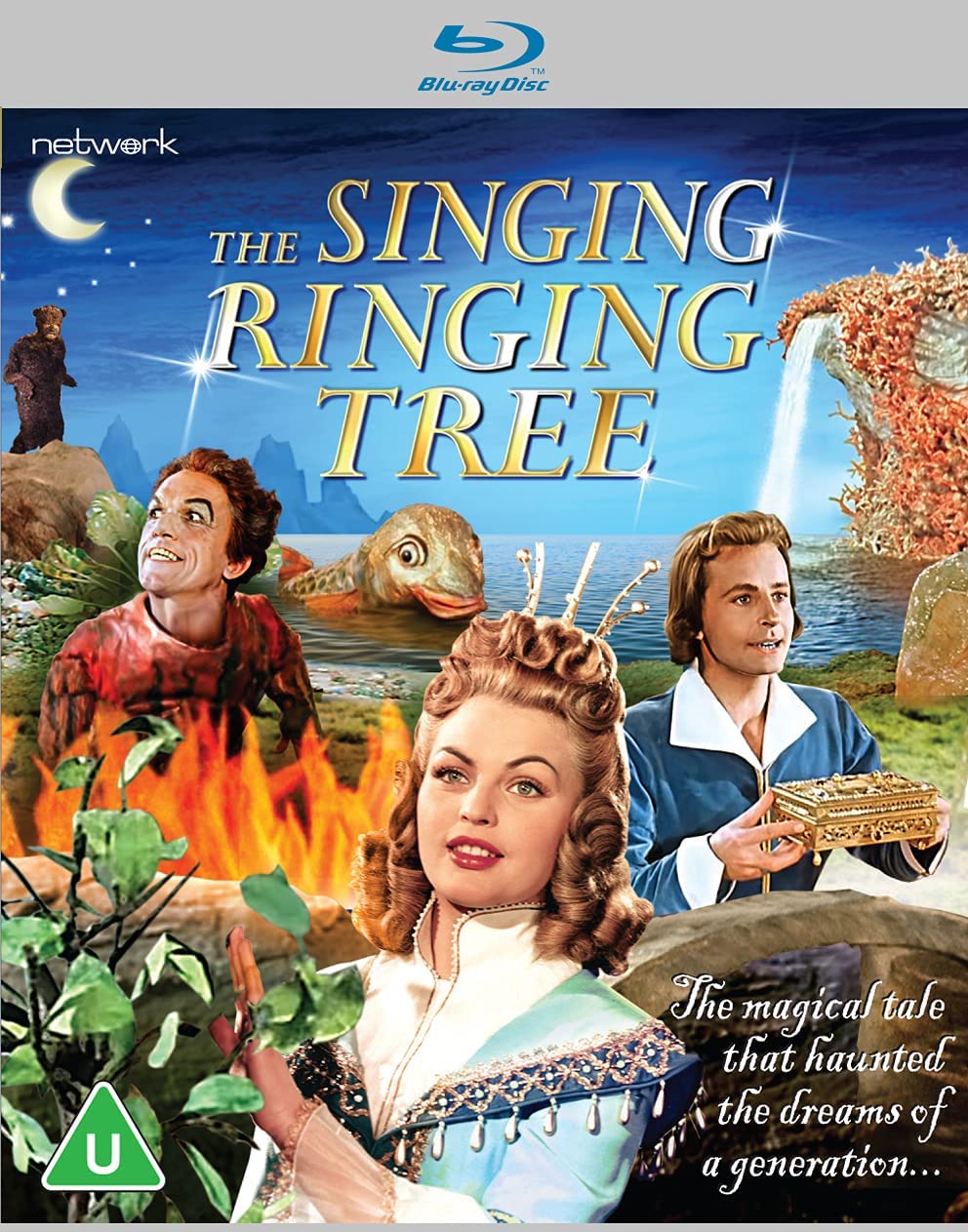 A surreal fairytale featuring the world's first communist princess, a bizarre fish and a malevolent dwarf that haunted the nightmares of generations of children from the mid-'60s onwards, The Singing Ringing Tree is presented here in High Definition for the first time.

To win the love of a beautiful but arrogant princess, a prince must find The Singing Ringing Tree. His quest leads him to a magical garden ruled by an evil dwarf, who allows the prince to take the tree on condition he wins the princess' love before sunset. If he fails, the prince will be transformed into a bear!

Video


A fondly remembered theatrically released East German production (from the DEFA studio 1946-92) that debuted on UK television in 1964 under the banner "Tales from Europe'" cut into three parts and given a narrated soundtrack rather than a dub (see audio). It gained a reputation as being terrifying to the younger set and ended up on a poll of such frightening television in 2004. Network released this on DVD in April 2004 and again in March 2007 and we now have the HD version coming out on 18.10.2021.

Firstly the elephant in the room; this is a 1080/50i master most likely created for European television broadcast and I suspect an older one at that. A shame Network couldn't have sourced a newer 1080/24p scan. Shot in spherical 35mm with a negative ratio of 1.37:1 (Academy) in Agfacolor. Although I've heard of Eastern bloc films shot spherical being ideally meant to be seen in the Academy ratio, this is purely anecdotal. We also have a matted widescreen version on this disc in the compromised HD ratio of 1.78:1 (it would've been matted to anywhere from 1.66:1 up to 1.85:1 in western cinemas. The film looks well composed in either format although for this review I focused on the 1.37:1 Academy presentation. I would've much preferred a 1080/24p transfer that retained the theatrical 24 frames per second frame rate; 1080/50i approximates the old PAL 4% speedup.

This is a very vividly coloured little film with a gloriously rich palette favouring warm reds and blues. Flesh tones are quite pale which I found surprising given the richly coloured costumes and backdrops; it's shot entirely in studio. However, there is a slight washed out quality possibly due to boosted contrast. As a result fine detail isn't as strong as it ought to be. Black levels are fine when darkness and shadows do appear which is only occasionally as this is mostly set in daylight and brightly lit.

I think the problem is that this is an old master created for television which the 1080/50i points towards. Detail is virtually non-existent and this it all appears very soft. At the least plenty of DNR has been applied or this may even be an upscale. The encode is adequate but there's little to no grain. I analysed this up close (55" 4K display) with sharpness turned up to the max to accentuate any flaws and the image had little life looking pasty. A major disappointment.

The widescreen version is softer still because it's just a zoom-crop of the 1.37:1 master.

1080/50i / AVC MPEG-4 / BD50 / 1.78:1, 1.37:1 / 71:46 (25fps)

Audio


German LPCM 2.0 Mono (48 kHz)
English (narration) LPCM 2.0 Mono (48 kHz)
French (narration) LPCM 2.0 Mono (48 kHz)
Spanish (narration) LPCM 2.0 Mono (48 kHz)
Subtitles: English (optional)

The original production sound German track is the main point of interest and is a robust listen that gets the job done. It's unsurprisingly of limited range but is a good track nonetheless. Dialogue is always crystal lear, the sparingly used score is always supportive and sounds fabulous. It's been restored from the analogue masters and bar a little natural hiss when played at louder volume sounds excellent; about as good as we can expect shy of a full rebuild from the sound stems. No pops or clicks and no distortion.

The other tracks will only really be of interest to those motivated purely by nostalgia with the English narrated track (bizarrely the default option upon load-up) having it's voiceover ladled over the German original which rises and lowers in volume according to the needs of the narration. Ditto the French and Spanish versions. Sound on these is clear, narration always clear; no damage or distortions. Being 1080/50i and with 4% speedup, I would hope the sound has been pitch corrected to retain the 24fps sound.

Subtitles are thankfully provided and are excellent at translating the original production sound German.

Extras


"Interview with a Princess: Christel Bodenstein" 2003 interview (SD) (16:01)

Interesting interview ported over from the 2004 DVD. Presented in 480i 1.33:1 with uncompressed LPCM 2.0 stereo.

Image Gallery with Musical Suite (SD) (39:28)

Massive slide show also ported over from the 2004 DVD release. Lots of terrific images here all set to Heinz-Friedel Heddenhausen's lyrical score. Presented in 480i 1.78:1 with uncompressed LPCM 2.0 mono sound.

Liner notes booklet by Tim Worthington

Sadly this hasn't been provided for review so I can't comment.

Packaging


Standard, clear BD Keepcase.

Overall


A welcome HD upgrade on Network's own 2003 DVD release of this fondly remembered East German fairytale film. Sadly, it's (most likely) an aged 1080/50i broadcast master that's been repurposed. I would've much preferred a 1080/24p transfer that retained the theatrical 24 frames per second frame rate; 1080/50i approximates the old PAL 4% speedup. The film looks and sounds as good as the master will allow which is still a step up on standard definition but that's down to the superior AVC codec. I believe that this is at best a DNR-blasted old master or even possibly an upscale from standard definition.

Extras are sparse and ported over from the 17-year old DVD release which are fine but more could've been done. I'm sure an academic commentary and a featurette discussing the film would've been welcome. If you have the old DVD stick with that unless you can pick up this BD cheaply. If you don't have the DVD then the BD is preferable due to the superior codec and compression therein.

It must be said however that only people who're not big collectors of hard copy formats my well be pleased with the presentation. On the surface it looks bright, punchy and colourful. Others may wish to wait and see if a superior 1080/24p master is ever created and handled with the greater care and respect that this classic deserves.
| | | | | |
| --- | --- | --- | --- | --- |
| The Film: B+ | Video: C- | Audio: B+ | Extras: C | Overall: C |

---
Rewind DVDCompare is a participant in the Amazon Services LLC Associates Program and the Amazon Europe S.a.r.l. Associates Programme, an affiliate advertising program designed to provide a means for sites to earn advertising fees by advertising and linking to amazon.co.uk, amazon.com, amazon.ca, amazon.fr, amazon.de, amazon.it and amazon.es . As an Amazon Associate, we earn from qualifying purchases.