Midway AKA Battle of Midway (The) (Blu-ray) [Blu-ray]
Blu-ray B - United Kingdom - Powerhouse Films
Review written by and copyright: Rick Curzon (2nd October 2021).
The Film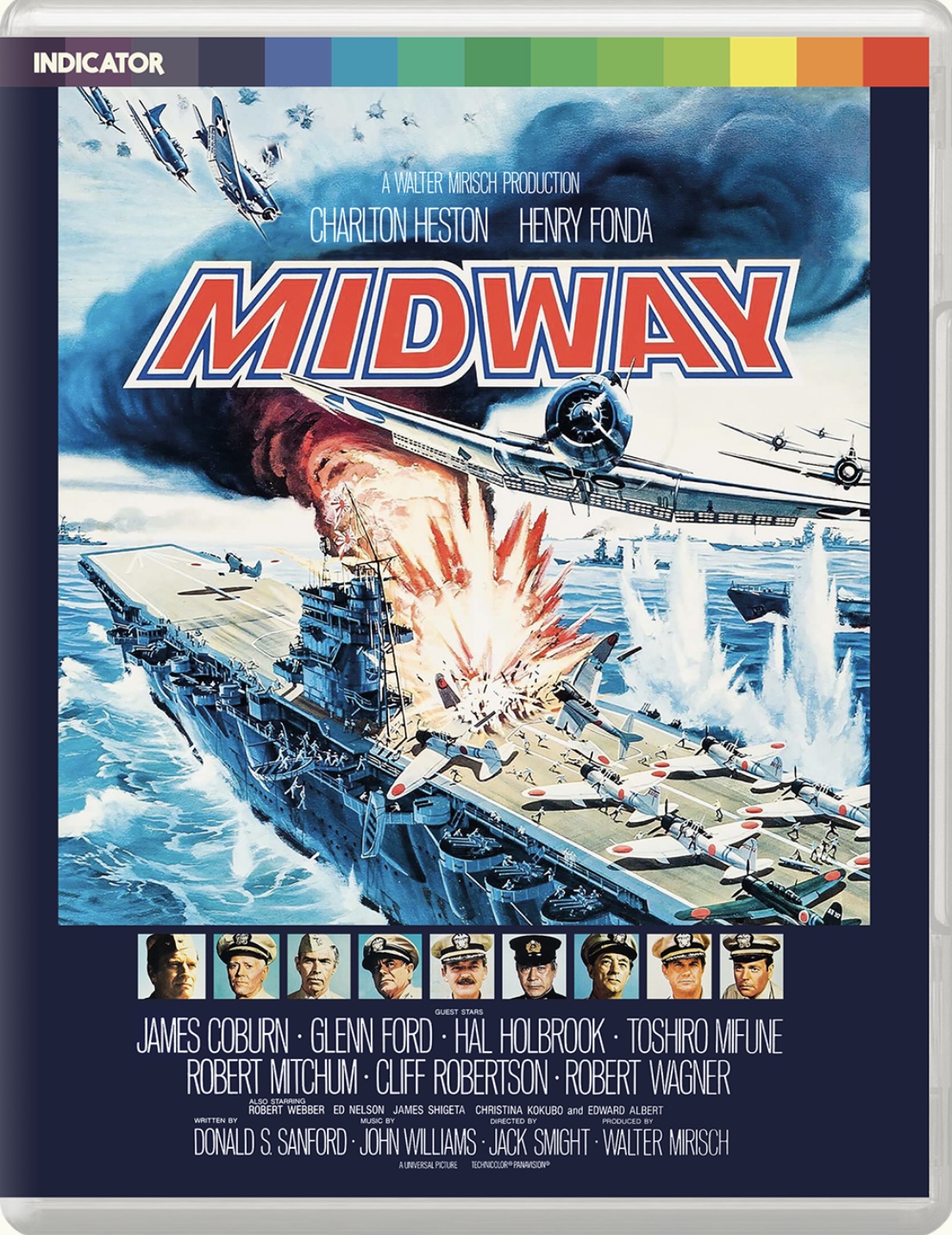 Recreating the famous sea battle between the American fleet and the Imperial Japanese Navy, Midway finds director Jack Smight (Airport 1975) confidently handling epic battle scenes and a stellar cast which includes Charlton Heston, Henry Fonda, James Coburn, Glenn Ford, Hal Holbrook, Toshiro Mifune, Robert Mitchum, and Robert Wagner. Midway is presented here with a wealth of extras.

Video


Much derided at the time by critics but loved by the public this is one of the last of the big budget, all-star World War II epics that hd been so popular from the late '50s through the very early '70s. One of the min criticisms hd been the efficiency-saving and budget-saving use of genuine combat footage which looks markedly different to the newer material - especially when cropped from the original 1.37:1 Academy ratio to the 2.39:1 scope - and the corny subplot involving Heston's son's romance with a Japanese-American woman. On the plus aide the film is quite balanced in it's depiction of the Japanese.

Jack Smight's film has a lush, big budget sheen to the newly shot material with a mild brown overall colour palette; primaries and flesh tones are warm and strong with some very vibrant reds on show. Flesh tones are warm but naturalistic. Delineation is also nigh on perfect with no bleed. Black levels are very strong and contrast offers good dynamic range.

This is a grainy film at times, particularly during stock footage scenes which does mean it can have an inconsistent look but the meticulous encode keeps the thing looking as filmic as it was when the print was wet and first projected. Without knowing better I'd say that Midway has not looked this good since it was new and on first release in a prestige theatre. Mostly grain is fine but when it's course, boy is it course but that's how it's always looked and as I said it's beautifully encoded. No signs of print damage nor digital tinkering.

Theatrical Version
1080/24p / AVC MPEG-4 / BD50 / 2.39:1 / 131:28

The 1978 TV version is panned and scanned as sympathetically as possible and bolstered with approximately sixty minutes of outtakes with the whole 193 minute result broken into two episodes to screen over two nights. Considering the demerit of being in standard def and cropped by 40% this looks pretty good. Colours are strong, detail reasonable and there is even some signs of grain creeping through the fog of standard def. This is in a whole league better than the TV edit provided to Powerhouse Films for their BD of Eye of the Cat. For what it is, technically this is pretty strong. This is basically a massive extra and my overall rating for the image applies only to the theatrical version ('A+').

TV version (2 parts)
Upscaled standard definition to 1080/24p / AVC MPEG-4 / 1.33:1 / 192:47

Audio


Theatrical version
English DTS-HD Master Audio 2.1 Sensurround (the player states it's 5.1)
English LPCM 1.0
TV version
English LPCM 1.0

Subtitles: English HoH on both versions.

The uncompressed mono tracks are strong for what they are and deliver a robust audio experience that replicates the experience most theatre goers had. Dialogue is strong and to the fore with John Williams' score coming off well. Battle scenes are active but obviously flat but still effective.

The 5.1 is actually 2.1; a 2.0 mono track with a .1 LFE boost and thankfully in lossless uncompressed DTS-HD Master Audio. This is the infamous Sensurround track that was used a few times on some spectacular films between 1974 (Earthquake) and 1979 (Mission Galactica: The Cylon Attack). It gives the whole thing some extra kick. My comments on the mono essentially apply here but with a much greater amount of welly! From the off this sounds great with the opening credits sequence made of stock footage representing the Doolittle raid of 1942 and ominous music really kicking the subwoofer into action. Bomb blasts thud home with force and the battle scenes and scenes set on ships have real presence with explosions and the background rumble of ship or plane engines coming to life pleasingly.

Shy of a total modern rebuild from the sound stems this is good as can be in replicating the cinema experience; top marks, 'A+'!

Superbly handled hard of hearing subtitles re very welcome.

Extras


Audio commentary on the theatrical version with Steve Mitchell and Steven Jay Rubin (2021)

Two old chums and frequent commentary partners on war films deliver another crackerjack, active, fact filled track. Lots on the real history as well as the film, it's poor critical reception and it's huge box office success. Presented in lossy Dolby Digital 2.0 stereo.

"The Guardian Interview with Robert Wagner: Conducted by Joan Bakewell at the National Film Theatre, London on 30 June 1983" plays as an extra audio track over the theatrical version (70:34)

Plenty of interest here from the star well handled by Bakewell. Presented in lossy Dolby Digital 2.0 mono, the sound is slightly muffled gut listenable. Probably the weakest technically of these audio tracks that I've encountered but superb value nonetheless.

"The Making of Midway" 2001 documentary (38:58)
"Sensurround: The Sounds of Midway" 2001 featurette (4:19)

Excellent, vintage duo of material taken off the 2001 special edition DVD that sadly had to miss off the third piece on John Williams', and his score, for legal reasons. Lots of great stuff here presented in standard definition 1.78:1 with lossy Dolby Digital 2.0 stereo sound. Clips from the film are presented in letterboxed 2.39:1.

"They Were There!" 1976 featurette (6:14)

Vintage promo shot on 16mm is a typically extended making of trailer presented in 1080/24p 1.37:1 with lossy Dolby Digital 2.0 mono. An interesting artefact from n era of film promotion that offered a bit more than the superficial HBO First Look style puff pieces of the last thirty yers.

"The Battle of Midway" 1942 short film (18:11)

Oscar winning documentary short is shamelessly jingoistic and propagandist. Unintentionally hilarious narration, melodramatic and manipulative these days but it's beautifully restored with vivid colour and a very film-like sheen of grain all beautifully encoded although there are some density shifts. There is some signs of age related wear and tear. Presented in 1080/24p 1.37:1 with lossy Dolby Digital 1.0 sound. Hard of hearing subs are provided.

Super 8 version (17:55)

Tinny sound, faded colour, poor detail, black crush and cropped to 1.78:1. This early home video digest version is a great way to see how wonderful the uncut, restored version is by comparison. Presented in 1080/24p 1.78:1 with lossy Dolby Digital 1.0 sound.

Trailer and TV / Radio Spots (Play All - 11:17):
- Theatrical Trailer (2:35)
- TV Spot #1 (1:01)
- TV Spot #2 (0:30)
- TV Spot #3 (0:31)
- TV Spot #4 (0:11)
- Radio Spots (6:22):
-- #1 (60 secs)
-- #2 (30 secs)
-- #3 (30 Secs)
-- #4 (30 secs)
-- #5 (10 secs)
-- #6 (10 secs)
-- #7 (60 secs)
-- #8 (30 secs)
-- #9 (30 secs)
-- #10 (30 secs)
-- #11 (10 secs)
-- #12 (10 secs)

Vintage promo material presented in 1080/24p and variable spect ratios with lossy Dolby Digital 1.0 sound.

Midway Image Gallery: Original Promotional Material (82 images)

Hefty little HD gallery.

36-page liner notes booklet by Lee Pfeiffer and Dave Worrall, archival articles on the film and the events that inspired its screenplay, an overview of critical responses, and film credits

Typically chunky and indispensable hard copy companion.

Packaging


Standard clear BD case favoured by Powerhouse Films; if you have any of their other releases then you'll know the score.

Overall


Splendid fan and audience favourite Midway (1976) gets the deluxe treatment from Powerhouse Films in what is easily THE definitive home video release of the film worldwide thus far. Image and sound are exemplary and the extras package second to none. Only the unavoidable lack of the brief 2001 featurette on John Williams and his score is the brief demerit but that is due to fault on behalf of Powerhouse Films. One of THE discs of the year thus far for this fan and highly recommended. Essential for buffs.
| | | | | |
| --- | --- | --- | --- | --- |
| The Film: B+ | Video: A+ | Audio: A+ | Extras: A+ | Overall: A+ |

---
Rewind DVDCompare is a participant in the Amazon Services LLC Associates Program and the Amazon Europe S.a.r.l. Associates Programme, an affiliate advertising program designed to provide a means for sites to earn advertising fees by advertising and linking to amazon.co.uk, amazon.com, amazon.ca, amazon.fr, amazon.de, amazon.it and amazon.es . As an Amazon Associate, we earn from qualifying purchases.