Gray Lady Down (Blu-ray) [Blu-ray]
Blu-ray B - United Kingdom - Powerhouse Films
Review written by and copyright: Rick Curzon (2nd October 2021).
The Film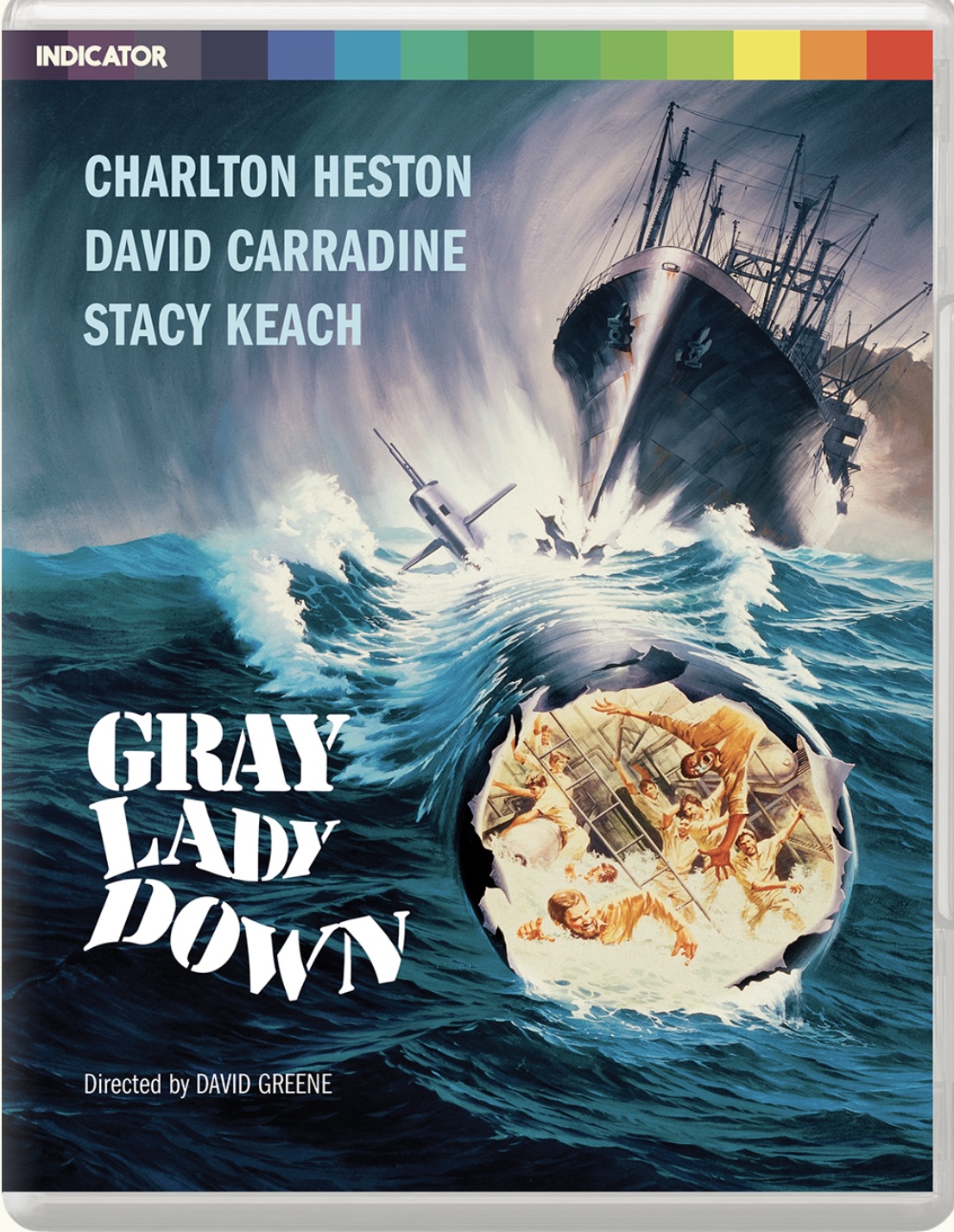 In Gray Lady Down, the race is on to rescue a crew of sailors after a nuclear submarine collides with a Norwegian freighter and becomes stranded on the seabed. Skilful direction from David Greene (The People Next Door) and top-tier performances by Charlton Heston, David Carradine, Stacy Keach, Ned Beatty, Stephen McHattie, and Ronny Cox combine to make this the definitive disaster film.

Video


One of the very few submarine-themed films made in the '70s and a a largely unsung, forgotten entry in the decades disaster film trend that was on the wain at the time. The genre had seen the popular highs of Airport (1969) and it's first two sequels (1974, 1977), The Poseidon Adventure (1972), The Towering Inferno and Earthquake (both 1974). There had been several TV movies and some low budget entries with Avalanche and City on Fire (both 1978). With the critical an financial failure of The Swarm (1978), Beyond the Poseidon Adventure (1979) and When Time Ran Out ... (1980) the genre was about to go west.

Gray Lady Down is a rock solid entry in the genre and a fine submarine adventure that has been mostly unseen in the years since. It was a film who's title was familiar to me but one I had not seen till now. It's not the heigh of the genre but it's also far from the bottom. The cast are uniformly excellent making the most of their roles playing second fiddle to the plot and SPFX. It was one of British director David Greene's last theatrically release features and he does a yeoman job with the material balancing the drama and spectacle with aplomb.

The film had money behind it and was beautifully shot by Steven Larner in that slick, professional way that ensures a vivid image but won't win awards or notice. It was shot on photochemical 35mm film using Panavision anamorphic lens in the scope aspect ratio of 2.39:1 and that's how it's presented here. The colour palette is vivid and naturalistic with some strong primaries (dig those red danger lights on the subs that burn the colour into your retina!). Flesh tones are natural but warm and the interiors of the sub are sufused with grays, greens and blacks.

The blacks are deep and rich with plenty of shadow detail and no signs of unintended crush that I could see. Contrast is supportive and low key ensuring that betwixt the black levels we get a very good dynamic range. Detail is excellent on all focal planes between long shots and closeups. Skin and fabrics fare very well with plenty of texture. The encode is typically superb and I could see no signs of digital tinkering. This is a film like transfer with plenty of largely fine grain with some course moments usually in darker scenes or in wide open skies.

Top marks.

1080/24p / AVC MPEG-4 / BD50 / 2.39:1 / 110:09

Audio


English LPCM 1.0
Subtitles: English HoH

Made in mono this is a track that is about as good as a track such as this can be. It lacks depth and range although some brief moments of bass tickled the subwoofer briefly. It's flat but that's to be expected and this film isn't of the popularity or stature to warrant a total rebuild from the sound stems (presuming that they exist). Dialogue is to the fore and the score is supportive; clarity is great at all times.

Excellent subtitles for the hearing impaired have been provided.

Extras


Audio commentary with Peter Tonguette (2021)

Tonguette is an experienced film journalist and writer with several books and audio commentaries to his name. Here he discusses the film in detail, it's place in '70s cinema and especially the disaster film sub-genre. The cast and crew are also covered in this engaging, informative and engrossing track. Presented in lossy Dolby Digital 2.0 stereo.

"The Guardian Interview with Charlton Heston: Conducted by Quentin Falk at the National Film Theatre, London on 14 April 1985" plays as an alternate audio track over the film (74:39)

A typically wide-ranging screen talk with the mega star is filled with fascinating trivia, anecdotes, reflections on his career up that point. These talks are frequently recorded in less that optimal situations but are amongst the most valuable extras added to these discs. Most of those interviewed are no longer with us and Heston is one of the monoliths of Hollywood cinema and western culture; he doesn't disappoint. Presented in lossy Dolby Digital 2.0 mono.

"Plumbing the Death: Alan K. Rode on Gray Lady Down and the US Navy Submarine Rescue Program" 2021 featurette (40:53)
"Lady's Man: Stacey Keach on Gray Lady Down" 2021 featurette (11:58)
"The Changing Tide: Stephen McHattie on Gray Lady Down" 2021 featurette (7:13)

A very engaging set of three new featurettes about the film presented in 1080/24p 1.78:1 with lossy Dolby Digital 2.0 stereo sound. Keach and McHattie discuss their careers and the film specifically and Rode about his time in the Navy and on the technical aspects of the film.

Theatrical Trailer (3:20)
TV Spot (0:31)
Radio Spots (Play All - 1:35):
- Radio Spot #1 (0:31)
- Radio Spot #2 (0:31)
- Radio Spot #3 (0:31)

Solid collection of vintage promo material in 1080/24p and various aspect ratios with LPCM 1.0 sound.

Gray Lady Down Image Gallery: Original Promotional Material (58 images)

Very solid HD gallery of images.

32-page liner notes booklet by Omar Ahmed, archival articles on the film, an overview of contemporary critical responses, and film credits

Ahmed's excellent assessment of the film, it's context and several key aspects of the production kicks off a typically excellent hard-copy supplement. He looks a the careers of director Greene, cast members Keach and Carradine and at how thwe film sits within the disaster film genre and the submarine film genre whch had been fairly dormant at the time. We get a fine interview with star Heston dating from February 1977 when Gray Lady Down had recently completed production, a career overview of Ronny Cox and a vintage piece discussing the involvement of the Navy; and in passing their involvement on Airport '77, in production at the same time - fingers crossed an Airport boxed set will come from Powerhouse Films! We also get the usual analysis of critical responses at the time and information of the transfer.

Packaging


Standard clear BD case favoured by Powerhouse Films.

Overall


A solid largely overlooked little disaster adventure gets the deluxe treatment from Powerhouse Films who do their usual stunning work with a fine master to create was is also certainly THE definitive home video iteration of this film. Extras are extensive and comprehensive lending the package great contextual added value .... as usual. Highly recommended.
| | | | | |
| --- | --- | --- | --- | --- |
| The Film: B | Video: A+ | Audio: A- | Extras: A+ | |

---
Rewind DVDCompare is a participant in the Amazon Services LLC Associates Program and the Amazon Europe S.a.r.l. Associates Programme, an affiliate advertising program designed to provide a means for sites to earn advertising fees by advertising and linking to amazon.co.uk, amazon.com, amazon.ca, amazon.fr, amazon.de, amazon.it and amazon.es . As an Amazon Associate, we earn from qualifying purchases.