Demonic (Blu-ray) [Blu-ray]
Blu-ray B - United Kingdom - Signature Entertainment
Review written by and copyright: Rick Curzon (23rd October 2021).
The Film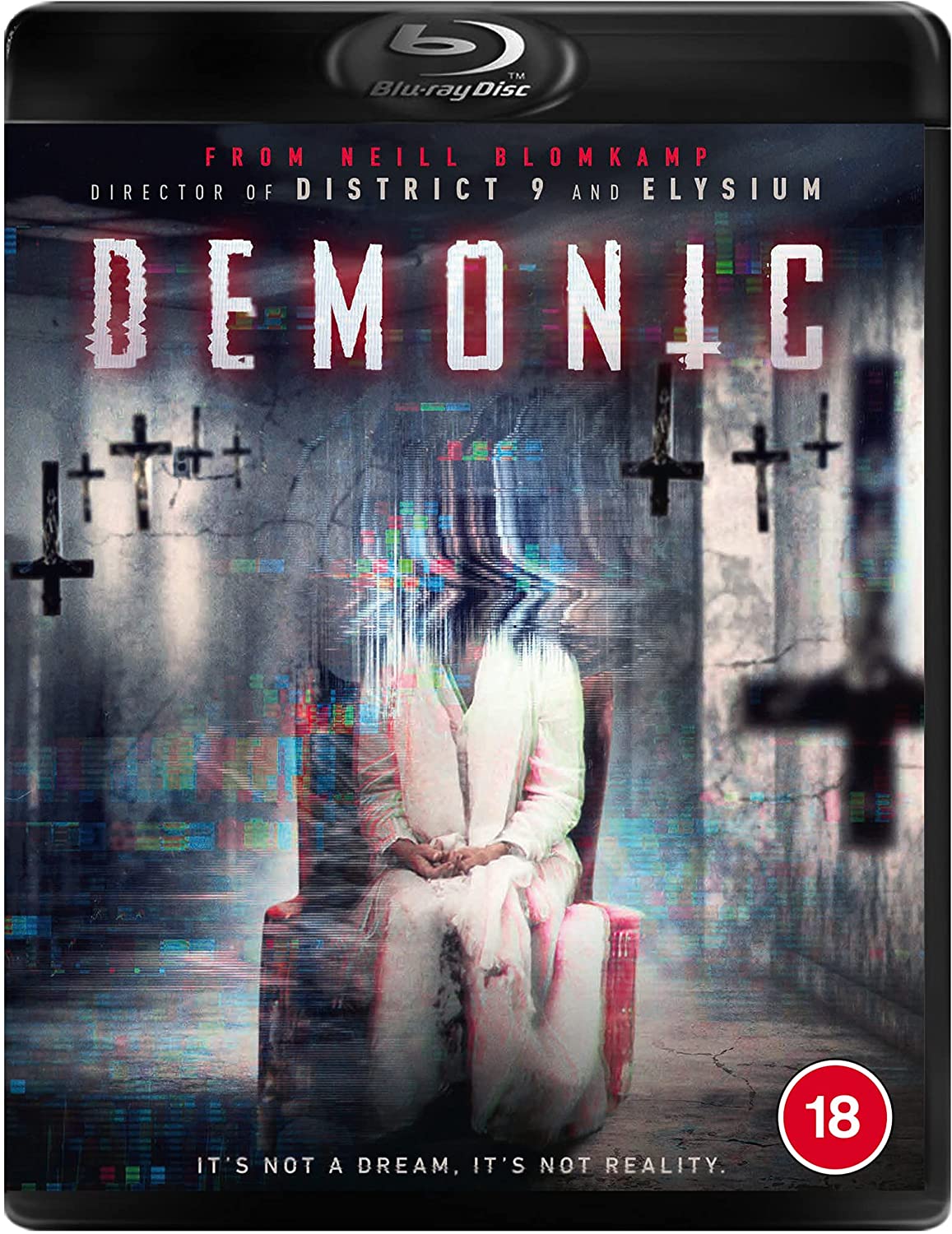 Demonic is the first feature film from renowned genre director Neill Blomkamp since 2015's Chappie.

Acclaimed director and writer Blomkamp exploded onto the film world with District 9 in 2009, which was produced by Peter Jackson and nominated for four Academy Awards™ including Best Picture. Between those two releases came 2013's hit science fiction epic Elysium starring Matt Damon.

Demonic is a supernatural possession horror which follows a young woman who unleashes a terrifying demon as she enters the mind of her comatose, serial killer mother. The much anticipated new feature stars Carly Pope (Elysium), Chris William Martin (The Vampire Diaries), Nathalie Boltt (District 9) and Michael J. Rogers (Beyond the Black Rainbow).

Video


2021: A woman (Carly Pope) helps some doctors (Michael J. Rogers, Terry Chen) who operate a virtual reality system to psychically contact her comatose mother (Nathalie Boltt) who, in 1998, massacred 21 people by setting fire to a retirement home.

By the numbers possession melodrama guven a sci-fi spin is pretty dull although well acted and technically adept. There are a couple of arresting shocks and moments but no cigar.

From Neil Blomkamp, the director of District 9 (2009), Elysium (2013) and Chappie (2015).Unusual, dull sci-fi variation on the usual possession horror film from Neil Blomkamp who kicked off his career with the well regarded District 9 (2009) and Elysium (2013). Here he follows the by the numbers possession film rule book with a virtual reality, Catholic Church conspiracy twist. Acting is good but the characters un-engaging and dislikable.

IMDB lists this as being shot for 2.00:1 but if that's the case this disc presents the film open matte to 1.78:1. IMDB lists the technical specs as:


Camera: Arri Alexa Mini, Zeiss Super Speed Lenses
Cinematographic Process: Digital Intermediate (2K) (master format)
Printed Film Format: D-Cinema


Watching Demonic it's obviously digital with little or no grain; a smooth, slick image. The exception being a couple of flashback scenes with some heavy grain to set them apart from the balance of the film. The colour palette is naturalistic but rich with healthy flesh tones, a warm cast for intimate interiors and a cooler more Cronenbergian one for exteriors and scenes set in the hospital. The image takes on a bluer slightly orange and teal look in the live action moments. The virtual reality scenes are heightened and have a very pixelated harsh quality with some very vivid colouration that looks as it should; sharp and jagged.

Black levels and contrast work well to create a reasonable amount of dynamic range. Detail is generally excellent long all focal planes with some nice moments where textures in surfaces, fabrics, flesh show through.

1080/24p / AVC MPEG-4 / BD50 / 1.78:1 / 104:38

Audio


English DTS-HD Master Audio 5.1
English LPCM 2.0 Surround
Subtitles: English HoH

This is textbook example of a continuously active soundtrack with music, surround and wallah (background noise and dialogue) almost always being felt. The subwoofer is very active in moments of action and terror. Silence is used effectively on occasion usually after active moments as counterpoint. In a more subtle way this is a demo level track although obviously not as blow you out of your seat as a mega budget Marvel epic. The LPCM surround is the same without much to differentiate although the 5.1 is a tad more depth and range if I was pressed to differentiate.

Extras


Volumetric Capture Samples (48:14)
Neil Blomkamp's 8mm Diary (21:14)
Twisty Troy James Stunts (2:08)

Technically-focussed featurettes presented in 1080/24p 1.78:1 with LPCM 2.0 surround.

Start-up Trailers:
- Wrong Turn (1:03)
- Willy's Wonderland (0:59)
- 13 Minutes (1:22)

Standard promos for other Signture Entertainment releases presented in 1080/24p 2.39:1 with uncompressed LPCM 2.0 surround sound.

Packaging


Standard, black BD Keepcase.

Overall


Controversial, dull sci-fi horror Demonic gets a strong release from Signature Entertainment in the UK. Image and sound are very good, but this is to be expected given the recent vintage and genre; one in which the technical possibilities of sound and vision tend to be utilised and run the gamut. Extras are interesting but not terribly interesting, at least to me. Given the low price on day one, strongly recommended to those so inclined to see this.
| | | | | |
| --- | --- | --- | --- | --- |
| The Film: C- | Video: A+ | Audio: A | Extras: C | Overall: B |

---
Rewind DVDCompare is a participant in the Amazon Services LLC Associates Program and the Amazon Europe S.a.r.l. Associates Programme, an affiliate advertising program designed to provide a means for sites to earn advertising fees by advertising and linking to amazon.co.uk, amazon.com, amazon.ca, amazon.fr, amazon.de, amazon.it and amazon.es . As an Amazon Associate, we earn from qualifying purchases.