The Film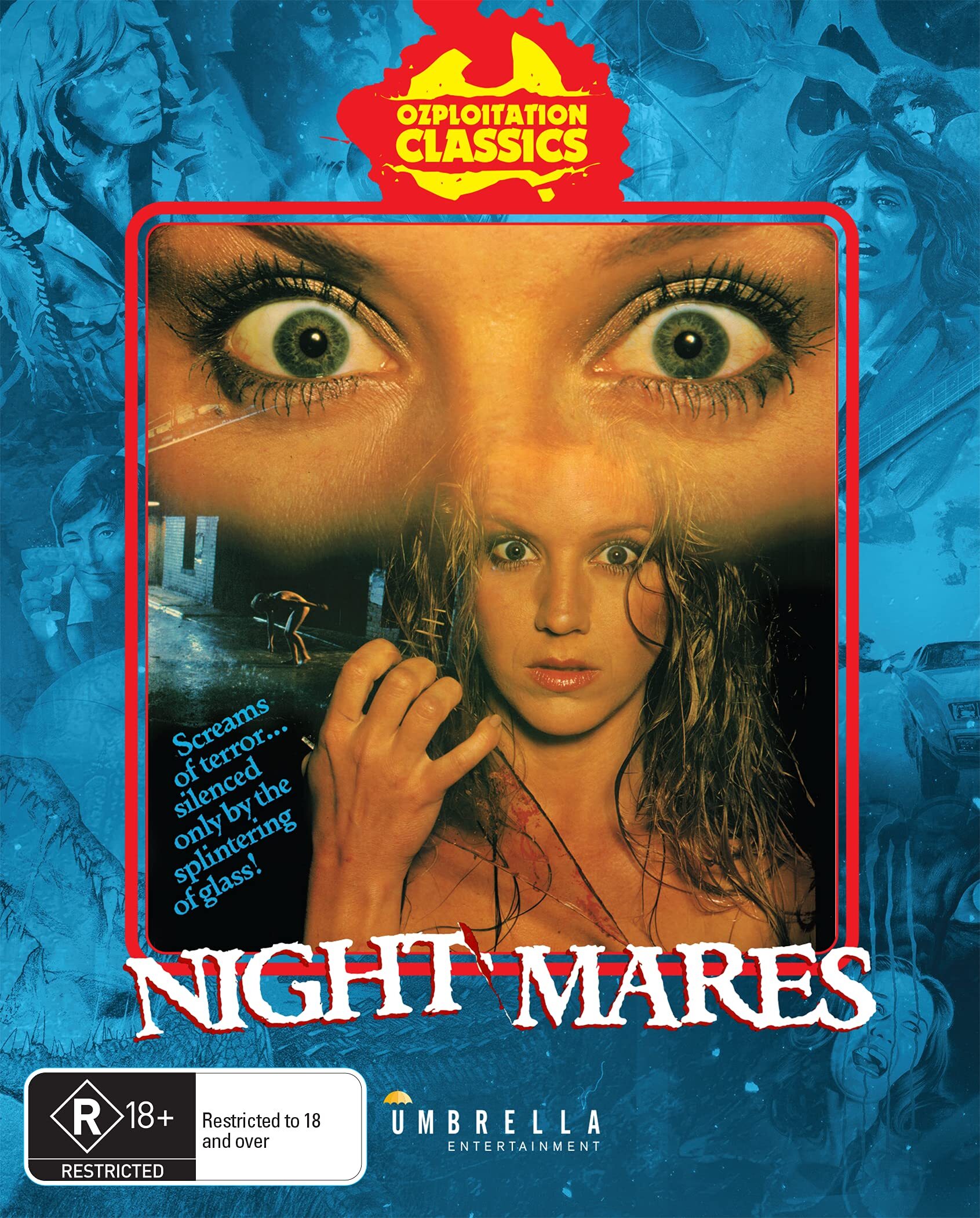 "Nightmares" (1980)

At a stage play audition, actress Helen (played by Jenny Neumann) receives the leading role, cast by the stoic director (played by Max Phipps). She meets Terry (played by Gary Sweet) at the audition, a nice young man who falls instantly for the beautiful Helen. But the theater soon finds itself in nasty turmoil, as from the auditions some mysterious killings start to occur, with the stars being brutally slashed one by one.

Filmmaker John D. Lamond had some hit films on his resume with "Australia After Dark" (1975), "The ABC of Love and Sex" (1978), and "Felicity" (1979), all which featured lots of skin and sex for adult audiences. His follow-up film took inspiration from the rising slasher film genre that was making its waves in America, from "Halloween" (1978) and its many imitators. Lamond was able to produce his own slasher with "Nightmares", which features quite a lot of blood and gore as well as the director's trademark sex and nudity, pushing the limits of what could be done for Australian cinema. But does "Nightmares" live up to being a slasher classic, a common imitator, or something else entirely?

The film starts off in 1964, when a young girl named Cathy (played by Jennie Lamond, the director's daughter) accidentally sees her mother (played by Maureen Edwards) having sex with a man (played by Peter Tulloch) who is not her father. On another evening on a drive, she wakes up in the car to see her mother and the lover fooling around while driving. Mistakenly thinking he was trying to assault her mother, Cathy starts a fit that causes the mother to lose control of the car. The crash kills the mother and Cathy's trauma haunts her as well as giving her absolute rage, which culminates in her slashing her mother's lover Brian in the face.

The film cuts to seventeen years later, where a theater becomes literally the center stage of the story. From hereon out the film goes into the tropes of a slasher film genre, albeit an early one that doesn't necessarily copy, but has interesting parallels to others. The killings happen with the killer's face not being visible, such as in "Friday the 13th" (1980) or "The Burning" (1981). Some shots for the killer are shot in the first person, such as in the aforementioned "Friday the 13th" and "Halloween". While the influence of "Halloween" is directly pointed out by Lamond in interviews, the connections to "Friday the 13th" and "The Burning" are not as the first film was released only a few months before "Nightmares" and the latter film being released the following year. European cinema, especially the Italian horror films of the period were also a great influence in style and theme. Performers and mysterious killings with a visual splendor in color and style evokes "Suspiria" (1977) for example. While each of the mentioned and other slasher films of the period had the formula of some nudity and gore, "Nightmares" goes slightly further with the nudity. Lamond as mentioned was no stranger to skin on film, and he was sure to get quite a lot of sex and bare skin in this film for both men and women, but this time adding blood to the mix. There isn't spraying blood or big effects like decapitations or mutilation, but instead focusing on literally slashing the victims with glass. Whether the face, the breasts, or in the dick, there is certainly pain to be felt alongside the screams and the heightened music cues.

Visually the film should be commended, as the cinematography by Garry Wapshott makes great use of the cinemascope frame for the stage sequences and others, plus the use of the Steadicam for the first person killing sequences. The music by composer Brian May makes great uses of strings, horns, and piano for the tense scenes as well. The performances are quite interesting as well. Max Phipps as the theater director is hilarious, weird, and plays off the auteur stereotypes brilliantly. John Michael Howson as the nasty critic is also one to look out for. Supporting actress on stage Judy (played by Nina Landis) also has strengths even if her screentime is shorter than the others. As for the two leads, Neumann and Sweet, their performances may be on the border as they are hampered down by the weakest part of the film, and that is the script.

Written by Colin Eggleston, who directed the fantastic "Long Weekend" only two years prior, "Nightmares" unfortunately fails on the tension and connecting the dots for logic's sake. The opening sequence has the character of Cathy being traumatized by her mother's death. Many years later, a young woman named Helen starts having nightmares of Cathy. The film makes it way too obvious that Helen is actually Cathy and she is the one doing the killings. The editing is partially to blame here, with the intercutting of Cathy's backstory within sequences of Helen having nightmares. This could have easily been an "Is the young Cathy terrorizing Helen and the crew? Or is Helen actually Cathy?" psychological drama, but the structure makes it too obvious that Helen was doing all the killings, by offing people that were having sexual relations or made unwanted sexual moves on her. There are also some things that are unexplained. Cathy slashing her mother's lover seemed like an unlikely scenario. She would have lived with her father (played by Bryon Williams) and so she would not have had any contact with her dead mother's lover. So why was she in a room with him after her mother died? In addition to that, Cathy was Australian. She had an Australian accent (which was horribly dubbed), as well as her parents. Why does Helen have an American accent? Was she trying to hide her past completely that she erased her accent in addition to changing her name? The plot connection doesn't make much sense, but for a positive note, it was interesting to make the slasher a woman in this case, and years before "Basic Instinct" (1992) brought it to wider appeal.

Despite the cult appeal the film was bound to have, "Nightmares" didn't particularly fare well theatrically. Released on October 30th 1980 just in time for Halloween season, Roadshow Entertainment didn't give it much promotion, and the Australian gross of $168,000 was paltry to say the least. Then again, Halloween season isn't exactly a big thing in Australia for tradition or marketing. The film did get international sales, such as in the UK, Japan, and the US, which in the latter market was retitled "Stage Fright" instead. Over the years, Lamond's sex films have received a bigger cult appeal because they were more than just the average sex film, being creative in their production as well as being titilating. "Nightmares" on the other hand feels like an average slasher in the long run. Not particularly strong in plot, and instead going more for the thrills and not paying off entirely.

Note this is a region ALL Blu-ray

Video


Umbrella Entertainment presents the film in the 2.39:1 aspect ratio in 1080p AVC MPEG-4. The remastered transfer looks quite good but isn't without its faults. Colors look quite bold, skin tones look very good, and detail is fairly good throughout. Dark tones are strong, though some lighter shades can feel a bit lacking due to the stronger dark levels, and in darker scenes some detail is lost. Damage is visible at times with speckles though a lot has been cleaned up and removed. Stability is sometimes an issue as seen with text in the opening and ending wobbling a bit, but nothing too distracting. Overall a fairly good transfer and much better than previous DVD transfers, but imperfections are still there.

The film's runtime is 82:50.

Audio


English DTS-HD Master Audio 2.0 mono
The original mono audio is presented in lossless form. While there has been some touch up for the audio, there are again imperfections to be heard. Dialogue, music and effects are fairly well balanced, with the voices of the characters being audible without issues in fidelity. The music cues by Australian film veteran Brian May also sounds great throughout. Unfortunately, more could have been done with the audio restoration. Hisses, pops, audio dropouts are heard throughout in various scenes, and can be a bit distracting, but does add a bit of grindhouse-ness to the experience. One hoping for a cleaner appearance as seen with the visuals will be a disappointment.

There are optional English HoH subtitles for the main feature in a white font.

Extras


Audio Commentary by director John Lamond, moderated by filmmaker Mark Hartley
In this audio commentary from 2011, Lamond and "Not Quite Hollywood" director Mark Hartley discuss about the film and its making as a part commentary and part interview session. They discuss the title confusion the film had across the world, the casting process, the musical score, biographies of the performers, behind the scenes anecdotes including having to deal with one performer's broken foot, the issues with the nudity and violence, and much more, Hartley is the more talkative of the two and Lamond sounds a little tired during the commentary to be honest. This commentary was previously available on the Umbrella Entertainment DVD edition.
in English Dolby Digital 2.0 without subtitles

"Not Quite Hollywood" extended interviews with director John Lamond, actress Nina Landis, and cinematographer Garry Wapshott (28:06)
As referenced above, Hartley's documentary on Ozploitation cinema "Not Quite Hollywood" was a love letter to the country's unique genre films, filled with interview sessions from various cast and crew of many films. Here are excerpts of interviews with Lamond, Landis, and Wapshott discussing their work on "Nightmares", with Lamond discussing his idea for the film as well as censorship in the period. Landis talks about breaking her foot during production and how she may not be too proud of the film itself but still has some nice memories to share. Wapshott discusses the style being influenced by American and European horror of the period, his introduction to using the Steadicam and anamorphic lenses, and more.
in 1080p, in 1.78:1, in English Dolby Digital 2.0 without subtitles

Deleted Scenes (9:04)
These rare deleted scenes were taken from a VHS copy of an early edit of the film which were found in Lamond's archives. Included are a few extended audition scenes, an extended bedroom scene, a diner scene, a rehearsal scene, a backstage scene, and a performance scene. The quality is obviously not very strong, but is in a watchable state.
in 1080p,in windowboxed 2.35:1, in English Dolby Digital 2.0 without subtitles

"Confessions of an R-Rated Filmmaker" 2009 interview with director John Lamond (8:09)
Lamond sits on a hotel bed as he talks about his career making fun and sexy films with no regrets. No such explanation why he is doing the interview there, but some interesting information in shared. This interview is also available on the Umbrella Entertainment DVD release of the film, as well as their releases of "Pacific Banana" on DVD and on their various releases of "Not Quite Hollywood".
in 1080p AVC MPEG-4, in 1.78:1, in English Dolby Digital 2.0 with no subtitles

Stills and Poster Gallery (1:21)
An automated slideshow gallery featuring theatrical posters, production and test stills, all with the soundtrack playing as background music.
in 1080p AVC MPEG-4, Music Dolby Digital 2.0

Theatrical Trailer (3:19)
The original theatrical trailer looks absolutely great here, completely remastered with barely any damage visible. Looks as good, if not better than the film itself on this disc.
in 1080p AVC MPEG-4, in 2.35:1, in English Dolby Digital 2.0 without subtitles

TV Spot (0:26)
This vintage Australian TV spot looks incredible to say the least, seemingly coming from a virtually untouched film print with little to no damage and good sound.
in 1080p AVC MPEG-4, in 1.33:1, in English Dolby Digital 2.0 without subtitles

John D. Lamond Trailer Reel (21:17):
- "Australia After Dark"
- "The ABC of Love and Sex Australia Style"
- "Felicity"
- "Nightmares"
- "Pacific Banana"
- "Breakfast in Paris"
- "Sky Pirates"
Included here are seven trailers for films directed by Lamond with "Nightmares" being repeated in the middle. Some look pristine like "Nightmares", while others look a bit more on the damaged side.
in 1080p AVC MPEG-4, in various ratios, in English Dolby Digital 2.0 without subtitles


Below is a shortened version of the theatrical trailer, courtesy of Umbrella Entertainment. The original trailer as featured on the disc has a lot of nudity that cannot be shown in the YouTube version here, therefore running much shorter.


Packaging


This is spine #6 in the "Ozploitation Classics" range, which comes with a slipcase.
The inlay has differing artwork, with the original Australian poster art and the other side being the American poster art with the alternate title. The inner artwork has a quote by Lamond from an interview session found on this release.

Overall


"Nightmares" may not be the most original or most memorable in the slasher genre, but has some charms with its visual style and being an early example of the slasher film in Australia. The Umbrella Entertainment Blu-ray has a good transfer but slightly disappointing audio track, though it makes up in the extras department with a selection of both vintage and newly unearthed extras. Recommended.

The Blu-ray is available at many retailers as well a from Umbrella Entertainment directly.
| | | | | |
| --- | --- | --- | --- | --- |
| The Film: C | Video: B+ | Audio: C | Extras: A | Overall: B- |