The Power [Blu-ray]
Blu-ray ALL - United Kingdom - Acorn Media
Review written by and copyright: Eric Cotenas (19th October 2021).
The Film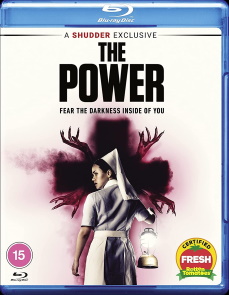 Ever since she was a child, former orphan Val (A Quiet Passion's Rose Williams) has suffered from a debilitating fear of the dark. With negotiations breaking down with the striking miners, the British government has implanted mandatory blackouts during the evenings of winter 1974 starting on the day that Val is set to start her first shift as a nurse at the East London Royal Infirmary. The imperious matron (All or Nothing's Diveen Henry) has a low opinion of her upon first meeting in spite of Val's seeming sincerity, and Val makes things worse for herself by unintentionally going over the matron's head when she strikes up a rapport with runaway pediatric patient Saba (Shakira Rahman) and impresses charming doctor Franklyn (The Borgias' Charlie Carrick) with whom Val shares the unpopular opinion that "slums kill children."

With most of the patients being moved to the newer hospital in central London for the night and only the antenatal and intensive care comatose patients remaining for the night, the matron orders Val to stay for the night shift and she is too desperate to prove herself to refuse. The company of former school colleague Babs (Endless Love's Emma Rigby) seems to be only slightly better than being completely alone in the darkened intensive care unit, especially when she learns that Babs has already told the only other nurses on duty Comfort (Gbemisola Ikumelo), Joan (Sarah Hoare), and Margaret (Anjelica Serra) – along with randy janitor Neville (The Inbetweeners' Theo Barklem-Biggs) – about an incident at school involving a false accusation that earned her the name "Dirty Val". In the dark, Val becomes convinced that she is not alone, but the others do not believe her, even when she claims to have been physically assaulted by an invisible assailant and has the injuries to prove it. When Val starts suffering blackouts and becomes a danger to others, the nurses believe that she is going crazy but Val becomes convinced that a dark secret in her own past is the reason something angry and violent wants to take over her body and soul.

Bring back to mind the understated, underseen Spanish/British horror film Fragile in its new nurse with a tragic past in a hospital undergoing evacuation scenario – in that film, a remote hospital on the Isle of Wight rather than a crumbling East London borough infirmary – The Power seems slight on the surface, dependent as it is on lengthy suspenseful scenes of Williams in dark corridors unsettled by blinking lights, flickering lamp flames, and both loud and subtle sounds; however, there is a wealth of background detail that stands in for a lack of shown or told backstory and exposition. Just as it enough for Val to figure out who she cannot expect to confide in based on picking up the tail end of Babs' gossip and the whispers of the trio of nurses about Val's past as an orphan, the stated rules of conduct between doctors and nurses as well as our observations of their interactions lend shading not only to the matron's annoyance at Val overstepping her position but also the difference between what the matron regards as earned respect and what others see of her as being power mad.


Even though the identity of the main mortal culprit is easily guessed, the climax remains compelling and provocative because of the degree of arrogant entitlement and the levels of knowing and unknowing complicity enabled by those willing to listen to the ones with power and dismiss those without as troublemakers (the mining strike backstory is another example of such dismissiveness); indeed, up to a point it is easy to believe that much of what happens may indeed be a projection of Val's neuroses and paranoia finally coming to a point where she snaps. While some elements may be derivative within an otherwise novel setting, The Power is an effective low-key chiller that may be more emblematic of the newer notion of "women in horror" than some examples in its underlying observations about gender and power.

Video


Like some of Acorn's other recent Shudder titles, their Blu-ray of The Power appears to have been produced for North America by the inclusion of only the RLJ Entertainment logo and a Spanish subtitle option; however, in this case, there is no American edition (only a DVD released last month), although the disc may indeed still have been authored before it was decided not to press. The 1080p24 MPEG-4 AVC 2.40:1 widescreen image has a muted grading that seems more appropriate to the period and the setting than as a fashionable grade – particularly in conveying the picture of a depressed East London and the cold corridors of the hospital upon Val's arrival – with reasonably deep blacks and good detail in the low-lit night hospital interiors.

Audio


The DTS-HD Master Audio 5.1 audio track is a triumph from the very start with its creeping use of a backwards playback recording of a hymn, the little sounds inside and without of Val's apartment, the subtle sounds that can be unnerving in the quiet of a hospital, as well as the loud jump scare sounds. Optional English SDH and Spanish subtitles are included.

Extras


While most Shudder releases are light on extras – apart from those filmmaker-produced ones like those ported over for the identical and UK releases of Psycho Goreman – The Power at least has an audio commentary by writer/director Corinna Faith, cinematographer Laura Bellingham, and actress Rose Williams in which Faith and Bellingham discuss the more extravagant visuals and coverage shot for the film before they discovered in editing that more conventional assembling of the scenes was ultimately more effective. They also discuss how the tight shooting schedule necessitated cutting a number of scenes exchanges ultimately for the better. Williams discusses the shooting conditions and working with child actress Rahman. The disc also includes a photo gallery (2:35).


The German Blu-ray appears to have no extras. Specs are unconfirmed for the Australian Blu-ray from Madman but it may be identical to this UK edition.

Overall


While some elements may be derivative within an otherwise novel setting, The Power is an effective low-key chiller that may be more emblematic of the newer notion of "women in horror" than some examples in its underlying observations about gender and power.

---
Rewind DVDCompare is a participant in the Amazon Services LLC Associates Program and the Amazon Europe S.a.r.l. Associates Programme, an affiliate advertising program designed to provide a means for sites to earn advertising fees by advertising and linking to amazon.co.uk, amazon.com, amazon.ca, amazon.fr, amazon.de, amazon.it and amazon.es . As an Amazon Associate, we earn from qualifying purchases.