The Film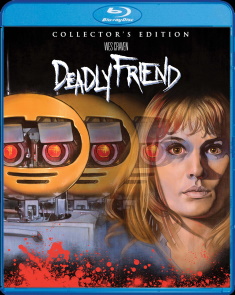 Teen genius Paul (Tarantulas: The Deadly Cargo's Matthew Laborteaux) has created a robot pal B.B. and moves to town with his mother to take classes at the local university. He immediately falls for next door neighbor Samantha (Flowers in the Attic's Kristy Swanson). When B.B. is shot by paranoid neighbor Elvira (Throw Momma from the Train's Anne Ramsey) and Samantha ends up brain dead in the hospital thanks to her abusive father (Enemy Mine's Richard Marcus), Paul and paperboy Tom (Kill Me Again's Michael Sharrett) steal her body and Paul transplants B.B.'s robot brain into Samantha's body. The new Samantha/B.B. hybrid, however, proves not to be the girl of Paul's dreams as she starts taking out the people who did her and B.B. wrong in gruesome ways.

Based on the young adult novel "Friend" by Diana Henstell and scripted by Bruce Joel Rubin just before his back-to-back hits with Jacob's Ladder and Ghost, DEADLY FRIEND the movie proves to be a mixed bag. It is an uneasy mix of PG cuteness – the robot standing up to a group of toughs bullying Paul and Tom, playing basketball with the kids, and sneaking into the shotgun-toting neighbors yard to get the basketball back – and R-rated gore with exploding heads, burnt corpses, and A Nightmare on Elm Street-esque nightmares, abusive father, and gun-happy police. The film indeed started out as director Wes Craven's attempt to do something different, and the original PG-rated concoction could have been a moving coming of age picture in which a genius boy learns to deal with first love and tragic loss in an unconventional manner; however, Warner Bros. demanded more violence, and Craven responded with some truly gory set-pieces that the studio then required to be scaled back for an R-rating, and then were unsure of how to market the resulting product despite memorably creepy poster and video art (the trailers leave it unclear as to whether Samantha is a nutcase or a supernatural being, anticipating the "… from Hell" stalker pictures of the nineties). Performances are mostly good, although Swanson's robot is more laughable than scary, the scoring of Charles Bernstein is more family-friendly than Freddy Krueger – apart from the tongue-in-cheek "BB" theme song – and Craven's direction rarely comes to life in the gore scenes and a creepy moment where Paul first discovers Sam/B.B. hatefully watching her abusive father through the garage window. Whereas Craven reluctantly added the supernatural final shock tag to Deadly Blessing, and refined and finessed it for A Nightmare on Elm Street, the shock ending here just feels desperate. Worth seeking out in the context of Craven's string of ups-and-downs in between A Nightmare on Elm Street and Scream (or perhaps Wes Craven's New Nightmare) than as a scary flick.

Video


Released wide theatrically by Warner Bros. to little success, Deadly Friend came to VHS and laserdisc in 1987 with the company hard-selling the good reviews with a 3 ½ star rating quote, and the former format and cable were where the film found most of its young audience. The film finally hit DVD in 2007 in its unrated version with gore intact as a solo release and as part of the six-disc Twisted Terror Collection with the made-for-TV Someone's Watching Me, The Hand with surprise Oliver Stone audio commentary, the long-unseen unrated version of Eyes of a Stranger, an aspect ratio-compromised edition of Dr. Giggles, and From Beyond the Grave (in 2012, Warner retained the "Twisted Terror" but dropped the latter two titles for a 4 Film Favorites reissue set). Mastered from a new 2K scan of the 35mm interpositive, Shout! Factory's 1080p24 MPEG-4 AVC 1.85:1 widescreen Blu-ray improves on the DVD transfer as expected with a gulf of a decade-and-a-half. The studio-lit locations and Warner backlot exteriors always looked good on video, but shadow detail is improved, the credits better delineate film grain and the pixellation effects of BB's POV under the additional title optical overlays, some subtle cool blue lighting that emphasize Samantha's robotic pallor is more pronounced, and the reds pop without NTSC bleed. The side effect of the enhanced resolution is that the studio interiors do look as such, but that is appropriate to the "family film" and TV movie feel of the film's lighter moments.

Audio


In spite of the larger budget from Craven's earlier New Line venture, Deadly Friend was mixed in mono, but the dialogue remains clear, Bernstein's scoring sounds vibrant, jump sound effects still jolt, while BB's dialogue was always meant to be gibberish. Optional English SDH subtitles are also included.

Extras


The Warner DVD edition was barebones while Scream Factory has produced a handful of new interviews; however, only those new to the film will glean much new information from what Craven fans know of the film's production history. In "Hey Sam, Nice Shot" (9:26), actress Swanson recalls Craven's handling of actors and herself in her first feature lead at age sixteen, learning some technical aspects of acting from only slightly older but more experienced Laborteaux, the more violent reshoots – which she claims started while the film was still in production – her reaction to contents of Elvira's fake head, and her discomfort with having her head cast for the film's final shock. In "Written in Blood" (8:11), screenwriter Rubin admits to hating the source novel but liking Craven – as well as being nudged from the beyond by his late Yoga teacher – and admits to actually like the added violence when he and Craven viewed the film with a test audience only to be disappointed with the order to cut the scenes down.

In "Samantha's Symphony" (8:23), composer Bernstein notes that the film marked his transition from analog to digital, and that it is reflected in the score using electronics in his home studio for BB's themes, an orchestra for the human drama, and then a combination for the later horror scenes. He also discusses the inspirations for the end credits song. Finally, in "Robots, Ramsey, and Revenge" (5:02), special make-up effects artist Lance Anderson (The Serpent and the Rainbow) gives his honest opinion of the BB robot, having to reproduce it for the nightmare scene, and his recollections of working with Ramsey for her head cast and the resulting death scene.

The disc also includes four theatrical trailers (5:09) – the U.S. theatrical trailer, a Spanish theatrical trailer with dubbed dialogue and narration, a German theatrical trailer, and a Mexican theatrical trailer with overdubbed narration and English dialogue – as well as five TV Spots (1:29).

Packaging


The cover is reversible with the more memorable original artwork on the inside and newer artwork on the front which is also included on the first pressing slipcover.

Overall


An uneasy mix of PG teen comedy/drama and studio-mandated R-rated violence (chopped down from a threatened X), Deadly Friend is worth seeking out in the context of Craven's string of ups-and-downs in between A Nightmare on Elm Street and Scream (or perhaps Wes Craven's New Nightmare) than as a scary flick.