The Film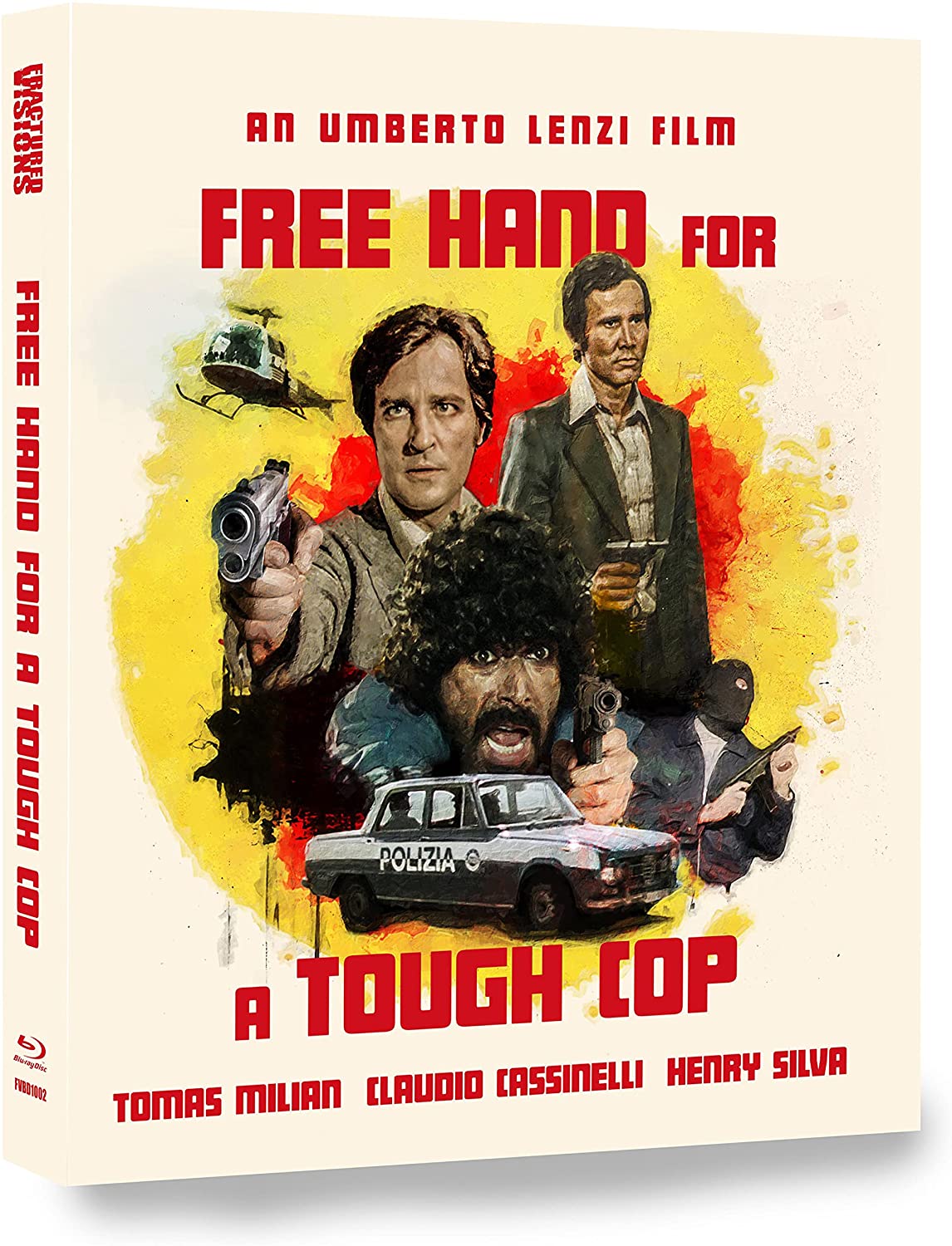 From the notorious Umberto Lenzi (Nightmare City) comes Free Hand for a Tough Cop, the film that introduced Tomas Milian's legendary 'Monnezza' (A.K.A Garbage Can) to audiences around the world. When the critically ill daughter of a prominent family is kidnapped by a ruthless band of thugs, Inspector Sarti (Claudio Cassinelli, Suspected Death of a Minor) is forced to bend the rules and oversees the prison break of Sergio 'Monnezza' Marazzi (Tomas Milian, Brothers Till We Die), a low-life criminal with deep roots in the criminal underworld. The unlikely duo team-up in hopes of retrieving the girl and catching the infamous Brescianelli (Henry Silva, Almost Human), the crime boss behind the kidnapping, before time runs out.

Finally making its UK debut, Fractured Visions is proud to present Free Hand for a Tough Cop, a much-loved Euro Crime classic that spawned other genre staples like Umberto Lenzi's Brothers Till We Die and Stelvio Massi's Destruction Force. It all started here!

Video


A cop (Claudio Cassinelli) is given carte blanche to track down a gang of kidnappers (led by Henry Silva) who've snagged the critically ill daughter (Susanna Melandri) of a wealthy businessman (Tano Cimarosa). Who springs a wily criminal (Tomas Milian) from jail to use his contacts to find the goons. It's a race against time and Cassinelli has allied himself with a very amoral and unsavoury bunch of nutjobs (Robert Hundar, Biagio Pelligra, Giuseppe Castellano ).

Free Hand for a Tough Cop (1976) was made in Italy as Il trucido e lo sbirro (literally "The Murderer and the Cop" or "The Numbskull and the Cop" depending on where you look) is one of a surprisingly large number of Italian crime films made by one of the preeminent directors of the form: The late, great Umberto Lenzi (1931-2017) and features two of the stars also most commonly associated with the genre, Cuban actor Milian (1933-2017) and American actor Silva (b 1928).

It's a convoluted, rollicking action flick with the usual fistfights, blazing shootings, massacres and car stunts (some of which are truly thrilling); we have one prison break, three robberies (one on a train) and two political assassinations within the first thirty minutes! The female roles are thankless, the males testosterone-fuelled and the score by Bruno Canfora (1924-2017) lively, catchy and memorable. Milian, Silva and star Cassinelli (1938-1985) are all on fine form.

Like gazillions of other European (and especially Italian) films made around this time Free Hand for Tough Cop was lensed using the 2-perf Techniscope format which took a 4-perf frame of 35mm film (ratio 1.37:1) and cut it half with the scope aspect of 2.35:1. This means that the image ought to be grainier and more textured. When handled correctly Techniscope can look as good as 4-perf 35mm transfers.

The colour palette is fairly vivid with naturalistic but warm flesh tones, decent colour delineation and some healthy primaries; especially the blood! There's quite a lot of blood squibs as people get shot and others get thumped in the mouth and bleed. It all looks fairly bright and theatrical. Black levels and contrast are generally pretty good with no unintended crush or blown out highlights. Detail is variable; in some shots OK, in others soft and indistinct, although mostly the former. Overall it's not what it ought to be and grain is light, barely there and faces are waxy. Signs of digital tinkering and DNR are sadly evident.

It's a overall pleasing appearance but techno freaks will be non-plussed, general viewers happy; a mild step up on DVD and the superior AVC codec helps. This is a very watchable but mildly disappointing transfer. Looking at the disc acknowledgements in the booklet, the disc was authored by Nucleus films who's own Italian releases are more impressive (Lady Frankenstein, Death Laid and Egg, The Demons, The Erotic Rites of Frankenstein). I'd say that Fractured Visions have used an off the shelf, older transfer and done the best they can with a well encoded presentation of an ageing master.

Mostly decent but mildly disappointing ('B-').

1080/24p / AVC MPEG-4 / BD50 / 2.35:1 / 91:49

Audio


Italian DTS-HD Master Audio 2.0 Mono
English DTS-HD Master Audio 2.0 Mono
Subtitles: English

Two mono tracks on offer. The English dub has been noise reduced to heck so that it has a clipped, watery sound ... like Henry Silva (and others) are under water at times. It's not as bad as Full Moon's English dub on their recent Naked Girl Murdered in Park (1972) BD which was so bD full Moon replaced it. It's low volume, no high or low end and tinny, skip it. It's a shame because Silva is speaking English on set and has dubbed his own voice.

However, most everyone else is speaking Italian on set so the Italian dub matches the most lip movements, most of the time. Thankfully it's far superior being louder and more natural sounding. Like many of these kind of dub tracks it's got a harsh quality that gets worse as you raise the volume but I suspect has always been like that. It's a much more pleasing and pleasant listen. It's also of note that at a couple of points the soundtrack seemed to drop out for half a second but when I rewound the section and played it again everything was fine. I suspect that that may be an authoring issue reacting to my player (Panasonic).

Optional English subtitles are provided for the Italian track and they're perfectly fine but occasionally flew by too quickly for me to read so I had to rewind at a couple of points ('C+').

Extras


(1.) Audio commentary by Mike Martinez (2021)
(2.) Audio commentary by Troy Howarth and Nathanial Thompson (2021)

Two great commentaries for fans to sink their teeth into! The first is by Martinez who produced Mike Malloy's excellent documentary Eurocrime: The Italian Cop and Gangster Films That Ruled the '70s (2012) and the second one is by genre historians Howarth (who's written several books on Italian genre cinema) and Thompson (webmaster of Mondo Digital and who's produced many DVDs down the years notably Images Something Weird discs in the early 2000s). Both men know their onions and if you've heard any of these commentators wax lyrical before you know to expect a great listen ... or two! Presented in lossy Dolby Digital 2.0 Stereo.

"No Small Roles: An Interview with Corrado Solari" 2021 interview (28:36)
"Cops and Robbers: An Interview with Nino Celeste" 2020 interview (24:20)
"Portrait of a Daughter: An Interview with Alessandra Lenzi" 2021 interview (18:46)
"Eurocrime: The Lenzi Way with Barry Forshaw" 2021 interview (16:10)
"Producing Mayhem: An Interview with Ugo Tucci" 2021 interview (11:29)

99:21 worth of new interviews that collectively provide bags of essential viewing for fans of the film and forming an effective retrospective on the film. Presented in 1080/24p 1.78:1 with lossy English / Italian Dolby Digital 2.0 Stereo sound and optional English subtitles where required.

Italian Trailer (3:24)
English VHS Trailer (3:52)
English VHS Credits (3:44)

Vintage theatrical promo in 1080/24p 2.39:1 with lossy Italian Dolby Digital 2.0 mono with optional English subtitles. The two VHS sourced pieces are upscaled 1.33:1 standard with lossy English Dolby Digital 2.0 mono. Considering the source they don't look bad albeit panned and scanned and very soft and washed out with the odd speck of dirt and damage.

Collector's edition slipcase
6 art cards
A 48-page liner notes booklet "Uno specialista in tutti i generi: the Crime Films of Umberto Lenzi" by Austin Fisher, "Monnezza's Machine" by Francesco Massaccesi and text interview with Umberto Lenzi by Eugenio Ercolani

Only the booklet was provided for review but like the one provided with the Fractured Visions BD of Silent Action (1975) it's a keeper with three very strong and informative articles that add great contextual added value.

Packaging


Card outer slipcase that houses a clear BD Keepcase and booklet.

Overall


An eagerly awaited example of the Italian crime film gets the special edition treatment with adequate if disappointing image and sound quality. It's most likely an older master; the Italian track is pretty good, the English dub has been noise reduced. Extras are superb and make the set well worth picking up. Note also that the menu takes over a minute to play through images and score before allowing the user access to "Play", "Chapters" etc.

Still, it's better than DVD and hasn't been released on home video in the UK since the VHS era ... at least not that I'm aware of.
| | | | | |
| --- | --- | --- | --- | --- |
| The Film: B- | Video: B- | Audio: C+ | Extras: A+ | Overall: B |