The Film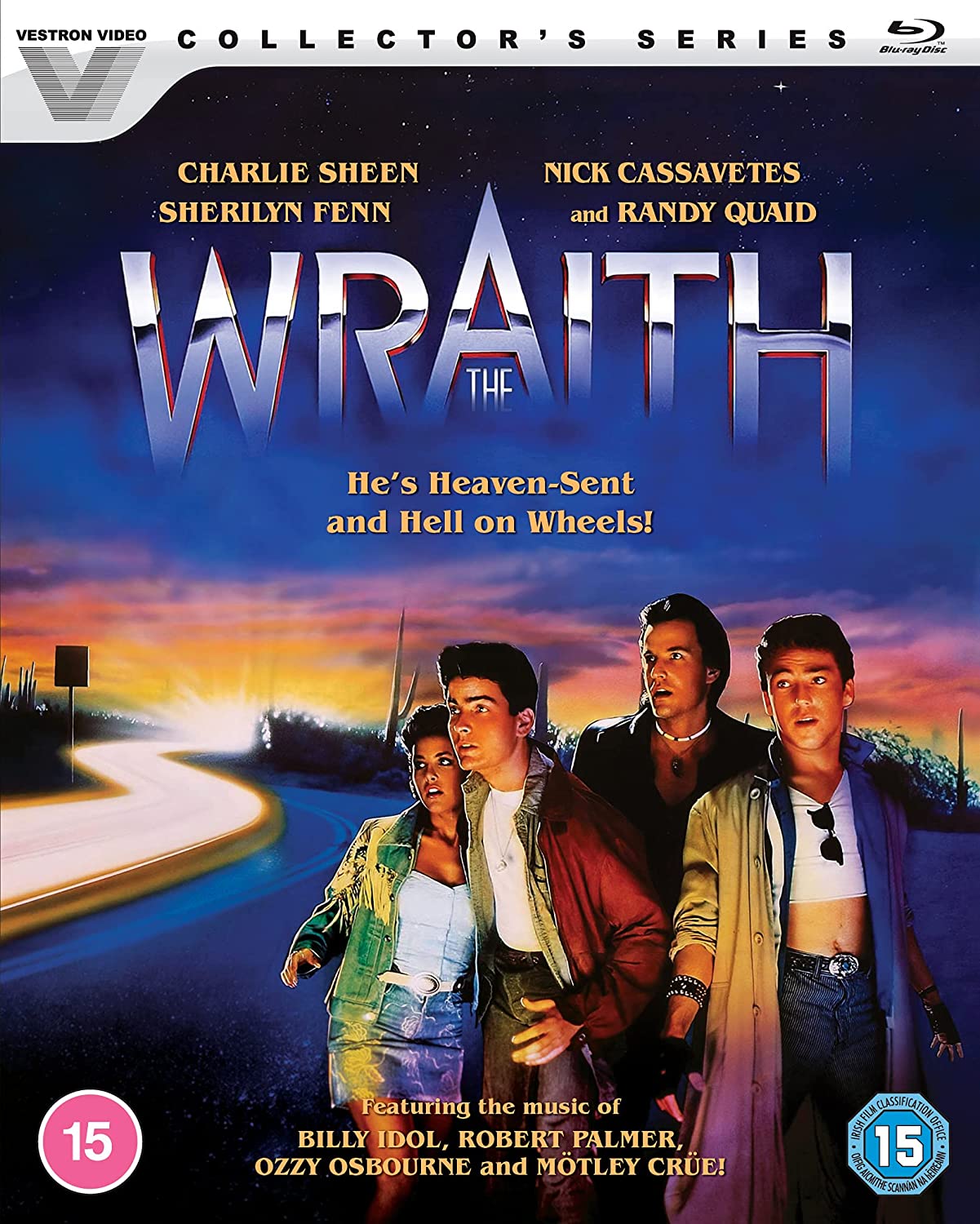 Charlie Sheen, Nick Cassavetes (Face/Off), Sherilyn Fenn (Twin Peaks), and Randy Quaid (Independence Day) star in this turbocharged cult classic!

When four glowing orbs crash into each other over the Arizona desert, they leave in their wake a badass Dodge Turbo Interceptor, and its enigmatic, helmeted driver. The next day, the mysterious Jake (Sheen) appears in the town of Brooks, catching the eye of Keri (Fenn) and the ire of Packard (Cassavetes), the ruthless leader of a gang of street racers. When gang members start losing races, and lives, to the Interceptor, the recent death of Keri's boyfriend suddenly seems connected to the arrival of Jake, the unbeatable car ... and an avenging entity called The Wraith.

Video


Goofball, teen orientated reworking of High Plains Drifter (1972) and Pale Rider (1985) that plays out as an update of those rock 'n' roll teen gang / hotrod flicks from the '50s. It gets a very decent HD rendering from Lionsgate on this UK BD release which is a clone of their US version.

Sometime before the film starts evil car pirate Nick Cassavettes and his gang killed a guy who is then revenged by the Wraith of the title who drives around in a custom car challenging the pirates to road races that end in their destruction. Meanwhile the new lad on the block Charlie Sheen swans into town and pisses off Cassavettes by romancing Sherilyn Fenn who he has his eyes on. Local sheriff Randy Quaid tries to figure it all out. Clint Howard is the pirates' mechanic who has the most outrageous quiff this side of Jon Pertwee.

Typically flashy, neon-drenched '80s action flick ladeled generously with popular contemporary songs on the soundtrack* and with a splendid electronic score by Michael Hoenig and J. Peter Robinson. Direction by Mike Marvin is very much in the MTV vein which is appropriate to the era and material. Bizarrely, this got an 18 certificate back in '86 from the BBFC until the recent resubmission for this very disc sensibly changed it to 15. Although it has some violent moments they're not very graphic and there is some fleeting topless nudity but no heavy bad language (it was PG-13 in the USA at the time). In any case, a grand slice of cheesy '80s junk food with plenty of well done car action. It would make a great evenings quadruple bill with Duel (1971), The Car (1977) and Christine (1983).

A fun party movie!

This is a very strong transfer from Lionsgate in the HD aspect ratio of 1.78:1 (it ought to be 1.85:1) and looks a peach with a high bitrate and a very healthy, typically '80s, colour palette that means warm flesh tones, rich greens, bright reds and scenes of neon that really pop! I couldn't detect any particular colour bias although some reviewers online recon it's slightly yellowish. To my eyes this is a typical '80s style film with softness creeping in during optically printed sequences with effects, captions and animation. Also, it has that diffused, hazy style popular at the time.

Grain is generally healthy and filmic although I wouldn't rule out the odd moment of light DNR having been used. The encode is pretty strong. Black levels and contrast work well in concert to deliver a powerful image with no unintended crush nor blown out highlights. Detail is generally strong in textures and backgrounds despite any technical pecideloes of the era.

I'd say the master used is exactly the same as on the fine 2017 German release.

1080p24 / ABC MPEG-4 / BD50 / 1.78:1 / 92:30

* "Where's the Fire" by Tim Feehan, "Secret Loser" by Ozzy Osbourne, "Hearts Vs. Heads" by Stan Bush, "Wake Up Call" by Ian Hunter, "Smokin' in the Boys Room" by Motley Crue, "Addicted to Love" by Robert Palmer, "Scream of Angels" by Nick Gilder, "Power Love" & "Never Surrender" by Lion, "Those Were the Days" by Honeymoon Suite, "Matter of the Heart" by Bonnie Tyler, "Hold on Blue Eyes" by LaMarca, "Rebel Yell" by Billy Idol, "Young Love, Hot Love" by Jill Michaels and "Bad Mistake" by James House.

Audio


English DTS-HD Master Audio 2.0 Stereo
Subtitles: English HoH

A basic 2.0 stereo track that plays at the front of your 5.1 system if you have it set to *straight* (my amp calls it Auto Format Direct) with some separation across the font soundstage but no surround activity. However, if you channel it through ProLogic II, Neo:6 Cinema or HD-D.C.S. (Studio) you get an extremely active surround field with lots of use of surrounds during action scenes. Score and ambiance are healthy throughout with dialogue always clear. LFE is disappointing in that it's pretty sweet with base in the score but thin with stuff like explosions.

The film was released theatrically in Dolby Stereo and was a fairly low budget production so don't expect the action fireworks of bigger films from the era or more modern productions. It's solid, accurate to it's source but could've done with a modern 5.1 upmix to let it blow us away.

Hard of hearing subs are welcome, translate all of the dialogue accurately on the sections I sampled. Overall this track gets the job done well if not spectacularly but accurately to it's origins ('B+').

Extras


(1.) Audio commentary by writer/director Mike Marvin (2009)
(2.) Audio commentary by actors Dave Sherrill and Jamie Bozian (2021)

The 2009 track taken off the old 2010 US DVD has director Marvin giving us a great, personal over view of production from his point of view including comments about how studio interference made life difficult. A case in point is Charlie Sheen's opening shot riding a motorbike in long shot moving towards the camera with the focus puller keeping him in shot for the whole duration. Now that wouldn't be tolerated as being too long. It's a great track with the odd silent moment when Marvin pauses to watch the film and the film soundtrack takes over. The 2021 is nicely complementary of the Marvin track featuring tales from the actors point of view. Both are presented in lossy Dolby Digital 2.0 mono.

Isolated Score Selections featuring a 2021 audio interview with co-composer J. Peter Robinson conducted by Michael Felsher (in Dolby Digital 2.0 Stereo)

Comments by Robinson with Felsher conducting the interview with some interesting stuff here (0:00-15:02). The score selections follow (15:03-48:01) and the track reverts to the film soundtrack (48:02-92:30). Presented in lossy Dolby Digital 2.0 stereo.

"The Wraith: Filming Locations Then and Now" 2021 featurette (27:11)
"Tales from the Desert with writer/director Mike Marvin" 2009 interview (16:21)
"Rughead Speaks! with Clint Howard" 2009 interview (12:24)
"Ride of the Future" 2009 interviews with transportation coordinator Gary Hellerstein and stunt coordinator Buddy Joe Hooker (11:44)
"The Ghost Car: The Visual Effects of The Wraith" 2021 interview with effects producer Peter Kuran (11:43)

A collection of new and vintage (2009) featurettes that collectively run 79:23 and form an ersatz retrospective documentary. The 2021 pieces are in 1080p24 1.78:1 and the 2009 segments are most likely upscaled from standard and 1080i60. Sound on all is lossy Dolby Digital 2.0 stereo with no surround activity at all even when played via a 5.1 amp with appropriate settings.

Alternate title sequence (1:48)

The title sequence used on some international versions of the film. 1080p24 1.78:1 with lossy Dolby Digital 2.0 stereo (surround when played via the right settings on a 5.1 amp (see audio above).

Theatrical Trailer (2:03)
TV Spots (1:25)

Vintage promos presented in 1080p24 1.78:1 for the trailer (sound is clear) and 480i 1.33:1 for the TV spots (sound is soft and hissy). Both are lossy Dolby Digital 2.0 mono.

Still Gallery (5:42)

Solid 1080p24 slideshow set to the films wonderful score albeit in lossy Dolby Digital 2.0 stereo that plays in surround when channelled through appropriate settings (see audio above).

Packaging


Standard blue BD Keepcase.

Overall


A fun '80s cult item that I distinctly recall playing in multiplexes gets a generally excellent upgrade from Lionsgate in the UK as part of their ongoing Vestron Video Collector's Series releases. Image and sound are strong and faithful to the film source and extras are top notch bringing together material from the 2010 US DVD and adding some new stuff for 2021. Highly recommended for fans, film buffs and petrolheads!
| | | | | |
| --- | --- | --- | --- | --- |
| The Film: B- | Video: A- | Audio: B+ | Extras: A+ | Overall: A |