Sundown: The Vampire in Retreat (Blu-ray) [Blu-ray]
Blu-ray B - United Kingdom - Lionsgate Home Entertainment
Review written by and copyright: Rick Curzon (22nd December 2021).
The Film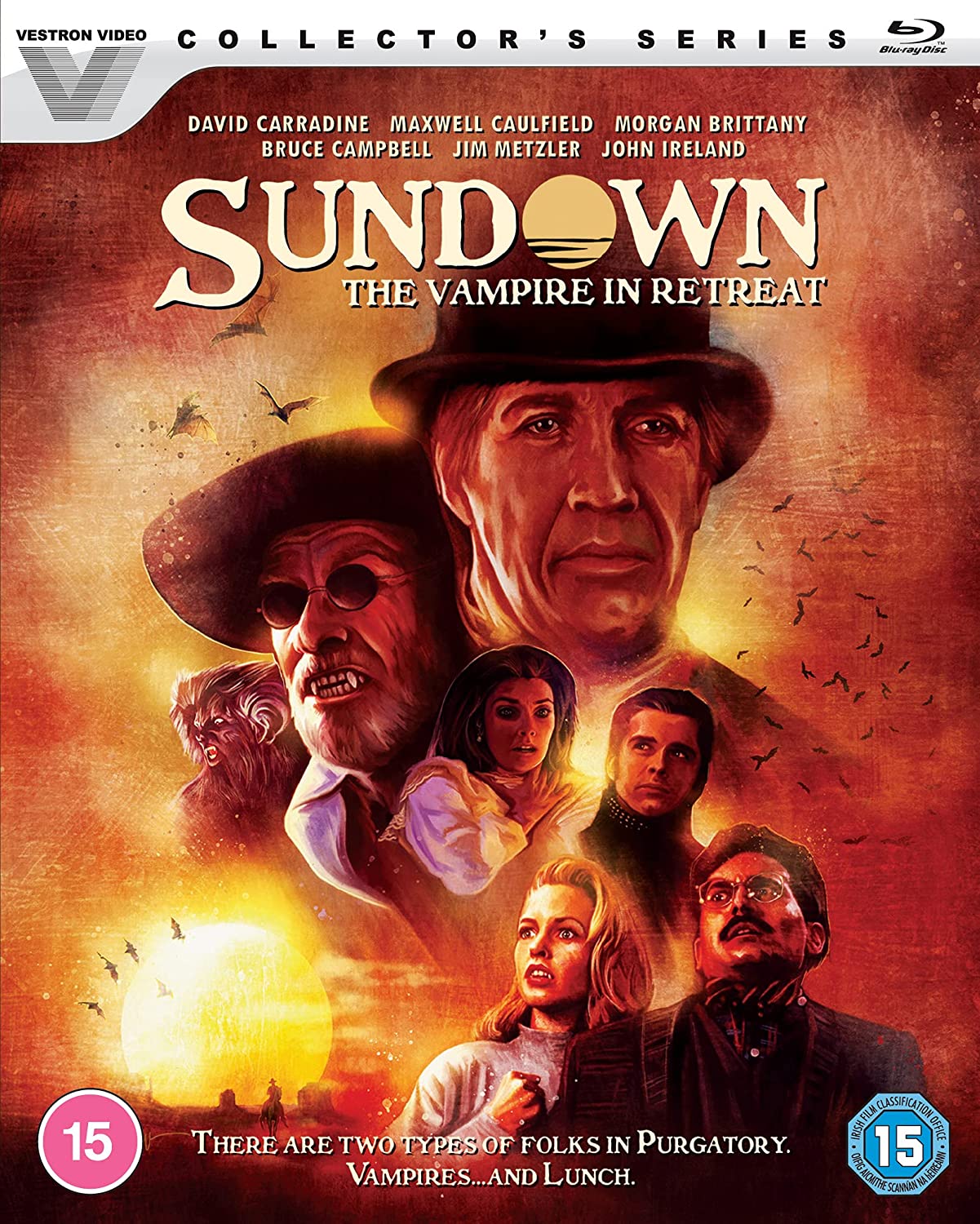 The road to Purgatory is paved with good intentions, and Count Mardulak (David Carradine) wouldn't have it any other way. He's seeking atonement for centuries of human carnage, which is why he's instructed Purgatory's vampire residents to slather on SPF 100 sunblock, pursue daytime activities ... and drink only synthetic blood.

But some vampires don't agree with Mardulak — they want the real thing — and if that means wooden bullets flying in a vampire civil war, so be it! This wild horror-comedy also stars Bruce Campbell (The Evil Dead franchise), M. Emmet Walsh (Blade Runner) and John Ireland (Spartacus).

Video


Fondly remembered if slightly overlong and uneven horror comedy that has pace and tone issues. The cast try hard and provide much amusement along the way. Production values are good (Anamorphic Panavision, Dolby Stereo) with director Anthony Hickox helming his second film after Waxworks (1988). It's a step up on that effort but still no world beater.

However, despite the use of an unspecified master (it doesn't look like 4K) this is a mostly fine transfer with a rich, warm colour palette that favours reds, browns and oranges. Typically '80s in appearance with none of that awful 21st century muted colour look. Black levels are generally strong although I did notice the odd moment of unintended crush, shadow detil is adequate. Contrast is also supportive with no blown out highlights. Grain is present but I suspect some mild DNR has been applied which mutes it's effect slightly, it's not as course as I would expect. Detail in brighter scenes is generally excellent and the encode adequate to the job ('B')

1080p24 / AVC MPEG-4 / BD50 / 2.39:1 / 104:17

Audio


English DTS-HD Master Audio 2.0 Stereo
Subtitles: English, English HoH, Spanish

Lively, robust stereo track plays firmly in the front of the sound field when sent straight via the amp to the speakers but opens up nicely with an active surround field and rear separation when channelled through ProLogic II or similar. Base is good, delineation and dialogue crisp making for a pleasing surround experience. Theatrically this was released with a Dolby Stereo track and it's well represented here. Being a lower budget, independent film don't expect Bond film levels of activity, even by the standards of 1987-88 but it's still a great listen.

Subtitles come in three flavours mirroring the US disc with decent hard of hearing subs being of note ('B')

Extras


Audio commentary with Anthony Hickox, Levie Isaacks and Michael Felsher (2021)

Involving track with home video extras producer and journalist Felsher on moderation duties corralling comments by director Hickox and director of photography Isaacks. Lots of the usual expected detail in a track that never slows down.

Isolated Score Selections with Randall Larson, Jefferson Richard and Michael Felsher (Dolby Digital 2.0 Stereo)

Isolated score tracks interspersed with with commentary by soundtrack specialist Larson who focuses his analysis on the composer and score. We also get producer Richard interviewed by Felsher who once again does his usual excellent job. Presented in lossy Dolby Digital 2.0 stereo.

"Wild Weird West with Anthony Hickcox" 2021 interview (16:03)
"Bloodsuckers from Purgatory with Special-Make-Up Effects Creator Tony Gardner" 2021 interview (14:28)
"Memories of Moab with Bruce Campbell" 2008 interview (12:43)
"A Vampire Reformed with David Carradine" 2008 interview (13:08)
"A True Character with M. Emmet Walsh" 2008 interview (11:02)

67:24 worth of interviews that collectively work as a fine retrospective on the fondly remembered film. Director Hickox strikes me s a colourful character as he covers scripting, directing and the shooting of the film with the other three pieces giving us a lively view of production from three key performers. All are presented in 1080p24 1.78:1 with the new 2021 pieces being genuine HD and the 2008 segments being upscales ported over from the DVD. Sound is lossy Dolby Digital stereo.

Theatrical Trailer (1:03)

Vintage promo presented in 1080p24 cropped to 1.85:1 with lossy Dolby Digital 2.0 stereo.

Still Gallery (14:58)

Chunky HD gallery.

Packaging


Standard blue BD Keepcase.

Overall


I wasn't as impressed with the film having heard of it for over three decades but never having got around to seeing it, but it was well worth a look despite being a disappointment.

However, the disc is another fine entry in Lionsgate's Vestron Video series ported over to the UK with identical specs to the US version. Decent image and sound with some great extras make for n attractive and highly recommended package for fans.
| | | | | |
| --- | --- | --- | --- | --- |
| The Film: C | Video: B | Audio: B | Extras: A- | Overall: B+ |

---
Rewind DVDCompare is a participant in the Amazon Services LLC Associates Program and the Amazon Europe S.a.r.l. Associates Programme, an affiliate advertising program designed to provide a means for sites to earn advertising fees by advertising and linking to amazon.co.uk, amazon.com, amazon.ca, amazon.fr, amazon.de, amazon.it and amazon.es . As an Amazon Associate, we earn from qualifying purchases.