Dementia 13 AKA The Haunted and the Hunted (Blu-ray) [Blu-ray]
Blu-ray B - United Kingdom - Lionsgate Home Entertainment
Review written by and copyright: Rick Curzon (16th November 2021).
The Film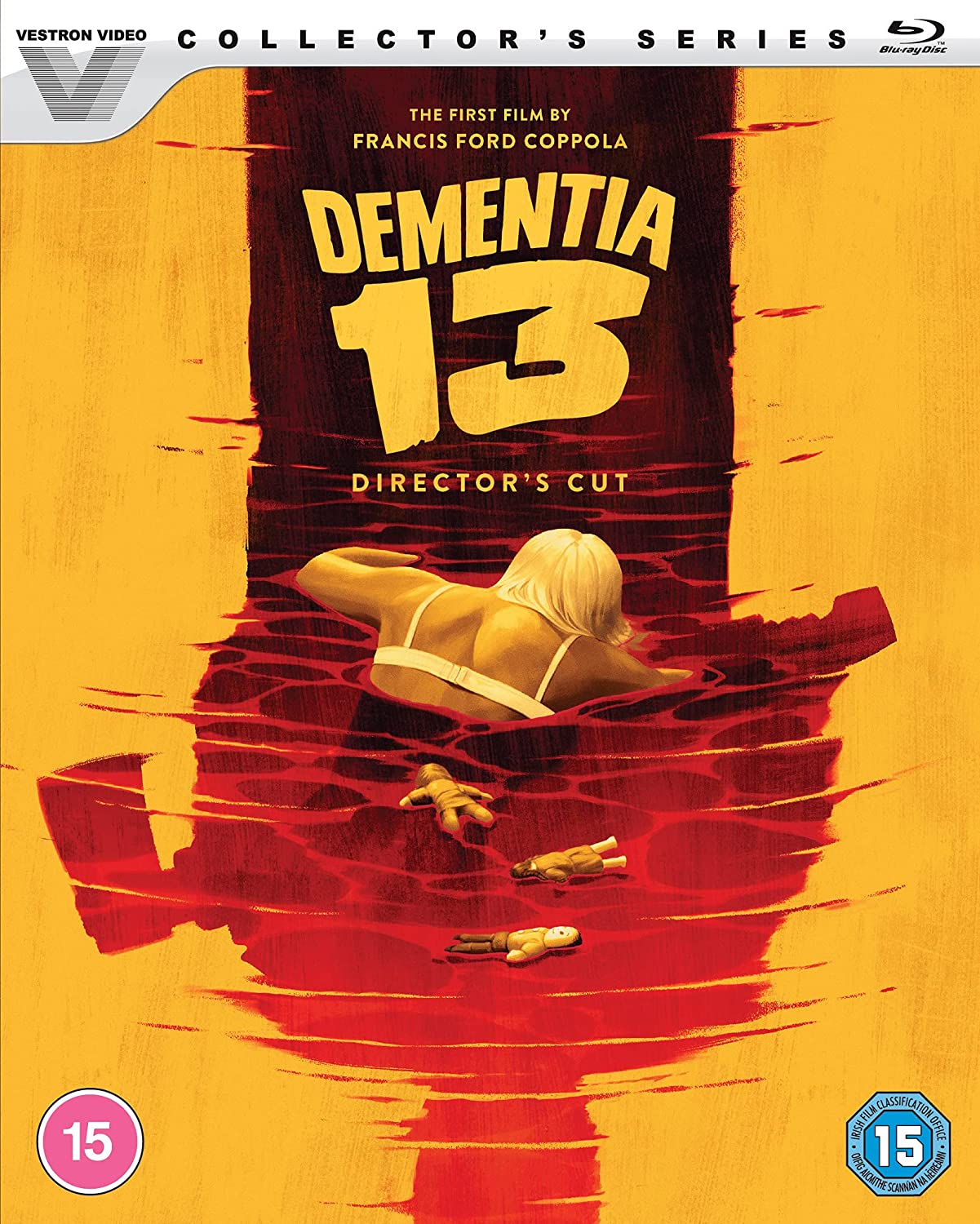 Presented in a high-definition director's cut, Francis Ford Coppola's Dementia 13 is quintessential gothic horror, wrapped in the twisted mysteries of a family's deepest, darkest secrets.

A widow deceives her late husband's mother and brothers into thinking he's still alive when she attends the yearly memorial to his drowned sister, hoping to secure his inheritance. But her cunning is no match for the demented, axe-wielding thing roaming the grounds of the family's Irish estate in this cult favorite featuring Patrick Magee and Luana Anders.

Video


Francis Ford Coppola's third feature length film, and public domain staple, gets one of his director's cuts where the scenes directed by Jack Hill and mandated by producer Roger Corman have been removed. Coppola also mentions in his introduction that his original editing patterns have been asserted, but having never seen the theatrical cut of this sleeper I can't comment. It is a shame that both versions haven't been restored and presented here but that other version has already had several BD releases already and fans will already have one or all of them.

Crisply shot in monochrome 35mm and designed to be projected at the European 1.66:1 matted ratio, Coppola's film looks fabulous in this new restoration with plenty of fine detail in faces and fabrics and lots of lovely, well encoded grain. The image is very film like and bar some minor specks and the odd scratch flawless. Blacks are deep, rich and velvety with no signs of unintended crush and contrast is well balanced. If I'd have to guess this as been restored from the negative or an element no more than a generation off ('A').

1080/24p / AVC MPEG-4 / BD50 / 1.85:1 / 68:43

Audio


English DTS-HD Master Audio 5.1
English DTS-HD Master Audio 2.0 Mono
Subtitles: English, English HoH, Spanish

The original mono will be the choice for purists and it's a fine example of a mono track of the period in that it clearly gets the job done with dialogue coming to the fore and always clear. The memorable score is well reproduced and never interferes. If cranked up louder some minor hiss and distortion is discernible but it's never major problem. It's a slightly tinny track at times but that's to be expected given the era and budget etc.

The 5.1 boost isn't a huge improvement frankly just spreading the score out into the surrounds which works nicely. I heard very little directionality with most of the sound staying firmly at the front. It does act as a nice enhancement without taking the track to the next level.

Fine hard of hearing subs re provided in English long with standard English and Spanish ('B+').

Extras


Audio commentary by director Francis Ford Coppola (2021)

Typically meticulous track from Coppola is packed with plenty of detail about the making and release of the film. We get lots of discussion of his filmic technique, the plotting, characters, last minute scripting and his relationship to leading lady Luana Anders, some fun continuity cockups. Presented in lossy Dolby Digital 2.0 stereo.

2021 introduction by director Francis Ford Coppola (1:00)

Presented in monochrome, Coppola asserts his pleasure in the film being back in his hands so he can remove the scenes directed by Jack Hill and return the film to his editing patterns. Brief and to the point he identifies Dementia 13 (1963) as his first feature film but in reality he'd made two sexploitation quickies - The Bellboy and the Playgirls and Tonight for Sure - both from 1962. Presented in 1080/24p 1.78:1 with clips in 1.66:1 with lossy Dolby Digital 2.0 stereo although it's mostly mono due to the clips.

Prologue: Dementia 13 Test (6:44)

Bizarre prologue directed by Monte Hellman was tacked on to the beginning of the film and is the "Dementia 13 Test" in which one William J. Bryan Jr. M.D. tests our ability to withstand the shocks in Dementia 13 after giving us a psychological rundown. Bryan (1926-78) really was - as claimed - an authority on medical hypnosis. A amusing stunt promo presented in 1080/24p 1.66:1 with lossy Dolby Digital 2.0 mono.

Packaging


Standard blue Blu-ray Keepcase.

Overall


I direct port of the US Lionsgate / Vestron ND release with fine video and audio and some decent, choice if limited extras with pride of place going to the yaktrak featuring Francis Ford Coppola. The only quibbles are that it doesn't present the longer theatrical cut with the Jack Hill-directed footage nor that material at the least as an extra. Reasonably priced on day one (£14.99) this is a great release.
| | | | | |
| --- | --- | --- | --- | --- |
| The Film: B- | Video: A | Audio: B+ | Extras: C+ | Overall: B+ |

---
Rewind DVDCompare is a participant in the Amazon Services LLC Associates Program and the Amazon Europe S.a.r.l. Associates Programme, an affiliate advertising program designed to provide a means for sites to earn advertising fees by advertising and linking to amazon.co.uk, amazon.com, amazon.ca, amazon.fr, amazon.de, amazon.it and amazon.es . As an Amazon Associate, we earn from qualifying purchases.