Belle of the Nineties AKA It Ain't No Sin AKA The Constant Sinner AKA Babe Gordon AKA That St. Louis [Blu-ray]
Blu-ray B - United Kingdom - Kino Lorber
Review written by and copyright: Rick Curzon (5th December 2021).
The Film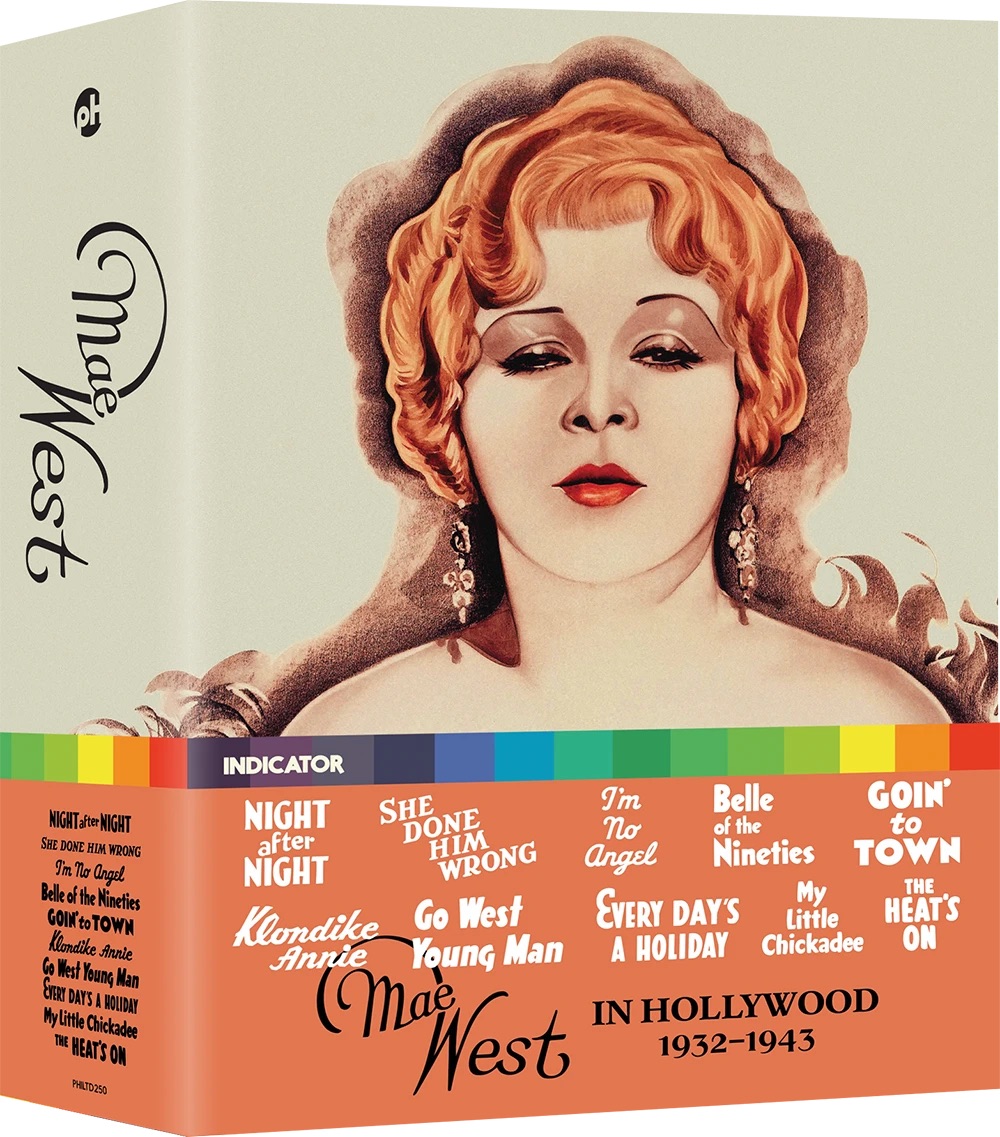 When Mae West went to Hollywood in the early 1930s, she was already a major star. Having sensationalised Broadway, it was time for the movies to receive the same. Her fame allowed her control, picking her co-stars (including a young Cary Grant), receiving screenwriter credits, and baiting censors and audiences alike as the pre-Code era gave way to a more sanitised period in American filmmaking.

This six-disc collection brings together all ten of Westís classic Hollywood features, from her supporting turn in 1932ís Night After Night to 1943ís musical extravaganza, The Heatís On.

Video


Disc two contains I'm No Angel (1933) and Belle of the Nineties (1934).

Both films were shot photochemically on monochrome 35mm film in the Academy ratio (1.37:1) and both have been restored in 4K by Universal. I don't know the specific sources used My comments for disc one essentially apply here with some tweaking:

Both films look very clean, virtually flawless presentations with lots of lovely grain. Typical of films of this vintage they're quite soft but black levels and contrast are very satisfying complementing each other nicely with no crush or blowouts, at least not unintended. Detail is variable but it's best in closeups where fabrics and flesh can seem detailed. That said at times detail in backgrounds looks fairly well delineated even in long shots. Grain is generally well resolved and solid with a typically topnotch encode ensuring both transfers look filmic and organic.

Gamma is perfectly balanced with no bias creeping in. These are strong, organic, filmic transfers of problematic material. I suspect that the masters coupled with Fidelity in Motion's encode ensure these look better than the US Kino discs ('B+').

1080p24 / AVC MPEG-4 / BD50 / 1.37:1 / 87:38, 73:23

Audio


English LPCM 1.0
Subtitles: English

Sound is par for the course for films of this vintage. The tracks are strong but of limited range and can be a little hissy when played loud and occasionally tinny and lacking in range. However, dialogue is always clear and undistorted. Solid, vintage tracks. Excellent hard of hearing subtitles are provided ('B').

Extras


Audio commentary on "I'm No Angel" by Farran Smith Nehme (2021)

Nehme (pronounced nem-ay) is not a journalist with whom I have a lot of experience although I my well have seen / heard her on one of these discs in the past. She packs the track with plenty of interest and is engaging enough to keep me listening. As you would expects, she knows the subject, rtes "I'm No Angel" as West's best film. The track is presented in lossy Dolby Digital 2.0 stereo, although it may well be mono as Nehme's voice comes directly from the front channels at all times.

I'm No Angel Super 8 (Short Version) (Silent) (8:02)
I'm No Angel Super 8 (Long Version) (17:46)

Ancient home video editions that present cutdown versions of the film. The first is silent, the second has tinny, echoey sound. Image quality is adequate but has lots of signs of age and the Super 8 format is inherently softer than 35mm so looks weak. 1080p24 1.37:1 with lossy Dolby Digital 1.0.

I'm No Angel Theatrical Trailer (1:55)
Belle of the Nineties Theatrical Trailer (1:53)

Vintage promos presented in 1080p24 1.37:1 with uncompressed LPCM 1.0 sound.

I'm No Angel Image Gallery: Original Promotional Material (43 images)
Belle of the Nineties Image Gallery: Original Promotional Material (36 images)

A couple of excellent HD galleries.

120-page liner notes book by Iris Veysey, with extracts from Mae Westís autobiography, archival articles and interviews and film credits

Another excellent mini-tome that offers plenty of contextual added value.

Packaging


Unknown at this time.

Overall


Disc two in Powerhouse Films' "Mae West in Hollywood" set presents two more vintage 1930s pre-code gems with problematic sources given fine transfers previously seen on the Kino BD releases in the USA. image and sound are bout as good as can be expected shy of UHD BD releases. Extras are strong with the commentary getting the nod as pride of place and the book is well up to the usual high Powerhouse Standards.
| | | | | |
| --- | --- | --- | --- | --- |
| The Film: B- | Video: B+ | Audio: B | Extras: B+ | Overall: B+ |

---
Rewind DVDCompare is a participant in the Amazon Services LLC Associates Program and the Amazon Europe S.a.r.l. Associates Programme, an affiliate advertising program designed to provide a means for sites to earn advertising fees by advertising and linking to amazon.co.uk, amazon.com, amazon.ca, amazon.fr, amazon.de, amazon.it and amazon.es . As an Amazon Associate, we earn from qualifying purchases.