Stagefright AKA Deliria AKA Stagefright: Aquarius AKA Bloody Bird (Blu-ray) [Blu-ray]
Blu-ray B - United Kingdom - Shameless Screen Entertainment
Review written by and copyright: Rick Curzon (28th December 2021).
The Film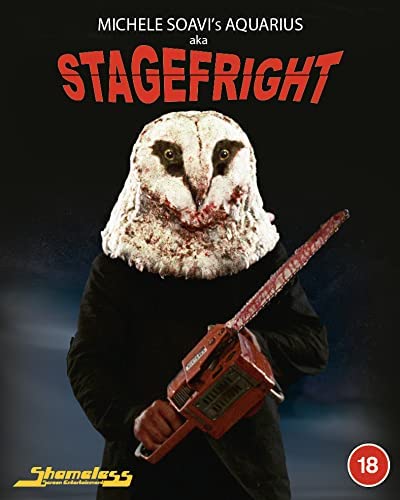 Considered by critics a pinnacle of slasher movies, STAGEFRIGHT is now finally given the release it deserves, from a new 4K restoration, for us to marvel at the inventive genius of director Michele Soavi (Cemetery Man, The Sect, The Church) combining relentless graphic blood-splattered set pieces with his trademark witty filmmaking elegance - a quality not normally associated with slasher movies!

Soavi intended his film to be called Aquarius - or Aquarium - alluding to the viewer being able to see the action as if it took place inside a fishbowl. Cleverly constructed to heighten suspense, the director intentionally mixes fake with reality: showing us the 'real' serial killer of our film as he infiltrates a group of stage actors rehearsing overnight in an isolated place; he kills and takes the place of the actor whose role in the play is that of a killer permanently hidden under a giant owl head! His identity unseen, the now real killer-owl stalks and dismembers the troupe one by one!

Schooled by Dario Argento and Terry Gilliam but with his own unique personal flair, Soavi's first feature can finally be seen as intended, with this edition further benefitting from the director's colour grading and framing indications given during a candid conversation filmed exclusively for one of the many Extras on this Special Edition disc.

Video


Director Michelle Soavi's fiction film directorial debut is this stylish, occasionally witty, well made New York City-set (but Roman shot!) slasher epic set in the theatrical world. Prior to this he'd spent the prior decade as an actor and assistant director for the likes of Dario Argento and Lucio Fulci (he has a cameo here as an il-fated NYC copper).

This excellent new Shameless disc uses a new 4K transfer that's been given a superior encode to the older disc and apparently a grade more in line with Soavi's intentions.

The colour palette is very '80s with healthy primaries and warm flesh tones with good delineation and no signs of bleeding. Black levels and contrast are strong and supportive with no unintended crush or blowouts. Detail is also pretty satisfying with textures in skin and fabrics impressing particularly in closeups despite some softness in opticals. Grain is ever present, filmic and well handled by the encode ('A').

1080p24 / AVC MPEG-4 / BD50 / 1.78:1 / 90:11

Audio


English LPCM 2.0 Mono
Italian LPCM 2.0 Surround
Subtitles: English HoH

The Italian track was made in Dolby Stereo but on a low budget this is a fairly primitive track compared to bigger budget films of the era. It's mostly front centric but spreads out nicely with big musical crescendos and with some surprisingly healthy LFE boost that tickled my subwoofer at times if only slightly. It is a little boomy but remains a decent listen. It isn't going to ever win any technical awards but is faithful to it's source.

The English track is preferable because that is the language spoken by everyone on set despite being in mono. It's a tad thin at times but is overall pretty robust with some occasional LFE

Also, most of the leads (certainly David Brandon, Martin Phillips, Ulrike Schwerk) do their own ADR (like most Italian genre films of this period it was shot largely silent on set). Simon Boswell's superb score comes off very well and never interferes with dialogue clarity.

Hard of hearing subtitles are provided ('B+')

Extras


"Staging the Fright: Michele Soavi" 2021 interview (44:22)

Excellent new interview with director Soavi who discusses (in English with forced subtitles) in a fair mount of detail his directing career and the film specifically. Presented in 1080p24 1.78:1 with uncompressed LCPM 2.0 surround sound (48kHz) although surrounds are mainly used for score selections with the main interview remaining front and centre.

"The Last Performance" 2021 interview with David Brandon (21:14)

British actor Brandon gives us a decent account of his time working in various films both large and small, arthouse (Good Morning Babylon) and small (Stagefright among others) and his theatre work with Lindsay Kemp. He seems to have mainly worked in Italy since (predominantly television). Presented in 1080p24 1.78:1 with uncompressed LCPM 2.0 surround sound (48kHz) although surrounds are mainly used for score selections with the main interview remaining front and centre.

"Theatre of Blood" 2021 interview with Giovanni Lombardo Radice (21:01)

New interview with the outspoken and very frank Radice (in Italian with optional yellow subtitles) who was once described by Kim Newman as the whipping boy of Italian horror cinema owning to the fact his characters always seemed to suffer sticky, gory deaths in the films he made. Presented in 1080p24 1.78:1 with uncompressed LCPM 2.0 surround sound (48kHz) although surrounds are mainly used for score selections with the main interview remaining front and centre.

Startup Trailers (4:17):
- The Church (1:11)
- Opera (1:02)
- The Psychic (0:50)
- The Sect (1:14)

A welcome selection of newly made promos for other Shameless titles presented 1080p24 1.85:1 with uncompressed LPCM 2.0 surround sound.

Card slipcase

A slim card slipcase that is limited and features a third choice of art (the sleeve gives two other choices of key art).

Packaging


Standard slimline, yellow BD Keepcase with the limited edition card outer slipcase.

Overall


A classic Italian genre effort gets it's second HD rendering in this superior release to the 2014 Exposure Cinema release with superior image and more sound options. Extras (totalling 90:54) are also very strong and provide plenty of contextual added value. Sadly, the equally superb extras (totalling a whopping 166:12!) from the 2014 release haven't been ported across so fans will want to keep that disc as well. Highly recommended.
| | | | | |
| --- | --- | --- | --- | --- |
| The Film: B+ | Video: A | Audio: B | Extras: A | Overall: A- |

---
Rewind DVDCompare is a participant in the Amazon Services LLC Associates Program and the Amazon Europe S.a.r.l. Associates Programme, an affiliate advertising program designed to provide a means for sites to earn advertising fees by advertising and linking to amazon.co.uk, amazon.com, amazon.ca, amazon.fr, amazon.de, amazon.it and amazon.es . As an Amazon Associate, we earn from qualifying purchases.