13 Minutes
R2 - United Kingdom - Signature Entertainment
Review written by and copyright: Rick Curzon (11th January 2022).
The Film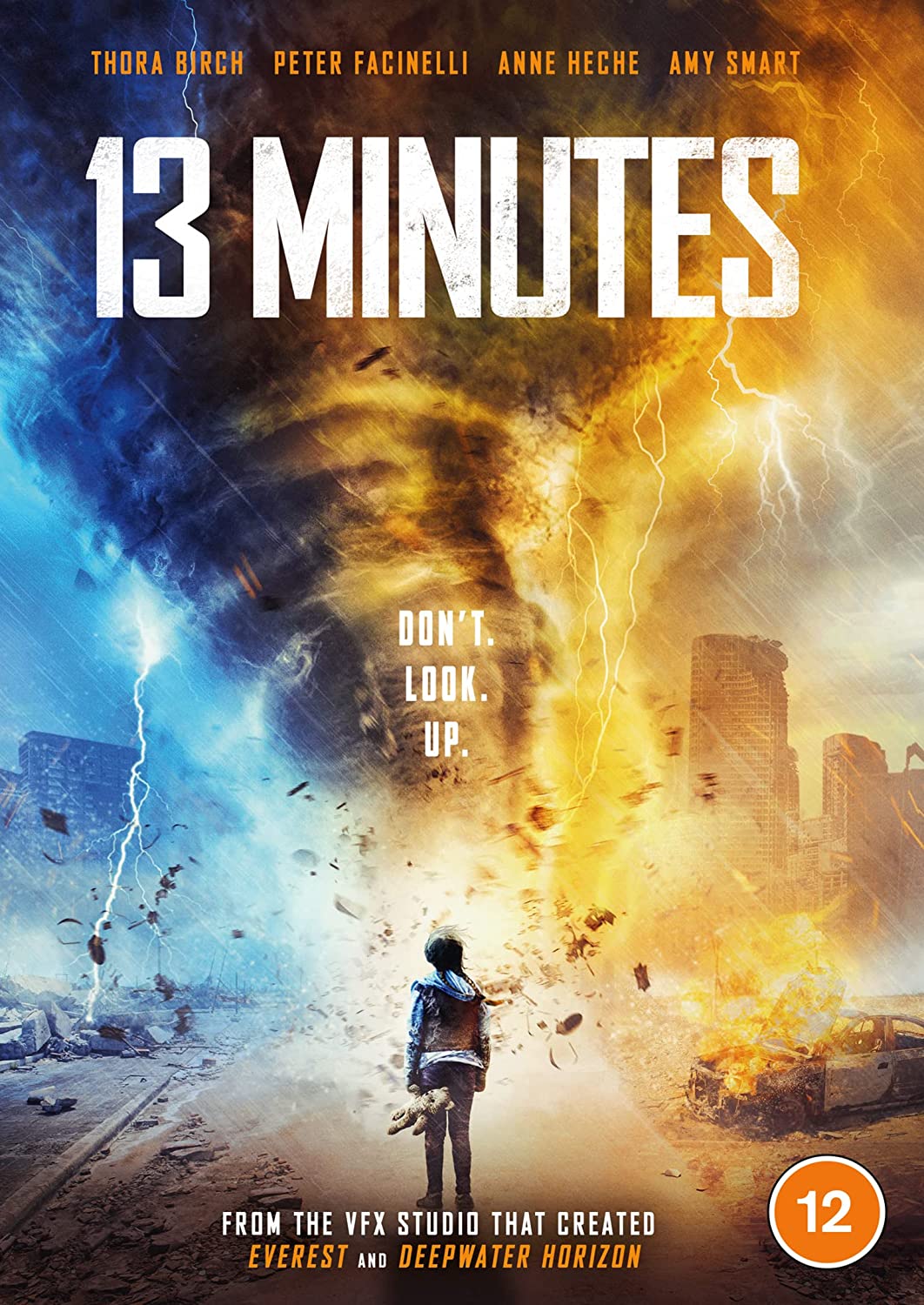 13 Minutes is an edge-of-your-seat disaster thriller featuring an incredible cast - including Amy Smart (The Butterfly Effect), Thora Birch (American Beauty), Peter Facinelli (Twilight franchise) and Anne Heche (Volcano) – and boasting jaw-dropping visual effects from the team behind Everest and Deepwater Horizon. The largest tornado on record threatens to ravage a small town, leaving residents with only 13 minutes to find shelter, search for loved ones and fight for their lives. In the wake of total devastation, four families must overcome their differences and find strength in themselves and each other in order to survive.

Video


Disaster drama gets the DVD treatment from signature Entertainment in the UK. Unfortunately, this is a drama first and foremost about various characters in a small American town and there various interpersonal problems. Think Short Cuts (1993) only the disaster element is very incidental. The tornado turns up about 55 minutes in and is over within five minutes. We then get the survival in the aftermath. It's all very worthy and dull.

IMDB has the following technical information:

Laboratory: COPRA Dailies System, Munich, Germany (dailies)
Printed Film Format: DCP Digital Cinema Package

So, a digitally lensed production and as such it lacks the gritty graininess of photochemical film. It's also a fairly low contrast production with darker interiors being rather flat until the lights are turned on. The colour palette is also fairly typical of a modern digital production with warm if slightly muted. Exteriors and well lit interiors look fresh and bright with some decent primaries popping out on the few occasions when they appear.

Black levels are satisfying and work well with the contrast to create a solid image overall. As I said above, there's little or no actual grain. The image doesn't look waxy or as if any digital manipulation has been done. The encode struck me as solid with no noise or artefacts that I could see on my 55" 4K display. About as good a DVD transfer as one can expect in 2021 ('B+').

This is yet another modern production made in the bizarro Univisium 2:1 ratio proposed by Vittorio Storaro about twenty odd years go as aesthetically pleasing. Streaming service Netflix seems to be pushing this format and other production companies (like the BBC with stuff like Doctor Who) have been rolling over and using it. It always seems perverse to me and looks like 2.39:1 cropped to my eyes. Why make films and television series designed primarily to be seen on 1.78:1 displays in this format?

MPEG-2 / DVD5 / 2.00:1 / 104:11 PAL

Audio


English / Spanish Dolby Digital 5.1
English Dolby Digital 2.0 Stereo
Subtitles: English (Burned in for Spanish dialogue only)

The 5.1 track is obviously the way to go with the 2.0 being basic stereo with no Surround encoding (it has to be played through Dolby ProLogic II or similar to get the rear effects.

Quieter moments sound nice with ambience and score filling the sound field subtlety but this is a disaster flick so how does it stack up in the money shots? Pretty well as it happens. This isn't going to be in the same league as a big budget film of similar type (i.e. San Andreas, Twister etc) designed for the cinema screen but the subwoofer was tickled nicely at disaster moments with tornado wind rattling the room. A decent track although being firstly a family drama, the disaster spectacle is limited so sound is as well ('B-').

The subtitles are burned in and purely for the bits of non-English dialogue. Nothing here for the hearing impaired.

Extras


Startup Trailers:
- The Ice Road (0:41)
- Shadow in the Cloud (2:12)

Standard promos for forthcoming Signature Entertainment releases. Presented in 2.39:1 with Dolby Digital 2.0 stereo sound.

Packaging


Standard black DVD Keepcase.

Overall


Adequate family drama slapped onto a disaster framework which is over by the one hour mark with meat and potatoes melodrama to follow. The last 40 minutes is more about the characters helping each other and resolving pre-disaster conflicts. Image and sound are strong for DVD bit there are no extras. Buffs will chase foreign Blu-rays, casual fans streaming, but this is a good standard def release and at the moment only £7.99 to preorder, so recommended for those so inclined to indulge.
| | | | | |
| --- | --- | --- | --- | --- |
| The Film: C- | Video: B+ | Audio: B- | Extras: E | Overall: C+ |

---
Rewind DVDCompare is a participant in the Amazon Services LLC Associates Program and the Amazon Europe S.a.r.l. Associates Programme, an affiliate advertising program designed to provide a means for sites to earn advertising fees by advertising and linking to amazon.co.uk, amazon.com, amazon.ca, amazon.fr, amazon.de, amazon.it and amazon.es . As an Amazon Associate, we earn from qualifying purchases.