Blockhouse (The) (Blu-ray) [Blu-ray]
Blu-ray ALL - United Kingdom - Powerhouse Films
Review written by and copyright: Rick Curzon (25th January 2022).
The Film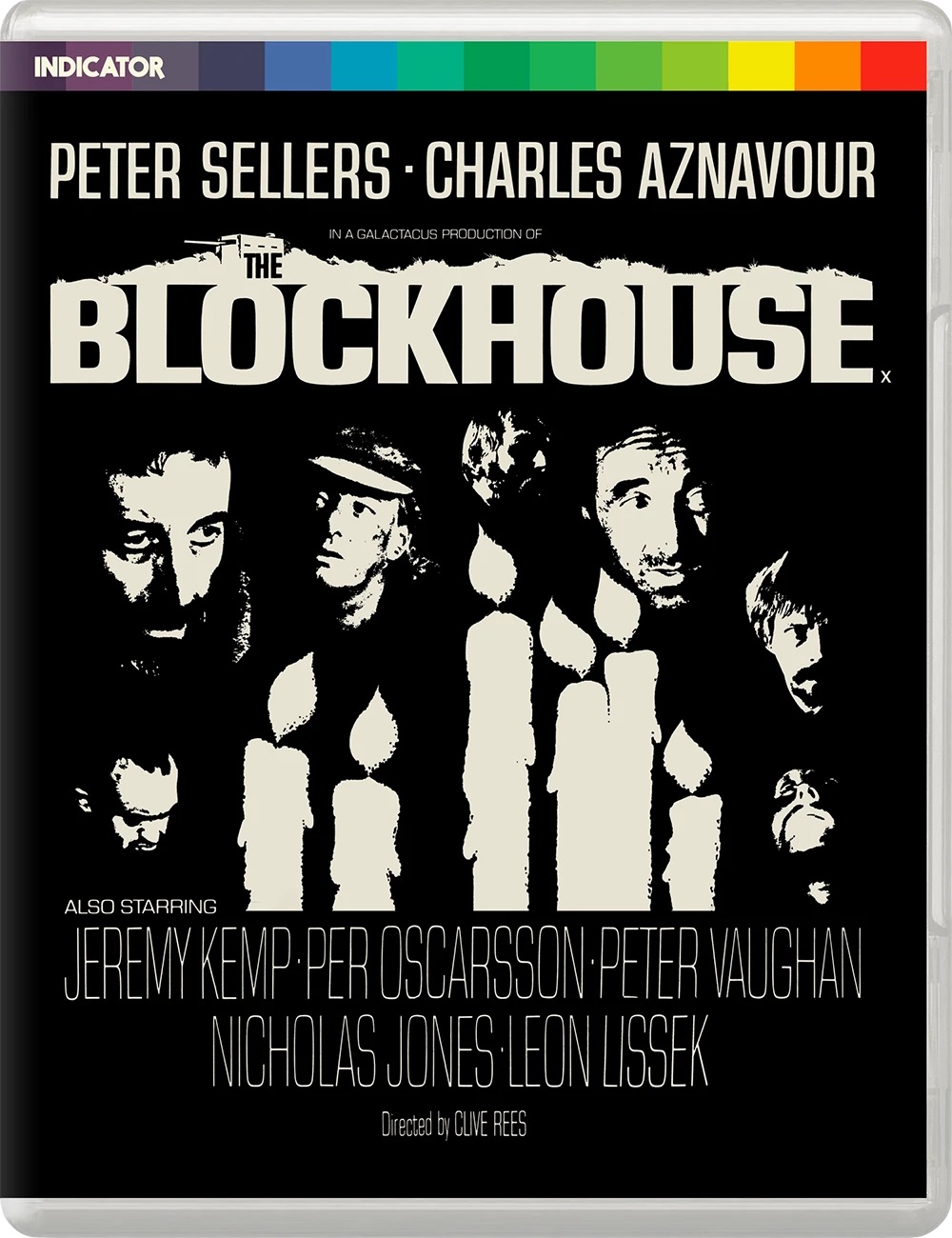 Based upon harrowing real events which were turned into a 1955 novel by Jean-Paul Clébert, The Blockhouse starts explosively with an Allied air raid on a Nazi prison camp. Six escaped prisoners take shelter in an underground blockhouse, which is soon destroyed by heavy shelling. Trapped underground, with an almost endless supply of food, wine and candles, the men must endure confinement with no prospect of escape or rescue.

Featuring a stunning ensemble cast that includes Peter Sellers (Hoffman), Charles Aznavour (Shoot the Pianist), Peter Vaughan (Symptoms), Jeremy Kemp (The Strange Affair), Per Oscarsson (A Dandy in Aspic) and Leon Lissek (Marat/Sade), The Blockhouse was filmed on the Channel Islands in a dank and dark underground bunker, giving the film a suffocating sense of claustrophobia. This newly restored edition marks the film's worldwide Blu-ray premiere.

Video


A largely forgotten but worthy WWII prison drama gets a massive, very welcome, full-bore restoration from Powerhouse Films in the UK in a worldwide BD premiere. From the booklet:


The Blockhouse was restored by Powerhouse Films at Final Frame Post, London. The film's original 35mm camera negative was scanned at 4K. Restoration work was undertaken at 2K to remove dirt and unstable frames. The film's mono audio was remastered from the original 35mm optical soundtrack element. The Channel Islands 1940–1945 was supplied in High Definition by the Imperial War Museums.


This is visually a very dark and grungy film. It's aesthetics are rooted in the titular bunker to which the prisoners flee after being attaced in the opening scene by an RAF Spitfire. All blacks, browns, greys and warm but filthy flesh tones. Lots of stubble in evident and the encode handles it all so well you feel that you could pluck hairs from faces!

Black levels and contrast are beautifully controlled and rendered so that the heavy grain is filmic throughout and never feels noisy or processed. I would love to see this one projected on the biggest screen possible ('A').

1080p24 / AVC MPEG-4 / BD50 / 1.85:1 / 91:39, 92:27

Audio


English LPCM 1.0
Subtitles: English HoH

This is a strong track that has a surprising mount of depth, especially considering the era in which it was made. My subwoofer was even tickled a little during the opening battle sequence in which a Spitfire strafes prisoners and German guards. This is a dialogue heavy film with a lowkey score so the latter never interferes with the former and it's all very robust and clear. About as good as we can expect from the era and the uncompressed presentation really hums ('A')

The subtitles mist've been quite a difficult challenge given the different accents on display but the job's a good 'un with all dialogue seemingly being transcribed, at least in the sections I tested.

Extras


"Underground Filmmaking: Executive Producer Kent Walwin on The Blockhouse" 2022 interview (18:18)
"Out of the Darkness: Memories of Clive Rees and The Blockhouse" 2022 interview (12:52)
"Down to Earth: Production Manager Matthew Raymond on The Blockhouse" 2022 interview (11:47)
"When the Lights Go Low: Electrician Peter Bloor on The Blockhouse" 2022 interview (9:33)
"Shots in the Dark: Leon Lissek on The Blockhouse" 2022 interview (5:45)

58:15 worth of new interviews shot 1080p24 1.78:1 with uncompressed LPCM 2.0 stereo sound. I found the ones with director Rees' family the most interesting but all are invaluable to film buffs and well worth one's time.

The Blockhouse Image Gallery: Original Promotional Material (23 images)

Solid HD gallery.

"The Channel Islands 1940-1945" 1945 short film (16:19)

Vintage wartime produced short is fascinating and very well made. Presented in 1080p24 1.37:1 monochrome and sound is LPCM 1.0 I don't think it's from a negative source, looks too soft although detail is decent on the whole. Black levels and contrast work well in concert to deliver a solid image that satisfies. There are several signs of age related wear and tear however, but not anything that will detract from enjoyment.

32-page liner notes booklet by Kieran Foster, a contemporary news report on the events that inspired the film, archival interviews with star Peter Sellers and director Clive Rees, an overview of contemporary critical responses, new writing on The Channel Islands 1940–1945 and film credits

An excellent hard copy companion to the film which Powerhouse are so good at assembling. Most interesting was reading about the real events.

Packaging


A clear BD Keepcase.

Overall


A largely forgotten WWII drama gets dusted off and restored by Powerhouse Films with superb results. Image and sound are as strong as can be given the format and the source which is very dark and grungy being mostly set in the underground bunker. Extras are excellent and I think that this disc may well be on many best of lists come year end. Highly recommended!
| | | | | |
| --- | --- | --- | --- | --- |
| The Film: A- | Video: A | Audio: A | Extras: A+ | Overall: A |

---
Rewind DVDCompare is a participant in the Amazon Services LLC Associates Program and the Amazon Europe S.a.r.l. Associates Programme, an affiliate advertising program designed to provide a means for sites to earn advertising fees by advertising and linking to amazon.co.uk, amazon.com, amazon.ca, amazon.fr, amazon.de, amazon.it and amazon.es . As an Amazon Associate, we earn from qualifying purchases.