Hoffman (Blu-ray) [Blu-ray]
Blu-ray B - United Kingdom - Powerhouse Films
Review written by and copyright: Rick Curzon (30th January 2022).
The Film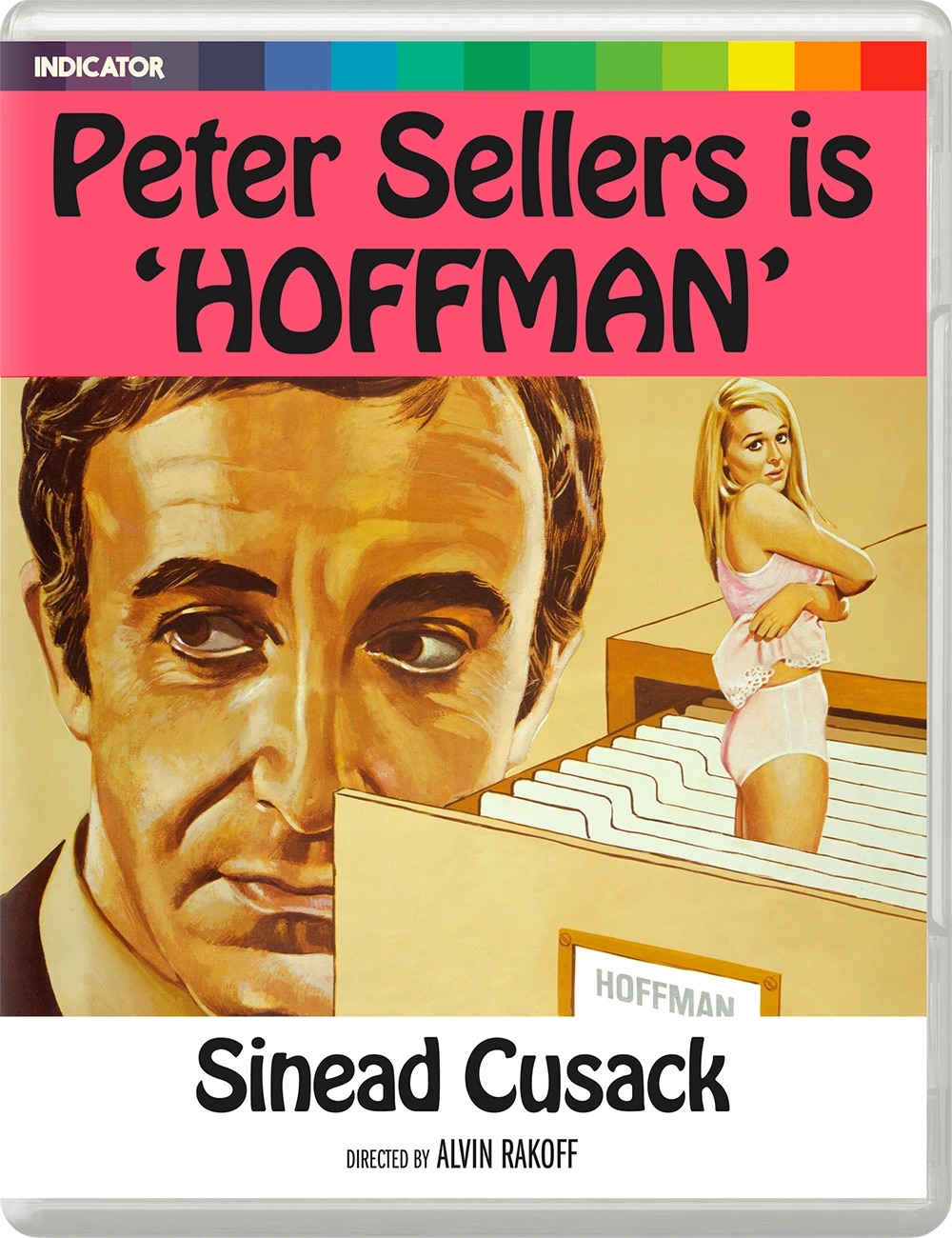 One of the most unsettling films in the Peter Sellers canon, Hoffman sees the actor in a sinister starring role as a bachelor who obsesses over his secretary (Sinéad Cusack, Tam Lin, Revenge) and, discovering that her boyfriend (Jeremy Bulloch, The Spy Who Loved Me) has been fiddling the books at work, blackmails her into spending a week with him. Their time together reveals Hoffman's tragic, lonely existence.

Alvin Rakoff (Death Ship) directs a film which is by turns amusing, poignant and uneasy, and which boasts a central performance so uncomfortable and revealing that its star tried to have the film's negative destroyed. Hoffman makes its worldwide debut on Blu-ray.

Video


A thoroughly disturbing film about sexual politics that seems to have been a vehicle in which Sellars true nature played a large part in his performance and choice of the role. Controversial it would seem at the time and Sellars felt it was perhaps too close to his inner psyche and attempted to buy the film and destroy the negative. My wife, who has seen the film before, commented that it's yet another story in which a woman is abused on the way to telling a man's journey. The ending is also something that wouldn't wash these days.

Visually the film is undemanding being a straightforward big screen version of a character based television play made for ABC TV in the UK in 1967. Even given the era the film adopts a fairly lowkey approach to colour with the era's equivalent of a desaturated palette so popular amongst modern film makers using their digital tools. Pinkish flesh tones and the set dressing, costumes and production design favour browns, blues and greys. Reds are slightly muted when they do appear, see the butchers scene at the 61 minute mark. I have the (purely anecdotal) impression that colour values popular cinema in 1969 tend towards being richer and more florid.

Black levels are strong with plenty of shadow detail and no unintended crush (an underexposed look was favoured). Contrast is Detail across the board is generally very good and grain ever present. The encode is exceptional but that's to be expected when it's handled by Fidelity in Motion who seem to do all of the encodes for Powerhouse Films. Experts at making the most out of whatever master is provided and in this case they had a new 4K scan restored in 2K at Final Post, so about as good as it can be ('B+').

1080p24 / AVC MPEG-4 / BD50 / 1.66:1 / 112:10

Audio


English LPCM 1.0
Subtitles: English HoH

A straightforward mono track typical of the era and of the kind of film under discussion. It's a rather twisted drama based on a television play (Armchair Theatre: Call Me Daddy starring Donald Pleasance from 1967) and as such is dialogue heavy. It's always very clear and to the fore. I heard no distortions or major issues. Tracks of this vintage and of analogue source usually have some minor hiss and can sound vaguely tinny on occasion but not here. It gets the job done well and is about as good as a track of it's type and ambition that you're going to get. Like the image it has been restored by Powerhouse Films and shay of a rebuild from the sound stems isn't going to get any better. Frankly, such an endevour would be expensive, time consuming and unlikely to make the film any better than it is.

Extras


Selected scenes commentary with Alvin Rakoff (24:52)

One of those limited commentaries where the person either did the full film and much of it was silent or uninteresting so was cut down or the individual specifically asked to only do a limited track for some reason. Alvin Rakoff is pushing 100 so perhaps that played a part in it (he does say he'll be commenting throughout the picture at the start). He kicks off discussing his visual approach to the material before moving on to his feelings about the musical choices and then discussing his cast starting with Cusack. He states that the camerawork was to focus on the acting and the dialogue and as such remains fairly straightforward by choice. The meat of the 25 minutes deals with Rakoff's relationship with Sellers and the various permutations thereof and the actor's idiosyncrasies. It would seem that after a shaky start in which Sellers wanted to fire Rakoff they became friends briefly. An excellent little piece presented in 1080p24 1.66:1 with lossy Dolby Digital 2.0 stereo sound. My only quibble is that there's no subtitles for Rakoff's commentary as there were a couple of bits where I wanted to check what he said (my hearing isn't what it once was). I also wish that there had been a moderator to probe Rakoff at times as when he states that the misogyny was wittily done in one dinner scene. In any case this is still a great little 25 minutes.

"An Underexposed Film: Focus Puller Eddie Collins on Hoffman" 2022 interview (27:56)
"Strange Relationship: Alvin Rakoff on Hoffman" 2022 interview (21:34)
"Home Improvements: Draughtsman Terry Ackland-Snow on Hoffman" 2022 interview (5:42)

54:12 worth of new interviews with pride of place being the interview with Rakoff who covers his career and the film itself including production of the original 1967 version. Most interesting is the tale about how the execs gave Rakoff a £5,000 bonus if they brought the film in on time and on budget which he split with key crew. Collins discussing the technical side of production with the discussion about getting lens being most interesting in so far as they could have colour bias built in. Not something I was previously aware of. More interesting anecdotes about Sellars including the giving of presents to the entire cast and crew. Snow focuses on his thoughts about the play origins and that the film didn't transcend it's smaller scale origins. All are presented in 1080p24 1.78:1 with lossy Dolby Digital 2.0 sound.

Theatrical Trailer (3:19)
Trailers from Hell with Larry Karaszewski: Hoffman (3:46)

Vintage promo and a much more recent appreciation The trailer is presented in 1080p24 1.66:1, the Trailers from Hell piece is 1080p24 1.78:1 with the trailer pillar-boxed 1.66:1. Sound is lossy Dolby Digital 1.0 for the trailer, 2.0 stereo for the TFH segment.

Image Galleries:
- Hoffman Image Gallery: Production Stills (107 images)
- Hoffman Image Gallery: Promotional Material (70 images)
- Hoffman Image Gallery: Script gallery (69 images)

A stunningly comprehensive set of HD images.

36-page liner notes booklet by John Rain, archival interviews with Peter Sellers and Sinéad Cusack, a look at author Ernest Gébler's multiple iterations of the Hoffman story, an overview of contemporary critical responses, and film credits

Packaging


Clear BD Keepcase.

Overall


A film that's an acquired taste that deals with very difficult appraisal of sexual politics that is dated in today's market but is an important artefact. Image and sound are as good as can be given the 4K scan and exemplary 2K restoration carried out by Powerhouse Films. Extras are excellent and bring a huge amount of contextual added value. Highly recommended even of the film doesn't entirely appeal.
| | | | | |
| --- | --- | --- | --- | --- |
| The Film: C+ | Video: A | Audio: B+ | Extras: A | Overall: A |

---
Rewind DVDCompare is a participant in the Amazon Services LLC Associates Program and the Amazon Europe S.a.r.l. Associates Programme, an affiliate advertising program designed to provide a means for sites to earn advertising fees by advertising and linking to amazon.co.uk, amazon.com, amazon.ca, amazon.fr, amazon.de, amazon.it and amazon.es . As an Amazon Associate, we earn from qualifying purchases.