The Film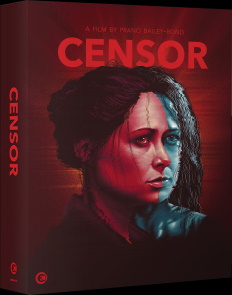 London, 1985: Enid (From the Dark's Niamh Algar) is a young compliance officer working for a vaguely-disguised British Board of Film Censors – around the time it was rechristened the British Board of Film Classification – whose much-mocked overly cautious approach to recommending ratings and cuts appears and her fervency to protect the viewing public seems to stem from her childhood guilt at not being able to protect her sister Nina who vanished years before. Her sense of self is soon shaken by two occurrences: the need of her parents (The Rainbow's Clare Holman and The King's Speech's Andrew Havill) for closure in presenting her with the still missing Nina's death certificate, and the murders committed by a man dubbed the "Amnesiac Killer" whose crimes the tabloid press charge were inspired by the film "Deranged" – it is uncertain whether or not this is the Ed Gein biopic Alan Ormsby film or a fictional film – that was passed for release by Enid and her more liberal-minded co-worker Sanderson (The Little Stranger's Nicholas Burns). Castigated by her boss Fraser (Bright Star's Vincent Franklin) and dodging the sensationalist press ready to pounce on her arriving or leaving work, Enid is emotionally and physically by viewing the film "Don't Go in the Church" by horror filmmaker Frederick North (The Danish Girl's Adrian Schiller) in which her renewed scrutiny of harmful material may or may not be tricking her into believing that North's regular actress Alice Lee (Sophia La Porta) is actually a grown-up Nina. As Enid's waking and dreaming life starts to blur into the content of North's films, she becomes even more certain that she has found her sister. When North's sleazy producer Doug Smart (Kill List's Michael Smiley) ambiguously informs Enid that the currently in-production sequel to "Don't Go in the Church" will be Alice's last film, Enid is pushed over the edge and her efforts to "save" Alice may be more horrific than North's planned fate for her character.

Seeming on paper like Evil Ed tarted up for the same BFI/multiple government funding bodies template that keeps putting out Peter Strickland films, the feature debut of short and music video filmmaker Prano Bailey-Bond might be seen to be lacking the sort of social, cultural, and political detail of documentaries like Video Nasties: Moral Panic, Censorship & Videotape and the two-part Ban the Sadist Videos! (whose respective makers run the labels Nucleus Films and Severin Films that have both made it their mission to release the Video Nasties on special edition DVD and Blu-ray editions). A social realist depiction of the period is not, however, the focus of the film. The film unfolds entirely from the psychologically enforced narrow perspective of a character who really believes that violent films are a direct cause of such behavior in real life rather than a scapegoat, and that it is her duty to protect the public from harm. This subjective perspective is responsible for incidents suggestive of a persecution complex from the press badgering or her boss reiterating the policy of consulting him or rejecting a work if in doubt as a blow to her professionalism, painting her as either a apathetic bureaucrat or less than professional – with the underlying tendency to hold women more culpable than men in the same incident when they do not appear to live up to notions of nurturing and moral superiority – to her parents' overly-solicitous inquiries about how she is coping. Even the moments suggesting that her subjectivity is flawed are depicted visually as "glitches" in her perspective rather than an "objective" reverse angle or other character's point-of-view. The film is at its best when "focused" solely on Algar and her interactions with others real and imaginary, and less so with the more graphic and visceral horrors of the films-within-a-film, nightmares, and the third act grue before a wonderful coda of a Mary Whitehouse-esque idyll in which even a complete surrender to delirium is not entirely free of a nagging awareness of the darkness within. The film is less of a tarted up Evil Ed than a nice companion piece to Corinna Faith's The Power not so much as a women's horror film – in the gothic notion of exploring female neurosis through horror usually directed by men – than as an exploration of trauma and coping in which the horrors of the world are externalized in a fantastic manner.

Video


It's production and release staggered by the pandemic, Censor was released stateside last year first theatrically, on streaming services, and on DVD, with distributor Magnolia Entertainment cancelling their announced Blu-ray in favor of a limited edition release from Vinegar Syndrome – with a standard edition out later this month – who themselves announced a 4K UHD edition before discovering that the film was finished in 2K. Second Sight's 1080p24 MPEG-4 AVC 2.39:1 widescreen Blu-ray is derived from the same 2K digital intermediate of a film lensed in 35mm, analogue VHS, and iPhone (one shot) with its multi-textured appearance in which a muted real world is spiked with color gels that range from stably saturated to deliberarly noisy and bleeding.

Audio


The sole audio option is a DTS-HD Master Audio 5.1 track that is generally front-oriented given the many intimate dialogue scenes with the soundscape opening up more and more for atmosphere and more unnatural sound design along with the scoring of Emilie Levienaise-Farrouch which foregoes retro-eighties nostalgia for Lynchian drones and undertones. Optional English HoH subtitles are also provided.

Extras


Extras are spread across two discs, and disc one alone is so comprehensive that it would be perfectly acceptable if Second Sight's as-yet-unannounced standard edition turned out to be a single platter package. Vinegar Syndrome's Blu-ray featured a commentary track by Bond and cinematographer Annika Summerson and another by film historian Kat Ellinger while Second Sight features three exclusive tracks. While there cannot help but be some overlap, the tracks complement each other and are best listened to in their menu order. The audio commentary by director and co-writer Prano Bailey-Bond and executive producer Kim Newman examines the director's fascination with horror, the origins of the project, research, and pre-production, while the audio commentary by director and co-writer Prano Bailey-Bond, director of photography Annika Summerson, editor Mark Towns, and sound designer Tim Harrison is focused primarily on the shoot itself, and the audio commentary by film historians Kat Ellinger, Lindasay Hallam, and Miranda Corcoran look at the film's reception, interpretation, and its position in the current conversations about women and horror.

Bailey-Bond notes that the primary inspiration was an article about Hammer horror and the censors, noting how the image of blood on breasts was censorable because it could encourage men to rape, and the director questioning who protects the censor if they actually believed it. Newman notes that he is not present in his capacity as a moderator but as the film's executive producer, and his experiences during the Video Nasty period as a viewer and in the industry as a reviewer are contrasted with Bailey-Bond's research into the BBFC, and access to archival files which reveal the diversity of attitudes evident from the notes and interviews with compliance officers. Bailey-Bond also discusses her influences including her teenage obsession with The Evil Dead and Lost Highway, as well as modeling North on the persona of Dario Argento. Production and post-production discussion includes casting, being allowed to use the vintage BFI logo but MGM corporate only approving their current logo, creating the title sequence which was added when they received notes to explain what a VHS was, and getting clip rights to the films seen under the credits. The second track includes the array of formats used to shoot the film, sound design motifs, the film's color palette, and the removal of more surreal elements as well as an entire character and the required rewriting since the character provided the inciting incident. Bailey-Bon also mentions some more influences including Axe/Lisa Lisa and Frozen Scream. The third track is heavy on analysis and is stimulating enough to make on want to reassess the film leaning heavily on the themes of women and their relation to horror films both as viewer and how the genre offers more roles for women than love interest, working through trauma and the unhealthiness of reveling in nostalgia – and the notion that more nostalgic films about the eighties marginalize those most abused by the policies and the intertwined moral panic – as well as the "comfort" of horror films. They also note that the film's approach to notions of females in gothic horror and psychological trauma is refreshingly non-sexual.

Disc one also includes "Nasty" (15:47), Bailey-Bond's 2015 short film which she note elsewhere was not a "proof of concept" film for Censor but it could be taking place in the same universe. Told from a child's perspective in the midst of the Video Nasty hysteria, it shows the dangers of protecting a child to the point of ignorance and ends in a similarly delirious fashion that may or may not be a happy ending. Also noted elsewhere in the extras is that the short allowed Bailey-Bond to explore some themes as well as visual techniques and even a horror gag that ended up being cut from the feature. In "The Making of Censor" (21:45), Bailey-Bond, co-writer Anthony Fletcher, producer Helen Jones, and actors Franklin, Burns and Danny Lee Wynter discuss the Video Nasty period, what society deems healthy or unhealthy, art as a release valve, Enid as a conduit of the period, the unreliability of fragmented memory, and self-censorship.

"My Nasty Memories" (27:58) is an interview with filmmaker David Gregory of Severin Films and director of Plague Town – also featured on the Vinegar Syndrome edition of the film as well as the Severin Blu-ray of actual Video Nasty Night of the Demon –in which he recalls how video hit the UK differently than it did the US what with the former's three TV channels and indies getting into video ahead of the piracy-concerned major studios, the attraction of gory covers, the bee in Whitehouse's bonnet, politician Graham Bright's VRA bill, how the increased workload for the BBFC came with new offices and higher fees that priced out many of the indies and favored the studios. Also included on those aforementioned releases – along with the Severin Blu-ray/DVD combo of The House on Straw Hill and split between Anchor Bay UK's Box of the Banned and Box of the Banned 2 are part one (50:57) and part two (43:10) of Gregory's "Ban the Sadist Videos" 2005 documentary. Part one looks at the proliferation of video labels and video rental outlets in the UK in the early 1980s as cinema attendance fell, as well as Mary Whitehouse's "moral" crusade and Margaret Thatcher needing to find a scapegoat for massive unemployment, wage gaps, and health care issues leading up to the Video Recordings Act (VRA) that prosecuted "video sadism" under the obscene publications act. Part two looks at the history of the BBFC, the "corporate gloss" it acquired after the passing of the VRA (allowing them to charge video companies who were forced to classify all of their works – including the huge backlog of films already released on tape – or face fines and imprisonment), the reign of censor James Ferman (who fancied himself a film editor rather than a cutter), the admissions of video classifiers about their contradictory working methods, the resurgence of the video witch hunt after conservatives and the newspapers attempted to tie some shocking crimes to video violence (those claims did not hold up to subsequent scrutiny but the damage had been done), and the horror stories of private residents whose homes were raided and their video collections seized (not to mention their fines and jail time).

"Nasty Images" (18:02) is an interview with director of photography Summerson who met Bailey-Bond at university and lived with her during the years of writing the film, shooting "Nasty" and coming up with the "bleak but stylized" look of the film, including a color palette and imagery inspired by Paul Graham's photo series "Beyond Caring". In "I'm Cutting It" (13:20), editor Mark Towns also recalls the formative experiences of the video nasty – including seeing the head-drilling scene from Lucio Fulci's City of the Living Dead as a seven-year-old at a friend's birthday party – the multiple edits of the film, the aforementioned removal of an entire character, and creating the opening contextual title sequence. "Nasty Sounds" (11:02) is an interview with composer Levienaise-Farrouch who was introduced by Bailey-Bond by production designer Paulina Rzeszowska (Saint Maud), their shared eighties reference points – particularly Goblin and John Carpenter's The Fog – and their determination not to do a Stranger Things-type homage score.

"Enid's Gaze: Alexandra Heller-Nicholas on Censor" is a visual essay (21:49) in which the Australian film historian veers away from her thematic concerns of physical and psychological space as heard recently on releases of films like Demons, Swallow, Session 9, and Lake Mungo in favor of the mind as "cerebral memory editing desk" and its capabilities of editing and reframing reality to cope with trauma on the basis of a meaningful exchange between Enid and co-worker Perkins that has as much bearing on the "Amnesiac killer" case as it does on Enid's own fragmented memory. Also included is a 2021 Screening Q&A with Prano Bailey-Bond and Emilie Levienaise-Farrouch (13:51) hosted by Jed Shepherd during the Soho premiere of the film late last year in which they discuss horror watched on VHS during Bailey-Bond's childhood in Wales, and the influences on both the director and composer.

More interesting is Prano Bailey-Bond in conversation with BBFC compliance Officer David Hyman (40:22) in which Hyman – humorously described by Bailey-Bond as "Enid without the hang ups" – who was on the BBFC's administrative side from the mid-eighties until 1999 when he became a compliance officer, offers up his memories of the Video Nasty era, the stress of working on classifying films without guidelines until 2000, the "when in doubt, reject" edict, the pre-digital Brazil-like byzantine filing system, and the accuracy of the film's depiction of the office during the period as much in in humanistic terms as procedure. Lastly, there are two deleted scenes (2:53) focusing on Enid's encounters with the sinister, persecuting journalist who was entirely removed from the film (although he could have been a figment of her imagination if retained).

Packaging


Not provided for review were the rigid slipcase with new artwork by James Neal, softcover book with new essays by Anna Bogutskaya, Kat Ellinger, Tim Murray, Alison Peirse, and Hannah Strong, or the six collectors' art cards.

Overall


Censor is less of a tarted up Evil Ed than a "women's horror film" as an exploration of trauma and coping in which the horrors of the world are externalized in a fantastic manner.