The Film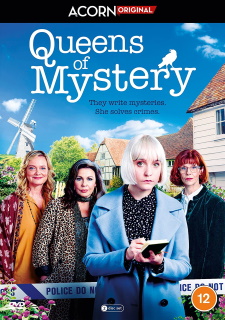 Having lost her mother (Jemma Amos) at the tender age of three, Matilda Stone (Olivia Vinall) was raised by her three crime-writing aunts – mousy Jane (Beautiful People's Siobhan Redmond) of the Henry Lambert android police detective series, tough-as-nails Cat (Shetland's Julie Graham) of the Roxanne Parker graphic novel series, and selfless Beth (I Capture the Castle's Sarah Woodward) of the Iris Freeman vicar sleuth series – growing up above Jane's bookstore Murder, Inc. and sneaking down every night to devour the A to Z of detective fiction. At eighteen, Matilda entered the police force and is just now returning to her home village of Wildemarsh as a Detective Sergeant at the local precinct under stern Detective Inspector Thorne (The Inbetweeners' Martin Trenaman) and above childhood friend PC Terry Foster (Michael Elcock). Matilda is nearly taken off her first case in "Murder in the Dark" (45:08 + 45:33) when aunt Beth turns up as one of the suspects in the murder of fellow writer Oscar Prescott (Angel Has Fallen's Joseph Millson) at a local mystery writers' convention. In spite of a number of equally-likely suspects – including rival writers with skeletons in their closets, an embezzling publisher, and two agents vying for his contract, a devoted personal assistant, and hostess Lady Hiddleston (Match Point's Selina Cadell) whose family scandal is the basis of Prescott's next novel – Beth does herself no favors by lying to her niece and sisters repeatedly about the circumstances that place her at the scene of the crime more than once since the disappearance of Matilda's mother continues to haunt them as it does her.

Cat gets a blast from the past in "Death by Vinyl" (45:18 + 45:33) when the forgotten punk band Volcanic Youth arrives to record their comeback album at the estate of rock star-turned-New Age dropout-turned-music producer Sir Ray Ives (The Cook, The Thief, His Wife & Her Lover's Bob Goody). Once ostracized by the gang after she fell into bed with a male groupie, breaking the heart of original singer Nikki Holler (Chelsea Edge) who then became a member of the "27 Club" by overdosing and drowning in a swimming pool, Cat discovers new tensions amidst the surviving members: spiteful lead singer Suzie (Darkman III: Die Darkman Die's Michelle Collins) AKA Electra Bliss, alcoholic drummer Viv (Mr. Holmes' Frances Barber), keyboardist Tallulah (Red Lights' Josette Simon) and her manager husband Len (Chernobyl's Con O'Neill), not to mention Cat's bassists replacement Gina (American Assassin's Sydney White), expert sound engineer Kurt (Green Wing's Mark Heap), and documentary filmmaker Jonas Wimmer (The Man from U.N.C.L.E.'s Julian Michael Deuster) who has been following the band and asking questions about Nikki's mysterious death. When Suzie is found strangled in the recording booth after arguments with Tallulah (who has left in the night) and Viv, Matilda looks into motives among every one she rubbed the wrong way; however, a hidden message Suzie recorded on their tribute album to Nikki has the aunts looking further into the past; with good reason, it seems, as someone starts stalking and taking out other members of the band.

All the world is a stage in "Smoke & Mirrors" (46:04 + 46:24) when Jane has misgivings about the vanity project stage production of her novel "The Macbeth Duality" by adapter/star Sir Lawrence Shaw (This Year Next Year's George Irving) who is crushed by a sandbag on stage during dress rehearsals. While physical evidence leads Matilda to bipolar stage technician Fiona (John Carter's Pippa Nixon) who suffers from blackouts as well as the more obvious motives of ingenue Amy (Natasha Calland) whose lines the late actor often stole and understudy Ian (And Then There Were None's Rob Heaps) who lived so long in Sir Lawrence's shadow that he claims not to have even bothered learning his lines, the aunts discover more insidious nastiness on the star's part towards director Ursula (Rebecca Scroggs) and her vulnerable, aspiring playwright sister Zoe (Chicago Johnson), and find out that their supposition that theater owner Kenneth Ridley (Inbred's James Doherty) was not bribing critic Quentin Glover (Troy's Ken Bones) to give the play a favorable review but quite the opposite, and that Sir Lawrence's ex-wife Dame Blanche Chastain (The Man with the Golden Gun's Carmen Du Sautoy) might not be so content with being cast in a background part.

The latest offering from Acorn Media, Queens of Mystery beats and bludgeons the popular British mystery subgenre of the "cozy" into an overly-precious concoction of stock and cliché elements so as to seem to demonstrate utter contempt for the intelligence of the audience. Set in a picture-perfect, digitally-augmented British village and countryside no far removed from the popup book design of the credits sequence, the series gets its money's worth out of Juliet Stevenson (Truly Madly Deeply) whose smug and incessant narration takes telling over showing to Sex and the City-levels of redundancy, not only robbing characters of more nuanced introductions but also glossing over the actual investigation of the cases by telling the viewer who is going where and doing what – with an emphasis on the exactness of time and distance for no good reason – and equally unable to let the meaning behind glances between characters go "unspoken." The series cannot seem to decide on whether Matilda is the protagonist or the sidekick to her aunts - so much so that it seems to matter not that Vinall was replaced without anyone much noticing for the second series - and the result is that all four characters and actors are done and equal disservice by being reduced to chess pieces moved between points and everything they do and say taking a backseat to what the narrator choses to tell the audience about them at any given time. The supporting cast are also reduced to narrative puppets or eccentrics, with Lilting's Andrew Leung cast as the dreamy love interest pathologist saddled with a shallow and catty fiancée (Rebecca Grant) and Trenaman's Detective Inspector seemingly risen to that position despite being incredibly unobservant as well as alternately hands-off in sending Matilda on big cases and then conveniently turning up later to insist that she make an arrest of one of the red herrings.

The cases are pretty formulaic: establishing the victim as incredibly unlikable, introducing various suspects on the receiving hand of their verbal abuse, the killing with a usually "ironic" method, Thorne warning Matilda to keep her aunt's from interfering, Matilda pursuing physical evidence while the aunts break the law without regard for chain of evidence to uncover various motives – the aunt's continually refer to Matilda as "the kid" and one would hope that she would actually put her foot down at some point – someone confesses for a selfless reason and is arrested while Matilda cannot help but feel like it was all too easy, and then the real killer is exposed (usually with some fisticuffs). Matilda's baggage in the form of unanswered questions about her mother's disappearance are so cliché that as to be entirely uninteresting in spite of the aunts' attempts to keep the mystery of her paternity a secret. The fact that her mother was a Poe scholar – who was assisting a visiting Bulgarian intellectual nine months before Matilda's birth – seems like nothing more than a shout-out to "father of the modern literary mystery" – along with shots of a CGI raven that turns up just after each murder – but when newspaper clippings reveal a string of past exploits of someone called The Raven, one can only groan. Queens of Mystery may be targeted at fans of the likes of Midsomer Murders and The Brokenwood Mysteries, but its attempts to emulate those shows are only surface deep and as ultimately hollow as the likes of other Acorn imitators like Agatha Raisin and The Madame Blanc Mysteries.

Video


Digitally-lensed and excessively color-graded, the "flat" look of a lot of the show has more to do with style than rendering or encoding issues. Detail is good for standard defintion in close-ups but overuse of lens flare and some bleached out highlights seem to be part of the intended look.

Audio


The only audio option is a Dolby Digital 2.0 stereo track with well-balanced dialogue, narration, scoring, generally sedate atmosphere, and occasional directional effects. Englsih HoH subtitles are provided along with, curiously, French subtitles (which are also present on the Region 1 edition).

Extras


Extras on disc two include behind the scenes segments for all three episodes (35:44, 11:48, and 11:11 respectively), but there is little to be learned of much interest. Most telling is the producers' statement that creator Julian Unthank – whose CV includes the plodding mood-over-momentum Sword of Vengeance and far more Doc Martin than New Tricks – who wanted to do something entirely opposed to the genre's other current trend of Nordic Noir-type thrillers, the revelation that series director Ian Emes started out as an animator – working on several Pink Floyd and Duran Duran videos – who characterizes Unthank's vision as "original" and "groundbreaking," and the producers also revealing that the detective niece was a later addition to an idea initially about three crime-writing, mystery-solving sisters. Also on hand is a segment about the various Easter Eggs (9:37) planted throughout the film's background visuals. Both discs load up the same Acorn TV Promo (1:31) before the main menus.

Overall


Queens of Mystery may be targeted at fans of the likes of Midsomer Murders and The Brokenwood Mysteries, but its attempts to emulate those shows are only surface deep and as ultimately hollow.