The Film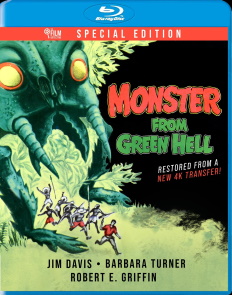 Scientists Quent Brady (Dallas's Jim Davis) and Dan Morgan (I Was a Teenage Werewolf's Robert Griffin) are working in the Arizona desert, launching rockets carrying insects and animals into space to assess the effect of radiation exposure on organic matter in advance of a manned rocket. When one of the rockets goes off course and off the radar, they can only extrapolate that it will eventually fall somewhere in the African Interior. In the following months, they observe in the insects that have returned minor but exponential growth after just forty seconds of exposure to space radiation. When unsubstantiated reports of giant monsters in Africa make the papers, Brady is quick to suggest that substantially prolonged radiation exposure in the rocket that went off course before it fell back to Earth has had a monstrous effect on the insect species on board. The US government is skeptical about his claims and slow to grant Brady and Morgan a leave of absence in which to make their investigation. Upon arrival in the Libreville border settlement, Brady and Morgan find further delays in organizing a safari of people willing to travel into the volcanic area known as "Green Hell" on account of the recent reports as well as older superstitions. Unbeknownst to them, colonial doctor Lorentz (The Magnificent Seven's Vladimir Sokoloff) and his daughter Lorna (Cujo's Barbara Turner) have seen direct evidence of attacks by an unknown but large predator, extracting what appears to be a large insect stinger. While Brady and Morgan venture into the interior with an expedition led by Arab Marhi (Foreign Correspondent's Eduardo Ciannelli), Lorentz and local village headman Arobi (A Raisin in the Sun's Joel Fluellen) – whose brother was one of the first victims – venture into the volcano basin.

One of two last ditch attempts to crossover into motion picture production by Gross-Krasne Productions who had spent the mid-fifties trying to repeat the success of their long-running television adaptation of the radio series Big Town (1950-1956) with a number of shows that ran for a single season – including The Lone Wolf, Mayor of the Town, Adventures of a Jungle Boy, and The O. Henry Playhouse – Monster from Green Hell at the very least looks on par with what Columbia Pictures and Universal Pictures were turning out in creature features from their budget-conscious genre divisions with crisp monochrome photography, straight-laced heroes, the obligatory love interest, studio backlot jungles, stock footage-augmented actions sequences – although even the studio entries specialized in this – and a creature no less laugh-provoking than the likes of The Deadly Mantis (but less so than The Giant Claw). As with those somewhat higher-budgeted productions, it is usually in shots in which the creature interacts with live action through front projection, back projection, forced perspective, and miniatures which are as absurd as buying Jock Ewing as a scientist; but where the film really suffers in comparison to its studio competition is just how boring it is during the belabored first half in which the can feel the narrative necessity to delay the start of the American scientists' expedition as a plot contrivance where the already stodgy momentum stops dead. The climax transitions to full color but it is more ridiculous than thrilling as the filmmakers attempt to integrate their insect creations into the stock footage via opticals that makes the image even grainier than the recycled monochrome footage. Although really no sillier than its studio contemporaries, Monster from Green Hell lacks their meager charms and feels more like akin the forties jungle flicks which borrowed much of the same stock footage.

Video


Released directly to television syndication after its theatrical release, Monster from Green Hell has made the rounds on various PD labels due to the fact that the 1956 copyright on the print was not actually registered until the producers registered it in 1983 under the title "Creatures from Green Hell" and then film collector Wade Williams re-registered it the following year under its original title. It was indeed Williams' materials that served as the source to the best of the DVD editions from Image Entertainment but, like all of the other editions following the theatrical release, it presented the climax in black and white rather than color. This is rectified on The Film Detective's 4K restoration from Williams' materials – although we do not know where the color portion came from – and the 1080p24 MPEG-4 AVC encode is offered up in both 1.85:1 widescreen and 1.33:1 open-matte editions, with the former looking more focused compositionally while the latter is perhaps more pleasing in more intimate scenes where Davis' height threatens to clip the top matte. Superficially, the presentation is very clean but closer inspection reveals all of the small scratches and rare missing frames that could not entirely be digitally-removed from the Williams' materials outside of a frame-by-frame restoration, the stock footage suffers from the expected generational loss, and the color climax looks rather dull for such ballyhoo (we do not know if this is an archival issue or just cheap color stock and dull art direction/wardrobe design).

Audio


Both versions feature the same DTS-HD Master Audio 2.0 mono audio option – a Dolby Digital 2.0 track is also included but can only be selected via remote – and it is quite impressive for the budget underneath the faint hiss and occasional optical track damage with full-bodied music, some great use of the killer insect's buzzing to herald its appearances, and cleanly-recorded dialogue. Optional English SDH and Spanish subtitles are provided.

Extras


Both encodes feature an audio commentary by film historian Stephen R. Bissette who conveys his childhood affection for such an awful film, discussing the etymology of the term "Green Hell" in various turn-of-the-century writings and pulp fiction on the Amazon, and early cinematic uses as well as the pre-TV syndication established use of stock footage from studio films that had not been reissued or re-released, and how the footage from Stanley and Livingstone seen here had already been part of several jungle pictures in the previous decades. He also discusses the film's cast, noting Davis' varied career before his comeback with Dallas and Sokoloff who had been a huge Russian stage actor before coming to America where Orson Welles was so in awe of him that he personally coached the actor in English for the lead in "Danton's Death". Also included is "Missouri Born: The Films of Jim Davis" (14:41) in which author/film historian C. Courtney Joyner discusses the actor's career from being discovered by MGM and Warner Bros.' attempt to make him a star opposite Bette Davis in Winter Meeting. Although the failure of the film tainted his star possibilities with studios in film, he soon netted lead roles in Republic Pictures films and television as well as becoming a favorite of Howard Hawks who found small roles for him in various John Wayne vehicles, his period as a television character actor in the sixties, and his seventies tenure in which he was cast in a number of seventies "realist" westerns, Al Adamson drive-in pictures, and then Dallas in which he insisted on appearing even as his health was failing.

Packaging


Housed with the disc is a 10-page full color booklet featuring the essay "The Men Behind the Monsters" by author Don Stradley.

Overall


Although really no sillier than its studio contemporaries, Monster from Green Hell lacks their meager charms and feels more like akin the forties jungle flicks which borrowed much of the same stock footage.