The Film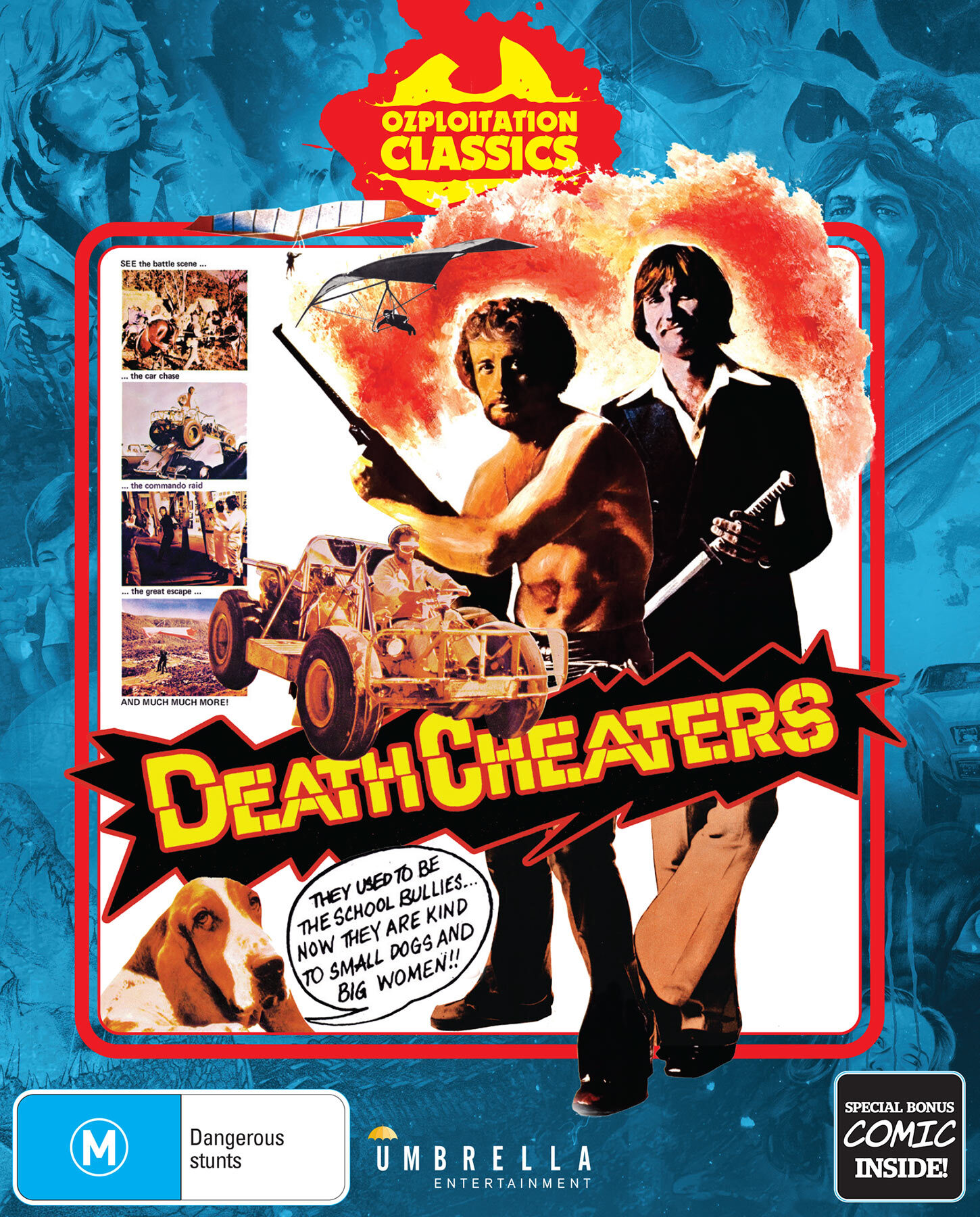 "Deathcheaters" (1976)

Steve (played by John Hargreaves) and Rodney (played by Grant Page) are stuntmen who are all about danger - whether shooting for commercials, television, or films, they are willing to take the risks because that is what they do! The Vietnam War veteran buddies catch the eye of the rich and powerful Mr. Culpepper (played by Noel Ferrier), a mysterious figure who offers them an opportunity to use their physical skills for espionage.

Filmmaker Brian Trenchard-Smith's follow-up to his feature film debut >"The Man from Hong Kong" is filled with car chases, guns, stuntwork galore with the humor pushed up a level entirely. It doesn't shy away from the fact that the film shouldn't be taken seriously, as the opening sequence on a medeival set with a madman director (played by Drew Forsythe) features swordfighting and fires, while also having a director figure that is a parody of Erich von Stroheim. The first major chase sequence that starts off on a rural road and ends up causing major devastation driving through a busy shopping mall has a number of insane happenings from run over cars to a leg of meat smashing a windshield. With all the stunts featured in the opening fifteen minutes, it certainly makes audiences gasp in awe with the extreme dangers that the actors and stuntpeople were getting themselves into. Yet at the same time it's filled with hilarious moments that breaks the tension entirely. Trenchard-Smith worked with Grant Page on his previous film for some stunt scenes and featured him in a documentary about stunt performers, so giving the stuntman who lives for dangerous stunts on camera was given the perfect opportunity to showcase his skills, with no doubles and all done himself. And this would be some time before Jackie Chan and Tom Cruise" made the "actor without a stunt double" term widespread as a trademark. John Hargreaves on the other hand was a trained actor first, though he did quite a few dangerous stunts in the film including a body burning scene. But when comparing the Steve and Rodney characters, it's obvious that Hargreaves' Steve character is a bit more of a second fiddle to the dangerous deeds done by Rodney who is the lead dangerman in almost every sequence. It's not entirely well balanced with the two main leads, but that doesn't necessarily slow things down for the plot or storyline.

As for the storyline itself it is a pretty shallow and simple one which also has a lot of plotholes and and inconsistent tempo. The establishment of the main characters are very quick - with Steve trying to work things out with his wife Julia (played by Margaret Gerard) who does not want him to continue such dangerous work. Rodney on the other hand is carefree and living the single life with his trusty dog Bismark (played by Ziggy), and nonchalant about changing his ways. Though he does have some instances of dates with a few ladies, including Gloria (played by Judith Woodroffe) who works for Culpepper. Though the characters signify the ying and the yang of the settled and the bachelor lifestyles, there really is no depth to the relationships and how each other are affecting their lives in that sense. There is no melodrama or looks at characters changing their ways. The only example of a character changing outlooks is that of Julia of all people, who is later willing to help the men and their plans given to them by Culpepper. As for Culpepper himself, Ferrier plays him in an unusual tone of not knowing whether he is a good guy or a bad guy. Taking some pages out of the 007 series, Culpepper is a cross between M and a Bond villain, and since "Deathcheaters" never firmly establishes what his organization does and what they stand for, it's hard to put minds at ease of who to root for. There is no uncovering of Culpepper's tactics, no surprise twists or turns, and instead leaves the entire infiltration scene for the last twenty-five minutes of the film, which begs the question of what the two characters were doing for the first hour of the film? Not a lot except hanging out and getting into dangerous trouble. Even for the final sequence which was filmed in the Philippines, the job seems almost too easy for Steve and Rodney. No main boss to tackle, no battles that put one or the other in jeopardy. Just a bunch of meaningless workers getting offed and the place getting blown up in the process. Though their mission might be cleared, it didn't seem like there was much at stake as they or we are never told in detail about the mission and its contents.

What does work for "Deathcheaters" is of course the dangerous stuntwork. Grant Page designed and built the insane dune buggy that is seen throughout the film, nicknamed "Buttercup" with ten months of his own time. With its high speed and crushing tires, there really isn6't anything that stands in the vehicle's way, and is a joy to see whenever on screen. It's also a dangerous piece of equipment and it is in fact Page driving and Hargreaves holding on in the many sequences. There are also the crazy walking and dangling from the highrise building with Page. From burning to chasing to hang gliding to explosions, there is something for everyone here for stunt fans. The only thing missing would be combat action, as Trenchard-Smith was looking at getting a PG rating so there was no blood, no violence in the action scenes. There were injuries and such that took the actors to the hospital in more than one occasion, and the dangerous moments are kept in the film itself. The whole film screams a "do not try this at home" warning throughout its runtime, and for those looking for a high octane mindless film, "Deathcheaters" certainly gets its job done.

Unfortunately it was not a hit like "The Man from Hong Kong". Even with a fairly small budget of $157,000, it only grossed $30,000 theatrically in Australia, premiering on December 16th, 1976. It received a few spotty releases internationally over the years, but it would basically become a footnote in the careers of the cast and crew. There were talks initially of an American TV production company with possible interest in using "Deathcheaters" as a basis for a television series, but that never got off the ground. With new interest in the Ozploitation genre in the 2000s, all of Trenchard-Smith's films received re-appraisal, though "Deathcheaters" didn't get the new love that many of his other works have had. Even if it is a lesser film in his filmography, Umbrella Entertainment has stepped up and given the film a new HD transfer and Blu-ray release in their "Ozploitation Classics" line, with a nice selection of extras for old fans and newcomers alike.

Note this is a region ALL Blu-ray

Video


Umbrella Entertainment presents the film in the 1.85:1 aspect ratio in 1080p AVC MPEG-4. Originally shot on 16mm and blown up to 35mm for theaters, this new 4K remaster is the best the film has ever looked, though it is by no means perfect. In fact there are a lot of issues with it. It seems a 35mm element was used for the transfer rather than the original 16mm negatives, so there are issues with inconsistent grain and fluctuation, as well as a number of damage marks being visible. There are scratches and speckles throughout, though note the are not hugely distracting at all. Colors are fairly good, but it does feel a bit on the pale side rather than having sharp and bold colors. On the positive side, the image is stable and clarity is fairly good, being a good upgrade over the older DVD and video releases, but don't expect it to be pristine here.

The film's runtime is 95:09.

Audio


English DTS-HD Master Audio 2.0 mono
The original mono track is presented lossless, and like the video was also remastered. Music, effects, and dialogue are well balanced in the track and damage from pops and crackle have been removed mostly. There at times can be a hiss in the track, but overall there shouldn't be much to complain about in the audio department.

There are optional English HoH subtitles for the main feature in a white font. They were well timed and easy to read, but there was one odd subtitle error in which the line "Hardly worth bringing a car into the city anymore" was mistakenly "Hardly worth bringing a county into the city anymore". Not sure how that was misheard.

Extras


Audio commentary with Brian Trenchard-Smith, Richard Brennan, and Margaret Gerard
In this vintage commentary track, the director Trenchard-Smith is joined with executive producer Richard Brennan plus Trenchard-Smith's wife and co-star Margaret Gerard as they reminisce about the film. From the 26 day shoot, the details of some of the dangerous work done, the location scouting, the chemistry between Page and Hargreaves and much more are discussed here. Lots of fun and interesting information is to be found here. Note this was previously available on the Madman DVD release.
in English Dolby Digital 2.0 without subtitles

Extended "Not Quite Hollywood" interviews with Brian Trenchard-Smith, Grant Page, and John Seale (17:10)
Presented here are a selection of interviews conducted for the documentary "Not Quite Hollywood: The Wild, Untold Story of Ozploitation!", specifically on the making of "Deathcheaters". Some topics discussed are the making of a kid-friendly action film, Page's non-stop adrenaline, the craziness of the mall sequence, the building of "Buttercup", the ideas pitched from the crew and more.
in 1080p AVC MPEG-4, in 1.78:1, in English Dolby Digital 2.0 without subtitles

New audio interview with executive producer Richard Brennan (9:38)
In this new and exclusive interview, Brennan recalls the fun the cast and crew had, while also discussing the various injuries, the editing, and more.
in 1080p AVC MPEG-4, in 1.78:1, in English Dolby Digital 2.0 without subtitles

"Dangerfreaks" (94:24)
This 1989 documentary is actually a "best of" compilation film featuring clips from the Australian TV series from the 1970s of the same name with Grant Page showing stuntwork, directed by Trenchard-Smith. There are vintage interviews with Page, clips of various films including ones included on this disc are coupled with new narration and some 1980s video effects here and there for titles and transitions. "Buttercup" the vehicle he built and used in "Deathchasers" is also featured here with input by Page on the specs of the all-terrain vehicle. There are also footage from films such as "Stunt Rock", "Stone", "The Man from Hong Kong" and some "old timey" footage of stunt people, as well as clips of other stuntmen interviewed about their stunt experiences with car stunts, flying stunts, horse stunts, and more.
in 1080p (upscaled) AVC MPEG-4, in 1.33:1, in English Dolby Digital 2.0 without subtitles

Trailer (3:19)
The origiinal theatrical trailer is presented here, which is also embedded below.
in 1080p AVC MPEG-4, in 1.85:1, in English Dolby Digital 2.0 without subtitles



Brian Trenchard-Smith Trailer Reel for "The Love Epidemic", "The Man from Hong Kong", "Death Cheaters", "Stunt Rock", "Turkey Shoot", "BMX Bandits", "Frog Dreaming", "Dead End Drive-In", "Day of the Panther", "Strike of the Panther", "Out of the Body", "Danger Freaks", "Night of the Demons 2", "Leprechaun 3", "Leprechaun 4 in Space", "Britannic", "Megiddo", "Operation Wolverine", "Arctic Blast", "The Cabin", "Chemistry", "Absolute Deception", "Drive Hard" (40:55)
As the title says, here is a lengthy reel of Trenchard-Smith's film trailers. "The Love Epidemic", "BMX Bandits", "Out of the Body", "Danger Freaks", "Night of the Demons 2", "Leprechaun 3", "Leprechaun 4", and "Britannic" are in the 1.33:1 aspect ratio. "Death Cheaters", "Stunt Rock" are in the 1.66:1 ratio. "Dead End Drive-In", "Chemistry", "Absolute Deception", and "Drive Hard" are in full 1.78:1 while "Megiddo", "Operation Wolverine", "Arctic Blast", and "The Cabin" are in windowboxed 1.78:1. "Turkey Shoot", "Frog Dreaming", "Day of the Panther", and "Strike of the Panther" are in the 1.85:1 aspect ratio, and "The Man from Hong Kong" is in 2.35:1. The image quality of the trailers can range from pristine to muddy, depending on the title. This is the same trailer reel that was found on the "Stunt Rock" Blu-ray release from last year.
in 1080p AVC MPEG-4, in various ratios, in English Dolby Digital 2.0 without subtitles


Comic Book
Enclosed in the keep case is a 16 page full color comic book from Dark Oz, which condenses the story of "Deathcheaters" in a compact form, like they did for the release of "Stunt Rock" last year.


This is the second time the film has been released on Blu-ray. The first time was in 2016 with Umbrella's release for "The Man from Hong Kong", with "Deathcheaters" being one of the bonus films. Unfortunately it was a standard definition transfer with lossy audio. The audio commentary was also included, as well as "Dangerfreaks" as an additional bonus film. Obviously this standalone release is a much better edition, with an HD transfer, lossless audio, and additional extras included.

Packaging


This is spine #10 in the "Ozploitation Classics" range, which comes with a slipcase.
The inlay has differing artwork, with each side having portraits of Hargreaves and Page. On the inner portion is an excerpt from Trenchard-Smith's autobiography "Adventures in the B-movie Trade" on the making of the film.

The packaging says the runtime is 93 minutes, but it is wrong and is correctly 95 minutes.

Overall


"Deathcheaters" is an inconsistent and silly buddy film that is filled with death defying stuntwork and awkward humor for a mindless time. Sure it could have been written better and have more depth, but there are still things to look forward to with Trenchard-Smith's sophomore feature film effort. The Umbrella Entertainment Blu-ray gives the film a fair transfer with a very good selection of extras. Recommended.

The Blu-ray is available at various retailers as well as from Umbrella Entertainment directly.
| | | | | |
| --- | --- | --- | --- | --- |
| The Film: C | Video: B | Audio: B+ | Extras: B | Overall: B |