The Film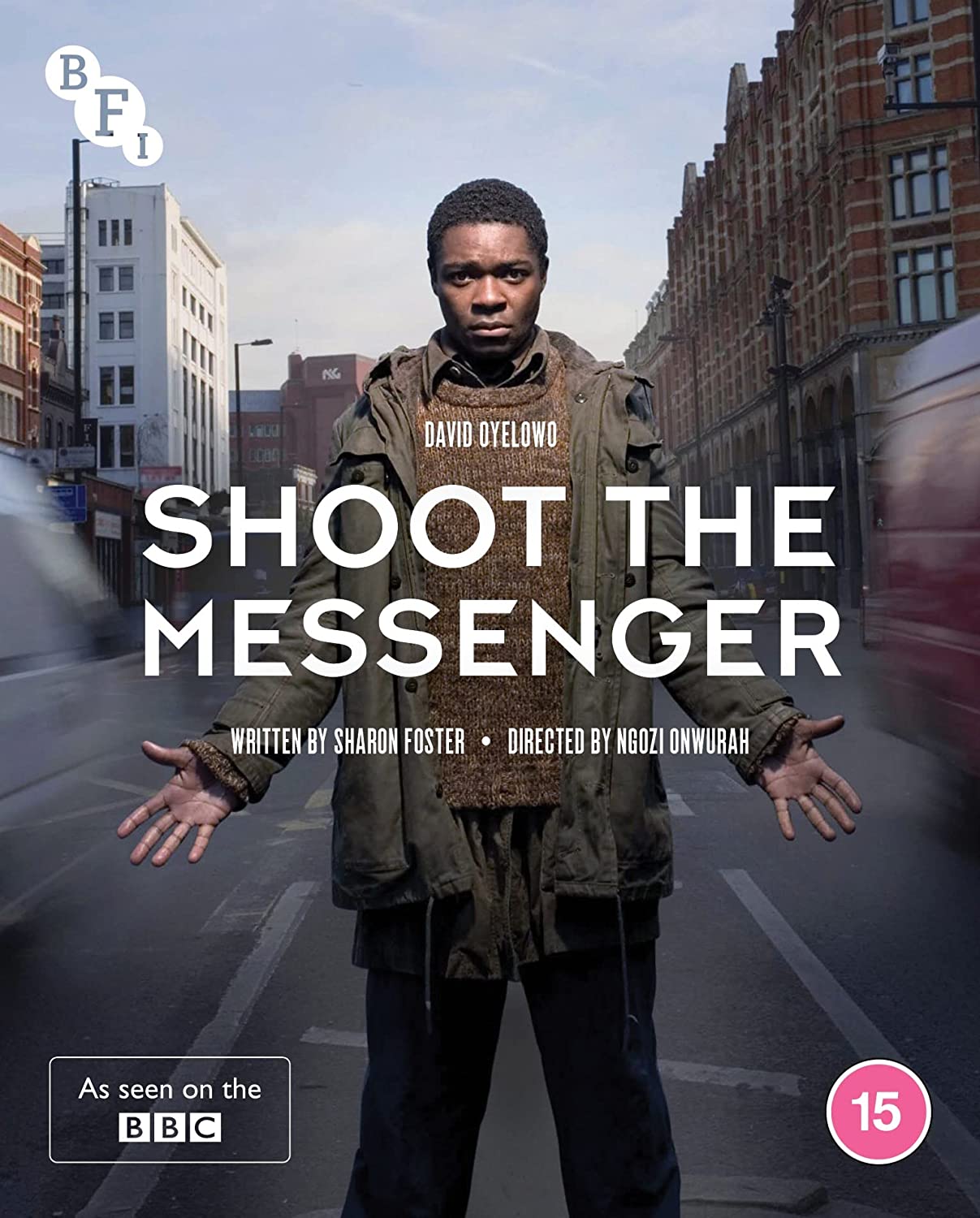 "Shoot the Messenger" (2006)

Joe Pascale (played by David Oyelowo) is a black high school teacher who got into the profession to help young black kids attain a better education for their adult lives. Being tough and using detention as a way to help the kids with extra studies, his intentions are very positive but the students do not see things the same way. The kids see him as being too strict on them and not on their side, which leads to the student Germal (played by Charles Mnene) accusing Joe of physically assault to get the teacher in trouble. The small lie goes out of control, as Joe becomes suspended and all stand in support of the student, including parents and local media surrounding the event. Joe loses his job, his respect, and his sanity as he reflects back on the many low point events in his life which were in his mind mostly caused by other black people.

"Shoot the Messenger" was a television film for the BBC which took on a controversial subject of a black man hating his own race. The approach taken with the script written by Sharon Foster and direction by Ngozi Onwurah is one that is unusual, by giving sympathy for the lead character that is filled with hate that grows stronger as time passes by. The fourth wall is broken a number of times with the character of Joe looking directly at the camera and the audience for clarification of his thoughts and actions. He explains that the reason he wants to help the inner city kids is so they won't grow up as uneducated or incarcerated, by giving them a chance in life rather than falling into the lower depths of society. He does care for his people and the future. But there is an underlying negative attitude, as he talks about some of the negative stereotypes of blacks are there because it reflects many of the black men and women that keep the stereotypes alive. His speech is closer to that of an upper class white man than a black man from the streets, with a vocabulary that is filled with words studied in a thesaurus. He knows that with willpower and the right attention given, it is possible for a black man to not fall into the traps, but in a sense it makes him more distant from the kids he is trying to save. It is abolutely ironic that the intellectual Joe is the one that falls into the deep end of depression and insanity as he is institutionalized and fueling his hatred for the student and his corroborating friends for getting him fired and losing everything that he had. David Oyelowo's portrayal is an incredible one, making audiences feel equally sympathetic yet frustrated through the actions as well as many of his uncomfortable comments, as there is an underlying truth to what he says. Initially the working title for the script was "Fuck Black People", which obviously had to be changed for the final title for broadcast, though the words are displayed on screen in the instance that the Joe character spray paints them on the wall of the high school he is let go from.

The story is seen through Joe's eyes and though his negative and condescending tone may be rough, there is some light in his life. His God-fearing aunt Mabel (played by Jay Byrd) is still ready to take him in and not letting him become homeless after his mental breakdown. Heather (played by Nikki Amuka-Bird), who helps Joe find work becomes romantically involved with him and supports him even if their ideals clash at times as she sees the good in him. While he has support around him, it does take a lot for Joe to fully see the negativity he surrounds himself with. His thoughts on his own people using the race card to make excuses, seeing the positive outcome from colonial slavery are incredibly hurtful and shocking, but he does have reasoning behind his words and examples to reference. Eventually there is a slow grasp of positivity which comes from forgiveness and confrontations with his own demons, and while that may come as too late for in terms of the runtime of the production, "Shoot the Messenger" shows that it is never too late to change for the better. The supporting cast is great as well, with Byrd playing a warm soul yet has her life clamped down with the stern words of the Bible to guide her which also has its positives and negatives. Amuka-Jay Bird also plays a great role as the supportive girlfriend with intelligence and compassion, in which the dinner scene with aunt Mabel and Heather is one that has tension and heart that encapsulates her ideals very well in a short sequence. In addition, the great Daniel Kaluuya makes a small appearance here early in his career as one of Germal's friends and classmates.

Director Ngozi Onwurah was no stranger to showcasing race relations in defying ways on screen. Her feature length d.irectorial debut "Welcome II the Terrordome" from 1995, named after the song by Public Enemy was a look at racial violence in a near future setting, and was the first British film directed solely by a black female, following "The Passion of Remembrance" (1986), which was co-directed by Maureen Blackwood and Isaac Julien. Her short films such as "Coffee Colored Children" (1988) and "The Body Beautiful" (1991) looked at identity of biracial people, a subject close to her as she was half white half Nigerian and raised in Britain. Writer Sharon Foster was a child of Jamaican immigrant parents and has credits writing episodes of the series "Babyfather". As of 2022, "Shoot the Messenger" is the last credited work for both women on IMDB, which also shows that the opportunities for black women behind the scenes in film and television is still difficult in this day and age. The controversy over the film's content did spark debate, though it was not one that was sustained or enough to push their careers further.

First broadcast on BBC2 on August 30th, 2006, "Shoot the Messenger" certainly turned heads with audiences that were turned off by the racist views of the main character while others praised the viewpoints and raised awareness of black struggle, the power of media, as well as the excellent performances. It never had a rerun on BBC2, though the production was greeted with more positive light at worldwide film festival showings, such as at the Tribeca Film Festival and the Chicago International Film Festival in the United States. For awards, the film won BAFTAs for "Break-Through Talent" for Sharon Foster and Best Photography & Lighting Fiction/Entertainment for David Katznelson. The film never had a DVD release (that we can recall or find officially) and for years was just a footnote, but in 2020 it received a screening at the New York African Film Festival along with an online Q&A with Onwurah. Two years later, the film has finally been given a home video release, on Blu-ray from the BFI.

Note this is a region B Blu-ray

Video


The BFI presents the film in the 1.78:1 aspect ratio in 1080i50 AVC MPEG-4. As the film was shot in HD at the 25fps framerate for UK television broadcast, this accurately displays how the film was originally shown with the correct framerate. The transfer was from the BBC Archives. The image looks very good with bold colors and fine detail, with colorful wardrobe of some of the characters and bold lighting in scenes such as in the hospital and other indoor locations. It does not strike as particularly reference quality or giving a wow effect but is effective and well done without distractions for viewers. There are no issues of compression or errors to speak of in the transfer.

The film's runtime is 89:19.

Audio


English LPCM 2.0 stereo
The uncompressed stereo track is here. A fairly standard audio track, there is some good stereo separation for music cues, from artists such as Stevie Wonder, Miles Davis, 50 Cent and others, while dialogue is mostly centered. Music, effects, and dialogue are well balanced without any particular issues such as dropout or sync errors.

There are optional English HoH subtitles in a white font for the main feature.

Extras


"The Body Beautiful" 1990 short film (24:10)
In "The Body Beautiful", Onwurah pays tribute to her mother in this autobiographical short film, in which her mother Madge plays herself. As a white woman raising half Nigerian children without the father figure in their lives, the lives of the mother and daughter are close by blood, but distant in their grown lives, as the daughter (played by Sian Martin) is working as a model, while the mother is living a harder life as a single mother in addition to the fact that she has terrible arthritis and also had a mastectomy, losing her left breast. One of the key moments in Onwurah's life was when she and her mother went to a sauna together, and while she thought nothing of it herself, she didn't realize how uncomfortable her mother was as she didn't want to remove her towel to reveal that she only had one breast. The scene is recreated here with full honesty, as well as a few other possibly uncomfortable moments, but the short showcases that there is no shame in differing bodies of women, no matter of age, race, or issues do to scarring or otherwise. There are some other moments that may make some viewers uncomfortable, for example with a scene of her mother dreaming of a sexual relationship again after years of feeling unwanted by the opposite sex. There are scenes of Madge with a much younger black male with nudity, which at first does seem uncomfortable to watch, as this was in fact the daughter directing her mother in nude scenes. But would it have been of the same impact if this was an unrelated actress or body double? No, it wouldn't have been. Even it was a scene of make-believe in front of the camera, Onwurah was able to give her mother a sense of beauty that she probably hadn't felt in a very long time. Quite a unique and emotionally touching short, it's more than just a love letter from a daughter to her mother, but for women all over the world that might feel unwanted or ashamed in any way. There is much more to behold. The transfer comes from the original film element and looks great with a healthy hue of colors, natural film grain, though some damage marks can be found. The mono sound is also good, with narration and dialogue sounding well balanced.
in 1080p AVC MPEG-4, in 1.66:1, in English LPCM 2.0 with optional English HoH subtitles

"Flight of the Swan" 1992 short film (11:33)
"Flight of the Swan" features an adolescent Nigerian girl (played by Hilja Lindsay Parkinson) who goes to school in Britain, where she challenges herself with ballet dancing. Though she dreams to become the lead in Swan Lake, there is bullying and taunting from the white students, but through the guidance of a dancing African spirit (played by Wumni Olaiya), she looks to make her dream come true despite the obstacles. A short that relies mostly on action and dance with little dialogue, Onwurah's short film is one that looks at cultural stereotypes and the difficulties faced from an early age, while also relying on fantasy and dream sequences for a brighter light. The dance sequences, which has African dance and music juxtaposed with European classical ballet is a clash of differences that also has some similarities as seen and heard through the editing, and is a great magical short filled with hope. The transfer again comes from original film elements and looks great with strong bold colors, though there are damage marks visible around. The 2.0 sound is also great, with little damage or distortion to be heard.
in 1080p AVC MPEG-4, in 1.85:1, in English LPCM 2.0 with optional English HoH subtitles

"White Men Are Cracking Up" 1994 short film (20:03)
"White Men Are Cracking Up" features detective Margrave (played by Jon Finch investigating a series of deaths of men, in which a mysterious black woman named Maisie Blue (played by Theo Omambala) is somehow connected. The short is played in an indirect manner, with Margrave obsessed with piecing together an African doll and in effect also becoming obsessed with the target suspect, with dialogue being indirect as well, focusing more on the attention of the white male gaze than the actual investigative process. There are some interesting points, but in comparison to the other two shorts in this set it does feel a bit on thelesser side. This also features a good transfer in HD, though song of the colors are particularly dark overall. The audio is good, without any distortion or damage heard.
in 1080p AVC MPEG-4, in 1.85:1, in English LPCM 2.0 with optional English HoH subtitles

"Who We Are" filmmaker forum with Akua Gyamfi, Fiona Lamptey, Stella Nwimo, and Delia-René (65:33)
"Who We Are" is a series of online events that celebrates black British film, by the film exhibition company We Are Parable in collaboration with the BFI. More information can be found at the official website. Presented here was an online conversation conducted remotely in the summer of 2020 with four black women in the industry, with writer Akua Gyamfi, producer Fiona Lamptey, producer Stella Nwimo and Delia-René. The conversation starts with a somber tone due to the murder of George Floyd just two months prior on May 25th and the subsequent Black Lives Matter protests in various cities around the world that were organized were topical news events, in addition to the world coping with lockdowns due to the COVID-19 pandemic. The women discuss their time in lockdown, as well as a number of topics regarding the UK film and television industry for black women. From compromises that sometimes had to be made, the stereotypes that producers and executives expect in black scripts, difficulty for funding, lack of black filmmaking works available, as well as some fun talks with some of their favorite films and works that influenced them. A great conversation with a lot of important and intriguing information, as well as some laughs and fun thrown in, it's definitely worth the hour and five minutes and could have gone on longer. The conversation has also been embedded below, courtesy of the BFI.
in 1080i50 AVC MPEG-4, in 1.78:1, in English LPCM 2.0 without subtitles



Booklet
A 32 page booklet is included with the first pressing. First there is the essay "Message or Medium?" by independent producer Angela Moneke, discussing the themes of the film, the complexities of the character of Joe, about Onwurah's direction, and the reception. "Be Part of the Change" by Dwain Brandy is next. Brandy is the assistant principal at Oasis Academy Media City in Salford and reflects on the parallels the film had with his life as a black teacher and his strive to make a difference. "Black British Film: Pride, Pressure and Rage" by Ann Ogidi was originally published on BFI Screenonline, which looks at the history of black British actors and filmmakers and the struggles and impact individuals and their works have had over the years from the silent age to the modern day. Next is "Black British Cinema: Beyond the 2000s" by Jan Asante, co-editor of the Black Film Bulletin in Sight & Sound magazine, which looks at some of the milestones in modern cinema with black actors and filmmakers making an impact in British film and television. Last, there is "The Bravery of Ngozi Onwurah's Early Short Films" by film programmer Grace Barber-Plenti, which looks at Onwurah's short films including the three in this set and their messages and influence. Finally, there are special features information, transfer information, acknowledgements and stills.


It's great to see three of Onwurah's short films receiving HD transfers included as extras, but it does feel unfortunate that she didn't contribute to any interviews or written statements for this release. She has not made a film, whether short or a feature since "Shoot the Messenger" in 2006 and it would have been interesting to hear from her after all these years in an interview or even a commentary track. The African Film Festival in 2020 was able to have a remote Q&A with Onwurah regarding "Shoot the Messenger", which has been embedded below has some great comments from the director herself. Although some of the audio is quite difficult to hear and at one point is completely cut off but helped with subtitles to caption the missing parts. There are also no restrospective interviews with other cast or crew, nor are there any vintage behind the scenes clips to be found.


Other notable clips:

A clip from the film, courtesy of the BFI


Another clip from the film. from the 2020 African Film Festival


Q&A with Onwurah from the 2020 African Film Festival discussing "Shoot the Messenger"


Overall


"Shoot the Messenger" can be a tough watch hearing an intelligent black individual cite racially negative thoughts about his own people and race, yet the touchy subject of racial discrimination, media attention, public bullying, and the importance of education are all coherently stated in this striking film from the BBC. The BFI's Blu-ray features a good transfer of the film with a number of good extras making this recommended.
| | | | | |
| --- | --- | --- | --- | --- |
| The Film: A- | Video: A- | Audio: A- | Extras: B | Overall: B+ |