The Film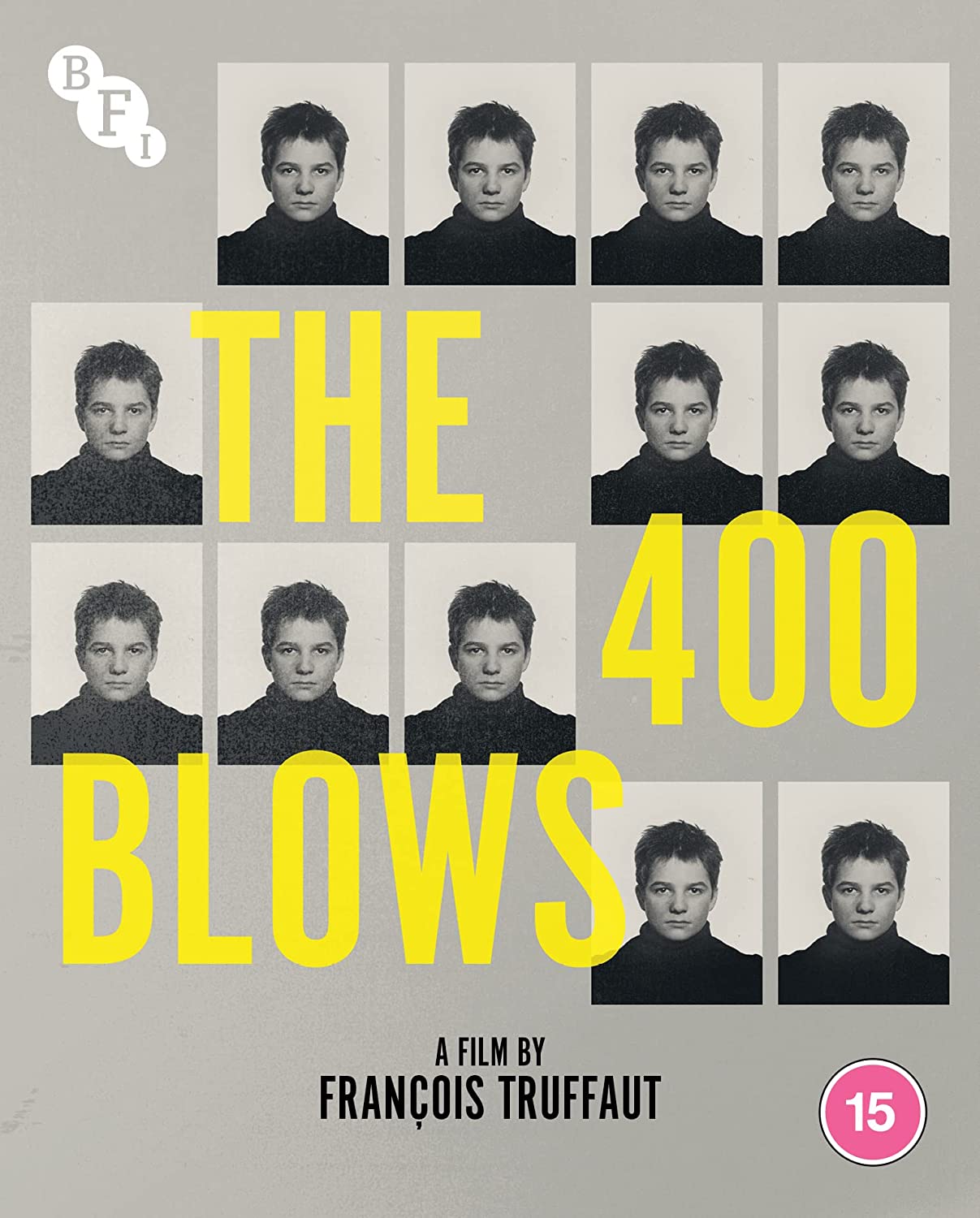 "The 400 Blows" ("Les quatre cents coups") (1959)

Antoine Doinel (played by Jean-Pierre Léaud) is a fourteen year old boy living in Paris. He is not particularly good in school, and is frequently a target of disciplinary action by his teacher (played by Guy Decomble). At home he lives with his mother (played by Claire Maurier) and his step-father (played by Albert Rémy), where things can become tense, as the parents have their occasional arguments and are not attentive to young Antoine as much as they could be. With his best friend Remy (played by Patrick Auffay), the two boys get into a fair share of trouble with ditching school, shoplifting and other mischief, but the cycle of rebellion and punishment becomes too much for Antoine...

Young film critic François Truffaut was very harsh on the state of French cinema in the early 1950s, frequently writing negative reviews for the stale and bourgeoisie output from the major studios, and instead championing the American B-pictures of the period for their hard boiled nature with creativity on lower budgets. After two short films, Truffaut made his feature length debut as a director with "The 400 Blows", a film that went against everything that the French studio pictures were doing and in essence kickstarting a new wave of filmmaking in France that challenged the world of filmmaking entirely. But what made the film stand apart from everything else and what made it so special for filmgoers and filmmakers alike?

The main character of Antoine Doinel was almost entirely a mirror image of Truffaut as a child. He was born out of wedlock and raised by his grandmother until her death when he was ten years old. Going on to live with his mother and step-father in his teens, there was always tension within the household, and that also affected his social life at school. Not good with studies, he had a rebellious streak within him which led to disciplinary measures, all of which are reflected in the film itself. But not everything is purely from Truffaut's mind, as the young Léaud who played the part brought a lot of his own nature to the character, with improvised moments and an attitude that could not be easily copied. Many of the moments within the film were taken from real life. The scene of Antoine happening to see his mother kissing some man on the street while he was skipping school, the stealing of the typewriter to make some money are said to be things that happened when he was young. The factors make "The 400 Blows" and incredibly personal work that is more of a biopic rather than a standard fiction film. And in this case, one that is hard to argue being far from the reality it was based on.

The entire film is told through the eyes of Antoine. In the eyes of the adults that surround the story, he is a rebellious, rambunctious, and uncontrollable teen. But it's hard to see those traits as being defining of the child when seeing the world from his viewpoint. Sure, he might make some trouble in the classroom, but who doesn't? Almost every classmate in his class does something silly or inappropriate when the teacher turns his back. Is he is a gang, get into brawls, drink or smoke? Not at all. But everything around him seems to be pushing him in that direction. Antoine is the poster child for a boy crying for help and attention, though not knowing how to do so or why exactly he is doing it. His parents having a distant relationship from him and the trouble within the marriage has caused a rift in him wanting to escape from the life there. His teacher who frequently scolds him seems unrelenting, but like any schoolteacher, he is only trying to bring control and order within the classroom, and that may call for standing in the corner or giving detention. But Antoine doesn't respect adults. None of them have given him a true direction in life and only given him punishing marks. There is one instance that his teacher gives a sense of sympathy and care, and that is the time that Antoine lies about his mother dying, therefore he was absent the day before. Obviously things will backfire terribly when the truth comes out, but this is an instant that the child felt free from being a target, even if it is just for a moment. The only adult figure that he looks up to entirely is novelist Honoré de Balzac, even setting up a small shrine in his home for the writer. This was also reflective of Truffaut himself, who idolized the writer when he was young. For the film, Truffaut sets up Antoine as a very likeable child, who happens to get into trouble but not all being entirely his fault. There is more to blame on the adults who do not, cannot, and try not to help. Instead they shove him into a corner, hit him, or ignore him so the trouble would go away. It's interesting to note that even though Léaud never sheds a single tear as the character, the audience are incredibly sympathetic to him and want him to have a better life, and a lot of that lies on the young Léaud's subtle and natural performance that is unforgettable.

Equally a major character in the film is Paris itself. Cinematographer Henri Decaë brings reality to the screen with the widescreen framing of various locations in and around Paris with guerilla style filmmaking, within the busy streets, down the darkened alleyways, inside apartments and buildings that were not studio constructions but places that were inhabited by real people. There are no studio lights or extravagant costume designs, but instead there was reality. It was Paris of the late 1950s with no artificial additives. From the dialogue spoken by the kids to the fashion worn by the passerbys, "The 400 Blows" is a great timecapsule of a bygone era in motion, and would also influence countless filmmakers both in France and elsewhere to do similar takes with location shooting. Though this was not exactly new to international cinema, as the postwar neo-realist cinema of Italy which Truffaut lauded would also focus on using the city as a backdrop for films. But for French cinema, this was only the beginning.

For the title, "Les quatre cents coups", it comes from the expression faire les quatre cents coups, which literally means "firing 400 rounds (of ammunition)" but has the meaning of "go for broke" or "raise hell" as English equivalents. This comes from the Siege of Montauban in 1621, in which King Louis XIII's troops of 25,000 men tried to overtake the city, at one point firing 400 cannons within a space of a few hours to terrify the population. The people of Montauban stood strong, refusing to surrender and eventually leading the king's troops to retreat after two months of battles. Legend has it that the expression comes from the battle, and last year the city celebrated the 400th anniversary of "The 400 Blows". In the United States the film was almost renamed as "Wild Oats" by the film's distributor's translator, but instead was kept with the literal translation, which in effect lost its meaning, but then again, people would still scratch their heads with why a film about a delinquent child would be named "Wild Oats" as well. The film had varying translations with the title in other languages, such as "Os Incompreendidos" (The misunderstood) in Brazil, "Nikdo mne nemá rád" (Nobody likes me) in Czechoslovakia, "Ung flugt" (Escaped child) in Denmark, "Sie küßten und sie schlugen ihn" (They kissed and they hit him) in Germany, 「大人は判ってくれない」 (Adults don't care to understand) in Japan to translate a few. Though for the most part for other languages, the title is close and consistent to "The 400 Blows".

The film premiered at the Cannes Film Festival on May 4th, 1959, taking critics and audiences by storm and winning Best Director and the OCIC Award. In addition, it won Best Foreign Language Film at the New York Film Critics Circle Awards, Best Film at the Valladolid International Film Festival, Best Film at the French Syndicate of Cinema Critics (tied with "Hiroshima, mon amour"), and more. It was also Best Original Screenplay at the Academy Awards in Hollywood but lost to "Pillow Talk". "The 400 Blows" was a symbolic film not only for its personal content, but also a cry for change in filmmaking. New and youthful filmmakers would come to the spotlight across France to make their voices heard with a new experimental works that would challenge critics and audiences all across the world. Some people who made cameo appearances in "The 400 Blows" would make their own marks with their first feature films, such as Jean-Luc Godard with "Breathless" (1960) and Jacques Demy with "Lola" (1961). There is also a scene in which the Doinel family reference "Paris Belongs to Us", which was in development at the time by Jacques Rivette and would be released in 1961 as his feature debut. It's hard to imagine what director Maurice Pialat's feature debut "L'enfance nue" (1968) would have been like if "The 400 Blows" had not been a success. Countless other filmmakers have been inspired by the self-refective nature, the realism with location shooting, and the nature of rebellion of youth in cinema over the years, but few have had the impact and substance that "The 400 Blows" has had. It's timeless and continues to be relevant decades onward, and is a staple of international cinema and will never lose that light.

Audiences easily connect with Antoine from beginning to end, and the unforgettable and powerful final shot of his face with "Fin" overlayed should signal the end, but in fact was only the beginning. Antoine Doinel would return to screens with Léaud reprising the character in the omnibus film "Love at Twenty", in the Truffaut directed segment "Antoine and Colette" in 1962. This would be followed by the feature films "Stolen Kisses" (1968), "Bed and Board" (1970), and "Love on the Run" (1974), with Doinel growing up as an adult, featuring differing scenarios from love, career, and mischief as art would imitate life. (Though "Love on the Run" was basically a clip reel film of mostly scenes from previous Doinel films and other films such as "Day for Night", also starring Léaud and directed by Truffaut.) Even if "The 400 Blows" never had any sequel films, it fully would have stood on its own as a powerful and personal piece of work that is absolutely unforgettable.

Note this is a region B Blu-ray

Video


The BFI presents the film in the 2.35:1 aspect ratio in 1080p AVC MPEG-4. The transfer comes from a 4K restoration from the original 35mm camera negative by MK2 and Eclair. The restoration was supervised by Guillaume Schiffman and assisted by Éric Vallée, with the support of the CNC and OCS. The transfer for such an iconic film is obviously high, and there are many positive things to say about it. Although it is not perfect and has some issues to speak of as well. On the positive side, the film's detail is much sharper than all previous transfers, showcasing more depth in the picture with faces, clothing, and backgrounds. The image has also been cleaned, leaving few if any traces of damage such as scratches or debris, and the grey levels have been balanced so there are no instances of weaving or fluctuation of grey levels. On the other hand this transfer is very grainy for most of the duration. Usually the keeping of film grain is not a problem as it keeps the natural element of film production rather than scrubbing it clean and accidentally removing detail. Here, the film grain seems to be intact but it also looks almost a bit too digital rather than natural. It is most noticeable in grey areas such as walls and faces, and it is fairly distracting as the grain doesn't seem to apply in the moments with brighter whites or dark blacks. In addition, near the end of the film at the observation center, for most instances the film looks much better than the rest, with the aftificial grain not being as distracting. Things could have been better, so it's unfortunate that the restoration of the Doinel cycle of films have to start with a transfer of mixed opinions.

The runtime, which also includes the MK2 logo and text screens with information of the restoration at the beginning and end, is 99:44.

Audio


French LPCM 1.0
The original mono track is presented uncompressed, and was remastered from a 35mm optical track. The remastering is very good, with a well balanced track between dialogue, music, and effects. Almost all of the film was post-synchronized, with a few moments such as the interrogation scene being synchronized with on set audio. There are some issues with fidelity due to the age and source, though it should sound fairly reasonable for viewing, with no issues of hiss, pops, or other errors.

There are optional English subtitles in a white font for the film. They are well timed, easy to read, and without errors to speak of.

Extras


Audio commentary with Robert Lachenay and Serge Toubiana
In this audio commentary recorded in 2002, Truffaut's friend from childhood and basis for the character of Remy, Robert Lachenay who served as production manager on the film is joined by film critic Serge Toubiana in discussing the film and its history. Lachenay talks about Truffaut's and his childhood, the various elements from real life that were placed directly into the story, as well as behind the scenes information, its impact and reception and much more, with Toubiana serving as the moderator. Note this commentary previously appeared on various other DVD and Blu-ray editions of the film.
in French Dolby Digital 2.0 with optional English subtitles

Audition Footage (6:42)
Presented here are three clips of audition and screen test footage, first with Jean-Pierre Léaud introducing himself, then a test with Léaud with Patrick Auffay discussing about school life together, and finally one with a singing Richard Kanayan who played the unnamed classmate memorable for the page ripping scene, would later get a larger role in Truffaut's next film "Shoot the Pianist" in 1960. Note this has previously appeared on various other DVD and Blu-ray editions of the film. The Léaud audition has also been embedded below, courtesy of The Criterion Collection.
in 1080p AVC MPEG-4, in 1.33:1, in French LPCM 1.0 with optional English subtitles



"Les mistons" ("The Mischief Makers") 1957 short (18:13)
Truffaut's second short film "Les mistons" features a group of rascal kids who love to tease a young and in love adult couple while also messing around about town on a daily routine. Starring Gérard Blain and Bernadette Lafont as the couple (who were an actual married couple at the time), the short is mostly free of dialogue except for the narration by Michel François as the voice of one of the children reflecting back to the times as an adult. The short mixes the whimsical and free nature of children with the tropes of growing up clashing with young adulthood, all themes that would return with Truffaut's next production which would be "The 400 Blows". This short has been released as an extra in a number of different DVD and Blu-ray editions of various Truffaut films, but one thing that sets it apart from others is the great HD transfer presented here. Shot on 35mm film, the black and white image looks superb with little damage marks to be found, a well balanced greyscal, and great detail. Film grain is visible without any digital artifacts, with a filmic look throughout. The audio which was post-synchronized sounds fair, without any issues of dropout, hiss, or pops.
in 1080p AVC MPEG-4, in 1.33:1, in French LPCM 1.0 with optional English subtitles

"Truffaut, Bazin, Renoir: A Love Story" presentation by Catherine Wheatley (2022) (19:41)
Catherine Wheatley, lecturer in Film Studies at King's College London gives an on stage presentation on Truffaut's relationships with critic André Bazin and filmmaker Jean Renoir, at a Truffaut Study Day at the BFI Southbank on January 29th, 2022. From Truffaut's early days and his time as a film critic writing for Cahiers du Cinéma magazine, and the praise and inspiration he received is talked about as well as introducing film clips to illustrate her words. Unfortunately the clips are mostly absent in this version on the disc, with the only one being the final sequence of "The 400 Blows" being shown.
in 1080p AVC MPEG-4, in 1.78:1, in English Dolby Digital 2.0 without subtitles

"Images of Paris" shorts (with Play All) (7:55)
- Panorama Around the Eiffel Tower (1900) (1:14)
- Lunch on the Eiffel Tower (Topical Budget 149-1) (1914) (1:06)
- Metropolitan Railway of Paris (1913) (5:34)
Presented here are three short films from the BFI archives which feature early filmed footage of Paris. The first is a simple self explanatory panning shot of the area around the Eiffel Tower during the World's Fair in 1900. The short was filmed by the Warwick Trading Company. The second is a Topical Budget newsreel that features a lavish luncheon for visitive representatives at the top of the Eiffel Tower, as well as a great shot of the view from the elevator descending. Finally, the third short is a profile of the lengthy Paris Metro in the early twentieth century, with shots from around the city, shots from within the trains and even the power stations that made it possible to make the electric trains run. All three silent shorts feature their expected wear and damage, though look quite good considering their age of over a century. The music comes from various library cues from Audio Network.
in 1080p AVC MPEG-4, in 1.33:1, Music LPCM 2.0

Image Gallery (1:08)
An automated slideshow featuring black and white stills plus the French theatrical poster, without music or narration.
in 1080p AVC MPEG-4

Original Theatrical Trailer (3:57)
The original French trailer which features a number of quotes raving about the film from critics and filmmakers.
in 1080p AVC MPEG-4, in 2.35:1, in French LPCM 1.0 with optional English subtitles

2022 Theatrical Trailer (1:35)
The BFI's trailer for the re-release is newly edited from the 4K restoration, is very effective and with quotes from a number of contemporary filmmakers and magazines. The trailer has also been embedded below, courtesy of the BFI.
in 1080p AVC MPEG-4, in 2.35:1, in French LPCM 2.0 with burned-in English subtitles



Booklet
A 24 page booklet is included with the first pressing. First is the essay is "The Greatest Film Ever About Childhood" by film writer and lecturer Ellen Cheshire. Next is a biography of Truffaut by writer Kieron McCormack. There are also full film credits, special features information, transfer information, acknowledgements and stills. Though there should have been a better proodreader here. Jean-Pierre Léaud's name was twice spelled as Jean-Paul Léaud, once in Cheshire's essay and once in McCormack's biography. The mistake is also repeated in the BFI booklet for "Jules and Jim" with the same biography being reprinted there.


The film has been a staple of international cinema on home video, with various editions being available on DVD, HD DVD, Blu-ray and most recently on 4K UltraHD Blu-ray, each with differing extras and having differing transfers. The 4K restoration transfer was first made available in the 2021 French "Les Aventures d'Antoine Doinel" boxset from Carlotta, and this UK release from the BFI release is the second and first English-friendly release. While this UK release features good extras, there are some notable extras not included, such as the scholarly commentary by Brian Stonehill and vintage clips on the Criterion release, the audio commentary for "Les mistons" as found on the French boxset, and the Serge Toubiana introduction found on a number of releases. In addition, the 4K restoration was released on the 4K UHD format in France only so far.

The BFI published The 400 Blows: finding that beach and the Paris locations today earlier this year as part of their "Then and Now" series with comparison pictures of various locations from the film.

Other notable clips:

The original UK theatrical trailer, courtesy of the BFI


Jean-Pierre Léaud at the 1959 Cannes Film Festival for the film, courtesy of The Criterion Collection


Filmmaker Robert Weide's comments on the film from Trailers from Hell


Beck's music video for "Devil's Haircut" directed by Mark Romanek, which paid homage to the film with the freeze frame zooms.



This is an unofficial pairing by a fan, but here is the final sequence of the sequence, played with The National's song "This Is the Last Time" as a wonderfully perfect fit.


Overall


"The 400 Blows" is an undeniable classic of youth cinema and the genesis of the French New Wave, featuring an unforgettable performance by the young Jean-Pierre Léaud in Truffaut's first feature. There are very few films that are as influential as this and continues to influence and inspire filmmakers and filmgoers equally, and should not be missed. The BFI Blu-ray release features a questionable 4K restoration that has its positives and its flaws, along with a good selection of new and vintage extras, making this recommended.
| | | | | |
| --- | --- | --- | --- | --- |
| The Film: A+ | Video: B | Audio: A | Extras: B | Overall: B+ |