The Film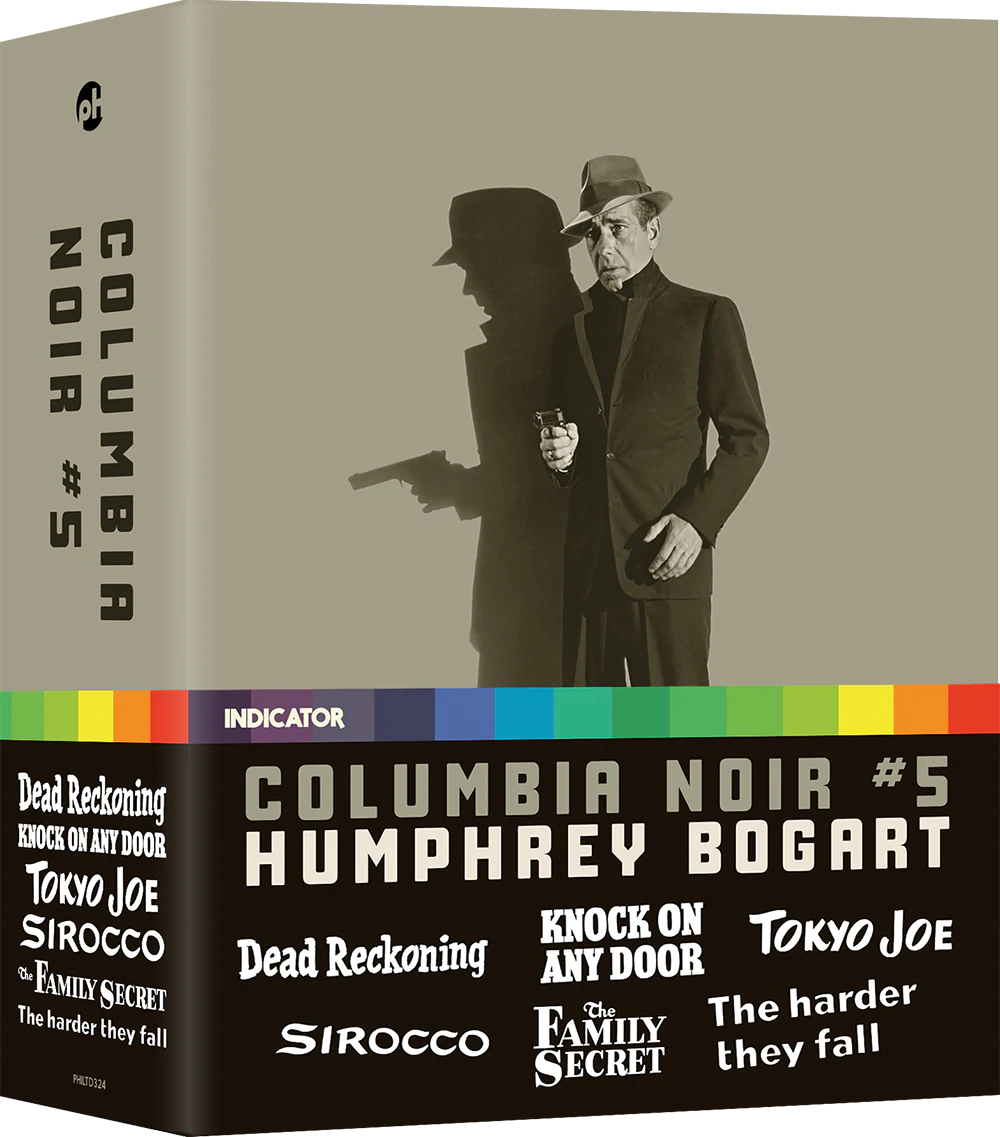 A fifth foray into the film noir output of Columbia Pictures, but, this time, with a twist. Not only does this volume bring together six more gems from the studio's archives, but it also serves as a showcase for the great Humphrey Bogart.

Having established his stardom in the gangster pictures of the 1930s, Bogart fit easily into the world of film noir, where he was equally at home playing troubled servicemen, slick-talking lawyers, black marketeers, gambling den owners, or hard-up journalists.

Columbia Noir #5: Humphrey Bogart brings together five of the iconic actor's starring vehicles: John Cromwell's Dead Reckoning, Nicholas Ray's Knock on Any Door, Stuart Heisler's Tokyo Joe, Curtis Bernhardt's Sirocco, and Mark Robson's The Harder They Fall, plus Henry Levin's The Family Secret, a rarity starring Lee J Cobb and John Derek that was produced by Bogart's Santana Pictures, an outfit that regularly delved into the seedy, shadowy world of noir.

Featuring a stunning 4K restoration of The Harder They Fall, and with Sirocco and The Family Secret appearing on Blu-ray for the first time anywhere in the world, this stunning collection includes newly recorded commentaries and critical appreciations, archival documentaries and short films, and a 120-page book. Strictly limited to 6,000 numbered units.

Video


A 1946 Bogart noir I had never seen before. It's not in the same league as the likes of The Big Sleep (1945) or The Maltese Falcon (1941) but it's still good value. A typical 1940s monochrome thriller framed in Academy 1.37:1, and it's been looked after very well. I suspect Sony's excellent HD master has been taken from the OCN.

Gamma is perfectly balanced with no colour bias creeping in (long gone are the days of a green tinge creeping into old standard def masters). Black levels are suitably dark and deep with plenty of shadow detail. Contrast allows detail to show through on all focal planes with only optical transitions showing detail loss but that's par for the course for productions made in the photochemical era. Grain is ever present, sometimes very course but mostly fine. Coarseness increases during those optical transitions and in the odd low light sequences and in scenes with back projection like the scene with Bogart and Lizbeth Scott with a beach backdrop (at 50 minutes).

I could see no signs of age-related wear and tear, the image is pristine which, frankly, is pretty typical for these Sony noirs. The encode is superb and no digital tinkering has been used. Overall the image quality is first rate and about as good as it could be short of a 4K release with HDR ('A').

1080p24 / AVC MPEG-4 / BD50 / 1.37:1 / 100:29

Audio


English LPCM 1.0 (48kHz)
Subtitles: English HoH

Sound is very solid despite lacking the kind of range we expect in modern multichannel soundtracks. Dialogue is incredibly clear to the point where ADR work stands out like Trudy Stevens' singing voice dubbed over Lizbeth Scott and Bogie's narration has that slightly closeted quality from being done in a sound proof booth. No distortions, always clear and a strong track ('B').

Thorough hard of hearing subtitles are provided.

Extras


DISC ONE: Dead Reckoning

Audio commentary with Alan K. Rode (2022)

Noir specialist Rode has programmed many festivals of noir films and is obviously a good choice. A fact packed track which increases one's appreciation for this solid film. In fact, I'd say that the yaktrak is actually more interesting to me than the film itself which I found to be decent but unremarkable. Presented in lossy Dolby Digital 2.0 mono.

"A Pretty Good Shot: Tony Rayns on Dead Reckoning" 2022 interview (16:37)

A nice overview of the film, it's history and where it sits in Bogart's and Scott's careers. Rayns has been around for decades (I remember him introducing A Chinese Ghost Story on 27.2.1988) and is always well worth watching. He covers the director, members of the cast, the narrative structure amongst other aspects. Rayns is also quite honest about the film's shortcomings. 1080p24 1.78:1 with lossy Dolby Digital 2.0 stereo.

Dead Reckoning Image Gallery: Original Promotional Material (78 images)

More than solid HD gallery.

"Watchtower Over Tomorrow" 1945 short film (15:45)

Presented in 1080p24 1.37:1 with very tinny lossy Dolby Digital 1.0 sound. Image quality is soft and is probably from a film print. There's no major damage but the odd speckle does rear it's head. A fascinating piece about the early days of the United Nations.

120-page liner notes book with a new essay by Imogen Sara Smith, extensive archival articles and interviews, new writing on the various short films and film credits

A chunky hardcopy companion to the six films in this set. Dead Reckoning gets 12-pages devoted specifically to it.

Packaging


Unspecified at the time of writing.

Overall


Disc one in the fifth Columbia Noir set from Powerhouse Films features the first of five Humphrey Bogart starring noirs. As with sets 1-5 the image and sound is excellent and the extras are not copious but are choice. I'm missing the Three Stooges shorts but this is a great package nonetheless.
| | | | | |
| --- | --- | --- | --- | --- |
| The Film: B | Video: A | Audio: B | Extras: B+ | |