The Film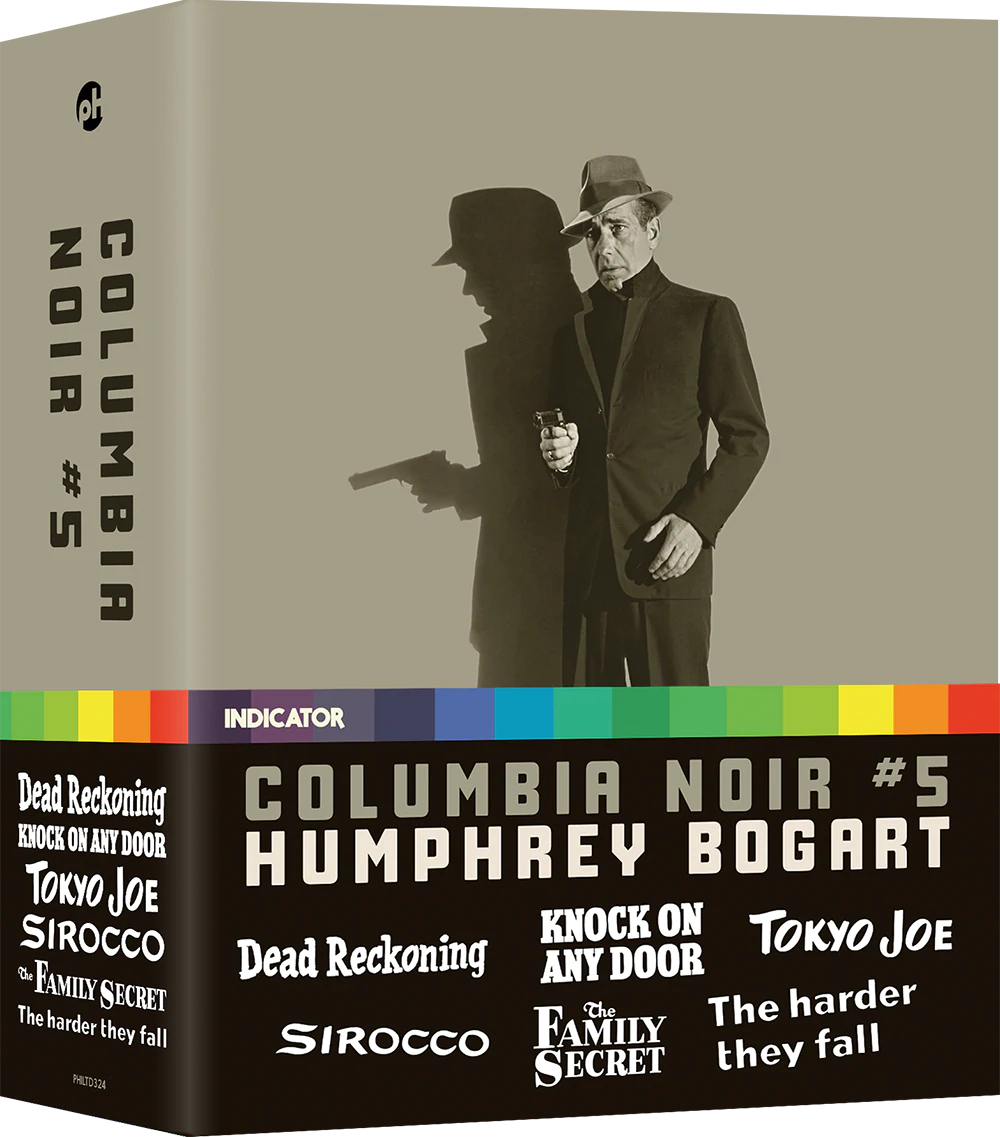 A fifth foray into the film noir output of Columbia Pictures, but, this time, with a twist. Not only does this volume bring together six more gems from the studio's archives, but it also serves as a showcase for the great Humphrey Bogart.

Having established his stardom in the gangster pictures of the 1930s, Bogart fit easily into the world of film noir, where he was equally at home playing troubled servicemen, slick-talking lawyers, black marketeers, gambling den owners, or hard-up journalists.

Columbia Noir #5: Humphrey Bogart brings together five of the iconic actor's starring vehicles: John Cromwell's Dead Reckoning, Nicholas Ray's Knock on Any Door, Stuart Heisler's Tokyo Joe, Curtis Bernhardt's Sirocco, and Mark Robson's The Harder They Fall, plus Henry Levin's The Family Secret, a rarity starring Lee J Cobb and John Derek that was produced by Bogart's Santana Pictures, an outfit that regularly delved into the seedy, shadowy world of noir.

Featuring a stunning 4K restoration of The Harder They Fall, and with Sirocco and The Family Secret appearing on Blu-ray for the first time anywhere in the world, this stunning collection includes newly recorded commentaries and critical appreciations, archival documentaries and short films, and a 120-page book. Strictly limited to 6,000 numbered units.

Video


My comments for Dead Reckoning (disc one) apply to discs two (Knock on Any Door, 1949) three (Tokyo Joe, 1949), four (Sirocco, 1951) and five (The Family Secret, 1951) as they're all shot using the same format: Academy 1.37:1 monochrome by the same studio. Only disc six (The Harder They Fall, 1956) is presented in a matted widescreen circular lens format so that will have a different overall feel and will be dealt with seperately.

Gamma is perfectly balanced with no colour bias creeping in. Black levels are suitably dark and deep with plenty of shadow detail. Contrast allows detail to show through on all focal planes with only optical transitions showing detail loss but that's par for the course for productions made in the photochemical era. Grain is ever present, sometimes course but mostly fine. Coarseness increases during those optical transitions and in some sequences with low light.

I could see no signs of age-related wear and tear, the image is pristine which, frankly, is pretty typical for these Sony masters. The encode is superb and no digital tinkering has been used. Once again, the image is as good as can be short an UHD BD ('A').

1080p24 / AVC MPEG-4 / BD50 / 1.37:1 / 98:20

Audio


English LPCM 1.0 (48kHz)
Subtitles: English HoH

All of the discs in this set sound very solid despite lacking the range and depth we expect from modern mixes with their multichannel directionality. Everything is front and centre, unless the viewer pumps it through all channels at once. I heard no distortions beyond the usual slight variations caused by the limited range of sound equipment at the time and due to ADR work in post production. It's always clear and a strong track of era ('B').

The usual excellent hard of hearing subtitles are provided.

Extras


Audio commentary with Alexandra Heller-Nicholas and Josh Nelson on Sirocco (2022)

Two experienced Australian film scholars tackle the film and Bogart. They kick off discussing that the Syria-set Sirocco isn't one of the most highly regarded or fondly remembered Bogart films. We hear about the film's literary origins, the fact it's made entirely in Hollywood, the French occupation of Syria and history of the country that sets the stage for the film's story. We also get all the usual information on cast and crew. Presented in lossy Dolby Digital 2.0 mono.

"The South Bank Show: Bogart - Here's Looking at You, Kid" 1997 TV episode (51:31)

A late '90s UK TV production presented in standard definition 1.33:1 with lossy Dolby Digital 2.0 stereo. It's been made on a mixture of PAL standard broadcast video with clips taken from film sources. Excellent entry in the long-running LWT ITV series is narrated by Melvyn Bragg and is an overview of Bogie's life and career focussing in his acting roles and from the point of view of his son Stephen.

Sirocco Image Gallery: Original Promotional Material (36 images)

Solid HD gallery of promo material.

120-page liner notes book with a new essay by Imogen Sara Smith, extensive archival articles and interviews, new writing on the various short films, and film credits

Sirocco gets nine pages devoted to it amongst the other films in the set and some articles on Bogart and Bogart at Columbia.

Packaging


Unspecified at the time of writing.

Overall


Disc four in the Columbia Noir #5 set themed around Humphrey Bogart contains Sirocco (1951). This film is another more exotic noirs based in a fabulously evoked studio-based foreign locale. As with the others in the range, image and sound is excellent and the extras are well done.
| | | | | |
| --- | --- | --- | --- | --- |
| The Film: B- | Video: A | Audio: B | Extras: B+ | Overall: A |