The Film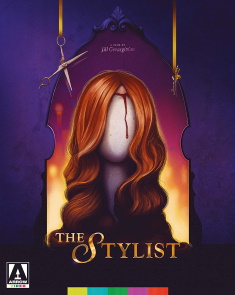 New Visions Award (Best Motion Picture): Jill Gevargizian (nominated) - Sitges - Catalonian International Film Festival, 2020
Chainsaw Award (Best First Feature): Jill Gevargizian (nominated) - Fangoria Chainsaw Awards, 2022

Claire (Contracted's Najarra Townsend) is an introverted Kansas City hairdresser who only truly feels comfortable in her own skin while she is wearing the scalps of customers unlucky enough to request an afterhours appointment. Apart from the people she encounters in her daily routine – like coffee shop barista Dawn (I am Lisa's Sarah McGuire) – Claire is virtually invisible even to her own clients; that is, until regular customer Olivia (After Midnight's Brea Grant) presses her to violate her rule against styling her hair for her upcoming nuptials. Although Claire is accustomed to impersonal small talk to fill the silence, she starts to come out of her shell and reveal the circumstances of her loneliness in response to Olivia confiding her own doubts as a career woman nearing middle age who may have picked a man (Blue Heaven's David DeRock) who she believes does not really "see" her. Claire lies about shared interests with Olivia but determines to change herself for the better, sealing off her basement shrine of scalps and being more outgoing; however, she once again feels like an outsider after overhearing Olivia's friends talking about her at the bachelorette party. When Olivia become preoccupied with other aspects of the wedding and no longer "needs" her, however, Claire finds herself falling back on old, murderous habits.

Bearing a surface resemblance to Bill Lustig's grindhouse slasher Maniac – perhaps, more so its slicker remake – The Stylist is perhaps more relatable not due to its relative restraint in graphic violence and a more conventionally attractive lead as its focus less on the backstory circumstances of the killer's trauma than the ways in which she relates to the outer world. It is easy for some to see the relationship between the two lead characters: the loner caught off-guard by sudden friendliness and warmth habitually blaming and mercilessly interrogating oneself when it is withdrawn – further frustrated by the inability to speak up for fear of seeming clingy – or making an overture of friendliness to someone who seems lonely and then realizing the immensity of what one is taking on. Claire's chic make-up and hair is a professional mask of someone who does not feel comfortable in their own skin, as evidenced when anyone actually attempts to see beneath the surface. Townsend is compelling in the showier role, but Grant is also to be commended with a character that has to risk coming across to the audience as unsympathetic for dismissing and disregarding the more worrying instances of Claire's behavior. Claire's outward psychological deterioration is perhaps not so abrupt as it seems, since her series of reckless decisions – including targeting a victim close enough to her to wind up an unclear images of a person of interest in the disappearance – suggests that her violent and morbid means of coping with her inner damage is no longer working; which perhaps justifies the film's decision to fade out after its simultaneously grisly and tragic punchline without any need for conventional resolution. The feature debut of writer/director Jill Gevargizian, an actual Kansas City hairdresser who cut her teeth in short films – including a well-received earlier take of The Stylist – the film may have you wondering next time you are in the barber's chair and see that blank look whether your barber is thinking of scalping you or working out an idea for a film.

Video


Shot with RED cameras, Arrow's 1080p24 MPEG-4 AVC 2.39:1 widescreen image goes against the grain of modern horror films, favoring a warm, glamorously soft, and saturated color grade in which red wardrobe and dιcor accents are more vivid than the bloodshed, thematically in keeping with the theme of things hidden beneath surface artifice. Fine detail is not a priority in wider shots but it reveals itself in facial features, wardrobe textures, skin (real and latex), and particularly hair.

Audio


The sole audio option is a DTS-HD Master Audio 5.1 track that is generally front-oriented in its intimacy with spare use of the surrounds in most of Claire's scenes (including some outdoor scenes in which she is alienated from her surroundings) while the soundscape in Olivia's world is busier (both of which come together in the bachelorette party and wedding scenes). Optional English SDH subtitles are provided.

Extras


The film is accompanied by an audio commentary by co-writer/producer/director Jill Gevargizian and actress/producer Najarra Townsend in which they discuss the 2016 short film – which also featured Townsend – the technical and stylistic elements carried over from it by Gevargizian and cinematographer Robert Patrick Stern, and the underlying differences that classify the film as an outgrowth of the short rather than an expansion of it. Gevargizian also discusses shooting in Kansas City and finding locations – the salon in the feature is the one in which she works while the owner of the salon from the short appears here in a supporting role as another stylist – working with a combined local and Chicago crew, sourcing music for the film (Townsend's own band can be heard during the first coffee shop scene), as well as the continuity difficulties of shooting hair styling which may explain why it is not often a subject for a film. Most intriguing is Gevargizian's admission that the theme of the double did not figure as prominently into the film until she read about it in Kier-La Janisse's "House of Psychotic Women: An Autobiographical Topography of Female Neurosis in Horror and Exploitation Films", started watching films for research, and concedes a heavy influence of Persona.


"The Invisible Woman" (20:14) is a visual essay by author and critic Alexandra Heller-Nicholas who discusses the film within the context of how the invisibility and disposibility not only of women but their work contributions outside of the home sphere extends to notion of women "in" horror and "as" horror fans as well as the "work" of female serial killers. Of the latter she both notes the statement of a noted profiler that "there are no female serial killers" as well as contrasting the depiction of male serial killers in film and television as cunning and charismatic with the ability to blend in with female ones who are marked by their hysteria, jealousy, revenge motives, and an irrational spontaneity (in contrast to the murder as a fine art or as a perversion of masculine pursuits in the male half).

"The Stylist: Behind the Scenes" (66:04) is an eight-part documentary in which Gevargizian and co-writer Eric Havens discuss their earlier shorts and the surprise performance of The Stylist short and being unprepared for the "where is the feature" question of festival viewers who assumed that the short was intended as a preview or teaser, the process of expanding it to feature-length including adding and taking out overly-explanatory backstory which they felt would prevent viewers from relating to Claire by filling in information themselves and eventually finding fresh eyes with co-writer Eric Stolze. Discussion moves to the Kickstarter campaign and Gevargizian attending festival and asking other first-time feature directors how they got their projects off the ground, Townsend giving her "homework" in the form of a horror watchlist, her own research into the genre, and the actress collaborating on the drafts with the backstory she built up out of the character following the short. Grant, who was collaborating with Gevargizian on a project yet to be made, recalls her reaction to the short and her decision to take the offered role. Gevargizian and Townsend elaborate on the doppelganger nature of the two female characters – noting that many of the contrasts between the two are a projection of how Claire sees Olivia as a sort of muse – while producer/production designer Sarah Sharp, cinematographer Stern, and editor John Pata discuss the visual "rules" employed in constructing Claire's worldview. Other topics of discussion include filming in Kansas City, the receptivity of the city to artists, the local crew, and their worries that filming would be disrupted by the Super Bowl that year (with the parade set to pass right outside the setting used for the nightclub).


"Location Shooting" (4:11) contrast stills of the locations with footage from the film while outtakes are amusingly-labeled as "Hair Trimmings" (6:31) but hold less interest than the Original Kickstarter Video (2:30) in which Gevargizian discusses the reception of the short film and highlights what she has done since then as a means of conveying her experience gained before taking up her feature debut. The aforementioned short film "The Stylist" (14:58) is included, revealing the seeds of visual ideas refined in the feature as well as presenting a more outspoken Claire that proves that the more dour turn in the feature was a series of deliberate acting choices. The short also reveals a strain of humor not carried over as well as the greater restraint shown in the gore scenes of the feature.

Also included is Pata's short film "Pity" (9:01) – with an optional introduction by the director – which includes the participation of number of common crew as well as Gevargizian credited as executive producer and production assistant. The disc closes out with a teaser trailer (1:03) and theatrical trailer (1:46) as well as two image galleries of production stills (5:40) and location scouting (7:40).

Packaging


Both this limited edition and the standard edition come with a reversible sleeve featuring original and newly commissioned artwork by Sara Deck. Limited to this two-disc set is an eight-track soundtrack CD featuring score cues and songs from local Kansas City artists, as well as a double-sided foldout poster, and an illustrated collector's booklet featuring new writing on the film by Emma Westwood and a gallery of exclusive location scouting photographs (the latter two not provided for review).

Overall


The Stylist may have you wondering next time you are in the barber's chair and see that blank look whether your barber is thinking of scalping you or working out an idea for a film.