The Film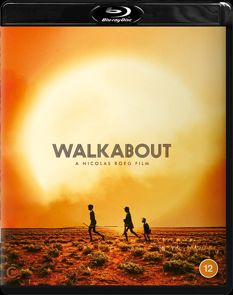 Palme d'Or: Nicolas Roeg (nominated) - Cannes Film Festival, 1971

One sunny day, a British company man (Picture Show Man's John Meillon) drives his teenage daughter (Dominique's Jenny Agutter) and younger son (director Nicolas Roeg's son Luc Roeg, billed as "Lucien John") out of Adelaide to the Outback for a picnic. While the girl is listening to the radio and the boy is running around with his toy soldiers, their father suddenly pulls out a gun and opens fire on them. The pair take shelter, with the boy believing that they are playing a game, but the daughter realizes that they are on their own when she sees her father torch their car and turn the gun on himself. She grabs what she can from the remains of the picnic – immediately set upon by ants – and the siblings head off into the Outback with the girl telling her brother that they are supposed to meet their father back in the city. Their trek seems to take them farther and farther from signs of human life, and they are on the verge of dying of thirst when they meet an Aboriginal boy (The Last Wave's David Gulpilil) on walkabout. The girl is frustrated by her inability to communicate with him, but her brother is able to convey their need of sustenance and he shows them how to dig for water and feeds them from the animals he has hunted down with only a spear. The journey in search of "civilization" changes all three of them, but not in the ways one would expect…

Based on a novel by Donald G. Payne (The Island at the Top of the World) and adapted as a fourteen-page initial draft by playwright – scripter of the English dialogue for the screenplay of Blow-Up – Walkabout has adolescent protagonists but it is not a children's film or even a family film. It is not the story of characters enlightened by stepping out (or being forced out) of everything familiar; rather, it is a despairing portrait of thwarted communication and the fear of other worlds. The girl cannot drop her cultivated civility – she is introduced as a private school girl in a music class taking voice lessons that seems to start at rudimentary syllables – to try to convey her need of water ("You must understand. Anyone can understand that. We want to drink. I can't make it any simpler") while the boy can only relate to the Aboriginal boy as another child. The Aboriginal boy speaks but his dialogue is never subtitled – indeed, the screenplay designates his dialogue as "XXXXX" without any importance as to what the character may be trying to get across to them – and the glimpses we see along the way of "civilization" are characterized by sex – cutaways to a German (cold), Italian (hot-blooded), and white Australian (aloof) group of scientists setting up weather balloons, with all of the men's attention drawn to the open shirt of the expedition's sole woman (Noeline Brown) or – and violence in the form of a pair of poachers who the Aboriginal boy witnesses shooting down kangaroos. It seems as much this act of violence as much as the girl's shunning the overtures of his mating dance that leads to the film's tragic climax and the bittersweet ending.

Former cinematographer Roeg also photographed the film himself – with special macro photography shot by Anthony B. Richmond who had worked under Roeg on Fahrenheit 451 and Far From the Madding Crowd and would later shoot Don't Look Now and The Man Who Fell to Earth – and creates much of the undertone of sexual awakening with shots of bare tree limbs (sometimes seen from within the tree seemingly splayed open towards the camera) with the trio hanging on them like children clinging to their mother's leg, and works with his editors achieve moments of spatial dislocation in which something familiar turns up in unfamiliar terrain while John Barry (Out of Africa) alternates digeridoo and electronic music pieces in the city scenes and more "traditional" accompaniment in the desert from string music to children's songs like "Who Killed Cock Robin", and long after the batteries of the girl's radio must have died, the action is underscored with songs like Rod Stewart's "Gasoline Alley" and Warren Marley's "Los Angeles" as seeming reminders of how far away the world of the white siblings seems from where they are. Agutter went on to become a British actress of note while the junior Roeg has since become a producer with credits like Cronenberg's Spider and We Need to Talk About Kevin, and Gulpilil has been a major Aboriginal presence in Australian cinema (in spite of his outsider role here, Meillon has elsewhere represented the dark side of the Outback in Wake in Fright and Inn of the Damned and its lighter side in Crocodile Dundee and Crocodile Dundee II).

Video


Released theatrically in the US and UK by Twentieth Century Fox, Walkabout was more heard of than seen during the early video age, having a UK tape release from Polygram in the nineties and a US widescreen VHS from Home Vision coinciding with the Criterion Collection laserdisc. In the DVD era, Universal put out a barebones, non-anamorphic edition in the UK while Criterion put out their first edition in 1998 also featuring a non-anamorphic transfer but porting the Roeg/Agutter commentary from their laserdisc. An anamorphic reissue followed in 2010 with new extras accompanying their Blu-ray edition from a 2K scan of a 35mm preservation interpositive with grading approved by Roeg, and that master was used in the U.K. by Universal for their 2012 Blu-ray (still extras-free) and, more recently, for Umbrella Entertainment's 2019 Blu-ray edition.

Second Sight's 1080p24 MPEG-4 AVC 1.85:1 widescreen transfer - previously issued as a limited edition with a special case and paper extras in 2020 - is derived from a brand new 4K scan and restoration, and the results certainly are gorgeous with a vibrant color palette in which everything from desert sand, greenery, and even the blush of fevered skin is richer as is fine detail. It looks quite different at times (I suppose the aquamarine of the swimming pool early on makes sense as a paint job) from the Roeg-approved 2K scan so some may wish to hang onto the earlier Blu-ray but this certainly is not a bad way to see the film.

Audio


The LPCM 2.0 mono mix is not particularly vibrant but dialogue and the scoring sound crisp while the songs have an appropriately far away feel in the mix at times while there is some pointed use of sound effects from gunfire to the yelp of a speared animal. Optional English HoH subtitles only transcribe the English dialogue as intended.

Extras


The disc also includes an archival introduction by Nicolas Roeg (3:54) but the rest of the extras are also new. In "Producing Walkabout" (10:07), producer Si Litvinoff recalls being in English while producing All the Right Noises) – in which Roeg's older sister Nicolette Roeg appeared – and courting Roeg to direct A Clockwork Orange (a project he also offered to Roman Polanski and Tinto Brass with the later turning down like Roeg to make a more personal project with the provoactive and contreversial The Howl for Dino De Laurentiis), but seeing that Roeg was more interested in adapting Walkabout. They had trouble finding investors until apparel company owner/producer Max Raab allowed him to put the million dollars he gave him for A Clockwork Orange toward getting Walkabout off the ground. In "Luc's Walkabout" (11:09), Roeg's son states that he was not a child actor, and that the project was more of an adventure. He also discusses working with his father, Agutter, and Gulpilil, and also interprets the film as being about a "sexual awakening." In "Jenny in the Outback" (19:20), Agutter recalls when Roeg first offered her the part, the brief involvement of Apple and her thrill at possibly getting to meet The Beatles, and feeling that it was more appropriate that she was a little older when the film did go into production. She also notes that Gulpilil had no acting experience but he was a dancer and had done competitions, so he did have experience in presenting himself visually.

In "Remembering Roeg" (18:31), filmmaker Danny Boyle (28 Days Later) compare Roeg to Picasso and discusses the influence of Roeg's style of visual association, editing, and his use of sound in exploring the "unused potential of cinema." He also discusses Roeg's use of rock stars as actors and the associated dangers, reassess Agutter's performance in the film, and points out the film's theme of separate worlds, noting that it is not an adventure or a rescue film. The late Roeg is also present in a 2011 BFI Q&A with director Nicolas Roeg, actress Jenny Agutter, and actor Luc Roeg (16:55) in which the director also recalls the importance of Raab in getting the film into production, and adapting the essence of the book with Boyd and his fourteen-page initial draft (a longer but not quite feature-length script went into production). Agutter recalls Roeg falling in love with her schoolgirl uniform, notes the presence of Luc Roeg's older brother (who was supposed to play the role early on) in the audience, and recalls how the crew filming them rarely felt intrusive. The younger Roeg recalls living the film, and he and both Agutter note the locations discovered by Roeg while filming.

Packaging


Dropped from this standard edition are the softcover edition of the source novel 'Walkabout' with exclusive cover artwork, a softcover book featuring facsimile copy of the original 65-page first draft script with preface by Daniel Bird, or the softcover book with new essays by Sophie Monks Kaufman, Simon Abrams and Daniel Bird plus stills and lobby card images housed in a rigid slipcase with new artwork by Michael Boland. The video extras should more than suffice for the casual viewer.

Overall


Nicolas Roeg turning down A Clockwork Orange as his follow-up film to his co-directed debut Performance in favor of Walkabout ultimately allowed him to start developing his own cinematic language without big studio interference, resulting in a cult classic of a very different nature than the eventual Kubrick film.