The Film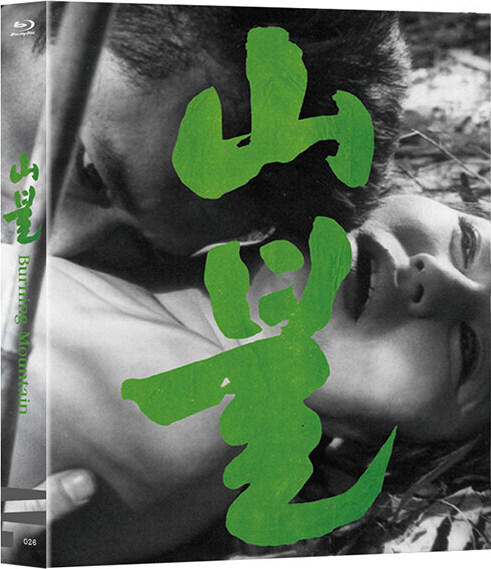 "Burning Mountain" <山불> (1967)

Taking place in a rural mountain village in the midst of the Korean War, which is almost entirely populated by women as the men were drafted to fight on the front lines. Jeom-rye (played by Ju Jeung-nyeo) is a widow who suddenly gets dragged from her home by a man and into the nearby bamboo grove. The man, Gyu-bok (played by Shin Young-kyun), a school teacher has sided with the communist guerilla army of the north kidnaps her to rape her, but the sexual frustration was mutual, as the desire to make love was shared by Gyu-bok's appetite as well. She starts bringing him food and clothes and helping him hide in a cave in the grove, but when Sawol (played by Do Kum-bong), another widow sees their interaction, she takes advantage of the situation for her own desperation through blackmail...

"Burning Mountain" was originally a stage play which was written by Cha Bum-seok, first published and performed in 1962. Five years later it was adapted for the screen by Taechang Enterprises and directed by Kim Soo-yong as his 45th feature film. Kim, 37 years old at the time had a diverse filmography, from war films to comedies to melodramas, though he made his mark by directing adaptations of literary works in the 1960s witha number of them being commercial and critical successes. For "Burning Mountain" which the play was adapted to screen by writer Shin Bong-seung was quite an explicit take on sexuality and wartime tension, which didn't look at the Korean War from a political standpoint but from a carnal perspective.

The opening of the film is an interesting one, taking place in the bamboo grove in the mountainside where the village women and women of the north exchange for food as not to be caught by officials. But after a small quarrel, the women break the fourth wall by talking directly to the audience of their situation and how the war has led the men away and the difficulties faced by everyone on both sides. The audience is immediately drawn in as not just voyeurs but participants in the illegal trade. When the kidnapping of Jeom-rye happens, it is a tense and disturbing sequence, as she cannot call out for help with her mouth covered, and Gyu-bok having his way with her without any dialogue being exchanged. But their fears quickly turn to sensual. While there are extreme closeups on the two and shots of clothing ripping, there is no nudity or explicit details to be had as it conformed to censorship of the period, though the implied nature of what transpired is obvious. It takes some time within the film to see any spoken dialogue between the two, and when facts are poured out, their bond deepens with sympathetic feelings toward each other. The bamboo grove, the shots of the sky through the trees, the frequent camera movements are very reminiscent of "Rashomon" (1950) especially with the cinematography by Hong Dong-hyeok weaving in and out of the grove. Though in this case there is little mystery to be found as it is a straightforward story with only one major flashback to be seen, and that is also a stylistically interesting one. Gyu-bok's flashback to his days as a schoolteacher is shown entirely in color while the rest of the film is in black and white. The color scenes are filmed with a circular matte like looking in a peephole, seeing a world that was brighter and more lively with schoolchildren smiling and playing, rather than the bleak and desperate black and white of the present period.

But Jeon-rye is not alone at home, as she lives with her mother-in-law (played by Han Eun-jin) who is quite feisty even at her older age, and her late husband's elderly and senile grandfather (who is uncredited) who seems to be the only male in town. There is also Gyui-deok, her younger sister who is an adult but has the mental capacity of a child that she takes care of. With the stress of home life as a widow and a fulltime caretaker of her family members, the pleasure of having any kind of sexual relation from an outsider must remain silent. But it is the manevolent Sawol that takes advantage of the situation, by blackmailing Jeom-rye after finding out the affair within the grove. She also wants in on carnal pleasure which she has not experienced for a long period, and by threatening to disclose the information about Gyu-bok's hiding, she gets her way. While Jeom-rye has a slightly frightenened and sad look to her, Sawol is on the sadistic side, as her first encounter with Gyui-dok is by licking his legs, pretending she is Jeom-rye.

"Burning Mountain" takes the title from the burning desires taking place in the mountains where the story is set, though it also has a double meaning with a forest fire towards the end that is a bit of a spoiler. Sex is the central focus of story though it also deals with the morals of sex, the desperation caused by war, while also having comical portions with some of the villagers and their quirkiness. The heavier points of love and war are stronger here, as the secondary village characters do not have too much of a presence or a threat to the plot, though a few interesting moments happen such as when the grandfather mistakens Gyui-deok as a new helper for the farm. With an incredibly lean runtime of 79 minutes, the film is straightforward, yet has a constant amount of surprises with lust, comedy, and tragedy. "Burning Mountain" was theatrically released on April 22nd, 1967 and was a major hit with the critics, winning three awards at the 5th Blue Dragon Film Awards, with Best Film, Best Screenplay, and Best Actress for Ju Jeung-nyeo.

Kim Soo-yong's career as a director was already well established, with films such as "Henpicked Husband" (1958), "Bloodline" (1963), "Sorrow Even Up in Heaven" (1965), "The Seashore Village" (1965), as well as with "Confession of an Actress" and "Mist", both released the same year as "Burning Mountain" and being highly acclaimed award winners. In addition, he would later remake "Burning Mountain" in 1977 with a new cast and in color. The 1970s and early 1980s proved difficult due to financing of South Korean productions becoming difficult as well as censorship becoming stricter. 1986's historical drama "Jung-gwang's Nonsense" was the last straw for him, as the government censors demanded dozens of cuts, leading him to effectively retire from the film business, saying that he could no longer work in such a censor heavy environment. He would return to the director's chair over a decade later in 1997 with "The Love Apocalypse", a Korean-Japanese production shot in Japan, and finally returning to his home country to direct "Scent of Love" in 2000, as his 109th feature film. Ju Jeung-nyeo was born on February 11th, 1926 and made her feature film debut in 1949 at the age of 23 in "The Woman's Diary", the first Korean film shot in color. She was a prolific actress starring in films such as Dongshimcho" (1959), "The Housemaid" (1960), "Ah! Baekbeom Kim Gu" (1960), "Goryeojang" (1963), "The Barefooted Young" (1964), "Sorrow Even Up in Heaven" (1965), "Yongary: Monster from the Deep" (1967), "Mist" (1967), and her final film that was released was in 1977 with "Night Journey", which was also directed by Kim Soo-yong, although it was originally filmed in 1973 and delayed due to government censorship issues. Unfortunately her career was cut short when she suffered a sudden stroke on September 18th, 1980, killing her at the age of 54. Shin Young-kyun was born in 1928, and as an actor he has had a lengthy career with over 300 works, including "Ah! Baekbeom Kim Gu" (1960). "The Coachman" (1961), "Under the Sky of Seoul" (1961), "Five Marines" (1961), "Mother and a Guest" (1963), "Bloodline" (1963), and "Sorrow Even Up in Heaven" (1965). He entered politics in 1979, leading with an aim for promoting film production and the arts, serving in parliament until his retirement from politics in 2004, which marked a return to acting on stage and on screen. Born on August 27th, 1930, Do Kum-bong also had a lengthy career on screen, debuting in 1957 and having over 300 credits in films. She appeared in "Forever with You" (1958), "Dongshimcho" (1959), "Rhee Syngman and the Independence Movement" (1959), "Under the Sky of Seoul" (1961), and many more. She effectively retired from acting in the 1980s, only appearing in two more features in minor roles while she managed her own restaurant until 2000. She died on June 3, 2009 at the age of 78.

Note this is a region ALL Blu-ray

Video


The Korean Film Archive/Blue Kino presents the film in the original 2.35:1 aspect ratio in 1080p AVC MPEG-4. The original 35mm negative which KOFA acquired in 1985 was scanned at 2K resolution in 2012. The film was given a further digital restoration in 2021 by KOFA and Image Power Station, removing damage marks such as scratches and speckles, stabilizing the image, and color grading the black and white image as well as the short sequence in color. The grey-scale is quite good, bringing out the details of the bamboo grove as well as interior sequences, though there are some minor flickering instances that could be found. The one color flashback sequence also looks fairly good with the color restoration, as the notes say the intercut color negative had more damaage marks than the black and white. Film grain is always visible and there are no instances of digital sharpening or digital artifacts, keeping a very filmic look through the entire feature. Overall another great restoration by the Korean Film Archive.

The film's runtime including the restoration text is 79:56.

Audio


Korean LPCM 1.0
The original mono track is presented uncompressed. The 17.5mm sound negative was digitally restored in 2021 along with the image restoration, removing hiss, pops, crackle, and other damage. As with all South Korean films of the period, sound was entirely dubbed in post-production. There are some instances that mouths do not match completely, but this is part of the original elements and not a synchronization issue. Sound is well balanced with dialogue sounding fine against the music and effects. Another great job here with the audio track.

There are optional English, Japanese, Korean subtitles for the main feature in a white font. They are timed well and without errors to speak of.

Extras


Audio commentary by filmmaker and film critic Chung Sung-il
A newly recorded audio commentary by film critic Chung Sung-il is available, though unfortunately as it follows the recent trend in KOFA Blu-rays, it is not subtitled for non-Korean speakers.
in Korean Dolby Digital 2.0 without subtitles

"Digital Restoration: Before/After" featurette (3:13)
Presented here is a side-by-side comparison of the restoration process of the image, with the unrestored sequences on the left and restored sequences on the right. This is without audio or any narration.
in 1080p AVC-MPEG-4

Booklet
A 44 page booklet is available, with text in Korean for the first half and repeated in English for the second half. First are cast and crew credits and a synopsis. This is followed by a filmography of director Kim Sang-soo. Next are details on the image and sound restoration. The first essay is "Kim Soo-yong: The Prolific Director's Covert Ambitions" written by film critic Kim Young-jin, which details the director's lengthy career, his fights with censorship, and the praises he received. The next essay is "Burning Mountain: Securing the Representative Status of Literary Films with a Modern Approach" which is uncredited, though possibly also written by Kim Young-jin. This essay looks closer at the film itself as well as the background in adapting the original play, and the themes expressed.


This is yet another fairly bare release from KOFA on Blu-ray, which is again frustratingly missing subtitles for non-Korean speakers. It's also unfortunate that they couldn't include a commentary or an interview from the director himself, as he has contributed to commentary tracks in the past for other films and is the last major director from the golden age of Korean cinema still living, turning 93 in 2022. KOFA could have also included their video documentary "Filmmakers Documentary Series: Kim Soo-yong" from 2000, which looked at the director's career and featured interviews with him as well as staff and cast that worked alongside him. The documentary was included in KOFA's Kim Soo-yog Collection and is curiously missing from this Blu-ray release.

Packaging


This is spine #25 in KOFA's Blu-ray series. The disc is packaged in a clear keep case which also holds three postcards, each featuring a still of the three main stars. The keep case and booklet are housed in a slipbox.


Overall


"Burning Mountain" is a thought-provoking and visually wonderful drama with lust and blackmail during wartime struggles, wonderfully directed by Kim Yong-soo. The Korean Film Archive Blu-ray presents a great transfer of the 2K restoration, though extras are a little on the light side. Still comes as recommended.

Note the film is available on the Korean Film Archive YouTube channel with optional English subtitles, though note this is a 2K scan from 2012 with some color correction applied and not the 2021 restoration.
| | | | | |
| --- | --- | --- | --- | --- |
| The Film: B+ | Video: A- | Audio: A- | Extras: C- | Overall: B- |