The Brain from Planet Arous [Blu-ray]
Blu-ray ALL - America - The Film Detective
Review written by and copyright: Eric Cotenas (19th July 2022).
The Film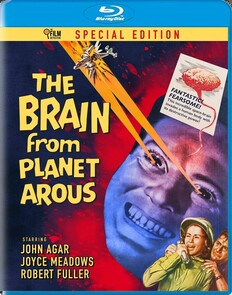 Scientists Steve March (The Mole People's John Agar) and Dan Murphy (What Happened to Aunt Alice?'s Robert Fuller) have been conducting nuclear experiments in the desert when their instruments start picking up intermittent traces of radiation at the base of Mystery Mountain. Having determined that their instruments are not at fault, the pair venture out into the desert where the temperature can reach as high as 120 degrees. They discover a cave that has been recently blown out by persons unknown. Exploring the cave, they find not other humans but the floating brain Gor who immediately kills Dan and possesses Steve. Steve returns home but his suddenly and violently libidinous behavior disturbs his fiancee Sally (The Girl in Lover's Lane's Joyce Meadows) who also starts to suspect that Dan did not really just run off to Vegas for a dirty weekend. When she and her father (Airport's Thomas B. Henry) travel to Mystery Mountain to carry out their own investigation, Gor reveals to Steve that he was deliberately chosen for his access to nuclear materials, and that he intends to establish his domination over the Earth during an upcoming nuclear test. Sally and her father discover the flash-burned body of Dan and the presence of another alien Vol who has been hunting Gor. When Vol tells them that they either need to kill Steve or get to Gor when during the time leaves Steve's body, Sally must get close enough to her fiance to tell him of Gor's vulnerability without the alien finding out.

Blessed (or cursed) with a brain-creature sillier than The Fiend Without a Face, The Brain from Planet Arous is a bit of a disappointment; neither so bad it is good or good enough to overcome the limitations of its budget. While it is refreshing in staging a lot of the action on location and its blatantly sexualized tension between the possessed Steve and heroine Sally – a sci-fi screamer who uses her wits rather than her wiles since Gor's attempted molestation of her using Steve's body is surprisingly frank for a fifties film – there is very little attempt at any subtext along the lines of the film's contemporaries like I Married a Monster from Outer Space or Monster on the Campus (or even Blood of Dracula) for Gor as Steve's libido or his id. He is just a mild-mannered nuclear scientist with no apparent feelings, suppressed or otherwise, to make Gor's use of him for world domination a temptation. Some of the elisions in the script by Ray Buffum (Island of Lost Women) are effective like Steve and Sally coming across the scene of a plane crash in which all of the recovered bodies bear radiation flash burns revealed only after to be a test run for Gor (who may or may not be frustrated by Sally's dismissal of his boasting) but other bits like the plot maneuvers that effect the rather abrupt and underwhelming ending seem slapdash and underdeveloped rather than merely budget- or schedule-constrained.

While most of the film's optical special effects are simply poor – Universal-regular Jack Pierce's make-up effects consist of Agar's alien eyes and a few discreet radiation burn appliances – the recycling of the real desert atomic bomb explosion footage as Gor hijacking the presumably more modest government test with his more destructive one might have been very effective for viewers at the time who have not seen that footage over and over again in other films. Agar, usually entertaining in his sci-fi vehicles, veers between underplaying Steve and chewing the scenery with Gor, with Meadows doing most of the film's heavy-lifting performance-wise (Fuller was a few years away from his prolific television career). Director Nathan Juran, who helmed sci-fi efforts for riVol studios Universal (The Deadly Mantis) and Columbia Pictures (20 Million Miles to Earth), directed this film as well as Attack of the 50 Foot Woman for producer/cinematographer Jacques Marquette (Teenage Monster) – along with the later Flight of the Lost Balloon before his shift to episodic television – under the pseudonym "Nathan Hertz" (Marquette would also give up producing and work prolifically as a cinematographer in shows like The Streets of San Francisco and films like Burnt Offerings).

Video


Released theatrically by New Orleans-based Howco International (Night of Bloody Horror), The Brain from Planet Arous' film elements were swiped up by collector Wade Williams, so video releases from the likes of Rhino Home Video and Englewood Entertainment and Image Entertainment's DVD release (the cover of which gave Marquette the possessory credit for the film rather than Juran). While there is no information about the transfer, the Film Detective's 1080p24 MPEG-4 AVC 1.85:1 and 1.33:1 open-matte encodes are probably the best the film has ever looked on video. Some shots that look soft and fuzzy seem to be due to focus issues since the actors look tack sharp against similarly blurred backgrounds in the exterior sequences. Optical shots are coarser as expected and one wonders if the degraded close-up shots of Agar's alien eyes are due to optical enlargement in an effort to hide a ropey effect. There is at least one instance of missing frames in a subtle jump cut in which the audio seems to have been smoothed over rather than the picture.

Audio


Both versions come with a default DTS-HD Master Audio 2.0 mono audio track – a lossy Dolby Digital track is also selectable via remote – that is free of any age-related issues with clear dialogue, effects, and scoring and some faint hiss for the discerning ear during the silences. Optional English SDH and Spanish subtitles are provided.

Extras


English SDH and Spanish subtitles also extend to the disc's special features staring with an audio commentary by author/film historian Tom Weaver, film music historian David Schecter, filmmaker Larry Blamire, and actress Joyce Meadows all separately recorded. Weaver provides background anecdotes and framework for comments from the others – Meadows pops up intermittently, noting her various ad-libs that Juran allowed her in order to give the character some added dimension beyond the script – but he is also not afraid to express both his fondness for the film but also point out its various absurdities, including the unlikely casting of Agar and Fuller as scientists. Weaver also reveals that on the previous Marquette production Teenage Thunder, star Chuck Courtney fought hard to get Fuller cast as his rival (the producers wanted Edd Byrnes). Most touching is Weaver's account of his interview with Fuller who had resolved to give no more interviews but consented because of how important Teenage Thunder and The Brain from Planet Arous were to the start of his career. Meadows' participation is refreshing since the track otherwise resorts to Weaver's practice of including voice artists to imitate personalities to deliver lengthy quotes which is often more distracting than informative.

"Not the Same Old Brain" (11:40) is less of an interview with Meadows than an introduction to the Blu-ray edition. The spry actress is game and in character as she revisits the Griffith Park locations and recalls her experiences fighting the "megalomaniacal, sex-crazed brain" as well as her other credits with Agar. "The Man Before the Brain: Director Nathan Juran" (11:42) is a visual essay narrated by film historian Justin Humphreys who discusses Juran's beginnings starting out as an architect, joining the Navy and John Ford's photographic unit, getting into art direction after the war and winning the Academy Award for his work on How Green Was My Valley and his first opportunity to direct under producer William Alland when Joseph Pevney quit The Black Castle followed by The Deadly Mantis, The 7th Voyage of Sinbad and 20 Million Miles to Earth with Ray Harryhausen, up to his meeting Marquette. There is some overlap with "The Man Behind the Brain: The World of Nathan Juran" (13:52) in which filmmaker C. Courtney Joyner also discusses Juran's art direction career including his collaborations with Anthony Mann (Winchester '73), but Joyner also contrasts the more amicable collaboration between Juran and Harryhausen as art director and effects artist compared to Juran's working relationship with the more cost-conscious cinematographer/producer Marquette.

Packaging


Housed with the disc is a booklet with an essay by author/film historian Tom Weaver about producer Jacques Marquette which posits him as "the brains behind the brain" as the author of a twenty-page treatment for screenwriter Buffum before Juran's involvement.

Overall


The Brain from Planet Arous is neither so bad it is good or good enough to overcome the limitations of its budget but it does feature a "megalomaniacal, sex-crazed brain".

---
Rewind DVDCompare is a participant in the Amazon Services LLC Associates Program and the Amazon Europe S.a.r.l. Associates Programme, an affiliate advertising program designed to provide a means for sites to earn advertising fees by advertising and linking to amazon.co.uk, amazon.com, amazon.ca, amazon.fr, amazon.de, amazon.it and amazon.es . As an Amazon Associate, we earn from qualifying purchases.