The Film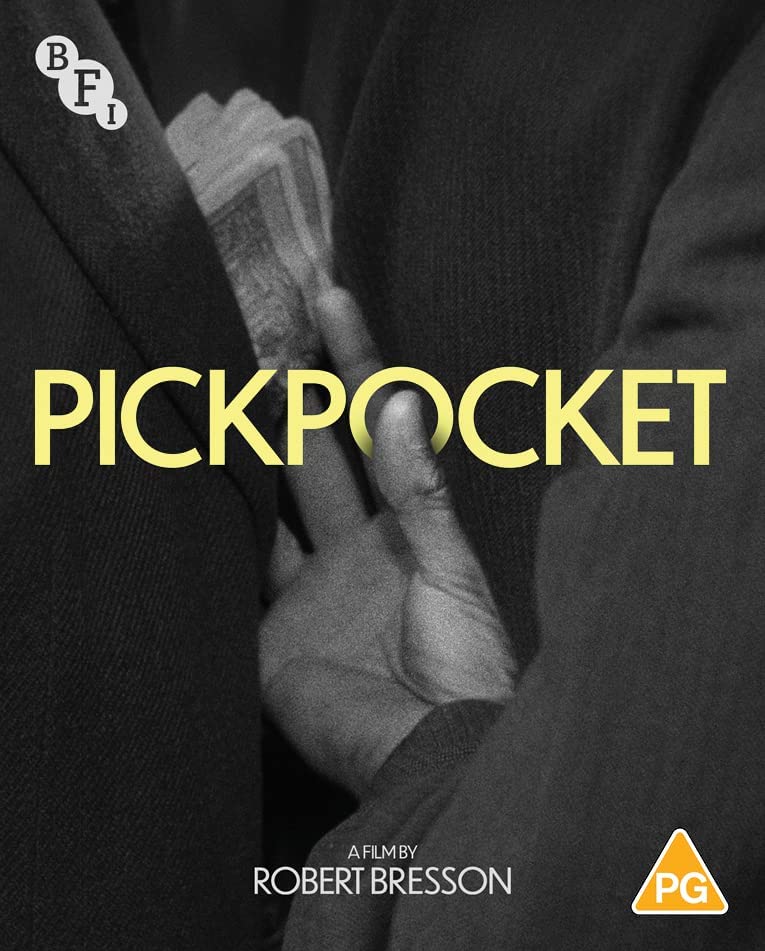 "Pickpocket" (1959)

Michel (played by Martin LaSalle) is a pickpocket on the streets of Paris, making his ways through train stations, horse race tracks, and other crowded areas snatching wallets and taking the cash from innocent bystanders. A loner who is always on the lookout for subjects to steal from as well as trying to avoid the eyes of the law, he suddenly gets courted by a group of thieves who want him to join their group to help with intricate group pickpocketing.

Filmmaker Robert Bresson's previous film "A Man Escaped" (1956) was a tense prison break drama set in WWII that triumphed in the calculated and dangerous time with a French resistance hero based on the memoirs of André Devigny. Things couldn't be more different with "Pickpocket", with the audience on the side of a petty criminal on the run from the law, from an original story by Bresson, which was a first as the director's previous works were based on existing works. While the main character may technically be a bad guy, Bresson doesn't paint him as a villain at all, instead looking at a man that could be anyone. Young, tall, handsome, slightly shy and socially awkward, the character of Michel is not out pickpocketing for a particular reason. It's not about financial woes, he is not in trouble with a gang, and he is not being forced by another's hand. It's almost as if it is a drug that takes him over, with an uncontrollable urge to steal like kleptomania. When he is pickpocketing, he is not tense or with anxiety, but is quite calm throughout the sometimes time consuming process. But it is not all about the thieving, as there are glimpses into Michel's life outside of petty crime. His mother (played by Dolly Scal) is not well and he doesn't visit her as often as he could. This is also accentuated by Jeanne (played by Marika Green), a young girl who is a neighbor who is a family friend that Michel somewhat has his eyes on. He is not looking to deepen any personal bonds, and his distance from the ones closest to him are a hint to his social skills being off.

"Pickpocket" delicately balances a drama of a man who has difficulty expressing his emotions with a calculated heist thriller in a wonderful way. With the pickpocketing sequences, the individual shots in closeups of hands and faces are well edited to showcase the very careful methods. In addition the uncomfortable feeling of being a spectator is up against the fascination of the thieves practicing like a magician would to perfect their illusion that nothing happened. When Michel joins a gang of thieves which includes former pickpocketer and slight of hand illusionist Kassagi, the audience is treated to some incredible skills with hand and body movement in the pickpocketing process. Kassagi was also a consultant on the production and was said to steal watches, wallets and other things from the production crew during the shoot to prove his skills. In addition, Pierre Étaix who worked as a circus performer and had experience in magic was brought on as an additional gang member. Wallets slipping in and out of hands while one distracted and others picked and passed are done so smoothly that one can sense the impact when a task was done without flaw. The train sequence with the group is one of the major highlights of the film, with barely any dialogue, with each communicating with their body movements.

"Pickpocket" is a film that shows the "hows" though it doesn't explain the "whys". There is no explanation of how Michel came to be this way, no flashbacks or details of his family life with his mother very much. It's about the present time and what the audience is presented with. The entire story is told through the eyes of Michel and in that sense could be something false. The narrator and Michel sometimes contradict each other and there are major gaps that are not shown or explained, such as Michel's first arrest outside the race track being only shown as an aftermath as well as the sudden jump to two years later. The audience is allowed to believe what is shown as being true, but there could be some things missing due to Michel not wanting to discuss them to others. But morals play a large part in the film, from religious elements of faith, coping with loss, and redemption are present, as well as references to "Crime and Punishment" being fairly strong. Michel is not at all a perfect theif, as he is confronted by the authorities, as well as coming face to face with a man who knew his wallet was stolen by him. No one is truly perfect and no one truly flawed. Bresson is able to cross the line of moral ambiguity through the story, though there is a standing of the illegal nature of the acts at the end of the film.

One of Bresson's trademarks was using non-professionals as his actors, which he called "models" rather than actors. Martin LaSalle, Marika Green, and Pierre Étaix would all have success with in film later in their careers, but "Pickpocket" was thier first. Kassagi would continue his act in stage shows as well as in television appearances, as he would become far too well known to go back to a life of petty pickpocketing. Using performers without professional training as actors, he displayed characters that had a unique way of playing the scenes. Some have claimed that they were closer to being lifeless. Others say they are more natural without trying to be extravagant. It certainly works well in this film with the emotions being downplayed and instead focus being on the actions. The distance between Michel and his mother and Jeanne seem more convincing this way, as the distance was real rather than performed. But Bresson was still a perfectionist by asking for multiple takes, sometimes in the dozens for some seemingly simple sequences, leading to some arguments and frustrations on set. Étaix stated that he sometimes couldn't figure out why Bresson needed so many takes with each not being so different from the last, and he was frustrated to see that his role had been trimmed down quite a lot in the release. But even with the difficulties internally, Bresson was able to make something that went against expectations and becoming one of the most inspiring films in all of cinema, in a time when French cinema was exploding with fresh creativity.

With young filmmakers such as Claude Chabrol, François Truffaut, Jean-Luc Godard and other young filmmakers broke new ground with the French New Wave with works such as "Le Beau Serge" (1958), "The 400 Blows" (1959), and "Breathless" (1960) respectively, it came as a surprise with something so vibrant and youthful came from the older Bresson who was in his fifties when he made "Pickpocket". While the film is sometimes not listed in the works of the French New Wave because he was older and had experience as a filmmaker from longer before, "Pickpocket" is easily part of the movement and one that was highly praised by the younger French filmmakers of the movement. In addition, the film as well as Bresson's style has had a huge impact on international filmmakers with the loner character, the use of non-professional actors, and his filmmaking techniques. Whether it's Travis from "Taxi Driver" (1976) or the pickpocketing montage in the opening of "Teenage Mutant Ninja Turtles" (1990), "Pickpocket" and Bresson's influence can be felt everywhere in cinema and will continue for years to come.

Note this is a region B Blu-ray

Video


The BFI presents the film in the original 1.37:1 aspect ratio in 1080p AVC MPEG-4. The original 35mm negative was scanned at 2K by Digimage for the restoration, and it looks absolutely wonderful. The black and white image is crisp with excellent greyscale, showing great detail from foregrounds to the backgrounds. Damage marks have been removed for a very clean looking image, without dust, speckles, or scratches, while still retaining film grain for a filmic look. There is little, if anything to fault with the restoration, being a great job from Digimage.

The film's runtime 75:50.

Audio


French LPCM 2.0 mono
The original optical and magnetic tracks were used for the restoration and presented on the disc in uncompressed mono. The audio also sounds great, with dialogue, music, and effects being well balanced throughout, with fair depth while being clean with the restoration. There are no issues osuch as dropouts or hiss, leaving a clean track with no issues whatsoever.

There are optional English subtitles in a white font which are well timed and easy to read.

Extras


"Paul Schrader on Pickpocket" 2022 interview (10:53)
In this new and exclusive interview, filmmaker Paul Schrader recalls the first time he saw the film while a student at UCLA in 1969, and how it changed his views on cinema. He talks about the film's techniques used and the style it had, the loner character at the center and the heavy influence it had on a number of Schrader written and directed works.
in 1080p AVC MPEG-4, in 1.78:1, in English LPCM 2.0 without subtitles

"The Models of Pickpocket" 2003 documentary (52:14)
In this 2003 documentary directed and narrated by Babette Mangolte, it takes a look back at the making of "Pickpocket" with three of the actors just over four decades later. Interviewed are Pierre Leymarie who had the small role of Jacques in his one and only film role, Marika Green, and Martin LaSalle, with the three of them discussing Bresson's working methods, memories from the set, as well as showing off some of their memorabilia from the production. LaSalle's is the lengthiest and most fascinating, as it catches up with him living a quieter life in rural Mexico. A fascinating documentary and a must watch.
in 576i AVC MPEG-4, in 1.78:1, in French LPCM 2.0 with optional English subtitles

Robert Bresson Q&A at the 15th London Film Festival, 1971 (audio only) (47:12)
Presented here is an on stage Q&A with Bresson at the 1971 London Film Festival in conversation with critic John Russell Taylor, after being awarded the BFI's Sutherland Trophy for "Four Nights of a Dreamer". Discussed about are his thoughts on Hollywood filmmaking, his love of using silence in sequences, working with non professional actors, working with black and white vs color, and much more. This is an audio only interview, which plays over the film as an alternate audio track. Once the Q&A ends, the audio reverts to the film's audio track.
in English LPCM 2.0 without subtitles

Archive Shorts (with Play All) (42:53)
- "Thefts from Handbags" (1961) (0:56)
- "Snatch of the Day" (1975) (1:05)
- "Four Men in Prison" (1950) (40:52)
Presented here are two public service announcements and one short film. The short PSAs are warnings of pickpockets, with the first being focused more on women's handbags and the second being a slightly more comical look. "Four Men in Prison" is a short that looks at four different male prisoners of differing backgrounds and sentences as well as the wardens and guards that look after them for reform. The short is more on the sympathetic side, giving backgrounds to the men in prison and how prison deeds are helping them to change for good, rather that being a hard and brutal place as seen in most prison dramas. Probably the most shocking moment would be the one use of the word "bitch" by one of the prisoners. The transfers here are fairly good, with the first short being the weakest with high contrast black and white. The second PSA is in color and it is a bit on the faded side. "Four Men in Prison" is in black and white and looks the best with good detail and clarity. All three films have been remastered though some damage marks remain throughout.
in 1080p AVC MPEG-4, in 1.33:1, in English LPCM 2.0 without subtitles

Original Theatrical Trailer (2:34)
The original French trailer, looks very good in its restored form has little to no damage marks visible, though the audio, which features narration and dialogue only, is a bit on the scratchier side.
in 1080p AVC MPEG-4, in 1.33:1, in French LPCM 2.0 with optional English subtitles

2022 Reissue Trailer (1:19)
The new UK trailer focuses on the drama and suspense along with the string based background music, filled with quotes from inspired filmmakers. The trailer is also embedded below.

in 1080p AVC MPEG-4, in 1.33:1, in French LPCM 2.0 with burned-in English subtitles


Booklet
A 20 page booklet is included with the first pressing. The first essay is "The Prince of Pickpocket" by critic Adrian Martin which is a great overview of the film from its making, its themes, and its reception. Next is a biography of Bresson by critic Michael Brooke. This is followed by full film credits, special features information, transfer information, acknowledgements, and stills.


"Pickpocket" has previously been released on Blu-ray in the United States by The Criterion Collection in 2014 and by Potemkine Films in France in 2018. The Criterion also has "The Models of Pickpocket" and the original trailer, but also includes some exclusives, such as a commentary track, a differing interview with Paul Schrader, vintage French TV excerpts featuring Bresson and Kassagi, plus a Q&A from 2000. The Potemkine includes the same Bresson TV interview from the Criterion and adds two new interviews, though the main draw is an extended version of "The Models of Pickpocket" documentary.


Other notable clips:


Interview with Robert Bresson from a 1960 episode of the French television series Cinépanorama


Kassagi performing slight of hand on the French TV show "Télé Dimanche"


Criterion's interview with Paul Schrader on "Pickpocket"


Introduction and discussion featuring filmmaker Richard Linklater on "Pickpocket" for Austin Film Society's 30th anniversary in 2015


An interview with Pierre Étaix on his role in "Pickpocket"

Overall


"Pickpocket" is an absolute classic of cinema with its storytelling, its editing, and its restrained performances and moral grounds. One of Bresson's most accessible and most popular films, it is one that continues to excite audiences and influence filmmakers. The BFI has given it a great Blu-ray release with an excellent transfer and a great number of vintage and new extras, making this highly recommended.
| | | | | |
| --- | --- | --- | --- | --- |
| The Film: A | Video: A | Audio: A | Extras: B | Overall: A- |