Unbearable Weight of Massive Talent (The) (Blu-ray) [Blu-ray]
Blu-ray B - United Kingdom - Lionsgate Home Entertainment
Review written by and copyright: Rick Curzon (15th July 2022).
The Film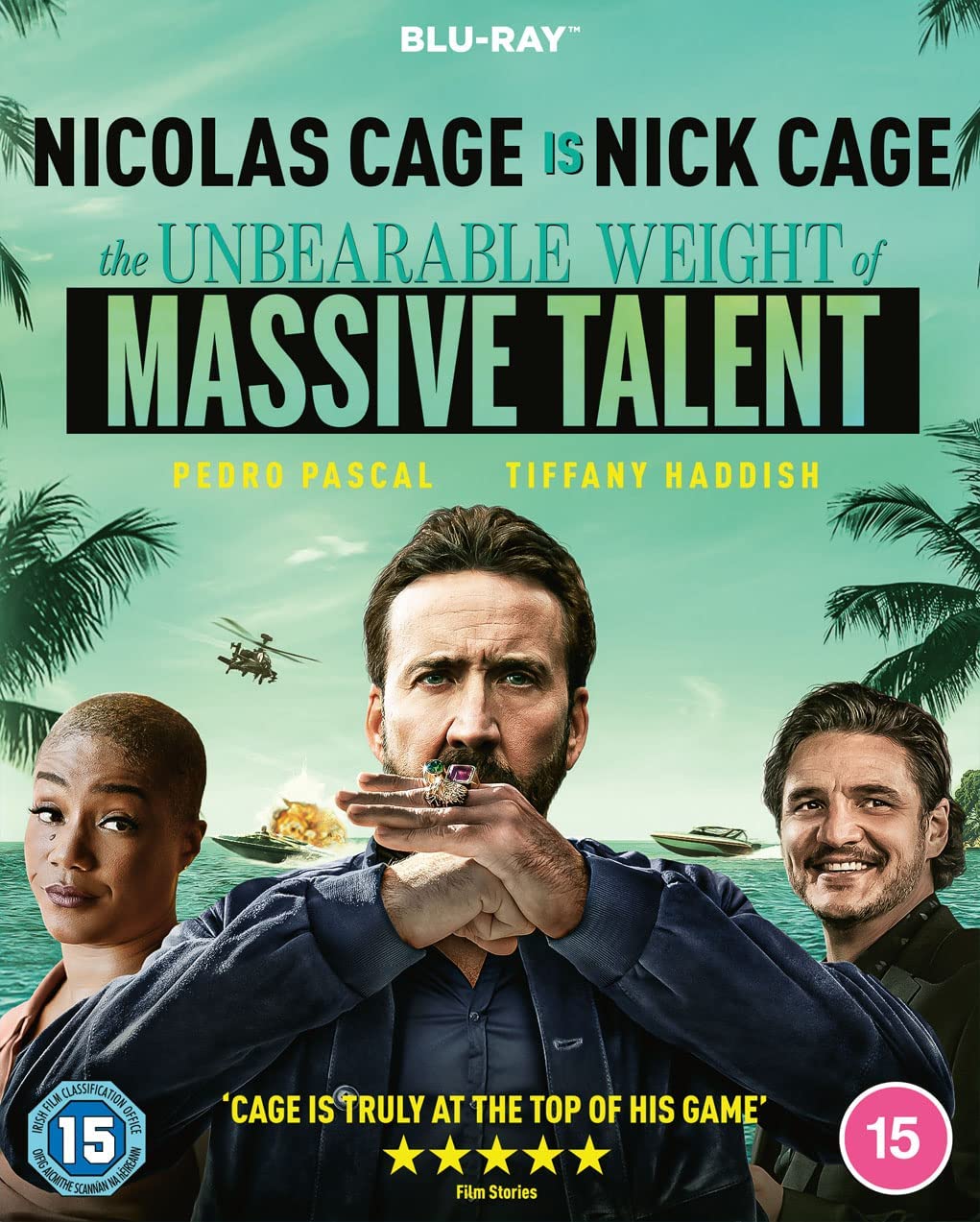 In this wildly entertaining, action-packed comedy, Oscar(r) winner Nicolas Cage plays ... Nick Cage! Creatively unfulfilled and facing financial ruin, the fictionalized version of Cage accepts a million-dollar offer to attend the birthday of a dangerous superfan (Pedro Pascal). Things take an unexpected turn when Cage is recruited by a CIA operative (Tiffany Haddish) and he must use his legendary acting skills, channeling his most iconic and beloved characters to become a real-life action hero.

Video


Cracking, eccentric, post-modern action comedy with Nicolas Cage playing two versions of himself, both fictional. At times this one reminded me of The Last Boy Scout (1991) crossed with My Name is Bruce (2007).

Although digitally lensed this has a much more filmic and vividly coloured palette than I was expecting. Grain is very fine as per most digital productions but director Tom Gormican and cinematographer Nigel Bluck lace the film with lots of texture. It reminded me at times of the work of Tony Scott and Michael Bay at least as an influence if not a slavish imitation, no orange filters in evidence but the whole film does favour orange and neon reds. '80s cinema does feel a big influence.

Flesh tones are warm and rich and generally delineation is solid with no bleed. Blues range from the expected teal through electric although not as vivid as in photochemical films of old like Suspiria (1977). Black levels are rich with plenty of shadow detail and contrast is low key and supportive although on some darker scenes there was some of that muddiness so favoured in modern films (see Dune, Part One). Thankfully those moments are few.

Detail is generally excellent on all focal planes but this is to be expected for a film shot 4.5K with a 4K intermediate. I could see no signs of digital manipulation although the younger Cage ("Nicky") is a CGI map over the older Cage's face and as such looks slightly soft and odd. Obviously the UHD BD with HDR will improve things but this BD is very strong for the format ('A')

1080p24 / AVC MPEG-4 / BD50 / 2.39:1 / 106:51

Audio


English Dolby Atmos
English Audio Description Dolby Digital 5.1
Subtitles: English, English HoH

I must state up front that I don't have an Atmos capable amp so I can't comment on the benefits on the full-blown Atmos effects. However, the core DolbyTrueHD 5.1 is incredibly immersive and involving throughout. Action moments have plenty of welly and the surround channels are very active (lots of shooting and the Landrover car chase near the end). The score is well served especially when classic songs appear as in the opening use of Creedence Clearwater Revival's Up Around the Bend. Dialogue is crisp and always clear. The subwoofer gets plenty of use and managed to rattle the room ('A+').

The audio descriptive track isn't anywhere near as immersive but it has a different purpose. It's always very clear and does it's job. Two sets of subtitles re present. The first transcribes the dialogue and the second does the same but is for the hearing impaired and has audio description. Both are very comprehensive and I saw nothing missed off. There re also some burned in subs for Spanish dialogue.

Extras


Audio Commentary with writer/director Tom Gormican and writer Kevin Etten (2022)

Pretty standard track that's been recorded close to the film's production (it was shot in 2021). Plenty of information and trivia anout the production but these things are much better at some distance. Still, worth listen for fans. Lossy Dolby Digital 2.0 stereo.

"SXSW Film Festival Q & A" 2022 featurette (15:48)

Pretty standard cast & crew puff piece Q&A presented in 1080p24 1.78:1 with lossy Dolby Digital 2.0 stereo sound.

"Second Act Action" 2022 featurette (6:41)
"The Mind" 2022 featurette (6:38)
"Glimmers of a Bygone Cage" 2022 featurette (4:48)
"Nick, Nicky, and Sergio" 2022 featurette (4:33)
"Everybody Needs a Javi" 2022 featurette (4:21)
"Cages 5 and Up " 2022 featurette (2:08)

A collection of puff piece EPK pieces totalling 29:00 that form a reasonable behind the scenes look at the film.

Deleted Scenes (with optional 2022 commentary by writer-director Tom Gormican and writer Kevin Etten) (Play All - 4:53):
- "WiFi" (1:02)
- "Caligari" (3:51)

A couple of fun deleted scenes presented in 1080p24 2.39:1 with lossy Dolby Digital 2.0 stereo. The commentary is essentially an extension of the main track.

Packaging


Standard blue BD case.

Overall


A typically eccentric Cage film with two oddball Cage performances for the price of one! Plentiful good, silly fun to be had here for those who're interested. Topnotch image and sound with the usual underwhelming EPK style extras that provide some context if no analysis. This will give your home cinema a true workout and is lots of fun, recommended!
| | | | | |
| --- | --- | --- | --- | --- |
| The Film: B+ | Video: A | Audio: A+ | Extras: C- | Overall: B+ |

---
Rewind DVDCompare is a participant in the Amazon Services LLC Associates Program and the Amazon Europe S.a.r.l. Associates Programme, an affiliate advertising program designed to provide a means for sites to earn advertising fees by advertising and linking to amazon.co.uk, amazon.com, amazon.ca, amazon.fr, amazon.de, amazon.it and amazon.es . As an Amazon Associate, we earn from qualifying purchases.