The Film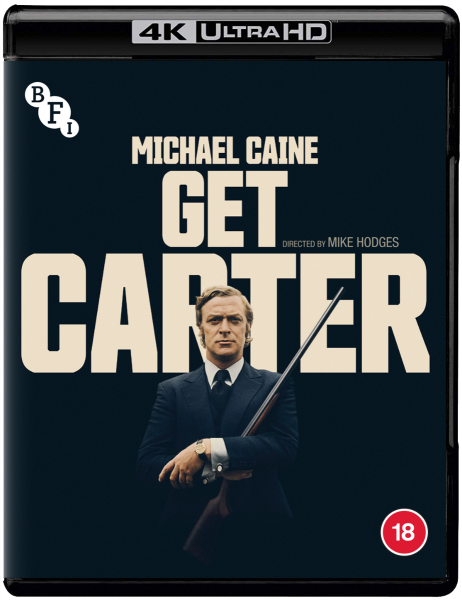 "Get Carter" (1971)

Jack Carter (played by Michael Caine) is a London gangster who returns to his hometown of Newcastle for the funeral of his brother Frank, who supposedly died in a drunk driving accident. Jack is suspicious about the incident, which leads him to investigate the surroundings on his own. But the mob established in Newcastle are not keen on his presence, as there is a lot more to his brother's death than what was reported...

Producer Michael Klinger was looking to make a British gangster feature after the success of "Man of Violence" (1969) as well as the public interest with the convictions of the notorious Kray twins in the news that year. He optioned the film rights to the soon to be published gangster novel "Jack's Return Home" by Ted Lewis, with financial backing from the MGM for a fair budget, as the once mega-studio was struggling with difficulties at the time and was instead looking at smaller productions to back. After seeing a broadcast of the television film "Suspect" for ITV Playhouse, Klinger contacted its director Mike Hodges, who had some credits as a documentary and television director, as the tone and direction was what he was looking for. Hodges received an advance copy of the book in January, which was to be published in February, and he worked on the screenplay adaptation for a number of weeks, and the film production commencing in summer of the same year. While the book was titled "Jack's Return Home", the film version would be titled "Get Carter"

The casting of Michael Caine in the lead role was an interesting choice as the actor was an international star with features such as "Zulu" (1964), "Alfie" (1966), "Gambit" (1966), "The Italian Job" (1969) and many more hits where he played likeable roles. "Get Carter" as a violent mobster - a man on the other side of the law and hard boiled on vengeance. While his role in "The Italian Job" was also a law-breaking citizen, it was played in a light and comical effect with numerous hilarious sequences. The character of Jack Carter was above the law, going his own ways rather than relying on authorities or acquaintances, as there was none to be trusted in the gang world. Jack Carter might be always ready to defend himself and resort to violence when necessary, but the character is still a gentleman and a loving person, as seen with his manners with others as well as his relationship with his grieving niece Doreen (played by Petra Markham) as well as his sexual relationship with Anna (played by Britt Ekland). Caine stated that most films featuring gangsters up to that point were more like parodies with bumbling henchmen and typical fatcat leaders, rather than having organization and order. His main concern was to give a respectable element to them, even if they were not considered respectable in society's terms. While the character of Jack Carter is a gentlemanly figure at the center, the rest of the gangster figures he encounters does unfortunately take some cues from cliched characters with their looks and mannerisms, but in that sense it also makes Jack's character stand out as the "good" guy much higher and the championing of his revenge journey easier to side with.

While the film is technically a gangster film, it has more in common with hard boiled American Film Noir detective stories, with the main character uncovering a series of clues leading to a rabbit hole of lies, deceit, and twists that almost always have tragic outcomes. In "Get Carter", Jack's journey back home to Newcastle has him entangle with a number of interesting characters. Eric Pace (played by Ian Hendry), the sunglasses wearing former acquaintance who claims to be leading a straight life. Glenda (played by Geraldine Moffat), a beauty with mob connections as well as being a performer for their pornographic 8mm films. Con McCarthy (played by George Sewell) and Peter the Dutchman (played by Tony Beckley) who are tasked with bringing Jack back to London. The performances by the supporting actors are excellent in their ways, with some having slightly intensified roles and others being humorous or straightfaced. They all make excellent counterpoints to the no-nonsense Jack who is aimed with a shotgun and ready to face the truth dead on.

But Jack is not completely shy from being in funny situations himself. There is the memorable phone sex scene in which he calls Anna at night, in which he directs her to take off her clothes and masturbate thinking about him, though in the same room as him is the landlady Edna (played by Rosemarie Dunham) who pretends not to listen at first but her rocking chair's strides say otherwise. Her uncomfortable, yet enlightening reaction to listening to the phone call is a hilarious contrast to Caine's straight demeanor like it was nothing. In addition, the scene of Jack standing outside the lodge completely naked with only his shotgun in his hands gets a few interesting reactions from the neighboring lady. But humor is balanced against extreme violence, from a stabbing scene, a drowning scene, and a man being thrown off a building and landing on a car. While not at all gory, the violence feels on the side of realism rather than shock value.

Shot on location in Newcastle and photographed by cinematographer Wolfgang Suschitzky who like Hodges had experience in documentaries, "Get Carter" has a natural and realistic feel of the bleaker and colder north that doesn't paint a pretty picture for the violent setting. While there are great visuals of the landscape, the racecourse, and the town itself, it is not a film of vibrant colors or stylized images, but one that captures a time and place that still looks wonderful throughout. It was the first time a feature film production was shot in the area.

Another aspect of the film that cannot be forgotten is the score by 23 year old Roy Budd. A self taught jazz pianist who was a newcomer to film scoring, this was his second score following "Soldier Blue". As the budget for the film itself was small, the score only had a budget of £450, meaning there was no orchestra. Budd with his trio made an effective yet minimal score with unconventional instruments, including tablas and Fender Rhodes for the film, and the result was one that combined jazz, funk, ragga, and Indian rhythms which were completely not in the vein of the gangster image, yet somehow it worked. The score's influence could be felt in American Blaxploitation films later in the decade, as well as in the minimal synth scores by John Carpenter years later, in addition to rock and jazz musicians that were more on the experimental side.

There is a lot more to discuss about "Get Carter" with the revenge story, from the male machismo, the pornographic films and the mob distribution, the brutality against the female characters, childhood innocence lost, and the criminal code, though spoilers would get in the way. Considering how high regarded the film is all these decades later, it's important to note that the film was not a critical hit or a commercial hit on its initial run. It opened on February 3rd, 1971 in the United States and on March 7th, 1971 in the UK, where it premiered in Newcastle followed by a general UK release a few days later. For America, MGM was concerned that US audiences would not understand the cockney dialogue, especially at the beginning, so it was commissioned to have some of the dialogue redubbed, which Hodges was against but eventually settled with. The British release would not be affected by dialogue changes. Unfortunately the film was not a hit in America, with critics being divided on the violence and bleakness. In the UK the film was profitable but was not particularly noticed by critics or audiences and became a film that just came and went from the cinemas fairly quickly. The modest budget film was not a hit or a bomb, though the saga of Jack Carter was not over quite yet. In 1972, MGM took another shot at the story by producing "Hit Man" (1972), a Blaxploitation adaptation of the original novel but moving the setting to Chicago. The original book was republished with the title changed to "Get Carter" to tie in with the film, and Ted Lewis wrote two more novels with the Jack Carter character, with the prequel stories "Jack Carter's Law" (1974) and "Jack Carter and the Mafia Pigeon" (1976). But none of these made the reputation of "Get Carter" change. The film was finally released on home video by MGM in 1993 which was made with little fanfare , but the film quickly started to gain exposure and reassessment. Like a missing link between "Le Samouraï" (1967) and "The Long Good Friday" (1980), critics and audiences started seeing the film for its strengths and its ahead of its time status as a gangster classic. Warner Brothers, which then owned the MGM catalog issued the film on DVD in 2000 and later on Blu-ray in 2014, with each release finding new audiences to discover the film.

In the years since its rediscovery, there have been a number of British gangster movies from "Snatch" (2000), "Sexy Beast" (2000), "Gangster No. 1" (2000), "Layer Cake" (2004), "Legend" (2015) and many more, with each being distinct yet all sharing some of the same blood that "Get Carter" shed all those decades ago. A true masterpiece with one of Caine's defining performances is now available in the 4K format from the BFI, with this new 4K UltraHD Blu-ray release.

Note this is a region ALL 4K UltraHD Blu-ray / region B bonus Blu-ray set


Video


The BFI presents the film in the original theatrical 1.85:1 aspect ratio in 2160p HEVC, with HDR10 and Dolby Vision. The original 35mm negative held by Warner Brothers Pictures was scanned at 4K resolution. Unfortunately there were portions of the original negative that were replaced with elements from a duplicate negative due to damage. Instead of using these dupe negative sections, Promaster elements from made from the original negative with reference colors were combined with the original negative for this restoration. Damage such as scratches, dust, and other marks were extensively removed for an incredibly clean image throughout, while still keeping the film grain intact. Colors have been well balanced, keeping the cold hues of blues and greys that accent the bleak tone. Blacks and dark portions look excellent as well, without any digital artifacts or compression to be found. This also presents the film in the theatrical aspect ratio for the first time ever on the home video format, as video transfers have had full frame 1.33:1 transfers in the VHS era while the Warner Brothers DVDs and Blu-rays have had the film in the widescreen 1.78:1 aspect ratio. The restoration was done with consultation by Mike Hodges, and the director approved the final result. This is easily the best the film has ever looked, eclipsing all previous home video releases, and most likely is better than the original theatrical screenings. Basically a flawless transfer from start to finish, fans as well as newcomers should be absolutely pleased by the restoration and the transfer by the BFI.

The film's runtime is 111:37.


Audio


English LPCM 1.0
English Audio Descriptive Dolby Digital 2.0 mono
The original mono track is presented uncompressed, which was remastered by Warner Brothers Pictures from original elements. While the mono soundtrack has its limitations, the presentation is excellent, with clear dialogue throughout and well balanced with the music and effects. The sparringly used yet effective score by Roy Budd sounds excellent as well, and there are no instances of hiss, pops, or dropout with the restoration. An excellent job with the sound restoration.

There is also an audio descriptive track, presented in lossy Dolby Digital.

There are optional English HoH subtitles in a white font, which are well timed and easy to read.


Extras


This is a 2-disc 4K UltraHD Blu-ray and bonus Blu-ray set, which has the film and some extras on the 4K disc while the second disc is dedicated to the additional bonus features.


DISC ONE (Blu-ray 4K)

Audio Commentary by actor Michael Caine, director Mike Hodges and cinematographer Wolfgang Suschitzky (2000)
This commentary features Caine, Hodges and Suschitzky interviewed separately and edited together in the style of the old Criterion Laserdisc group commentaries, which is not done as much anymore due to costs and logistics it seems. Hodges discusses the production in detail, from the casting, the improvised moments, the scouting of Newcastle, about the character of Carter and their choices in creating him, problems with Caine not having a driver's license, and a lot more. Hodges is the most talkative of the three, taking up about half of the audio track. Suschitzky talks more on the techical side, about the lighting of various scenes, the weather issues, and some of the difficulties faces on location shooting. Caine's comments include his personal research into gangster life, his praise for Hodges, some funny behind the scenes information, as well as some of the negative reviews the film received. The comments are edited together very well for a track that has no dead spaces. Note this was originally recorded for the Warner Brothers DVD release and later ported over to the Warner Brothers Blu-ray release.
in English Dolby Digital 2.0 without subtitles

Audio Commentary by critics Kim Newman and Barry Forshaw (2022)
In this new and exclusive commentary, critics Kim Newman and Barry Forshaw are in conversation together discussing the film. They talk about the original book the film was based on as well as the later issued prequel stories, comparisons to other gangster films from the UK and internationally, information about the cast and crew, about the characters, in addition to some of the weaker aspects such as the inconsistency of the accents and some of the flat characters.
in English Dolby Digital 2.0 without subtitles

2022 Introduction by Michael Caine (2:30)
This new and exclusive introduction has Caine discussing the film and its rise as a cult classic and his pride in the role.
in 2160p HEVC, in 1.78:1, in English LPCM 2.0 without subtitles

Isolated Score in LPCM 1.0
Roy Budd's excellent score as well as other music cues are presented in uncompressed mono as an alternate audio track. As the music in the film is sparring, there are sometimes long gaps of silence in between.
in LPCM 1.0


DISC TWO (Blu-ray)

"Mike Hodges in Conversation" 2022 interview (60:13)
This on stage interview at the BFI Southbank has journalist Samira Ahmed in conversation with Mike Hodges as part of the season "Return of the Outsider: The Films of Mike Hodges", in May 2022. Hodges discusses his start in documentary filmmaking such as for "World in Action" for Granada television, working with the Maysles brothers, his sporadic yet impressive career in feature films and more. Not only "Get Carter", but "Pulp", "Flash Gordon", "Croupier" and more are talked about.
in 1080p AVC MPEG-4, in 1.78:1, in English Dolby Digital 2.0 without subtitles

"Klinger on Klinger" 2022 interview with Tony Klinger, son of producer Michael Klinger (24:09)
Producer Michael Klinger's life and career is talked about by his son Tony Klinger. From his independent start and breakthrough features for Roman Polanksi, the production of "Get Carter" and the film's impact, and more.
in 1080p AVC MPEG-4, in 1.78:1, in English Dolby Digital 2.0 without subtitles

"Don't Trust Boys" 2022 interview with actress Petra Markham (21:53)
Markham played the teenage Doreen even though she was in her twenties at the time, but that was nothing new for her as she was frequently cast in younger roles due to her looks. She talks about her start in acting, the sibling rivalry with older sister and actress Kika Markham, the unusual casting process for "Get Carter" in which she was basically cast for having the right look, her reaction to the film, and more.
in 1080p AVC MPEG-4, in 1.78:1, in English Dolby Digital 2.0 without subtitles

"The Sound of Roy Budd" 2022 interview with film music expert Jonny Trunk (17:07)
Jonny Trunk, the specialist in film music and library music and founder of reissue label Trunk Records discusses the music career or Roy Budd, who died at the young age of 46 and was not truly appreciated during his lifetime. He recalls the first time seeing "Get Carter" and the inspiration of the score, his other film scores and albums released, as well as meeting him in the early 90s where he was playing to tiny crowds of six people.
in 1080p AVC MPEG-4, in 1.78:1, in English Dolby Digital 2.0 without subtitles

BBC Look North location report (1971) (4:48)
Presented here is an unedited black and white reel of footage shot for the BBC program "Look North" that details the Newcastle production of "Get Carter" on location, with interviews from Robert Sterne and Michael Klinger, as well as some clips of Caine and behind the scenes work. A fascinating look as there seems to be no other B-roll footage shot for the production. While there is a lot of damage on the frame, the black and white levels are quite good and the sound is fair, with the usual hiss and pops to be heard.
in 1080p AVC MPEG-4, in 1.33:1, in English Dolby Digital 2.0 without subtitles

"The Ship Hotel - Tyne Main" 1967 documentary (33:26)
This documentary, directed by Philip Trevelyan looks at the Ship Hotel, a pub located in Newcastle and its patrons. Shot with synchronized sound, the short is not about plot or dialogue but happenings in and around the location, which was where "Get Carter" would be filmed a few years later. An excerpt has been embedded below.
in 1080p AVC MPEG-4, in 1.33:1, in English Dolby Digital 2.0 without subtitles



Michael Caine's message to premiere attendees (1971) (0:46)
A thank you message from Caine to the people of Newcastle, who could not attend the premiere screening there due to the filming of "X, Y and Zee".
in 1080p AVC MPEG-4, in 1.85:1, in English Dolby Digital 2.0 without subtitles

"Roy Budd Plays Get Carter" 1971 performance (3:39)
Budd performing opening train theme
in 1080p AVC MPEG-4, in 1.33:1, in English Dolby Digital 2.0 without subtitles

Script Gallery (90 stills)
A manual gallery of the original script.
in 1080p AVC MPEG-4

International Trailer (2:40)
The original trailer with that deep cool narration is presented here, and also is been embedded below.
in 1080p AVC MPEG-4, in 1.85:1, in English Dolby Digital 2.0 without subtitles



2022 Rerelease Trailer (1:30)
The 4K restoration trailer by the BFI is presented here, and is also been embedded below.
in 1080p AVC MPEG-4, in 1.85:1, in English Dolby Digital 2.0 without subtitles




Book
An 80 page book is included with the set. First is a new essay by critic Mark Kermode on the film and its impact more than half a century later. Next is "Life and Death in a Northern Town" by writer Tim Pelan on the production and its influence. Next is a short appreciation by filmmaker Alex Cox which was originally published in The Moviedrome Guide in 1990. This is followed by a 1992 recollection by Michael Caine on the film from "What's It All About?". Writer John Oliver gives written biographies on Michael Caine and Mike Hodges. There is a lengthy portion by the BFI's Jason Wood on composer Roy Budd's work, featuring interviews with musicians Barry Adamson (Magazine, Nick Cave and the Bad Seeds), Matt Johnson (The The), Bob Stanley (Saint Etienne) and Jah Wobble (Public Image Limited) about Budd's career and music. Also included are stills, full film credits, special features information, transfer information, and acknowledgements.


As this set includes all the extras featured on the Warner Brothers DVD and Blu-ray editions, it's an easy and essential upgrade for anyone. The only thing that is missing is the US dubbed audio track, which was featured on the US DVD and US Blu-ray, as well as mistakenly included on the Warner UK Blu-ray's first pressing. While including the entire track may not have been necessary, it might have been interesting to include a comparison featurette, such as on Fox's "The Full Monty" releases. As Hodges mentions about having the audiences compare the differences, he seemed to think that the release would include both audio tracks.


Other notable clips:


Mark Kermode on the 40th anniversary of "Get Carter" in 2011


2012 episode of "The One Show" detailing locations from "Get Carter" plus interview clips with Mike Hodges


A recent BFI Q&A with musician Jah Wobble on "Get Carter"


Packaging


This 4K UltraHD Blu-ray release is a limited edition of 10,000 copies, which also includes a double-sided poster featuring the original UK quad and 2022 rerelease artwork, plus a set of four postcards featuring iconic scenes from the film. Note that there is also a 2-disc Blu-ray release with the same content and collectibles, replacing the 4K disc with a region B 1080p Blu-ray of the film, which is limited to 5,000 copies.


Overall


"Get Carter" is a timeless gangster film that eluded audiences in its initial run but thankfully found a cult following and now regarded as one of the greatest British films of all time. For the 4K restoration, the BFI has given the film a definitive 4K UltraHD Blu-ray release, with all the vintage DVD and Blu-ray extras and additiong a lot of additional new and older content. Absolutely essential and already a candidate for best UHD/Blu-ray release of the year.
| | | | | |
| --- | --- | --- | --- | --- |
| The Film: A | Video: A | Audio: A | Extras: A | Overall: A |