Doctors (The): Peter Davison Years (The) - Behind the Scenes
R0 - United Kingdom - Reeltime Pictures
Review written by and copyright: Rick Curzon (22nd July 2022).
The Film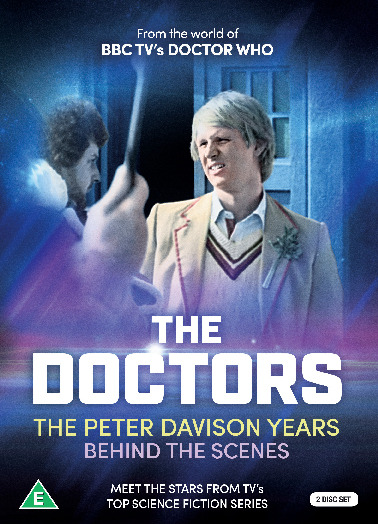 This is the definitive set of interviews with the production team who brought DOCTOR WHO to life and sent you "behind the sofa"!

These six documentaries are the best in-depth interviews with STEPHEN GALLAGHER (Writer), BARBARA CLEGG (Writer), PETER GRIMWADE (Writer/Director), GRAEME HARPER (Director), MARGOT HAYHOE (Production Manager) and DICK MILLS (Special Sound) ever undertaken!!!

Presented by "voice of the Daleks" NICHOLAS BRIGGS and ROBERT DICK.

For all DOCTOR Who fans, this special collector's edition is over 5 hours of pure nostalgia, which will give you a whole new insight into the making of your favourite science fiction series!

Video


Keith Barnfather has been interviewing Doctor Who (and Blake's 7) alumni since the 1980s for his long running Myth Makers range of behind the scenes interview VHS and latterly DVD releases. This latest edition collects together chats with several, personnel from the 1981-84 period that was the Peter Davison / Fifth Doctor era. We have an excellent collection of beautifully conducted interviews. My technical comments on these releases tend to be identical for each set released:


Image quality tends to vary as you would expect from these kind of productions but none of the segments are poor in any way. All of the interviews are shot on varying types of video and I'd say most are in standard definition and as this is a DVD release that's fine and dandy. Contrast is acceptable, black levels are likewise if occasionally dark greyish. Flesh tones are natural and colours matter of fact without much digital regrading in evidence.

I didn't notice any artefacts or compression issues but to be frank had there been some minor ones it probably wouldn't have detracted in the same way as on a release of Doctor Who episodes. The image is soft by virtue of how it was captured but that is not a criticism. The only way things could improve would be to upscale on Blu-ray discs with the superior encoding / codecs that the format affords. But, this kind of material will probably not support the costs; after all, this essentially is a 2-disc set of extras.


Some specific notes to this release are that the Grimwade segment has flatter contrast and greyish black levels (having been shot circa 1987) and the Hayhoe chat is pristine having been produced in the last year.

Top marks for the format, taking into consideration the sources; 'B-'.

NTSC / MPEG-2 / 2 x DVD-9 / 1.33:1, 1.78:1 / 327:37

Audio


English Dolby Digital 2.0 Mono / Surround
Subtitles: None

Basic 2.0 stereo that gets the job done with no surrounds unless channelled through ProLogic II or similar. Frankly, playing these through PLII is pointless as there's the occasional bleed in which sounds from the front appear in the rear. Stick to "straight" or "direct" (AFD Auto = Auto Format Direct). Speech, which is THE main point of these sets, is always crisp and clear and what little music there is (intros and outros) doesn't get in the way ('C+').

Sadly, no subtitles have been provided so the hearing impaired are up a gum tree without a paddle.

Extras


"Myth Makers: Stephen Gallagher" 2008 production featuring a 2007 interview (56:30)
"Myth Makers: Barbara Clegg" 2009 interview (45:50)
"Myth Makers: Peter Grimwade" 1994 production featuring a 1987 interview also with contributions from Sarah Sutton (53:55)
"Myth Makers: Graeme Harper" 2000 interview (52:47)
"Myth Makers: Margot Hayhoe" 2022 interview (64:20)
"Myth Makers: Dick Mills" 2006 interview (56:15)

The most valuable piece here is the full Grimwade interview. This is because he sadly died in 1990 and this seems to have been only one of a couple of on-camera interviews her ever granted. Excerpts from this have appeared in the extras for his Doctor Who serials in the BBC range.

All of these are valuable being both in depth and covering the whole careers of those concerned. In fact, I don't think any of the interview subjects here have had all that many in depth coverage in the range of BBC DVDs or BDs to the level that they have here. Obviously they've all appeared in the extras for those but none have had the same level of analysis given that Keith affords them.

Packaging


Standard, black 2-disc DVD Keepcase.

Overall


I can't praise these superb and valuable releases enough. They offer absolute value for money (each costs £15 directly from Reeltime Pictures website (see below). Image and sound are solid considering how these interviews were produced which sounds like I'm damning with faint praise, but I'm not. These are very professionally put together by a dedicated team of professional fns led by Keith. The primary *face* of these productions has been Nicholas Briggs who has gone on to great success working on Doctor Who since 2005 as well as for Big Finish. I also believe that Keith's main career is producing professional videos for hire through his Reeltime Pictures company.

If you're a fan of Doctor Who, these Myth Makers sets are must and an essential purchase to sit longside your collection of BBC produced DVDs and BDs.


| | | | | |
| --- | --- | --- | --- | --- |
| The Film: A+ | Video: B- | Audio: C+ | Extras: A+ | Overall: B+ |

---
Rewind DVDCompare is a participant in the Amazon Services LLC Associates Program and the Amazon Europe S.a.r.l. Associates Programme, an affiliate advertising program designed to provide a means for sites to earn advertising fees by advertising and linking to amazon.co.uk, amazon.com, amazon.ca, amazon.fr, amazon.de, amazon.it and amazon.es . As an Amazon Associate, we earn from qualifying purchases.