The Film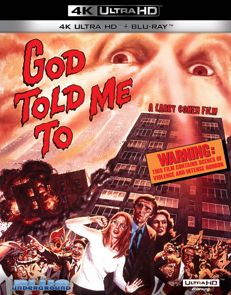 When a near-sighted college student (Broadway actor Sammy Williams) picks off several New York pedestrians from a water tower with deadly accuracy using a mail-order rifle with an sight that was never calibrated, detective Peter Nicholas (The Honeymoon Killers' Tony Lo Bianco) is haunted by the killer's final words before he throws himself off the side of the building: "God told me to." While everyone else, including Peter's superiors like the publicity-minded Deputy Commissioner (The Incident's Mike Kellin), dismisses the sniper as a psycho, Peter cannot help but think the victims were somehow fated to die, especially when the perpetrator of a mass stabbing at a supermarket also utters the same phrase before passing away. When the precinct receives an anonymous tip that the next mass killing will be perpetrated by one of their own during the Saint Patrick's Day Parade, Peter and his colleagues are unable to prevent a young officer (Taxi's Andy Kaufman) from killing the number of victims specified in the call, and by this point he knows what the dying killer will say. Peter speaks to associates of the killers and discovers that they each had met a young hippie earlier in the day, but none of the witnesses can remember the boy's face as anything other than a literal blur. Peter does, however, learn from the sniper's mother that the boy's name is Bernard Phillips (Bad Dreams' Richard Lynch), and investigation into his background reveals no police record, no education, and an equally-sketch juvenile record.

When Peter attempts to interview the boy's mother, she ambushes him with a knife and she too claims that God told her to kill. The autopsy of the mother reveals that she was a virgin and the boy was born by Caesarian, and the doctor who delivered the baby reveals physical anomalies suggesting that the baby had no gender and was still in the process of evolving outside the womb. Peter's investigation further reveals that the mother claimed to have been pulled up into the sky and impregnated by something that was not human. After Peter resorts to using the press to print a story hoping to flush out Phillips, his superiors are up in arms about the mass hysteria – particularly when even Peter himself believes that his own partner's murder was committed by someone using the God killings to obscure the true motive – while his girlfriend Casey (Death Wish 3's Deborah Raffin) questions his sanity, his estranged wife Martha (That Cold Day in the Park's Sandy Dennis) believes that Peter's complicated relationship with his Catholic faith is steering him towards a deadly fate, and a cult of well-healed gentlemen are psychically charged by their "God" to bring Peter into the fold for apocalyptic reasons.

Predating the loopier post-The Omen God-and-the-Devil-might-be-aliens film The Visitor and anticipating the more conventionally horrific Prince of Darkness, God Told Me To is a rare intellectually-stimulating horror/sci-fi film masquerading as a Grindhouse flick, not unlike director Larry Cohen's later Q: The Winged Serpent in which the hero ponders whether the gunned-down creature was actually an Aztec god or just a monster mistaken for one by the subplot killer whose ritualistic killings attracted the beast to the city; indeed, Cohen took a jury prize at the Avoriaz festival for the film. Intercutting guerilla-style shooting – including chaotic action sequences utilizing passersby either as extras or purely for their horrified or befuddled reactions – with character-driven intimate sequences by a fine exploitation film cast, the film is at its best when focusing on performance rather than special effects (for instance, a sequence featuring Cool Hand Luke's Robert Drivas that leaves ambiguous whether his similar God-related motivation is one of the string of killings or an actual psychotic break). Raffin's character seems superfluous but for a scene in which she delivers exposition about Peter's psychologically and emotionally-complex background and surmises that the police will use the information to make him a figurative martyr rather than help him. Usually just "weird" in her genre appearances, Dennis' superficially cool, simmering turn here lends emotional shading to her husband's reluctance to follow through with divorcing her and moving on with his girlfriend that pays off in the climax of the film.

Cohen's use of stock footage special effects shots from the British sci-fi series Space 1999 as optical background plates to ropey composites feels more like a concession to distributor Roger Corman and his New World Pictures company – in terms of trailer-ready special effects and full-frontal nudity – years before their own stock footage-heavy sci-fi concoctions, especially when the bits function as flashback cutaways from exposition delivered much more effectively by actors like Sylvia Sidney – two years before she went up against the literal Antichrist in Damien: Omen II – as another victim of an abduction/impregnation in a surprisingly moving scene with Lo Bianco. Future horror favorite Lynch seems wasted early on in his silly first appearance that has him obscured by blinding yellow light and darting around a disoriented Lo Bianco in a balletic manner; however, the performances of both during their final confrontation make up for the somewhat abrupt and "easy" resolution capped by a final line that could either be interpreted as deeply cynical or cheeky. Apart from Q: The Winged Serpent and perhaps The Stuff, Cohen's subsequent sci-fi and horror efforts have been more miss than hit – including two sequels to It's Alive!, the horror comedies Full Moon High and Wicked Stepmother, along with the misguided A Return to Salem's Lot – compared to his thrillers like Special Effects, Perfect Strangers, and The Ambulance.

Video


Released theatrically under its original title in 1976 by New World Pictures – who reissued it a year later under the title "Demon" – God Told Me To languished on the video shelves as a tape from Charter Entertainment (an affiliate of Embassy Entertainment who distributed a number of New World titles that have since reverted to their original owners) and Image Entertainment fullscreen laserdisc. In 1997, Elite Entertainment issued a barebones letterboxed laserdisc and the same master was put out on tape by Anchor Bay the following year. Blue Underground's 2003 DVD featured an anamorphic transfer, DTS and Dolby Digital 5.1 remixes, and a commentary by Cohen while the same company's 2105 Blu-ray added a handful of video extras. Their new 4K-mastered 1080p24 MPEG-4 AVC 1.85:1 widescreen Blu-ray is slightly darker than the previous Blu-ray but reveals improved shadow and highlight detail – particularly in the whites and natural highlights (less so the filtered and solarized bits) – while the 2160p24 HEVC 1.85:1 widescreen UHD disc with Dolby Vision reveals an extended range of brightness in the highlights and the impression of greater depth in the blacks along with the expected uptick in textures and fine detail. This being a Larry Cohen film shot largely without permits, the enhanced resolution makes the rough edges of the production all the more evident from lagging focus in grabbed shots to some more obvious than before instances of optically-enlarged cropping either for emphasis or reframing. Opticals are always coarser and the visual effects shots are as cheap as they always were. As with the earlier editions, there is one instances of missing frames – either a problem unfixable in the original editing or an archival issue – during a close-up of actress Sidney.

Audio


In addition to carrying over the original mono track in DTS-HD Master Audio 1.0 and the surround remix DTS-HD Master Audio 5.1, the UHD and Blu-ray both feature a new Dolby Atmos track. This track sounds a bit "wider" – presumably due to a combination of filtering and repositioning spare audio elements in the 3D panner – but most Cohen films were never very complex sonically, and this is no exception (perhaps we might get a bit more "height" if Blue Underground decides to give the Atmos treatment to Q: The Winged Serpent). A French Dolby Digital 2.0 mono track is also included along with English SDH, French, and Spanish subtitles.

Extras


Extras start off with the 2003 audio commentary by director/writer/producer Larry Cohen, moderated by William Lustig in which he vividly recalls the film, including originally casting Robert Forster (Reflections in a Golden Eye) in the lead and then firing him when they clashed – he and Forster subsequently became friends until Cohen's death – and casting Lo Bianco for whom he stopped production so the actor could audition for a film in Hollywood. Upon return, Lo Bianco told him he would quit the production if he got the part. Although Lo Bianco did not get the part, he did take a role in a play that required him to leave before the shooting day was over, necessitating the use of stand-ins for bits that Lo Bianco has since sworn was himself. Cohen also recalls some of the bit part players, the guerilla shoot, conflicts with the Department of Labor, working with the police, shooting the real Saint Patrick's Day Parade and then restaging part of it for the shootout (although he really did stand with the real parade crowd and fake a bullet hit), and also recalls dubbing Kaufman's only line in the film because they did not have a microphone for the scene. He also discusses the use of stock footage including the Space 1999 footage, and suggestions that the film is a precursor for The X-Files. He also reveals that Bernard Herrmann who scored It's Alive was supposed to score the film and screened it the night before he died (Cohen learned of his death from Martin Scorcese for whom Hermman had just scored Taxi Drive). New to the disc is an audio commentary by film historians Steve Mitchell and Troy Howarth which gets off to a rough start, seeming to reiterate the Cohen track and video extras in case something could not be included on the new release, but Mitchell draws on his own interviews with Cohen to fill out the production trivia and anecdotes while Howarth seems like more of a prompter/moderator.

The remainder of the extras are ported over from the 2015 release starting with "Heaven & Hell on Earth" (11:31) in which Lo Bianco describes his experience on the film and with Cohen – in a more flattering manner than Cohen on the commentary – his scenes with Lynch late in the film, and the difficulties of shooting in Little Italy during the Feast of St. Gennaro scene (a celebration which takes place in September quite a ways away from the Saint Patrick's Day Parade). In "Bloody Good Times" (9:12), special effects artist Steve Neill (Fright Night) focuses less on the effects for the film at hand and more on getting into the business, meeting Cohen, and their subsequent more effects-heavy collaborations.

The amusingly-titled "God Told Me to Bone" (21:20) – inspired by a marquee for a double-feature screening of the feature and Cohen's Bone – is a 2015 New Beverly Q&A with Cohen included along with a Lincoln Center Q&A (8:08) from 2002. Separate advertising galleries offer trailers and TV spots for the film as God Told Me To (3:49) and as Demon (2:12), as well as a poster and still gallery.

Packaging


A slipcover is also included with this first pressing.

Overall


While 4K Dolby Vision and Dolby Atmos does not necessarily make God Told Me To an essential upgrade if you have the earlier disc, it is the way to see it for first-timers or Cohen fans.