The Film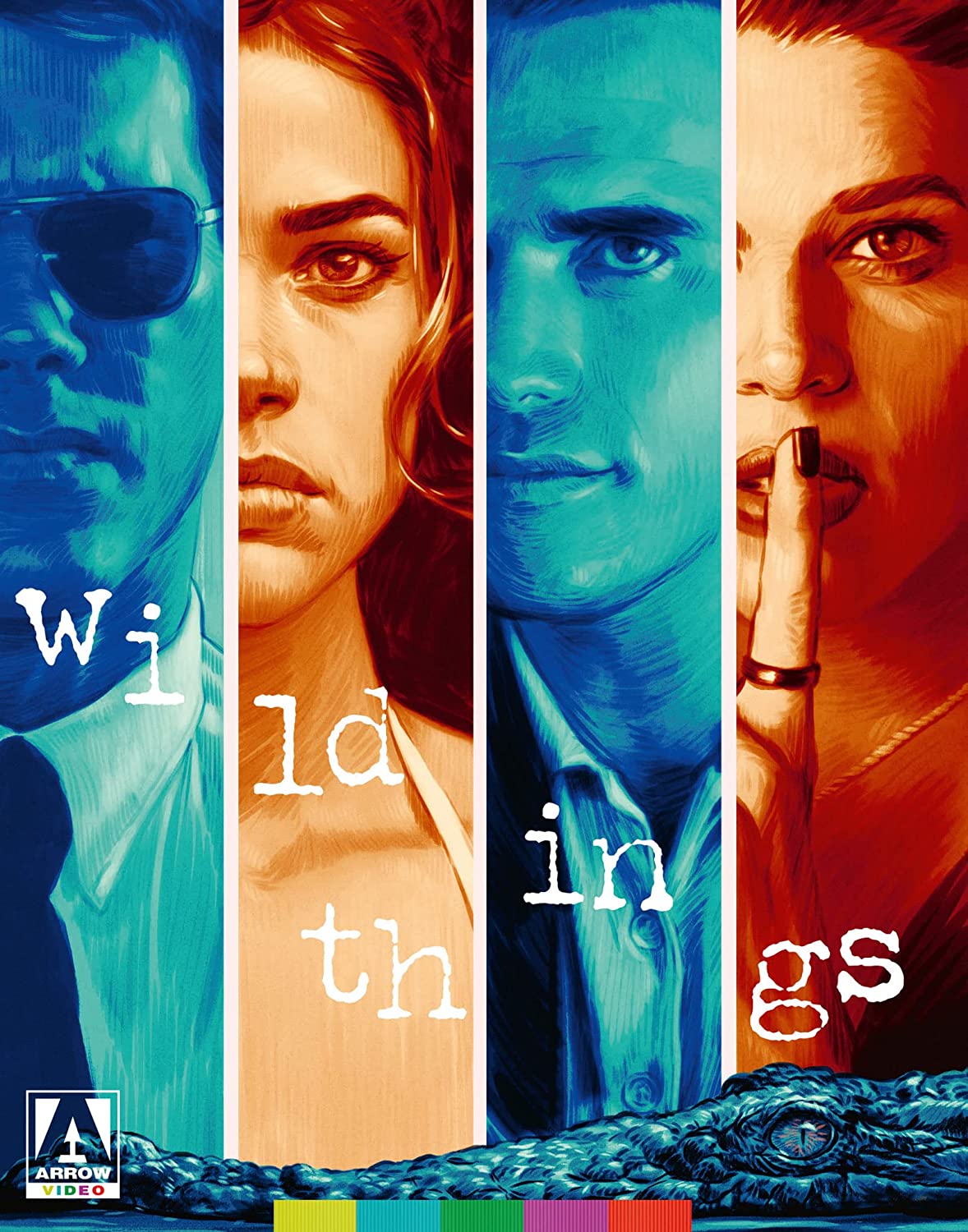 Wild Things (John McNaughton, 1998)


Synopsis
Blue Bay, Florida. High school teacher Sam Lombardo (Matt Dillon) is accused of rape by spoilt rich girl Kelly Van Ryan (Denise Richards). Detective Gloria Perez (Daphne Rubin-Vega) believes that Kelly is lying, because Sam has rejected Kelly's advances previously and has a long-standing beef with Kelly's mother, the wealthy and powerful Sandra Van Ryan (Theresa Russell). However, Perez's partner Ray Duquette (Kevin Bacon), who has already dismissed Sam as 'a total hound', concludes that Kelly's accusation is grounded in truth.

To fight the case, Sam seeks the help of shady lawyer Ken Bowden (Bill Murray). When another student, petty criminal Suzie Toller (Neve Campbell), also accuses Sam of raping her, it seems certain that Sam will be convicted. However, in court Suzie falls apart when cross-examined by Bowden, and her testimony collapses; not only this, but she also implicates Kelly and her family in a conspiracy to 'punish' Sam for his rejection of Kelly and his long-ago affair with Sandra.

Sam and Bowden win the case, and Sam is given a settlement of $8.5 million. However, there is more to the relationship between Sam, Kelly, and Suzie than we have been led to believe.


Critique
The neo-noir phenomenon that peaked in the early 90s had, at least in terms of big budget productions, pretty much fizzled out by the last couple of years of the decade. Neo-noir of the 1980s and 1990s had developed a defining sense of overlap with the erotic thriller—from Lawrence Kasdan's Body Heat (1981) to Paul Verhoeven's Basic Instinct (1993) and John Dahl's The Last Seduction (1994). Released in 1998, John McNaughton's Wild Things felt like one of the last gasps of the noir-tinged erotic thriller. It soon attracted attention for the manner in which its two female leads—Neve Campbell and Denise Richards—played against type and shucked off the sense of 'wholesomeness' that had become attached to their careers. The film featured Richards' first topless scene, but Wild Things attracted equal interest and disapproval, at least from American critics, for its casual full-frontal male nudity—something that is still deeply unusual within American cinema—from Kevin Bacon.

Wild Things was written by Stephen Peters. A novelist, Peters was the author of the 1981 novel The Park is Mine, which was memorably adapted for television in 1985. (The TV movie starred Tommy Lee Jones as a Vietnam veteran who seizes New York's Central Park.) Another novel by Peters, The Fourth War, was filmed by no less a director than John Frankenheimer in 1990. In the 90s, Peters took to writing screenplays, scripting Dead Center in 1993 and Wolves in 1996 (both were directed by Steve Carver).

Director John McNaughton was attracted to the idea of shooting Peters' script because at the time, McNaughton was seeking a project that had a broader commercial appeal than his previous work. McNaughton had, of course, made his debut feature Henry: Portrait of a Serial Killer in 1986 (see our review of Arrow Video's recent 4k UHD release of that film here) and followed this through with some excellent work for television (including several episodes of the incredible Homicide: Life on the Street) and the underappreciated theatrical features Mad Dog and Glory (1993) and Normal Life (1996). However, McNaughton hadn't had a commercial 'hit'; he hoped Wild Things would offer him this.


At the behest of McNaughton, Peters' script was doctored by an uncredited Kem Nunn, a scriptwriter who also had a background as a novelist, and who would go on to be associated with some interesting television projects in the '00s (Deadwood, John from Cincinnatti, Sons of Anarchy). Nunn was tasked with fleshing out some of the characters and relationships. Kevin Bacon was apparently paid very generously to appear in the film, and he was offered a producer credit too—with the intention that this would entice other actors into becoming involved with the project. This gambit worked, and Matt Dillon was eventually cast as Sam Lombardo (Robert Downey Jr was suggested for the role, but considered too much of an insurance risk owing to his high-profile substance misuse problems). Both Neve Campbell and Denise Richards were cast as the poor Suzie and rich girl Kelly, respectively; other key roles were filled by Bill Murray (with whom McNaughton had worked on Mad Dog and Glory), Theresa Russell, and Robert Wagner.

If there is a recurring motif within McNaughton's theatrical films, it is a focus on underdogs—people who fall between the cracks of regular society. This theme is present within McNaughton's debut feature, Henry: Portrait of a Serial Killer, in that film's focus on drifters and miscreants Henry (Michael Rooker) and Otis (Tom Towles). It's also evident in Mad Dog and Glory's focus on the socially awkward Wayne Dobie (Robert De Niro), and Normal Life explores this motif through the relationship between Chris (Luke Perry) and his abusive wife Pamela (Ashley Judd), and their descent into criminality. In Wild Things, McNaughton examines this theme via the juxtaposition between the desperately poor Suzie and her wealthy rival (and half-sibling) Kelly.

Living in a trailer park, Suzie exists in poverty and is quickly established within the narrative as a petty criminal: we are told that she has previously been busted by Ray Duquette for possession, and served six months in jail. Meanwhile, Kelly has been raised in a state of economic privilege, but is nevertheless ferociously manipulative and egocentric. Sam relates to Suzie because he too is from a less privileged background, and paid for his university education by working on boats. (The school offers lessons in boating, which Sam seems to lead.) It seems clear, quite quickly, that Kelly has the hots for Sam because he is, for her, objectified by the fact that he is from a lower social standing: in fact, her mother, Sandra (Theresa Russell), has already 'conquered' Lombardo and refers to him simply as 'a hired hand, a good lay'.


Wild Things is an overtly political film that focuses on class and inequality (both in terms of gender and economics). The titillation promised by both the publicised male and female nudity is essentially a pretext—a smokescreen for the film's examination of the cultural differences between rich and poor. Its examination of schoolgirl Kelly's attempts to seduce teacher Sam, and its elliptical depiction of the moment in which Kelly claims Sam raped her—leading to ambiguity as to whether (a) Sam raped Kelly, or (b) Kelly is falsely claiming Sam raped her because he has rejected her advances (and is pissed that he won't fuck her)—feels, in the context of the post-#MeToo era, like a Hot Button topic—and revisiting the film almost a quarter of a century later, it would be easy to look at it through revisionist lenses. In truth, however, the film was just as challenging when it was originally released. Sam's assertion that 'You can never get clear' of a false accusation of sexual assault has more than a ring of truth to it: 'It stays with you. Follows you around forever'. Framed in this way, the film feels like a howl against too-public accusations of sex crimes, something that has a very strong relevance for the post-#MeToo era. However, this statement becomes more and more mealy-mouthed as the narrative progresses and further revelations are made. For a while, it seems that Sam's blue collar background means that the cards of class and wealth are stacked against him; but there is more to this case than meets the eye.

The film opens with the swamps of Florida, an alligator rising to the surface as the film's title appears onscreen. The symbolism is intentionally unsubtle: beneath the civilised veneer of society exist the 'wild things' of the title, ever-ready to rise to the surface. An equivalence is drawn between the urban milieu and the swamp, with its alligators hiding in the waters. The sense of a society ridden with predatory behaviour is established quickly. As Sam drives to work at school, the girls flutter their eyelashes at him: he is, to quote The Police, the subject of schoolgirl fantasy. At the school, detectives Ray Duquette and Gloria Perez are giving a guest lecture on sex crimes to senior year students. 'What is a sex crime?', Ray asks the gathered teenagers. 'Not gettin' any!', a wisecracking young man, Kirk, shouts in response.

Wild Things made enough of an impact to be followed by three (count 'em) direct-to-video sequels: Jack Perez's Wild Things 2 in 2004; Jay Lowi's Wild Things: Diamonds in the Rough in 2005; and Andy Hurst's Wild Things: Foursome in 2010. (Hurst had co-written the second and third films in the series.)


Video



The disc includes both the theatrical cut (108:15 mins) of Wild Things and McNaughton's unrated director's cut (114:47 mins). The unrated cut fleshes out the character of Duquette, featuring a new scene in which he and Perez discuss Lombardo after the lecture at the school, and in which he confronts Kelly at her house. Another added scene features Bowden talking to Sandra' beau Tom Baxter (Robert Wagner) after the court case. There is also a major, late-game revelation about the relationship between Suzie and Kelly, and some post-credits material that fills in some of the narrative gaps.

Both cuts are presented in 1080p, using the AVC codec. The theatrical cut fills slightly over 30Gb of space; the unrated cut films slightly over 32Gb of space. The film was shot on 35mm stock, in an anamorphic format. The original theatrical aspect ratio (2:35:1) is retained for this release.

Arrow Video's presentations of both cuts of Wild Things are based on a new 4k restoration from the original negative. The film looks absolutely superb on this new Blu-ray edition. Contrast levels are excellent: the Florida heat is balanced and even, avoiding the 'hot' highlights of previous home video editions, and shadows are rich and velvety. The level of detail is impressive, particularly in close-up shots, and colours are balanced and consistent, with naturalistic skintones. The presentation retains the grain structure of 35mm film and shows no evidence of harmful digital tinkering. The encode to disc, on this Blu-ray edition, is robust and retains the structure of 35mm film. In all, this is an excellent, satisfyingly filmlike presentation of McNaughton's picture.




NB. Some full-sized screengrabs are included at the bottom of this review. Please click to enlarge them.




Audio


One audio tracks is included: a DTS-HD Master Audio 5.1 track. The track are rich and deep, with excellent range and clarity. A memorable aspect of the film is George S Clinton's funk-intoned score, which has some echoes of Bernard Herrmann's scores for Alfred Hitchcock's films. Clinton's music fares well on the audio track, displaying its depth from the get-go via the main titles theme.

Optional English subtitles for the Hard of Hearing are included. These are easy to read and free from errors.


Extras



The disc includes the following contextual material:
- An audio commentary by John McNaughton and Steven A Jones. McNaughton and producer Jones provide a commentary over the theatrical cut of the film. They discuss the structure of the original screenplay and how this was adapted for the film, and talk about how the production came together—including some great anecdotes about the casting of the film. It's a track filled with both facts about the production and lively behind-the-scenes stories, McNaughton and Jones being very personable throughout—though there are long stretches in which both participants relax and watch the film.

- An audio commentary by John McNaughton and the film's crew. This commentary is also for the theatrical cut of the film. McNaughton speaks with the film's editor Elena Maganini, composer George S Clinton, and producers Steven A Jones and Rod Liber. This track is a little more lively than the first, with some particularly excellent comments from Clinton about the composing and recording of the score.

- Interview with John McNaughton (26:20). In this new interview, McNaughton discusses his motivations for working on Wild Things: 'I need to get back in the mainstream and make a commercial film', he thought at the time. He was impressed with the plotting of the original script, which his agent sent him. 'As crazy as it all was, I could believe that it really happened', he says in reference to the narrative events depicted in the film. He discusses bringing Kem Nunn onto the project in order to assist in doctoring the script in readiness for production. McNaughton and Nunn travelled to Florida in order to get a sense of the setting of the narrative. There, they spent time meeting 'errant daughters of very wealthy families'. The time McNaughton spent in Florida with Nunn helped in the redrafting of the script.

McNaughton discusses the challenge of making an erotic film—which he suggests is somewhat redundant in an era in which pornography is readily available. He tried to make Wild Things as 'transgressive' as possible—'a sort of transgressive film in the disguise of a studio picture'. He discusses how the nude shot of Kevin Bacon worked its way into the final edit of the picture, and reflects on the fact that none of the film's characters are wholly honourable—suggesting that the shots of the alligators in Florida's swamps, which open the film, are symbolic of the notion that the film's characters function according to their 'reptile brain'.


- Interview with Denise Richards (14:04). In a new interview, Richards reflects on her auditions for Wild Things, and her initial response to the script—which she read after completing filming for Starship Troopers. Richards discusses her approach to playing Kelly, stating that she tried to make the character as empathetic as possible. She also talks about working with McNaughton, and his approach to filming the more explicit scenes. (Richards says that McNaughton was nervous about shooting the scenes that encompassed nudity, and she found this endearing.)

- On-set Interviews (4:17). This EPK-style featurette features comments from the key members of the cast interspersed with footage from the film. The comments are fairly superficial, teasing the viewer with aspects of the plot and the cast talking about their characters.

- 'An Understanding Lawyer' Outtakes (0:27). This is a montage of different ad-libbed lines by Bill Murray in response to Sam's assertion that 'I don't fuck my students'.

- Trailer (2:23).

- Stills Gallery (45 images). These are a mixture of production stills and portraits of the cast.


Overall



So late 90s that it almost hurts, Wild Things is a superb example of the kind of mid-budget neo-noir cinema that American filmmakers with indie backgrounds made their own during that period—and which sadly seems to have all but disappeared. With its promise of titillation in the form of sexualised/erotic content, Wild Things certainly made the kind of commercial impact that McNaughton was presumably hoping for—and was followed by three DTV sequels. Nevertheless, the film has a thoughtful script and much to say about the juxtaposition of wealth and poverty, and is well-performed by the superb cast. The photography is slick too, and the whole enterprise is boosted along by George S Clinton's score.

Arrow Video's new Blu-ray release of Wild Things is an enormous upgrade from the previous DVD releases. The disc includes an excellent, satisfyingly filmlike presentation of both cuts of the main feature (the theatrical cut and the unrated cut—the latter offering more plot rather than sex), and some excellent contextual material.


Please click to enlarge.