The Show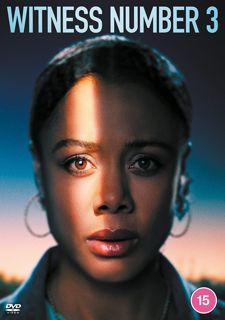 When a man is found stabbed to death, the police put out a request for information but the only person to step up in a notoriously crime-ridden borough is Jodie (Bodyguard's Nina Toussaint-White), single mother who has been running a local hair salon but is planning on moving herself and her teenage son Kyle (Cole Martin) in with her Paul (Ripper Street's David Crowley) who lives in a safer area of London. Although Jodie only identified a person of interest in the company of a man whose face she did not see but whose distinctive hoodie was that of the victim, Jodie feels that it is her community duty to step up when a crime is committed. On the way home one night with her son, a young man (Ruaridh Mollica) asks to borrow her phone to get let into his brother's apartment nearby; after which, Jodie starts receiving disturbing videos obviously meant to intimidate her into not signing her witness statement; however, she starts to rethink her stance when the videos get more violent but her stance is shaken when she suspects that her son is being threatened.

When a masked gang start causing disturbances at night in front of her housing estate, lead investigator Whelan (The Last Duel's Clare Dunne) assigns her a witness contact officer in Ivan Barkas (War Horse's Sion Daniel Young) who warns her that no one would blame her if she ran away, revealing that the two other witnesses have dropped out and all the harddrives of all CCTV cameras in the area on the day of the murder have been erased. Jodie takes it upon herself to contact them only to discover that local factory worker Tyler (From the Dark's Stephen Cromwell) and his family are frightened to death, and the other was a diabetic who went into a hypoglycemic coma and died, an "accident" that his brother/carer calls into question. When the gang sends video of her mother (Downton Abbey's Sue Johnstone) being terrorized and falling down the stairs of her home, Jodie tells Whelan at the hospital that she will not sign the statement; however, Whelan tells her that she is now the case's key witness and will be compelled to testify to the contents of her statement whether she wants to or not and can be held in contempt if she claims she lied. After the gang vandalizes her business, Jodie decides that she is tired of being afraid but she no longer knows who to trust when a random stranger warns her how close they can get to her and "we have the police."

The new four-episode Channel 5 series Witness Number 3 is such a visual showcase for director Diarmuid Goggins – who moved up from episodic television like Casualty and Hollyoaks to crime drama series like Silent Witness, Bulletproof, Red Rock, and most recently Kin (also starring Dunne) – and an acting showcase for Toussaint-White that it is unfortunate that they are not supported by a good script. From the starat Goggins and cinematographer JJ Rolfe engage in stimulating visual stylistics that one at first suspects that either Jodie saw more than indicated in her casual glance out the window to be revealed later or that she has seen something that she did not entirely comprehend; however, it turns out that her "key witness" testimony really is seeing the suspect in the company of the victim for a second outside her shop window. There is not enough to stretch to four episodes, so the series drags instead of using some of that time to truly establish anything that might make the lead character's motives seem less schizophrenic. We only learn in passing of Jodie's apparent community activism although we only see her running a shop which has perhaps given opportunities to one or two locals as hairdressers at a time and the suggestion that she is abandoning everything by moving away, so her intermittent bursts of community-mindedness seem convenient to placing her in more danger than organic to a character who stands for everything the gangs do not.

The shakiness of the investigation actually might be more accurate than it appears, with the investigators hanging everything on Jodie's testimony and "hoping" to gather more substantive evidence by the time of the trial; however, the excuse of needing to apply for funds for witness protection seems lame when the department not only replaces her locks, installs a CCTV in her apartment, and gives her panic alarm, but also constructs a panic room with a steel door in her flat. Somehow the police repeatedly advising Jodie to "try not to panic" and her falling into bed with Ivan is far less hard to swallow than scenes in which both Jodie and her mother wonder why boyfriend Paul did not consider moving himself and his daughter into her flat (always framed with oppressive shadows) on a creepy, crime-ridden estate – where gang members can stand around in masks looking like they are extras from The Purge and only attract the attention of their intended target of intimidation – over her and her son moving into his safer, suburban home. When Paul tries to get Jodie to move her and her son in with him sooner after the attacks on her mother and her business, she accuses him of trying to control her and he replies that he hardly knows her anymore – in spite of being one of the sources of her character background, noting of her decision to make a statement that she "always has to be where the action is" – and we really learn little about her apart from the visual and aural cinematic possibilities of her being haunted by the death of her addict husband (Lift's Fiach Kunz).

Unfortunately, the one substantive conversational scene between Jodie and her son inspired by memories of her husband takes a back seat to a less believable one between Jodie and one of her emotionally-conflicted attackers during the third episode which plays like a chamber drama with only two characters which is the one scene in which it is effective for the audience to question whether Jodie really has the community connections she claims that can help the young man or if it is just a diversion tactic. Director Goggins is much more effective in creating a horror movie atmosphere with the mobile phone POV shots of the gang stalking Jodie or carrying out acts of violence to send to her suggest more menacing villains than revealed, and scenes in which Jodie is unnerved by strange women staring at her suggest that the show might have been more interesting had Jodie stumbled upon a cult rather than a drug-dealing estate gang. The obvious red herring is exactly that and an early Brian DePalma-esque split diopter shot that places unusual emphasis on a character does indeed reveal the real villain (which might not have seemed so obvious if this apparently crucial character was put onscreen for more than the bare minimum of scenes required to move the story ahead). At worst, Witness Number 3 is filler for Channel 5 and Acorn Media's streaming and physical media outlets but at best it is an indication of what Goggins and Toussaint-White together or separately could do with a better script.

Video


Coming to DVD just weeks after the final episode aired, Witness Number 3's anamorphic 1.78:1 widescreen image would probably be better served by Blu-ray with its dark environs and emphasis on the grit and grime of the setting, but the DVD image probably looks no worse than a moderate bandwidth streaming offering on Acorn.

Audio


The only audio option is a Dolby Digital 2.0 stereo track that sports consistently clear dialogue, music, and direction effects while a discrete surround mix might have better served environmental sounds intended to unnerve the viewer and the protagonist. Optional English HoH subtitles are included.

Extras


Extras consist of behind the scenes interviews (38:08) – which also include optional English subtitles enabled from the main menu – with the cast and principal crew presumably created for the web based on their brevity. Although most of these run less than three minutes – with a chunk taken up by the title intros – one is surprised that they seem to impart more character information than the show itself but the longer ones with writer Thomas Eccleshare (7:16) and director Diarmuid Goggins (7:32) convey more about their intentions than the show's achievements. On the other hand, the soundbites with cinematographer JJ Rolfe, production designer Ferda Murphy, and costume designer Kathy Strachan (3:20) and executive producers David Collins & David Nath (3:55) hardly seem worth the effort of getting them to sit down for commentary. A photo gallery (1:24) is also included.

Overall


At worst, Witness Number 3 is filler for Channel 5 and Acorn Media's streaming and physical media outlets but at best it is an indication of what director Diarmuid Goggins and star Nina Toussaint-White together or separately could do with a better script.