The Film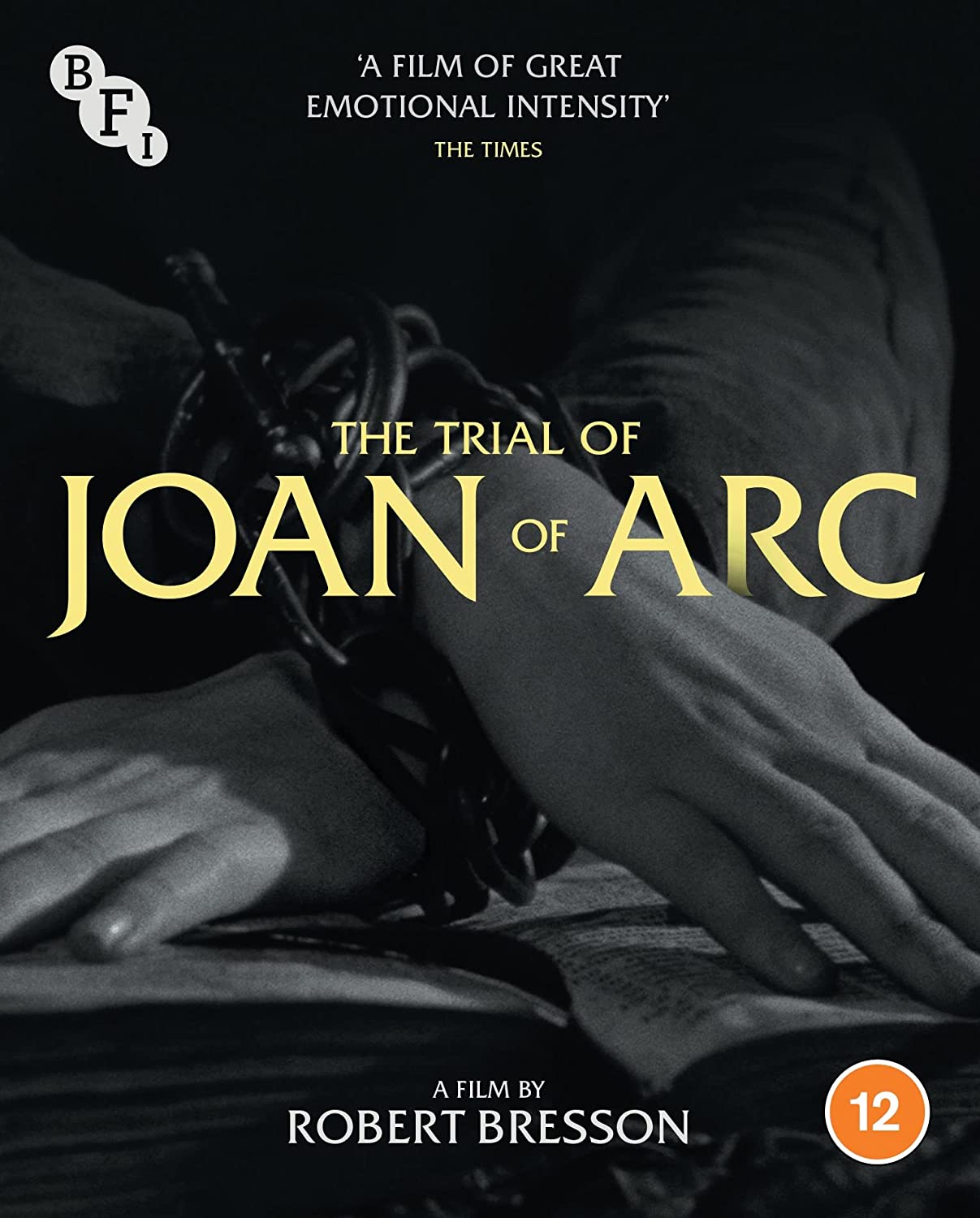 "The Trial of Joan of Arc" ("Procès de Jeanne d'Arc") (1962)

The story of Joan of Arc's life and death has been one of the most mythical and inspirational tales for nearly 600 years. A young French girl who fought and defended her country as a soldier, guided through the voice of God, and never standing down against everything in the way, the accomplishments in her life far surpassed her nineteen years she had lived on this Earth. She was captured in the Siege of Compiègne in May of 1430, then sold to the English and imprisoned in Rouen while awaiting for trail in a pro-English church court, which began in February of 1431 and lasting nearly a month including interrogations. The court found her guilty of heresy, and on May 30, 1431, she was burned at the stake. But things did not end well with the church or with history with their actions, as her martyrdom ignited a higher morale for the French and their battle against the English. A quarter of a century later, a rehabilitation trial in 1456 declared that the original trial was invalid due to the improper procedures by the court and Joan's charges were nullfied. Her strength and sacrifice were embraced by the French people and eventually by the world, but there was still a lot of mystery to her life due to inconsistent record keeping. Her date of birth is unknown. Her birth name is also not clear. A portrait was never made of her likeness. There are also some gaps within the trial where portions were not dictated properly. There are probably more gaps in her life than what is known, but that is what makes her a nearly mythical figure.

Filmmaker Robert Bresson's film "The Trial of Joan of Arc" focuses on the trial itself. Taking transcriptions from the original trial as well as facts stated in the rehabilitation trial, this portrait of Joan was not an extravaganza of cinema to showcase Joan's strength at command on the battlefield, but instead looking at her last moments as well as the church's misguided and terrible methods to break her soul. Like many of Bresson's other films, this also featured non-actors in the leads, with 21-year-old Florence Delay (credited as Florence Carrez) in the title role of Joan, who later became more well known as a novelist. Her role as Joan is played in a stilted fashion as many of Bresson's leads usually face, but in essence gives her a strong presence as one that does not let her emotions get in the way. It was stated that Joan was calm, straight, and true to herself for most of the time, and Delay's limited performance is able to project that. Not to say that she is completely still all the eay through, as she does break down and cry, and have some emotionally tense segments, though with restrain rather than with theatrics. This also goes for the men of the church, with non-professionals in the court giving their statements in orderly ways. They are not portrayed as evil or menacing, but instead they let the words spoken become the root of the absurdity of the trial. Some of the more disturbing words in the film are actually from the English (being spoken in English), such as "Burn the witch!" and other derogatory comments about her. There are a few deletions made, such as Joan having to shave her head being eliminated from this film version, as well as some of the torturous moments that have been described such as the rape attempts.

The simplicity of the filmmaking is what also sets Bresson apart. With minimal camera movement, emphasis on shots of the hands of the performers, with no background music to accompany the images, Breson looked to taking the heightened theatrics of theater out of cinema. There was no overemphasized acting, no tricks lighting and effects, no vibrant set dressing. In effect, it was purely the storytelling aspect in its minimalist form. One filmmaker that may come to mind in similarity is Yasujiro Ozu, but there are many differences. Ozu was a perfectionist in framing and put story first above all, he had a different working method, with a troupe of professional actors that repeatedly appeared in his films. In addition, he was not a filmmaker that did multiple takes, as they were rarely unnecessary with the professionals that surrounded him and his precise vision being well explained to the cast and crew. Bresson on the other hand may have been closer to someone like Judd Apatow in terms to having the performers try multiple takes. Bresson was notorious for many takes, sometimes in the dozens for a simple scene. There was the factor of non-professional actors but it was also the case like Apatow, looking for something he was not quite sure of until it happened. While this may be a method that results in magic from improvisation, but in Bresson's case it could also cause bitter frustration with the performers (or "models" as he called them).

There have been a large number of Joan of Arc depictions in cinema over the years. The earliest film is from 1898, with the short "Exécution de Jeanne d'Arc". "Saint Joan" from 1927 was the first film to be made after Joan became a saint of the Roman Catholic Church in 1920, nearly 500 years after her execution. 1928's "The Passion of Joan of Arc" by director Carl Theodore Dreyer may be one of the most iconic depictions of all, though it was hated by Bresson, who didn't like the emphasis on extremely closeups on theatrical faces which took a focus on the acting rather than the plot. It is still a masterpiece of filmmaking and is commonly compared to Bresson's film as it also focuses on the trial itself. In addition there have been "Joan of Arc" from 1948 starring Ingrid Bergman, "Saint Joan" from 1957 based on George Bernard Shaw's play and marking the screen debut of Jean Seberg in the lead, 1999's overblown action epic "Messenger: The Story of Joan of Arc", the fascinating Bruno Dumont directed musical "Jeannette" (2017) and its drama sequel "Joan of Arc" two years later, and many more to be named. Joan of Arc has has been depicted as a supporting character in "Bill & Ted's Excellent Adventure" and others, been referenced in music, art, opera, video games, and everything else one could possibly imagine. Though it's close to 600 years since she was executed by the church, her duty serving as a leader and a soldier, her conviction and standing her ground have inspired generations and continues to do so in many different places and many different situations. While there has been progress made to equal the stances between men and women in society over the years, there is still a long way to go.

"The Trial of Joan of Arc" premiered at the Cannes Film Festival on May 18th, 1962 where it won the Jury Special Prize and OCIC Award. It also won Best Film at the Valladolid International Film Festival and was named the fifth best film of the year by Cahiers du Cinéma. While there was positive reception, there wasn't particular international recognition at the time, as Bresson didn't have the star power that many of the younger French filmmakers had at the time. In hindsight it comes in between his masterpieces "Pickpocket" (1959) and "Au hasard Balthazar" (1966) and "The Trial of Joan of Arc" is great, but in comparison feels slightly lacking. It may be due to its short runtime and limited nature, but on its own it certainly stands as closer to an experiment in historical recreation rather than cinema, but that is technically what he was going for.

Note this is a region B Blu-ray

Video


The BFI presents the film in the 1.66:1 aspect ratio in 1080p AVC. The original film element was scanned at 4K resolution and restored by MK2 with the support of CNC. The black and white image looks excellent here, with the greyscale showcasing deep blacks and shadow detail. It does have a slightly dark tone, fitting with the film's setting and there are no issues to be said of fluctuation or inconsistencies with the black and white. Damage marks are basically gone, with no issues of speckles or scratches to be found, with a healthy amount of film grain being retained for a filmlike quality throughout. Some of the optical work with the titles don't look as strong, but overall this is a great restoration and an excellent transfer to Blu-ray by the BFI.

The runtime is 64:15, which includes a restoration text screen and the modern MK2 logo at the start.

Audio


French LPCM 2.0 mono
The original French audio track is presented uncompressed. There are a few moments of English to be heard, though the majority is in French. The audio has also been restored and sounds very good, with voices being quite clear and without fidelity issues. As the film is basically without music or loud effects, this is more of a test for vocal reproduction and it passes well. Some of the voices sound a bit on the flat side, especially with the minor English portions, but this seems to be intentional. There are no issues with hiss or pops to be heard, being a very clean and crisp audio track, even with its limitations.

There are optional English subtitles in a white font, for the French dialogue. This does not caption the English portions and there is no alternate subtitle track for that. They are well timed and easy to read without errors.

Extras


Audio commentary with film writer Kat Ellinger (2022)
In this newly recorded commentary, Diabolique Magazine's Kat Ellinger discusses the film, the historical events, Bresson's filmmaking methods and much more. From the use of non-professional actors, the simple yet effective framing of the sequences, as well as comparisons to his later works and other French films of the period are talked about, though as the film is on the short side, it seems that Ellinger runs out of time to round up some final thoughts. Still a great listen with a lot of information included.
in English LPCM 2.0 without subtitles

"An Introduction to Robert Bresson" 2022 presentation by Geoff Andrew (28:42)
This on stage presentation from June 7th, 2022 at the BFI Southbank has programmer Geoff Andrew discussing Bresson's life and work along with some film clips in between. Unfortunately for Blu-ray viewers, most of the clips cannot be shown due to rights issues and the only clip shown is from "Pickpocket" (1959). Discussed are Bresson's methods in realism in his filmmaking, his evolving style, his use of silence, focus on hands, use of non-professional actors, and more. The presentation is in English while the film clip is in French with subtitles.
in 1080p AVC MPEG-4, in 1.78:1, in English/French LPCM 2.0 with burned-in English subtitles for the French portions

"Women's Work in Wartime" 1918 short (7:54)
This documentary short from Pathé is a wartime propaganda piece that focuses on women and their roles in the workplace as the men are off to fight in the trenches. From work in a munitions factory making bullets to farming crops in the fields, the short showcases the variety of work that is done, though obviously there are no instances of women themselves being on the battlefield. Though times were certainly changing by 1918. A year prior, the Women's Army Auxiliary Corps was formed, in which thousands of women were recruited for the wartime effort. In addition, the Women's Royal Naval Service was also established later that year. This was followed with the Women's Royal Air Force in 1918, coinciding with the passing of the 1918 Representation of the People Act, giviing women the right to vote in the country, though from 30 years of age. The women in the British military were not given the chance to stand with the men in the battlegrounds, instead taking roles in administrative roles, cooking, mechanical, and other services. Half a millennium after Jeanne d'Arc's legendary efforts in battles, women were sadly still not given any form of equal treatment in wartime. It wouldn't be a hundred years after this documentary short that in 2018, women in the British military would become able to serve in every role alongside men. The short features three tracks by Simon Bates and Paul Michael Harris (PRS) as background music.
in 1080p AVC MPEG-4, in 1.33:1, Music LPCM 2.0 with English intertitles

"Masculinity in Modes" 1931 short (1:06)
In this stencil colored short fro First National-Pathé, it features two models showcasing evening wear for women that were had a slightly masculine touch. The colors are of subtle use with pastels, and the image is in fairly good shape. The short features "Upside Stride" by Dave Hartley as background music.
in 1080p AVC MPEG-4, in 1.33:1, Music LPCM 2.0 with English intertitles

"The Legend of Joan of Arc Ballet" extract from the cinemagazine USSR Today from 1958 (1:48)
This short clip from the Soviet produced newsreel magazine "USSR Today" features rare performance footage from the ballet production of "The Legend of Joan of Arc" at Moscow's Stanislavsky and Nemirovich-Danchenko Theatre, featuring dancer Violetta Bovt in the title role. As the reel was made for export, it features English narration. The audio is a bit on the muffled side though.
in 1080p AVC MPEG-4, in 1.33:1, in English LPCM 2.0 without subtitles

Stills Gallery (2:51)
A series of black and white stills from the production in a silent automated slideshow.
in 1080p AVC MPEG-4

Original Theatrical Trailer (2:23)
The original trailer, which includes the opening scene with the mother and Jeanne's introduction plus overlaid text including critical praises. The trailer's transfer is slightly cropped at the bottom frame to fit the 1.78:1 framing here.
in 1080p AVC MPEG-4, in 1.78:1, in French LPCM 2.0 with optional English subtitles

Booklet
A 24 page booklet is included in the first pressing. First is the essay "Translating the Trial of Joan of Arc from Medieval to 1960s France" by writer and researcher Lillian Crawford which is a great read on the film, the historical events, and the timeperiod. Next is "Beneath the Smoke: The Trial of Joan of Arc" by critic and lecturer Richard Combs which is another great look at the film and its themes. There are also full film credits, special features information with a lengthy written piece on the archival shorts by Lillian Crawford, transfer information, acknowledgements, and stills.


When the film was released on DVD by MK2 in France and in the UK by Artificial Eye in identical forms, they featured a nice selection of extras including interviews with Bresson, an interview with Delay, a television show on the history of Joan of Arc, and a speech by Minister of Cultural Affairs André Malraux. The Australian DVD from Accent also featured these extras. Strangely when MK2 released their Blu-ray edition in 2019, only one interview with Bresson has been carried over and the rest being left behind. Instead three newly comissioned interviews including one with Delay were included, along with a restoration demo. All the extras except for the trailer on the BFI Blu-ray release are exclusive, and while they are great, it's a little unfortunate that the only direct extra for the film is the commentary track. The presentation is about his career rather than the single film and the shorts are not directly related to the film either. It would have been nice to have some of the vintage DVD and French Blu-ray extras to be ported over, but of course there are rights issues to be considered.


Other notable clips:


A clip from the film, courtesy of the BFI.


Bresson discussing "The Trial of Joan of Arc" from "Page cinéma", 1962.


Excerpt of the Robert Bresson episode of "Cinéastes de notre temps".

Overall


"The Trial of Joan of Arc" is a fascinating yet almost too simplistic piece by Robert Bresson with the recreation of the legendary and tragic trial. The BFI Blu-ray features an excellent transfer of the 4K restored version with a number of fascinating extras. Recommended.
| | | | | |
| --- | --- | --- | --- | --- |
| The Film: B+ | Video: A | Audio: A | Extras: B | Overall: A- |