The Film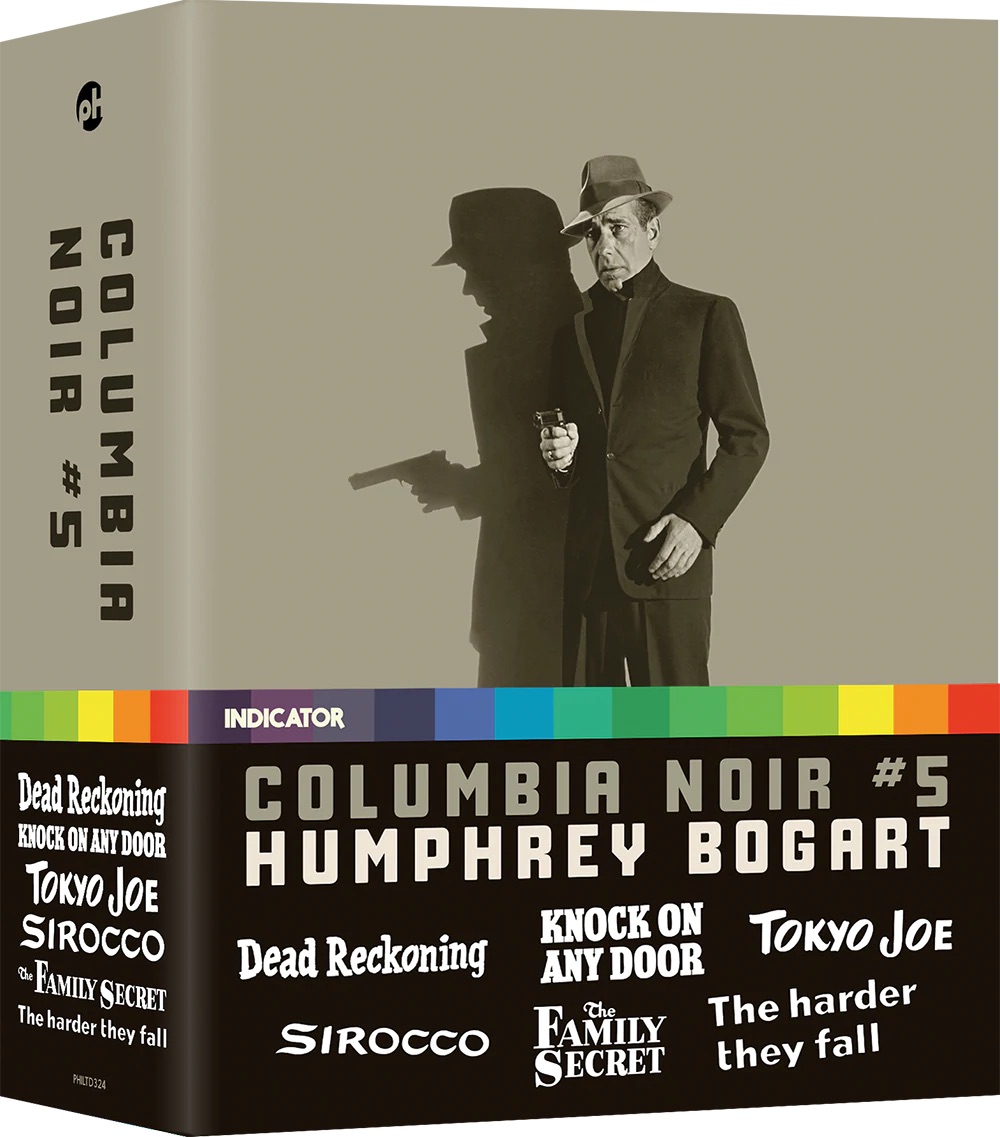 A fifth foray into the film noir output of Columbia Pictures, but, this time, with a twist. Not only does this volume bring together six more gems from the studio's archives, but it also serves as a showcase for the great Humphrey Bogart.

Having established his stardom in the gangster pictures of the 1930s, Bogart fit easily into the world of film noir, where he was equally at home playing troubled servicemen, slick-talking lawyers, black marketeers, gambling den owners, or hard-up journalists.

Columbia Noir #5: Humphrey Bogart brings together five of the iconic actor's starring vehicles: John Cromwell's Dead Reckoning, Nicholas Ray's Knock on Any Door, Stuart Heisler's Tokyo Joe, Curtis Bernhardt's Sirocco, and Mark Robson's The Harder They Fall, plus Henry Levin's The Family Secret, a rarity starring Lee J Cobb and John Derek that was produced by Bogart's Santana Pictures, an outfit that regularly delved into the seedy, shadowy world of noir.

Featuring a stunning 4K restoration of The Harder They Fall, and with Sirocco and The Family Secret appearing on Blu-ray for the first time anywhere in the world, this stunning collection includes newly recorded commentaries and critical appreciations, archival documentaries and short films, and a 120-page book. Strictly limited to 6,000 numbered units.

Video


The final disc in Powerhouse Film's fifth Columbia Noir set (dedicated to the work of Humphrey Bogart) features Bogie's last film, one in which he was working whilst terminally ill. He's superb as always and ably supported by a cast of stalwarts led by Rod Steiger Jan Sterling and Nehemiah Persoff.

The only one of the six films shot with widescreen matting in mind for theatrical exhibition. The negative ratio is 1.37:1 but cropped to 1.85:1 when projected in cinemas. This means that although the inherent image is of the same standard as the other films in this set we do see a little more coarseness to the grain, if only imperceptibly. It's also slightly softer when seen side by side with the open matte Academy presentations but only the most technically minded will notice.

Detail is excellent on all focal planes coming off strongest in closeups. Black levels and contrast are exceptionally strong with no signs of unintended crush or blown out highlights. Gamma is perfectly balanced with no colour bias creeping in: pure, inky monochrome. As we've come to expect there's little or no signs of print damage, The Harder They Fall looks like it was shot yesterday.

A strong transfer ('A').

1080p24 / AVC MPEG-4 / BD50 / 1.85:1 / 108:46

Audio


English LPCM 1.0 (48kHz)
Subtitles: English HoH

All of the discs in this set sound very solid despite lacking the range and depth we expect from modern mixes with their multichannel directionality. Everything is front and centre, unless the viewer pumps it through all channels at once. I heard no distortions beyond the usual slight variations caused by the limited range of sound equipment at the time and due to ADR work in post production. It's always clear and a strong track of era ('B').

The usual excellent hard of hearing subtitles are provided.

Extras


Audio commentary by Glenn Kenny and Farran Smith Nehme (2022)

Both Kenny and Nehme are experienced commentators and both are seasoned journalists on the subject of film. Covers all the bases on would expect like the nature of the story, the genre, the source novel, the cast and their careers. Lots of the duo's feelings and thoughts on the film. Most touchingly we hear about how Bogart was terminally ill during production and in pain and yet he soldiered on. An excellent track presented in lossy Dolby Digital 2.0 mono.

"The Final Bout: Christina Newland on The Harder They Fall" 2022 interview (10:24)
"The Harder They Fall: A Presentation of the Film by Bertrand Tavernier" 2018 interview (29:41)

Two interviews totalling 40:05 worth of material. Newland is the lead critic for The iNewspaper and a specialist in Hollywood history. This covers the fact that it was Bogart's last role, the film's authenticity, the dark nature of the film's story, the plot, the source novel (by Bud Schulberg) the cast and crew (including director Mark Robson), fight fixings, the morally twisted nature of the story and the lead character. It's a trivia packed little piece. The second interview is taken from a 2018 French disc release and features the late director Bertrand Tavernier approaching the film as an example of Robson's career and body of work. Tavernier reckons it's one of the director's best alongside The Seventh Victim (1943), Bedlam (1946), Champion and Home of the Brave (both 1949). Lots of focus on scripter Phillip Yordan and his troubles with McCarhtyism and his standing in France (Tavernier interviewed him). Both pie es are presented in 1080p24 1.78:1 with the first in lossy Dolby Digital 2.0 stereo and the second in uncompressed LPCM 2.0 stereo.

Max Baer Super 8 Films:
- "Famous Fights "Battles for the Crown": Max Baer vs Former Heavyweight Champ Max Schmeling June 8, 1933 Yankee Stadium N.Y." 1933 short film (2:49)
- "Historic Heavyweight Fights: Champion Primo Carnea vs Challenger Max Baer June 14, 1934 Madison Sq. Bowl, N.Y.C." 1934 short film (2:51)

Two silent newsreel-style shorts preserving for posterity two Max Baer fights presented in 1080p24 1.37:1. Both are very soft as befitting the 8mm sources (originally shot 16mm?), lacking in detail and have a fair amount of both crush and blown out highlights. There's also a slight amount of weave. Both are watchable.

The Harder They Fall Image Gallery: Original Promotional Material (35 images)

Solid HD image gallery of promo material.

"That Justice Be Done" 1945 short film (10:30)

Vintage news short about the Nazi atrocities with comments from survivors and and a narrative that asks questions as to why the Allies can't mete out savage justice in the same way that the Nazi's did to their victims. Presented in 1080p24 1.37:1 with uncompressed 1.0 sound. It's a little tinny and hissy as befitting the age and state of the source.

120-page liner notes book with a new essay by Imogen Sara Smith, extensive archival articles and interviews, new writing on the various short films, and film credits

Eight pages are dedicated to The Harder They Fall.

Packaging


Unspecified at the time of writing.

Overall


The final disc in Powerhouse Film's fifth Columbia Noir set (dedicated to the work of Humphrey Bogart) features Bogie's last film, one in which he was working whilst terminally ill. He's superb as always and ably supported by a cast of stalwarts led by Rod Steiger. The usual excellent image and sound quality we've come to expect from Sony (the source master) and Powerhouse (the disc itself) and encoding by Fidelity in Motion.
| | | | | |
| --- | --- | --- | --- | --- |
| The Film: A- | Video: A | Audio: B | Extras: B+ | Overall: A |