The Film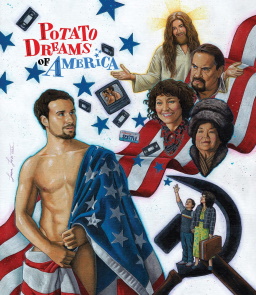 Audience Award: Wes Hurley (nominee) - Americana Film Fest, 2022
Grand Special Prize: Wes Hurley (nominee) - Deauville Film Festival, 2021
FilmOut Programming Award (Outstanding Emerging Talent): Wes Hurley (winner) - FilmOut San Diego, 2021
Grand Jury Award (Outstanding Screenwriting in a U.S. Feature): Wes Hurley (winner) - L.A. Outfest, 2021
Audience Award (Best Feature Film): Potato Dreams of America (winner) - LesGaiCineMad: Madrid International LGBT Film Festival, 2021
Grand Jury Award (Best Film): Wes Hurley (nominee) - Milan International Lesbian and Gay Film Festival, 2021
Honorable Mention (U.S. Narrative Feature): Wes Hurley (winner) - NewFest: New York's LGBT Film Festival, 2021
New American Cinema Competition: Wes Hurley (nominee) - Seattle International Film Festival, 2021
SXSW Grand Jury Award (Narrative Feature): Wes Hurley (nominee) - SXSW Film Festival, 2021
Outstanding Supporting Performance: Lea DeLaria (winner) - Tallgrass International Film Festival, 2021

Vladivostok, 1992: Growing up in the waning years of the Soviet Union, young Potato (Hersh Powers) has always found escape from his circumstances in television, be it the domestic strife between his mother Lena (Sera Barbieri) and his father (Michael Place), his grandmother (Orange Is the New Black's Lea DeLaria) nagging his mother over leaving her husband and only moving in her boyfriend Vova (Room for Rent's Jule Johnson) because he has a color television, or the antisemitism and homophobia rife among his schoolmates whose sexual development is taking a different turn from his own. With the fall of the Soviet Union comes Adidas tracksuits, freedom of religion – prompting a personal friendship between Potato and Jesus Christ himself (Mean Girls' Jonathan Bennett) – and American movies via a renegade television station every night at nine from which Lena and Potato form an idyllic vision of America.

Having worked as a prison doctor where she is repeatedly threatened for refusing to certify beating deaths of inmates as heart attacks, Lena sees very little actual change in Russia as the same communists heads are now capitalists taking public property in the name of privatization. Having already experienced an emotional breakdown, Lena is further dismayed to learn that Potato has confided in his grandmother instead of her the abuse he suffers at the hands of his intolerant former friends. Fearing that Potato will not make it through the brutality of mandatory military service, Lena takes a chance and writes to a mail-order bride service advertised on the renegade station. She begins a correspondence with John (The Wonder Years' Dan Lauria) in Seattle and jumps at the chance when he tells her he wants to marry her and mover herself and her son to America.


Things are not entirely rosy in Seattle as John – who adopted Russian Orthodox Christianity because of its strict interpretation of the Bible – reveals to Lena (now Marya Sea Kaminski) that he had another Russian wife also named Lena that he sent back when she failed to live up to his idealized image of her. With John working on a pyramid scheme, Lena takes a job at a Mexican restaurant where she develops friendships with her co-workers, including lesbian Cheryl (Sara Porkalob) and her partner Carrie (Nicole Santora). In spite of his efforts to shed his past, Potato (now Tyler Bocock) is continually reminded of his foreign exoticism by his teachers at school, and even artistic classmate Mandy (I am Zozo's Sophia Mitri Schloss) who becomes frustrated when he is unwilling to admit to anything other than being "best friends."

Initially resisting and repressing his sexual urges, Potato discovers his sexuality through the movies. When Potato finally comes out to his mother, he is as surprised by her supportiveness as she is relieved that he has not been harboring something worse. When John discovers Potato's video rental history, however, he becomes enraged and threatens to send her and Potato back to Russia unless she agrees to "fix" her son. Lena's friends immediately set about trying to help her find out how to stay in America if she gets a divorce, but things take a strange turn when Lena becomes acquainted with the mysterious Grace (as in Slick, but not really).

In spite of its magical realist choices – from guest appearances by Jesus Christ and the Virgin Mary (singer Lady Rizo) breaking into song about the "American Dream" – what is really surprising about Potato Dreams of America as an autobiographical tale of writer/director Wes Hurley is how much of the more "campy" twists are actually purported by its filmmaker (and his equally-delightful in real life as in film mother) to be true to life. Starting in a deliberately artificial but ambitiously-realized Soviet Union in which an older generation realizes with either deep cynicism or resolution that nothing has really changed under the surface, the switch to Seattle is as jarring as it is sensible with Potato instantly becoming a teenager and Lena played by another actress – this was not immediately apparent upon first viewing in which I only thought the actress like the teenage Potato adopted a Russian accent to differentiate them from the American characters whereas in Russia everyone spoke with an American accent since they could all understand one another – and the illusory nature of their vision in America referenced here only in forms of art from the movies to the taco shop mural gives way to reality with Lena still trying to see the bright side of things.

Potato's (and Wes Hurley's) arrival in America and growing sexual awareness in the nineties is timely given the greater visibility of LGBT independent cinema at the time, including Gregg Araki's The Living End, the palpable impact on Potato of which is quite believable given the trailers and advertising which seemed quite daring, defiant, and in-your-face when it first appeared. While the scenes between Potato and his mother (both incarnations) are touching, the film's most emotionally-poignant moments, however, belong to Lauria which goes a long way towards giving emotional depth to an initially repellant character. The last ten minutes or so of the film seem like escapist revisionism of something that would have been darker in real life, but we are told that this is indeed how it happened more or less. What we do not get is Potato actually starting on his quest to become a filmmaker as expressed early on, although it apparently took some time based on his IMDb page, and getting waylaid by finally getting laid guilt-free is probably a valid explanation for the way the film concludes.

Video


No specifics are provided for the striking HD-lensing of the film, but the faults of Dark Star Pictures' 1080p24 MPEG-4 AVC 1.78:1 widescreen Blu-ray are probably partially due to the source with some banding in some of the more saturated solid colors but some of the blocking in the blacks may or may not be a bad encode or a flaws in the HD video export.

Audio


Audio options include lossless DTS-HD Master Audio 5.1 and lossy Dolby Digital 5.1 and 2.0 stereo tracks. While the lossless track is recommended, it is only intermittently used to its full potential with the more musical moments of the film but is generally suited to the more dialogue-heavy intimate moments. Optional English SDH subtitles are provided.

Extras


Extras start off with an audio commentary by writer/co-producer/director Wes Hurley who discusses the factual basis of the film's story while also noting where he took some liberties – as well as not wanting to delve too deeply into Grace's issues which he feels needs a movie to itself out of concern not to reduce the character to negative stereotypes – as well as how he and production designer Kristen Bonnalie clicked when it came to the look of the Soviet scenes because they had both lived there during the same period. He also points out the many members of Seattle's theatre, music, drag, and art scenes, notes that the video store where Potato peruses the gay/lesbian section is the storied Scarecrow Video – which they had to redress to include only videotapes for the period – as well as filmmaker Gregg Araki's support of the project.


A series of short behind the scenes featurettes cover the hurry-up-and-wait nature of the shoot with "American School Day" (19:06) looking at the single day of shooting at the high school, "Soviet Russia" (14:48) giving us a look at the abandoned Staples store that served as the soundstage – with views of several sets that did not extend beyond the edge of the camera frame – "John and Hersh Dancing" (1:23) showing the actors not practicing their choreography but bonding over ABBA instead. The "Extended Dance Sequence" (2:25) shows us the full, color version of the Apache dance performance which young Potato imagines while watching his parents fighting in the first scene. "Recording the Score" (3:47) is a look at the socially-distanced orchestral recording – with remotely-recorded solo instrument performances – while the "Breakdown Scene" (0:25) is a brief view of Barbieri working herself up into a scream.

The disc also includes an introduction by the actors (1:02) montage as well as actor interviews with Dan Lauria (6:40) discussing what attracted him to the project and working with Kaminski, Hersh Powers (7:45) discussing working with Barbieri and DeLaria as well as playing a younger version of the director, and Jonathan Bennett (4:37) discussing the timeliness of the film's social and political issues and their responsibility to LGBT children. Lea DeLaria (7:55) discusses the heavy influence her wig, wardrobe, and make-up had in helping her "put on" the character while noting that the grandmother actually is aware of and relishes her own dramatic nature. Marya Sea Kaminski (10:03) reveals that she has known Hurley and his mother for decades and read several early drafts, and that although she worked with a dialect coach, it was more important to capture the mother's "inherent kindness" which she points out is not to be confused with "gentleness" but is actually "forged in fire." Like Powers, Tyler Bocock (4:28) also discusses playing a younger version of the director as well as working on his Russian dialect. Lastly, "The Boys" (2:48) features brief comments from the teenagers who play Potato's Russian friends during the first half of the film.

More informative is "Little Potato (The Story Begins...)" (13:54), a documentary featuring Hurley and his real-life mother in which they tell the story of their life in the Soviet Union and with her American husband Jake – along with Janice (name after Joplin rather than Grace Slick in the film) – that affirms much the story as told in the film which may only give us a little more detail not covered in the film but a lot of emotional resonance and that which Kaminski identified as "inherent kindness" that perhaps steered the real-life story away from the darker ending viewers may have been expecting. Excerpted throughout the piece but not included on its own is the 2017 six-minute documentary short Potato Dreams.

The disc also has "Potato at Pride" (0:41) which is a self-explanatory deleted scene with no audio – which would have gone more in the way of showing Potato discovering gay people outside of the movies and his mother's friends, and the outtake "School Dance" (0:35) that shows the Russian class unwinding after their dialogue-heavy class photo pose tableau long takes.


The first of two included short film "Rachels Don't Run" (14:46) is not a Hurley film but it does star Barbieri, while "Rusalka" (8:32) is a 2017 short film by Hurley about a merman who rescues a sailor when he is knocked out, robbed, and dumped in the water. When the merman wishes to become human, he ends up in just the right place to wander around nude but is discovers his "love at first sight" is only a means of self-discovery. Much more explicit than anything in the feature, it looks and sounds for the most part very much like a seventies gay underground film along the lines of Luminous Procuress or a softcore take on a Fred Halsted or Wakefield Poole film.

"Capitol Hill" is the full ten episode first season (just under ninety minutes) of Hurley's web series, a campy drag faux-soap opera in which Roses Smell leaves the backwoods of Portland, Oregon for the sinful big city of Seattle where she lands a job behind the scenes at a TV studio and moves up in front of the lens leading to jealousy and intrigue. Also include are trailers for six other Dark Star Pictures titles.

Packaging


The disc comes with a reversible cover and a poster insert with an essay by filmmaker Guinevere Turner on the back, while the first 1,000 copies ordered directly from Vinegar Syndrome come with a special limited edition slipcover designed by Jess Rotter.

Overall


In spite of its magical realist choices, what is really surprising about Potato Dreams of America as an autobiographical tale of its writer/director is how much of the more "campy" twists are actually purported to be true to life.