Pastor Hall (Blu-ray) [Blu-ray]
Blu-ray ALL - America - Powerhouse Films
Review written by and copyright: Rick Curzon (1st July 2022).
The Film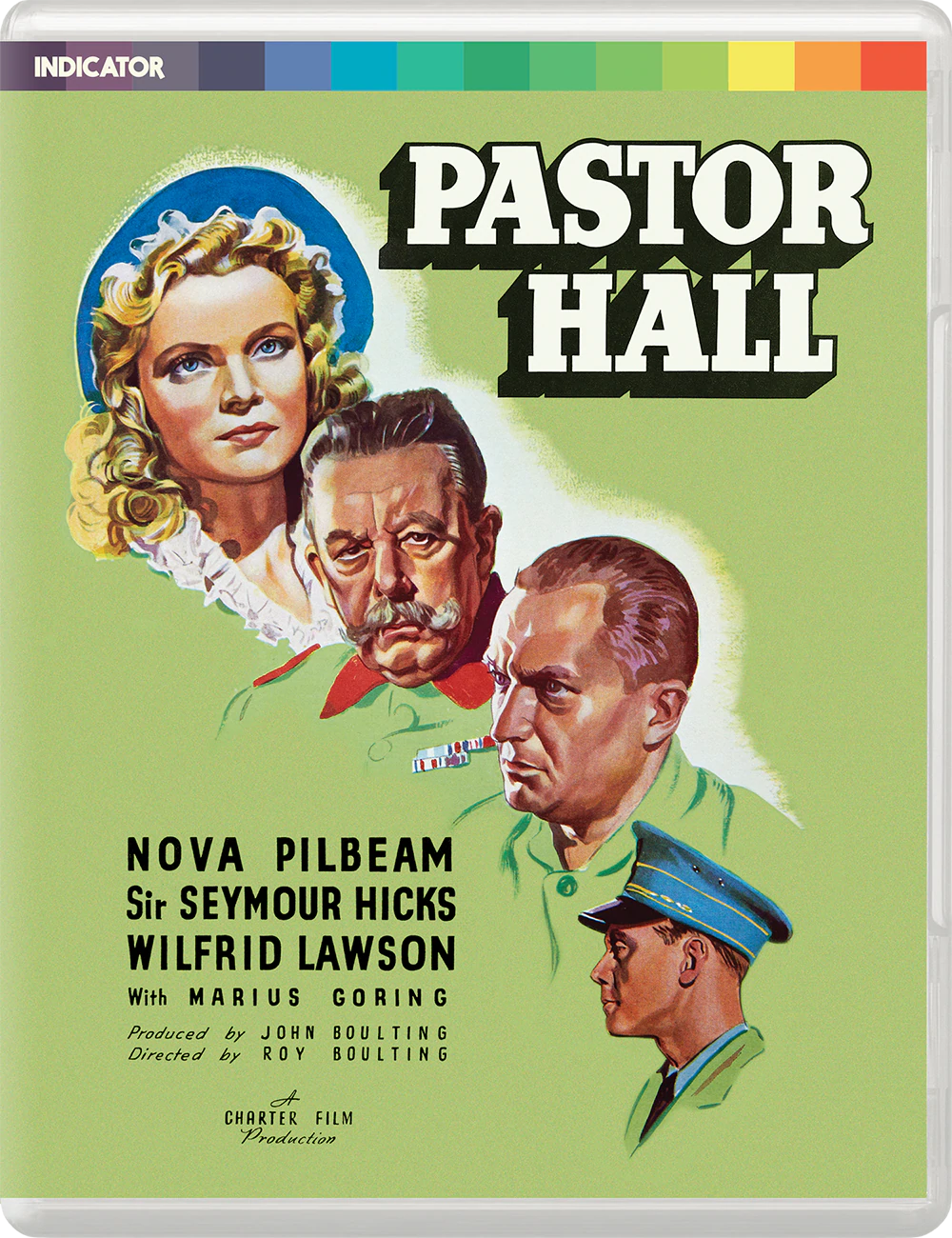 When the quiet German village of Altdorf is taken over by an SS platoon which proceeds to enforce Hitler's ideals upon its inhabitants, a kindly pastor questions the agenda of 'The New Order' while members of his parish turn a blind eye to the insidious indoctrination. Before long, he is punished for his vocal opposition and is sent to Dachau, where, despite the abuse and brutality which he suffers, he refuses to give in to the madness and inhumanity of National Socialism.

Adapted from Ernst Toller's 1939 play of the same name, and based on the true story of Protestant minister Martin Niemöller, Pastor Hall is the impressive third feature from the Boulting brothers (Brighton Rock). Starring Wilfrid Lawson (Pygmalion) as the iconic pastor, and Nova Pilbeam (Young and Innocent) as his formidable daughter, the film was one of the first anti-Nazi dramas ever made and had its original production delayed by British censors who were not yet ready to be openly critical of Hitler's regime.

A bold and stirring tribute to the universal power of faith, courage and personal conviction, Pastor Hall has been newly restored from a 4K scan of the nitrate duplicate negative by Powerhouse Films and is finally available on Blu-ray for the first time in the world.

Video


An effective and well regarded slice of propaganda set in 1934, that had taken a few months to get to the big screen. Earlier script submissions had been vetoed due to the sensitive international situation but that all changed on the 1st of September 1939 when Germany invaded Poland with Britain and France declaring war on the 17th. Pastor Hall premiered 27th May 1940 and is based on the play by Ernst Toller (1893-1939) which in turn was loosely based on the life of Pastor Martin Niemöller (1892-1984) (here named Pastor Frederick Hall played by Wilfred Lawson) who ultimately came to oppose the Nazi regime and wrote the famous poem "First they came ...":


First they came for the socialists, and I did not speak out - Because I was not a socialist.

Then they came for the trade unionists, and I did not speak out - Because I was not a trade unionist.

Then they came for the Jews, and I did not speak out - Because I was not a Jew.

Then they came for me - and there was no one left to speak for me.


The transfer ...


This 35mm monochrome film has been sourced "Pastor Hall was scanned in 4K from an original nitrate positive element preserved by the BFI National Archive. Colour timing and restoration work was carried out at 2K resolution by Final Frame Post, London. The age and nature of the source material means that intermittent frames are missing, resulting in the absence of brief sections of sound and vision. The film's audio was restored at the same time.


This is a pristine image and about as good a transfer of a monochrome film from this era that I've seen. There are no signs of age related damage that I could see. I saw only an occasional sign of the missing frames or dropouts in the soundtrack, overall it was a 98% smooth viewing experience. Gamma is perfectly balanced with no colour bias creeping in. Black levels are velvety and rich with no signs of unintended crush. Contrast is low key and supportive of detail and I could see no blowouts. The encode is typically strong with plenty of lovely grain and detail is well served although the image has a natural softness due to film stocks used. A topnotch transfer ('A').

1080p24 / AVC MPEG-4 / BD50 / 1.37:1 / 96:25

Audio


English LPCM 1.0
Subtitles: English HoH

What we have here is a solid mono track with very limited range. It has a slight - very slight - echoey quality that comes and goes and is most likely down to production methods of the era. Dialogue is the main priority here and it's always very clear, music is never intrusive. Distortion does creep in when the volume is raised to higher levels with some slight hiss and crackle in evidence. I watched the film at the standard sound level I always do and it was robust, clear and free of issues beyond what I would expect from a production of this era. The elements have been looked after and well handled in the restoration process and are presented here on their best behaviour. Excellent, comprehensive hard of hearing subtitles are provided ('B-')

Extras


"The Imperial War Museum (IWM) Oral History with Roy Boulting: Conducted and Recorded in March 1980 by Kay Gladstone" plays as an alternate audio track over the film (96:25)

A vintage interview and screen-talk presented in lossy Dolby Digital 2.0 mono. This covers in quite some detail the production of Pastor Hall as well as the life and career of Roy Boulting. Plenty here for fans to savour.

"Faith Beyond Borders: Professor of History and Author Matthew Hockenos on Martin Niemöller and Pastor Hall" 2022 featurette (15:04)
"The Cutting Class: Former BBFC Examiner Richard Falcon on the BBFC and Pastor Hall" 2022 featurette (13:54)

Two new pieces totalling 28:58 about the film. The first deals with the historical aspects of the production and the reality behind the story including Niemöller's initial support of the Nazi party, the second with the film's relationship to the BBFC. Both are presented in 1080p24 1.78:1 with lossy Dolby Digital 2.0 stereo sound.

"Niemöller Speaks in Hamburg" 1946 newsreel (2:25)

Vintage newsreel footage presented in 1080p24 1.37:1 with uncompressed LPCM 1.0 sound. Lots of minor print damage to be seen and the sound is a little hissy but overall this looks more than acceptable. Fascinating to see and hear the real historical figure behind the drama.

Pastor Hall Image Gallery: Original Promotional Material (29 images)

The usual solid HD image gallery.

"The Dawn Guard" 1941 short film (6:19)
"Minefield!" 1944 short film (14:35)

Two WWII era short films presented in 1080p24 1.37:1 with lossy Dolby Digital 1.0 sound. The occasional speckle notwithstanding the first looks remarkably good with clear sound. The first is in much better condition that the second which has much more noticeable print damage but the sound is just as solid. It's still more than acceptable however.

liner notes booklet with a new essay by Fiona Kelly, archival articles, new writing on the short films, and film credits

The essay very effectively covers the Boultings, the play and the film in detail and how it came to be. We also get a contemporary report on the production of the film and on the US Eleanor Roosevelt prologue (sadly not on this disc) which appears on US versions of the film, contemporary critical responses and pieces on the short films and finally information on the transfers.

Packaging


Clear BD Keepcase.

Overall


A rarely seen film gets the deluxe treatment from Powerhouse Films in a worldwide Blu-ray premiere - the only prior release I'm aware of was a 2012 Australian DVD. A valuable slice of early propaganda from the war years (1939-45) and one that I had not heard of previously, so many thanks to Powerhouse for affording me (and the great British public) the chance to see this historically significant film. It does get a little silly and unbelievable in it's final moments when the propagandist nature of it comes to the fore (for wartime audiences), but is still a very good film overall. Image and sound are excellent and the extras valuable and choice. This disc gets my highest recommendation and it'll no doubt be on many lists by years end as being among the best of 2022.
| | | | | |
| --- | --- | --- | --- | --- |
| The Film: A | Video: A- | Audio: B- | Extras: A+ | Overall: A+ |

---
Rewind DVDCompare is a participant in the Amazon Services LLC Associates Program and the Amazon Europe S.a.r.l. Associates Programme, an affiliate advertising program designed to provide a means for sites to earn advertising fees by advertising and linking to amazon.co.uk, amazon.com, amazon.ca, amazon.fr, amazon.de, amazon.it and amazon.es . As an Amazon Associate, we earn from qualifying purchases.