The Film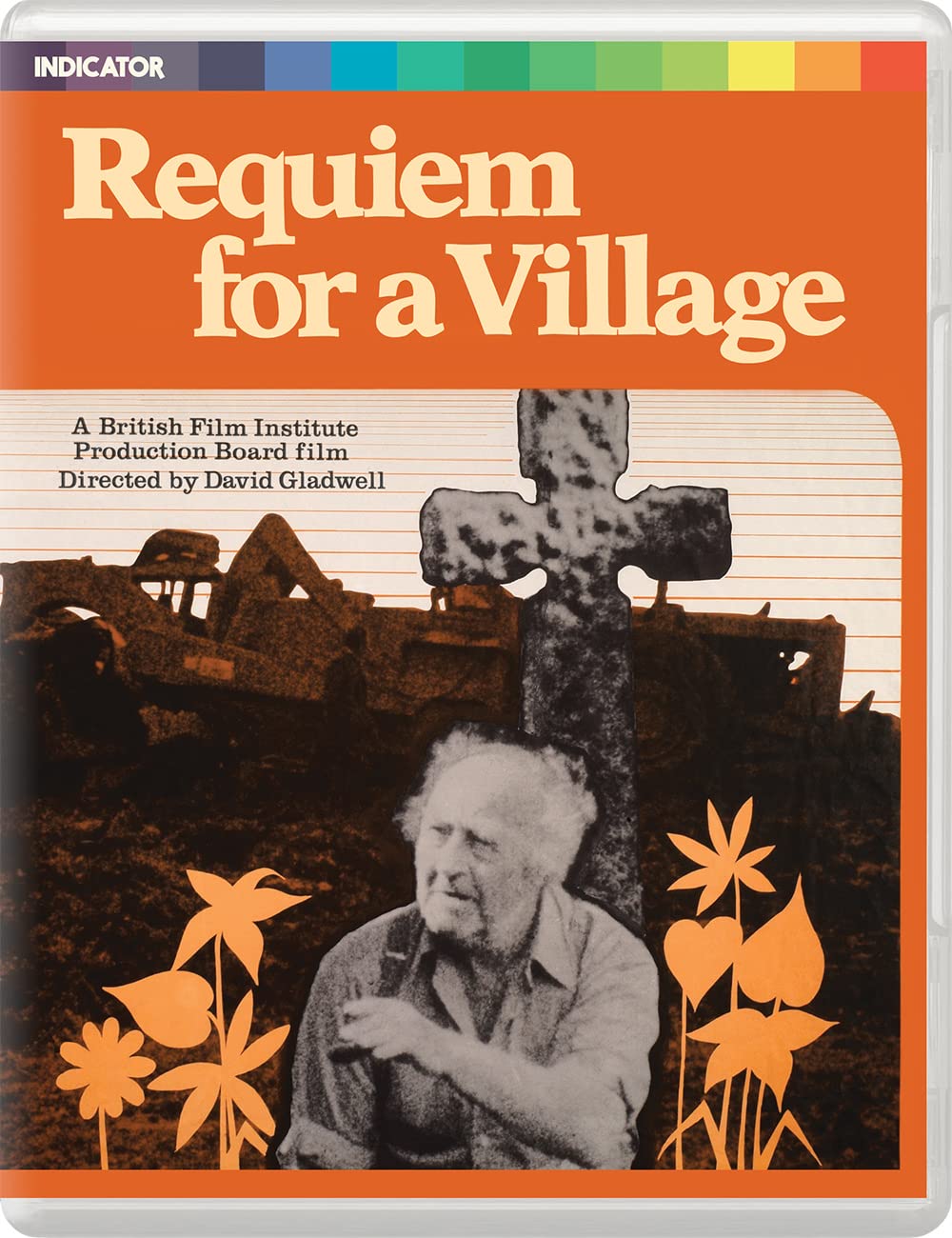 When an old man sees the dead rise from their graves in a rural English churchyard, the past and present are thrown together and a dialogue between the old and the new, tradition and progress, man and machine, is set in motion. Lyricism, violence and the uncanny collide to produce an extraordinary film of great power and potency.

Perhaps better known for work as the editor of Lindsay Anderson's If ... and O Lucky Man!, David Gladwell directs this visionary folk offering with an artist's eye. Exquisite slow-motion, no-holds-barred brutality, and weird alchemy are enriched by the astounding score from acclaimed composer David Fanshawe. Making its US Blu-ray debut, Requiem for a Village arrives complete with all-new director commentaries and a collection of Gladwell's short films which foreshadow many of the themes and techniques of his remarkable debut.

Video


This mesmerising slice of earthy, arthouse cinema focusses on folk memory with a whiff of the fantastique with it's scenes of villagers being resurrected in a church graveyard, where the past mingles with the (then) present in time-bending ways. Largely featuring amateur actors in the form of local non-acting, villagers.

Shot in 16mm in colour in the Academy aspect ratio this unusual little film favours a naturalistic colour palette with some vivid primaries and an abundance of greens and browns. Flesh tones are warm and well defined. Black levels are rich with some natural crush and contrast allows detail to come through despite being a soft, grainy 16mm film. Grain management is expertly handled by the encode with a very filmic feel from first frame to last.

A flawless transfer given the source elements which are in excellent shape with no signs of digital tinkering nor print damage ('A').

1080p24 / AVC MPEG-4 / 1.37:1 / 68:19

Audio


English LPCM 1.0 (48kHz)
Subtitles: English HoH

Strong, vivid mono track pretty typical of the period mostly made up of score and ambient sound with occasional dialogue. It's been beautifully restored, no signs of distortions even at a higher volume. There's little range but the score occasionally tickled my subwoofer slightly in it's basey moments. Excellent hard of hearing subtitles are provided ('B+').

Extras


Audio commentary with writer-director David Gladwell and moderator Sam Dunn (2022):
- Audio commentary Part One: Career Overview (68:16)
- Audio commentary Part Two: Requiem for a Village (68:16)

A thorough and comprehensive commentary spanning two viewings of the main film with each covering comprehensively firstly the life, work and career of Gladwell and the second focussing on Requiem for a Village. Essential. Both presented in lossy Dolby Digital 2.0 mono.

"A Summer Discord" 1955 short film (17:11)

The first short is silent. It's presented 1080p24 1.37:1. Monochrome with the usual perfect gamma balance so no colour bias that I could detect. From 9:29 it switches to colour at times which is fairly naturalistic and warm. It all looks like 16mm with heavy grain, beautifully encoded. No print damage to speak of beyond the odd tiny speckle. A young androgynous girl and her escapades during the summer hols.

"Miss Thompson Goes Shopping" 1958 short film (22:41)

The second is 35mm and presented in 1080p24 1.37:1 and has sound in lossy Dolby Digital 1.0 which is simple and rather harsh, obviously lacking in range but is not synchronised to the onscreen action working as a commentary on the narrative. An elderly lady's day from getting up to going out shopping and dreaming of letting it all go in a moment of joyous throwing of hat and shopping, letting her hair down etc.

"An Untitled Film by David Gladwell for the British Film Institute" 1964 short film (9:02)

Number three is from 35mm monochrome 1080p24 1.37:1 with lossy Dolby Digital 1.0 sound. Sound is stronger than the second being all score and image is strong with no damage at all that I could see. This one is about a young lad watching a farmer go about his business including killing a chicken, be warned.

"The Great Steam Fair" 1964 short film (17:40)

1080p24 2.35:1 and in naturalistic colour with some string primaries. I'd guess shot in 35mm 2-perf Techniscope as there's no distortions due to using anamorphic lenses. Sound is lossy Dolby Digital 1.0 and is what one would expect for a documentary short featuring synchronised, live sound recorded on location and done on a budget. Very clear, lacks range etc., you know the score. A documentary about what but says in the title with some narration but mostly just live sound. [EDIT: checked IMDB and it is 35mm 2-perf Techniscope.]

"28b Camden Street" 1965 short film (28:00)

Back to 35mm monochrome 1080p24 1.37:1 for this one. The usual lossy Dolby Digital 1.0 sound with some distortion and buzzing. It's a narrated documentary piece about the occupant of the address in the title, a sculptor and his colleagues. Clean, clear with no gamma bias and blacks and contrast are generally excellent with only the odd speckle by way of print damage. Has a creepy, ambient score that is well served, narration is clear and sound is synchronised with some interview subjects.

"New Way at Northgate" 1969 short film (34:51)

Monochrome 35mm 1080p24 1.37:1 and lossy Dolby Digital 1.0. I don't know the source of this HD master but I'd guess it's a generation further removed than the above short films as it's much softer, it may even be an upscale. The booklet states it's from an HD master taken from the best available materials. There's no damage, gamma is perfectly balanced and black levels and contrast are decent if a little crushed and flat respectively. A documentary about Northgate Hospital for the mentally impaired.

"A Film About a Scottish School: Can Horses Sing?" 1971 short film (optional 2022 commentary by film critic Thirza Wakefield) (25:38)

Documentary short written by, directed by and narrated by Elizabeth Sussex and edited by David Gladwell. This one is in naturalistic colour, albeit a shade pinkish, and 16mm. Blacks show signs of mild intended crush and contrast is low key and supportive. Restored by Powerhouse Films in 2K. Sound is lossy Dolby Digital 1.0 and is generally excellent considering the source and purpose this film was made for. It's a tad harsh if played too loud but fidelity is generally good. The harpsicord score comes over clearly, ditto dialogue. This short has an audio commentary by researcher and critic Thirza Wakewell. She relates this film to a couple of a short films A Portrait of Ga (Margaret Tate 1952) and Miss Thompson Goes Shopping (Gladwell 1958) and the Hanna Hauxwell documentaries (especially the 1989 A Winter Too Many). Essentially Wakefield's commentary focusses on this films theme about the clash of the past with modernity, which incidentally is mirrored by Gladwell's shorts and features Requiem for a Village (1975) and Memoirs of a Survivor (1981).

Image Galleries:
- A Summer Discord and Miss Thompson Goes Shopping Image Gallery: Promotional and Distribution Material (56 images)
- Requiem for a Village Image Gallery: Early Treatments (125 images)
- Requiem for a Village Image Gallery: Production and Distribution (148 images)
- Gladwell Correspondence Image Gallery (48 images)
- Gladwell Image Gallery: Paintings (20 images)

A whopping 397 images in HD all obviously themed around Gladwell's work.

32-page liner notes booklet "Requiem for a Village - A Contemporary Review" by Elizabeth Sussex, "Requiem for a Village: Cinema of the Anti-Scrape" by Rob Young. Also includes David Gladwell discussing his work, a biography of Gladwell, cast and credit information, notes on the transfer, a breakdown of the extras and acknowledgements

As if the disc contents weren't enough we also have a typically superb hard copy supplement.

Packaging


Standard, clear BD Keepcase.

Overall


Essentially this release works as a love letter to the work of David Gladwell. Only missing from his limited output as director are the theatrical sci-fi feature Memoirs of a Survivor (1981), Port Heath and Dance - two 1967 short films and finally two TV productions: An episode of the documentary series Seven Artists (1979) and the one off short drama Earthstars (1985). Image and sound are superb and the extras are thoroughly engrossing, especially if you like the work of Gladwell like myself. I have the 2016 BFI Flipside BD / DVD 2-disc set but this release easily bests it by being more comprehensive in the supplements. Image and sound on the main feature here are comparable to that earlier release.

Highly recommended based purely on the main film which will be especially of interest to those who recently purchased the Severin Folk Horror set as this fits in nicely with the films presented on that.
| | | | | |
| --- | --- | --- | --- | --- |
| The Film: B+ | Video: A | Audio: B+ | Extras: A+ | Overall: A+ |