Love on the Dole (Blu-ray) [Blu-ray]
Blu-ray A - America - Powerhouse Films
Review written by and copyright: Rick Curzon (10th August 2022).
The Film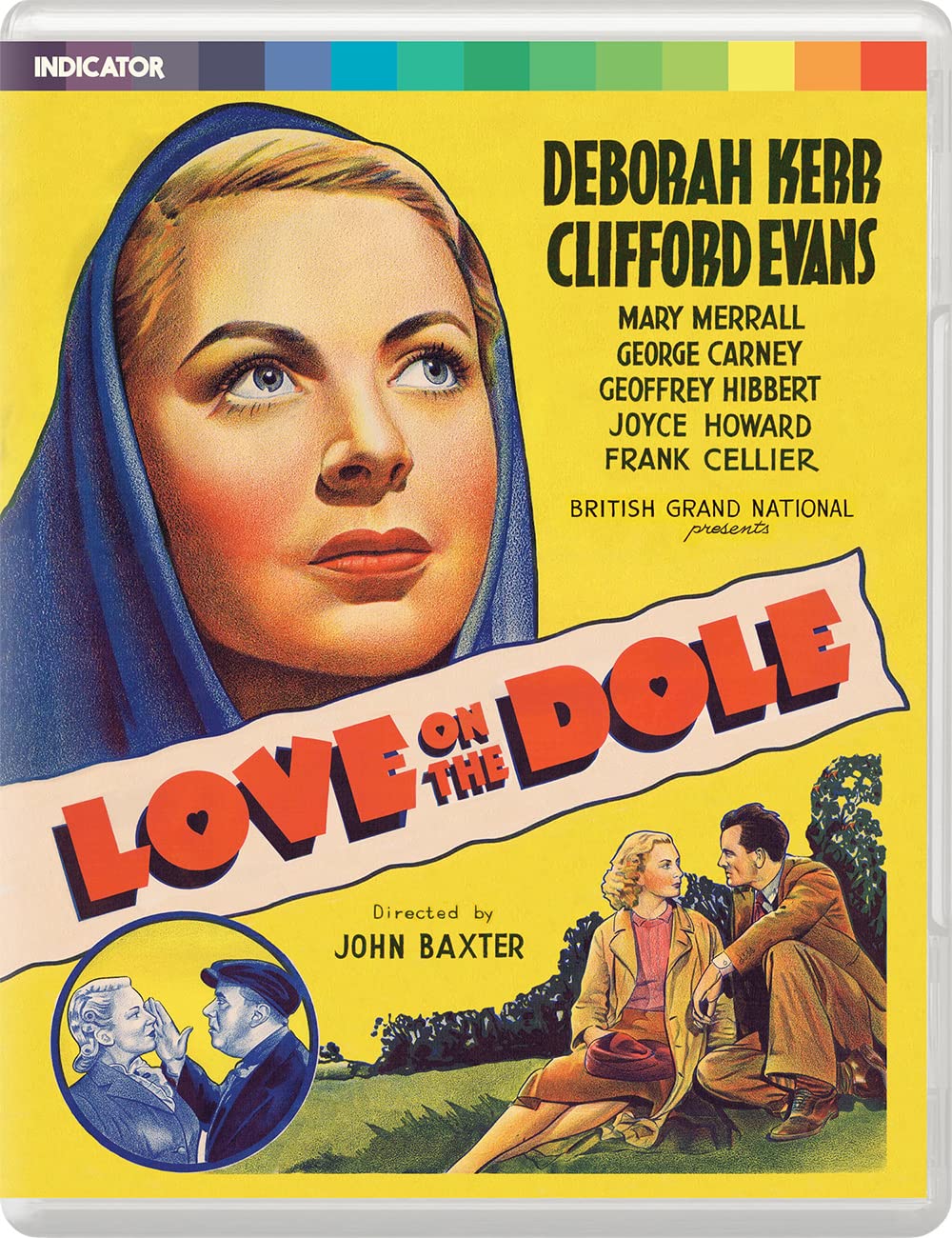 Adapted from the celebrated novel of the same name by Walter Greenwood, Love on the Dole was one of the most controversial British films of its time, having been banned from production by the British Board of Film Censors and labelled a 'very sordid story in very sordid surroundings'. It was eventually made in 1941 at a time when the Second World War had radically altered the country's social conditions and attitudes.

During the Depression in 1930s Salford in the North of England, young Harry Hardcastle (Geoffrey Hibbert, In Which We Serve) and his sister, Sally (Deborah Kerr, The Chalk Garden, The Innocents), fall victim to poverty and unemployment and are forced to make difficult decisions to survive.

Making its US debut on Blu-ray, Love on the Dole is complemented by a selection of contexualising archival extras, including the feature-length 1947 documentary A City Speaks, which is co-scripted by Greenwood.

Video


By today's standards this is a fairly cheesy, hard-edged melodrama about the trials and tribulations of a poor family in Salford near Manchester during the great depression. Performances, writing and production are all of a very high standard but censorship and mores of the time mean it can only come over as rather quaint and cliched when compared to what we're used to in grim dramas these days. Groundbreaking in it's day and very controversial at the time it's a fascinating time piece and a solid film.

Love on the Dole has been restored in 2K by the BFI for their 2016 UK BD / DVD combo release from a 35mm duplicating negative.

The image is overall a little soft, especially at optical transitions, but that's to be expected and it most likely always looked this way. It's monochrome so no colour variations to worry about and as usual for Powerhouse Films the gamma is perfectly balance so no unwanted colour bias creeping in. Black levels and contrast are both generally excellent with no unintended crush that I could see. No blown out highlights and plenty of deep shadows create a well defined image. Detail is generally excellent, grain healthy and the whole thing has been expertly encoded so no digital annoyances. The transfer is generally exceptionally clean and without damage although I noticed the odd minor tramline scratch fleetingly (for example, see the scene at 60:38 where Clifford Evans talks about capital).

This looks as good as we can expect although I'm sure a 4K scan with HDR or Dolby Vision would glean a little more out of the elements ('A-').

1080p24 / AVC MPEG-4 / BD50 / 1.37:1 / 98:20

Audio


English LPCM 1.0 (48kHz)
Subtitles: English HoH

There's not a great deal one can say about a mono track of this vintage as they fundamentally lack range and depth. Much of it comes down to how well the sound was recorded at the time. It's been beautifully restored and is as clear as it's possible to be allowing ambiance to play well. There have been times when I've encountered egregious use of noise reduction which at best makes the film sound uncannily silent - Universal's initial DVDs of either Frankenstein (1931) or Bride of Frankenstein (1935) suffered from this, can't recall which one as I've long since passed those on - and Studio Canal's problematic Avengers (1961-69) restorations also spring to mind. Full Moon's recent BD of Naked Girl Murdered in Park (1972) was initially released with an appalling English track that was so digitally mucked with it sounded like everyone was under water.

I'm happy to report that Love on the Dole sounds as it should with a small amount of hiss in quieter moments and some very mild distortion if the volume is cranked right up but frankly that's the way it'll always have been. Dialogue is crystal clear, music knows it's place and doesn't interfere with clarity being precisely levelled in the mix. Ambiance and what I call the sounds of air are present and correct. This is a natural sounding, rock-solid mono track with excellent hard of hearing subtitles provided ('B+').

Extras


"A City Speaks: A Film of Local Government in England" (69:13)

A bonus feature film, a documentary about local government and the problems faced by it in Manchester presented as a standard definition upscale in 1080p24 1.37:1 with uncompressed LPCM 1.0 (48kHz) sound. There's plenty of minor print damage and the image is lacking in very fine detail and texture but given it's an upscale that's to be expected. However, it still looks pretty good overall with healthy black levels, decent contrast and no artefacts from the upscaling nor digital tinkering. Sound is a tad warbley when boosted in volume and has some minor hiss but is otherwise more than acceptable.

"The BEHP (British History Entertainment Project) Interview with Screenwriter Barbara K. Emary in conversation with Bob Allen and Bob Dunbar" 5.7.1988 plays as an alternate audio track over "Love on the Dole" (98:20)

Detailed career interview provides an overview of Emery's career, she's garrulous and forthcoming with bags of fascinating anecdotes and stories starting with her leaving school being interested in welfare work, her work as an assistant to a journalist, admin at a Polytechnic and then working as a typist at Shepperton Studios circa 1932-33. Presented in lossy Dolby Digital 2.0 mono.

"Island People" 1940 short film by Paul Rotha (10:23)
"A Call for Arms!" 1940 short film by Brian Desmond Hurst (7:49)
"Our Film" 1942 short film by Harold French (14:03)

Three themed short films that would've played in cinemas and would possibly have supported a film like Love on the Dole. The first two (Island People, A Call for Arms) are in HD are are sharper with greater detail, the third (Our Film) is like the transfer for A City Speaks (see above). Image and sound overall is excellent considering the sources and all are 1080p24 1.37:1 and with uncompressed LPCM 1.0 (48kHz) sound.

38-page liners notes booklet with a new essay by Neil Sinyard plus the usual contextual articles, vintage critical responses and essays on the the shorts and feature length documentary

The usual valuable, fascinating hard copy supplement. The standard remains the same set to a high bar begun with their first release.

Packaging


The standard clear BD packaging.

Overall


Six years after the UK BFI release Powerhouse Films do their own version for the US market. The film is a fascinating, grim relic of the 1940s but is a solid, gripping melodrama. Technical presentation of both image and sound are excellent and the extras are peerless and provide great contextual added value. Highly recommended and a step up on the old UK release.
| | | | | |
| --- | --- | --- | --- | --- |
| The Film: B- | Video: A- | Audio: B+ | Extras: A+ | Overall: A- |

---
Rewind DVDCompare is a participant in the Amazon Services LLC Associates Program and the Amazon Europe S.a.r.l. Associates Programme, an affiliate advertising program designed to provide a means for sites to earn advertising fees by advertising and linking to amazon.co.uk, amazon.com, amazon.ca, amazon.fr, amazon.de, amazon.it and amazon.es . As an Amazon Associate, we earn from qualifying purchases.